TOURING
AT A GLANCE...
FUTURE WORLD
WORLD SHOWCASE
ENTERTAINMENT
SPECIAL EVENTS
HOLIDAYS
OTHER WALT DISNEY WORLD
THEME PARKS
OTHER DISNEY THEME
PARKS
Shopping Around the World
at Epcot
Shopping around the World
by Deb Wills, Editor-in-Chief
with Senior Editor Debra Martin Koma
...and Contributions by:
Jen Plummer and Family (Dale, Brianna, and Caleb), Donna McMurrey, JoDeen Mozena,
Lisa Winters, Laura Burke, Steve Stasiak, Lawrence Frascel, Michelle Hansen,
Kenny Cottrell, Karen and Gary Brown and
two special visitors from Japan -- Masayo and Michiko!
Shop 'til you drop!
That's about what we did on a hot sunny Sunday in early June 2004!
Do you remember our "Chocolate around the World" report (ALL EARS® #40, July 25, 2000) from a few years back? Well, we thought it was high time to revisit that idea and do some more "Around the World" articles. After mulling it over for a while, we decided that "Shopping around the World" would give us the perfect excuse to explore the more than 65 boutiques, merchants and shopping carts located throughout World Showcase. And then we realized that including our readers on the journey would make the research even more fun for us...and for those of you reading at home.
So we invited anyone who was going to be in Epcot on June 6 to join us, and we set up some shopping ground rules:
1) Shop in the merchandise locations of each country pavilion in World Showcase for approximately 10-15 minutes. (We planned to skip the African Outpost since it was not a true pavilion, much to the dismay of several of our shoppers.)
2) Find an item representative of the country, and, ideally, MADE in that country. In other words, no pins, postcards, t-shirts or any obvious "Disney" items -- we were searching for the perfect "SouvenEAR," if you will.
3) Keep the cost of the items to between $5 and $20.
4) Rendezvous after shopping to share our findings before venturing on.
We divided our shoppers (there were 16!) into teams who would work together in search of the perfect SouvenEAR. Each group was also responsible for taking notes. Your faithful editors, Deb Wills (Deb1) and Deb Koma (Deb2), followed the shoppers on their trek, chronicling their "finds" in each country!
The ALL EARS® Shop around the World Team was set to go!
= = = = = = = = = = = = =
MEXICO
= = = = = = = = = = = = =
HOLA! Our shopping adventure began in Mexico where the Plaza de los Amigos (a large, indoor shopping area) offered lots of items to choose from, not to mention sweet relief from the blazing sun. No sooner had we begun when there was a camera flash -- Deb2 snapped a photo of Lisa wearing an Extra Large Sombrero ($13) that she felt was the perfect symbol of our South of the Border neighbor. But let's face it -- it'd be hard to pack in your suitcase!
JoDeen found some very pretty Chili Pepper Glass Swizzle Sticks for $2.50; Gary, Karen and Jen were partial to the Oaxacan Wood Carvings ($15), as well as the heart-shaped hand-painted boxes for $8. Jen's children, Brianna and Caleb, enjoyed picking out the maracas, which were two for $6. We were happy to have the kid's-eye view of Shopping around the World, however, there was a small problem -- the kids wanted to keep whatever they selected! Yep, that would have been nice, wouldn't it? Unfortunately, not on our budget! Sorry, kids!
Other items from Mexico that were selected: Marionette String Puppets ($7), Medium Size Pinata ($10), Kids' Straw Hats ($5.50), Paper Flowers ($3-6)
We eventually gathered at our starting point and reviewed our findings. Everyone was starting to smile -- even those initially reluctant shoppers (you know who you are, Gary!).
= = = = = = = = = = = = =
NORWAY
= = = = = = = = = = = = =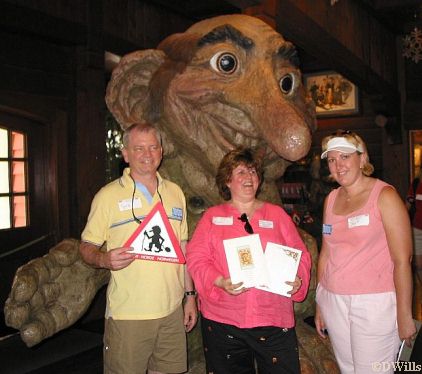 GODDAG! The Norway pavilion, land of vikings and trolls! All traces of shyness gone, our intrepid shoppers sank their teeth into their mission in this pavilion, scattering at once in a dozen directions looking for the perfect Norwegian SouvenEAR.
The Puffin's Roost features hand-knit woolens, trolls, glass, porcelain, pewter, and toys, but Masayo and Michiko wanted a snack. They began their shopping adventure with one of the Kringla Bakeri og Kafe's sweet pretzels (Deb1's favorite, too).
Gary, Karen and Jen came up with two treasures, a Troll Crossing Sign ($7.50) actually made in Norway, and Norwegian designed stationery ($12.50). Many of the ALL EARS® Shoppers also really liked the traditional Norwegian Straw Christmas Ornaments in the shape of pine cones, stars, angels and reindeer ($3-$8.50).
The history buffs in your family might enjoy the Illustrated World History of the Viking World ($11.95), which Steve found, or the Viking Helmet ($10, or with braids for $12), which Steve modeled but declined to be photographed with. For another great photo op, the ALL EARS® Shopping Team recommended having your picture taken in front of the large troll.
= = = = = = = = = = = = =
CHINA
= = = = = = = = = = = = =
NI HAO! Leaving western culture behind, the Shoppers headed to China, but before we reached the Yong Feng Shangdian Department Store, the several kiosks located outside of the pavilion proved a distraction. Quite quickly, JoDeen found the brightly colored Parasols (with your name written in Chinese) for $10-$14.
In the department store at last, the Shoppers found a wide range of items including furniture, kitchenware, rugs, clothing, slippers, silk, and paper fans. Michelle was partial to the silk slippers ($10). The Chinese Lanterns at $12 were very colorful and the perfect item to help celebrate the Chinese Lantern Festival, part of the Chinese New Year celebration. The "Take Out or Carry Out Purse" ($17), a Chinese takeout food container adorned in decorative silk, proved a favorite among several of the female shoppers, as well.
Other items that caught the Shoppers' eagle eyes included a Straw Hat (called a Cao Mao, $4), carved Jade Elephants ($12), and Silk Purses for $12 and under.
= = = = = = = = = = = = =
GERMANY
= = = = = = = = = = = = =
GUTEN TAG! On to Germany, where the Imagineers were inspired by Bavaria and the Rhine regions. The German pavilion has many small shops with such diverse items as beer steins, hand-painted eggs, bears, Christmas goodies, Hummel and Goebel collectibles, crystal, cookies -- there's even wine tasting.
The special Goebel artist signing Mickey and Friends handcrafted figurines tempted the Shoppers, but knowing that those collectibles would exceed our price limit, they delved deeper into the store.
The pick of most of the Shoppers was the green Pickle Ornament from the Die Weihnachts Ecke shop for $8.50. Pickle ornaments in Germany are considered very special and are generally the last item parents put on the tree on Christmas Eve. In fact, the pickle ornament is hidden from view amidst the tree branches, and as soon as the children are allowed to see the tree, the hunt begins. The lucky finder of the special pickle ornament receives an extra gift from St. Nicholas for being the most observant child.
Other SouvenEARS that earned high marks: other handmade Christmas Ornaments like nutcracker characters and cuckoo clocks ($20); German Finger Puppets ($7-$10); Chocolate Stein ($8.95); Mini Steins ($13-$16); Clip-on Candle Ornaments ($8).
= = = = = = = = = = = = =
ITALY
= = = = = = = = = = = = =
BUON GIORNO! That's "Good Day" in Italian, and guess what? Several Shoppers decided to make it an even better day by pausing in their SouvenEAR quest to sample a chocolate and wine tasting at La Bottega. For $6.50, they enjoyed Rosa Regale Brachetto d'Acqui wine and Pernigotti black chocolates from Piemonte, Italy. They wouldn't tattle on her, but we know it was Donna who led them astray. Later, Jen admitted that while the shopping had been fun, "what I liked best was having some wine and chocolate with my fellow shoppers in Italy."
Ahem. Those who stayed on task decided that 15 pieces of Perugina Baci chocolates ($16) would make the perfect SouvenEAR (although you can't carry them around on a hot day such as this). Even though consensus was that there was not a lot to choose from in the designated price range (i.e., Italy is Expensivo!), Venetian Mask Pins ($7.50) and Small Venetian Masks ($20) were deemed acceptable, if not ideal, SouvenEARs.
= = = = = = = = = = = = =
AMERICA
= = = = = = = = = = = = =
HELLO, to the good ol' US! What better place for us to take a break -- halfway around the World. We all enjoyed sitting around and chatting in the cool air conditioning of the Liberty Inn while we refueled and refreshed. Sadly, two shoppers, Gary and Karen, had a plane to catch, so we sent them on their way, but not before Karen told us what a great time they'd had. "Gary HATES shopping. However, after he realized that this kind of shopping 1) wouldn't cost him anything and 2) was really a 'hunt' and not an expedition where he would follow me around and watch me 'gather,' he really got into it! As for me? Well, combine my three favorite activities -- shopping, meeting new people, and Disney World -- and I couldn't imagine a better way to spend the day!"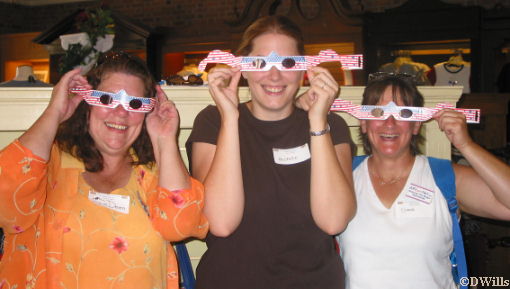 Spurred on by Karen's inspirational words, the group converged on Heritage Manor Gifts. The most popular item with nearly everyone was the Gemini Specs ($2.50). These specs are similar to ones that used to be given out at the Osborne Spectacle of Lights, but are for watching Epcot's nighttime show, IllumiNations. With the specs on, you'll see the letters "USA" sparkle around whatever you view -- hmmm, maybe you had to be there to appreciate these...
Perhaps it was because the USA is our home, or maybe it's the fact that the store is quite small, but none of the souvenirs wowed any of the Shoppers. As Lisa explained, "Our country is chock full of culture and diversity. What a shame that none of it is displayed. Where were the Native American crafts? Where were the Amish Hex signs? Flags and small statues of 'Lady Liberty' just left me wanting more."
Still, when pressed to come up with something, the Shoppers eventually agreed on Red, White and Blue baseballs ($6), a Mickey Mouse wooden mini-bat ($14), bald eagle sculpture ($8), and replicas of historical documents such as the Bill of Rights and Declaration of Independence for the low price of $2 each.
= = = = = = = = = = = = =
JAPAN
= = = = = = = = = = = = =
KONICHIWA! With 10,000 square feet of retail space in the Mitsukoshi Department Store, the Shoppers had plenty of souvenirs to choose from and lots to see. If you've never taken the time to browse here, make a point to do so on your next trip. There are wonderful displays of items from Japan, including dolls, fine porcelain, kimonos, Japanese handcrafts, elegant jewelry, snacks, kitchenware, cookbooks, kids' toys and so much more.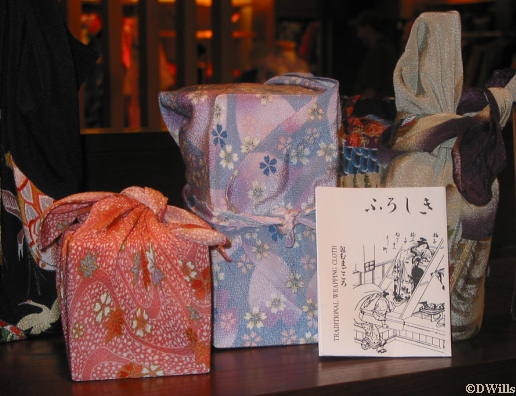 Having native Japanese people in our midst made shopping in the Japan pavilion even more interesting. Masayo found furoshiki, the Traditional Wrapping Cloth. Masayo explained that furoshiki is used for carrying big, heavy, or long objects (such as posters, fishing rods, sticks) -- anything that might be awkward to carry by itself. She also told us that she brings furoshiki as gifts to friends who live outside of Japan and they are a huge hit. The ALL EARS® Shopping Team found the colors and designs beautiful and was impressed that such an authentic item was for sale here.
What else did the Shoppers find here? Several selected the Bonsai Starter Kit for $12.95, decorative Chopstick Sets ($3.75 and up), and Japanese Crane notecards ($14.95). The sake tasting bar featured microbrewed selections that also would make a nice gift. And young Brianna discovered Hello Kitty Fairy Tales Dolls (Beauty and the Beast, Peter Pan, Aladdin) for $13.50-$17.95.
= = = = = = = = = = = = =
MOROCCO
= = = = = = = = = = = = =
AS-SALAAM ALAYKUM! An Arabic greeting for the Moroccan pavilion, with the Brass Bazaar, Marketplace in the Medina, and Tangier Traders overflowing with potentially perfect SouvenEARs. Steve and Lisa found a small rug (12" x 12") for $12 as well as handcrafted finger cymbals for those wishing to practice belly dancing. "I find Morocco to be my very favorite for authenticity," Lisa noted. "Right down to the smell of the leather, I can't help but close my eyes and pretend I'm far from home. In the past, I've purchased sandals, purses, and even copper chimes from Morocco and I've yet to be disappointed."
Other Shoppers cited Genie Lamps ($7) and Leather Camels ($16) as their SouvenEAR choices -- and don't forget the very traditional red Fez.
= = = = = = = = = = = = =
FRANCE
= = = = = = = = = = = = =
BONJOUR! With shops selling everything from designer fragrances, to wines and accessories, the Shoppers thought browsing for truly French SouvenEARS would be tres magnifique!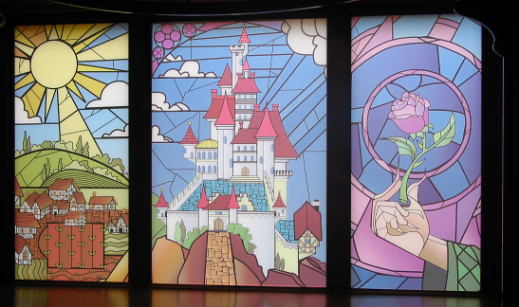 Of the many items discovered, the most highly regarded were the Mini-Eiffel Towers ($6.50-$13) and Perfumed Soaps ($7-$15). Other winners included a box of Fruit Bonbons ($8.50), and Wall Light Switchplates decorated with the words of famous French Impressionists like Degas and Monet ($12-$15).
The best find in France wasn't a SouvenEAR, though. It was the exquisite three-panel stained-glass window themed to the story of Beauty and the Beast. None of us (not even Kenny, who has been to Epcot so many times he's lost count) had ever noticed this window before, and we all marveled at the artwork.
= = = = = = = = = = = = =
UNITED KINGDOM
= = = = = = = = = = = = =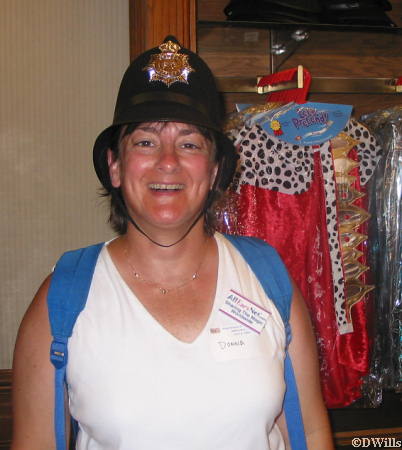 'ELLO GUV'NOR! The shops in Merry Olde England and the rest of the UK proved rich territory for the ALL EARS® Shopping Team. The Tea Caddy, with its specialty tea items, as well as candies and chocolates usually only available in the UK or specialty shops stateside, proved to be a favorite stop. Shoppers found a tea infuser for $10 and loose Twinings Tea for $7.
Several shoppers were thrilled to find lunchboxes featuring the Beatles ($15-$20), while Donna enjoyed the Bobby Hat ($14). Others pointed out the Irish Linen Handkerchief ($15) for its authenticity, and the Small Coin Purses ($18). And what's more English than a pub? The Crown and Crest shop had a wide range of coaster assortments to choose from, including one package of 25 coasters for $8. (By the way, if you like chess, the Crown and Crest also has numerous themed chess sets, including Robin Hood, Alice in Wonderland and Sherlock Holmes, although most were out of our price range.)

= = = = = = = = = = = = =
CANADA
= = = = = = = = = = = = =
BONJOUR AGAIN, OR PERHAPS HELLO? At the end of the journey -- the Canadian pavilion. The heat of the day had taken its toll on the intrepid Shopping Team, so no one ventured to the outdoor shopping area located near the Beaver Tail kiosk. Instead, SouvenEARs were found in the Trading Post and Northwest Mercantile, where Maple Maple Maple was the theme. The team decided on very decorative Canadian Maple Syrup bottles for $16 (or $8 for 1.69 ounces), as well as Maple Moose Candy for $2.50. Upstairs, in La Boutique des Provinces, Lisa spotted Christmas ornaments that were 24K gold over a real maple leaf for $17.
= = = = = = = = = = = = =
WE'RE DONE!
= = = = = = = = = = = = =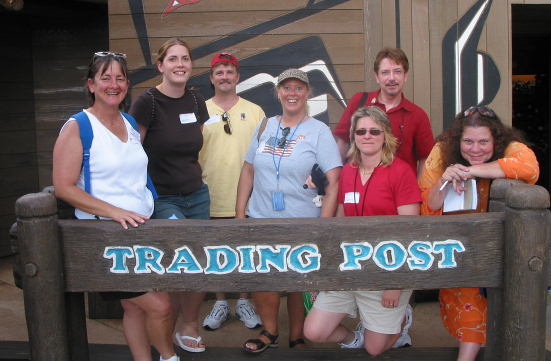 "Shopping around the World" -- all FOUR hours of it! -- proved to be a great time for all of us, Shoppers and ALL EARS® Editors alike. Many folks visited shops and areas of World Showcase they had never taken the time to see before and everyone got into the spirit of finding SouvenEAR selections to share with other ALL EARS® readers. As Lisa later told us, "We had a blast. And can you believe, Laura and I went completely around the World Showcase again after dinner!?"
As Karen wrote to us later, "Overall, I was impressed with the quality and authenticity of all of the items that we found in the $5-$20 range. We really had a great time meeting other people who obviously love Disney as much as we do -- and I can't wait for the next expedition! Maybe it could be a 'Find the Quintessential Souvenir from Each Land with a 'The Sky's the Limit' Budget!'"
We hope you enjoyed reading about our journey around the World as much as all of us enjoyed participating. It was not only a great way to explore World Showcase, but it also allowed us to meet up with some new friends -- and from the final photo we took of our Shoppers Extraordinaire, we think you can see that they enjoyed the experience, too.
Once again, we'd like to thank all our SouvenEAR Shoppers for their enthusiasm and dedication -- and for shopping with us until we dropped!
********