Epcot Archives The Power of Blast!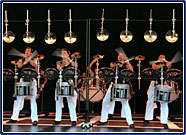 This show was last performed August 23, 2001
"The Power of Blast!" Unleashed at Epcot
Summer-long Spectacle of Music and Motion
Daily performances included with Epcot admission

LAKE BUENA VISTA, Fla. — The blur of drumsticks. Fast-moving rivers of trumpets and trombones. Sabers and banners slicing through the air.
Prepare to be blown away by "The Power of Blast!"
Exciting, high-energy selections from the Tony Award-winning hit Broadway show Blast! — the world-touring brass-and-percussion spectacle critics have called "rhythmically intoxicating," "innovative and exuberant" and "sound and motion from front to finish" — explode onstage at Epcot all summer long as "The Power of Blast!"
An explosive musical celebration, "The Power of Blast!" will dazzle Walt Disney World guests with the sights, sounds and energy of musical spectacles.
In live 30-minute performances four times daily from June 16-Aug. 23, world-class brass players and percussionists bring the precision, passion and raw power of musical pageantry to the America Gardens Theatre at Epcot.
Jim Mason, Blast! producer and artistic director, calls it a coming-out party for musicians.
"Musicians have finally crawled out of the orchestra pit and onto the stage," he says. "They have pushed away the music stands and thrown away the chairs and now become the actors and animators of the music, taking on the roles of the play itself."
Show times are at 3, 4:30, 5:45 and 7:10 p.m. and are included with Epcot admission.
"We are excited to be continuing the great tradition of entertainment at Epcot with this summer run of 'The Power of Blast!' " said Karl Holz, vice president of Epcot. "This spectacle will absolutely thrill our guests and add even more excitement to the Epcot experience."
Disney audiences will be wowed by an unforgettable musical journey through classical, blues, jazz, rock and techno-pop in electrifying 30-minute performances featuring music-in-motion, supercharged showmanship and razor-sharp choreography.
To take guests on that journey, performers in "The Power of Blast!" rely on a variety of instruments, from the traditional trumpet and trombone to the more exotic euphonium, from drums to mallet instruments, from visual implements like sabers and colorful flags to — a few surprises.
Between all the spinning, tossing and twirling, the colorfully costumed performers (approximately 50 per show) play music from delicate to brassy, breaking the long-standing musical theater mold.
For audiences worldwide, Blast! has been a blast. Last year Blast! took London by storm, toured U.S. cities and premiered on Broadway in New York in April. Blast! captured a Tony award for Best Special Theatrical Event and was nominated for best choreography.
Blast! the musical grew from the award-winning drum corps Star of Indiana, founded in 1984 to benefit young people in music education. Epcot, Walt Disney World Resort's celebration of human achievement and discovery, is a one-stop vacation spot where guests can travel to four continents, explore land and sea adventures, experience future technologies today and journey into their imaginations — all in one vacation.
Thanks to dining packages Epcot guests can build an evening around "The Power of Blast!" this summer. Packages allow guests to dine at select Epcot restaurants and enjoy reserved show seating for "The Power of Blast!" Dining packages (not including Epcot admission) start at $32.50 per adult ($10.95 children 3-9) for a three-course meal including gratuity, excluding tax. 407/WDW-DINE can book the package.
Blast! Dinner Package – Preferred Seating at the show and dinner at Epcot. Dining includes choice of soup, salad or appetizer, entree, dessert, and non-alcoholic beverage at select Epcot restaurants.
Tier 1: The Garden Grill Restaurant, Nine Dragons Restaurant, Rose & Crown Pub & Dining Room, Restaurant Akershus, or Biergarten Restaurant for $32.50 plus tax for adults and $10.95 plus tax for children ages 3-9.
Tier 2 Dine at Le Cellier Steakhouse, Les Chefs de France Restaurant, Restaurant Marrakesh, Mitsukoshi Teppanyaki Dining Room, L'Originale Alfredo di Roma Ristorante, or San Angel Inn Restaurante for $42.50 plus tax for adults and $10.95 plus tax for children ages 3-9. Prices include gratuity!
*****
"The Power of Blast!" at Epcot
Fact Sheet
"The Power of Blast!" is a powerful, kinetic mix of color, sound and movement.
"The Power of Blast!" is…
A live musical spectacle featuring selections from the Tony Award-winning Broadway hit Blast!
Four 30-minute shows performed daily at Epcot America Gardens Theatre during a 10-week run from June 16-Aug. 23, 2001
An explosive theatrical experience blending brass, percussion, choreography and pageantry that critics have called "nothing short of a revolution" and "a joyous musical celebration"
A diverse cast of 63 talented performers ranging in age from 20 to 32, representing 24 of America's 50 states
Five high-energy musical numbers:
1. Bolero (M. Ravel)
2. Color Wheel 1 (J. Lee)
3. Battery Battle (T. Hannum/J. Lee/P. Rennick)
4. Land of Make Believe (C. Mangione)
5. Malaguena (E. Lecuona)
A sonic journey through classical, blues, jazz, rock and techno-pop
66 brass instruments, including trumpets, cornets, French horns, fluegelhorns, mellophones, euphoniums, trombones and tubas
234 percussion instruments, including bells, bongos, chimes, bass drums, cowbells, cymbals, gongs, granite blocks, snare drums, tenor drums, sleigh bells, tambourines, timpani, triangles, vibraphones and xylophones
265 visual ensemble props, including brilliantly colored flags, poles, sabers and light rods