Epcot Archives Kim Possible World Showcase Adventure
UPDATE MAY 18, 2012 – KIM POSSIBLE CLOSED AS OF MAY 19TH.
UPDATE MARCH 13, 2012: Epcot's Kim Possible World Showcase Adventure will be getting a new look this summer when Agent P (also known as Perry the Platypus from the popular Disney Channel series "Phineas and Ferb") takes over. The new interactive experience, Disney Phineas & Ferb: Agent P's World Showcase Adventure , is based on the efforts of the cartoon platypus to thwart his nemesis, Dr. Doofenshmirtz. Epcot guests will transform into secret agents using a "high-tech secret agent device" to receive clues for each case. Solving the clues will take agents to different places throughout seven World Showcase countries: Mexico, France, Germany, Norway, Japan, China and the United Kingdom. Agents will scour each country for clues and evil "Inators," and will help Agent P defeat Dr. Doofenshmirtz. No specific closing date for the Kim Possible experience has been announced.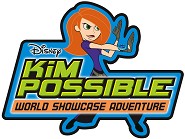 Introduction
Inspired by the Disney Channel's Emmy Award winning animated series, Kim Possible, a World Showcase Adventure awaits you!
World Showcase Adventure
Follow the signs and meet Kim Possible agents who will explain your challenge. Once you are ready, swipe your park admissions ticket and receive a Kim Possible "Fast Pass"! This FastPass will tell you where and when to report for your mission!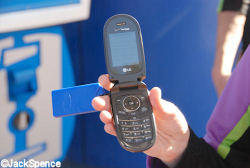 Once at the designated location, you will receive your Kimmunicator, a GPS cell phone with special enhancements.
The Kimmunicator is a really neat device that speaks your instructions to you while displaying animated characters on the device screen. You're instructed to go find clues in certain locations. Once your mission is completed, your Kimmunicator will tell you where to return your device.
Each mission lasts about half a hour.
Touring Tips
Designed for all ages — kids, adults, and seniors! This is a great solo or group activity!
There are seven different adventures that can be started at any of five different locations in World Showcase. You will need to return your Kimmunicator after each adventure.
Michelle and 10-Year Old Liam Scribner-MacLean Share! (Contains some spoilers)
Guest First-Hand Reports
Jackie: Just returned and a couple of comments about Kim Possible… BEWARE! The adventure sends you into stores with breakable items. Not such a great idea; kids focused on cell phones running rampant through stores! One Kimmunicator per family is best if everyone can share nicely. Otherwise, you really need to split up and stagger start times. You can get up to 3 Kimmunicators per card swiped – but they all have the same mission. Some of the special effects aren't as cool if you have just seen your sister do it!
Nancy: Thanks for the low-down on the Kim Possible Adventure. It is fun, I've done two the last two days. However, I have a correction. You said there were five recruiting stations and that you can start them all there. Our experience was that you can only pick up your reservation ticket at Innoventions East or West and on the Bridge to World Showcase. But you start your adventure in Norway, Italy or International Gateway when you turn in your ticket and get your Kimmunicator. Also, even if your ticket says Norway — you can take it to the other two stations. And you can request a specific country as well.
My 8 year old grandson was able to take part in the Kim Possible Adventure on January 12th. He really enjoyed it, reading his text clues on a provided cell phone was waaaay cool! His adventure took place in Germany, the clues took him all around the country. A cast member logs you in at the bridge to World Showcase and gives you a time to pick up your phone transformer, there is a certain amount of lead time so you can get there. The clues take about 20 minutes to follow through to the end. Similar to a scavenger hunt clues. The only glitch was when another boy was in the same room as us, different clues, but they must have hit the button at the same time and it caused both of the phones to revert to the first clue, my grandson was then able to scroll through and get to the right clue again. I know if we had not planned to do so many other things in Epcot he would have liked to try it again. Give it a try if you get a chance. MJane
We have had the fun of saving the world twice recently. We did Germany and Norway. These adventures are educational in that you learn about the country you are in and they are fun as you see interaction with various locations. Without giving everything away–examples are: the beer steins in the gift shop in Germany are special and in Norway, the statue of Marathon winner Grete will interact too! There are many other happenings and the clues are very easy to follow as most are followed by a picture showing you exactly where to stand to get your next clue. Anybody in the parks can do this adventure now and they even give more than one phone so families with multiple children can avoid conflict! It is a great way to spend 30 or 40 minutes if you are not in a hurry. Jean Miller – Senior Peer Reviewer for Passporter's Open Mouse! (January 21, 2009)
We visited WDW from January 13-19 and had the opportunity to participate in the Kim Possible adventure. The opportunity was available to all guests – not just passholders. We actually took part in three separate missions and had a ball. We are a family of 4 and played on two teams. They gave us two "Kimunicators" and we had a competition to see who could complete the mission first in each country. We played in Germany (the best), China (close second), and France. The only suggestion I have is to allow multiple missions with the same Kimunicator. The way it is now, you have to deposit your Kimunicators in a box at the end of each mission, then get new units to start again in a different country. Overall, it was a great addition, and a wonderful way to get younger kids interested in touring the countries. I highly recommend it! Laura, January 21, 2009
Mike Bachand's Soft Opening Blog – January 17, 2009
Other Information
Official Press Release – August, 2008