I'm a Canon girl. I bought my first Single Lens Reflex (SLR) camera when I was 16 years old at Levine's in Boston, MA. I remember the day rather well (a miracle for me). My heart was set on the Canon Rebel S because (remember I was 16) it was endorsed by Andre Agassi and he was hot. That's right, a celebrity endorsement worked on me. While I might have made my buying decision for questionable reasons, the fact is that camera was the love of my life for a few years until I got the twins, Canon EOS A2. Yeah, I've got two of those. Later, I got my hands on a Canon EOS 30D, my first and so far, only DSLR (digital single lens reflex) camera. I also have 2 digital Canon point and shoot cameras. All of my lenses and flashes are by Canon as well. Heck, I even have a Canon camera backpack. You get idea.
One of my lenses is a 17-40mm f4L USM (ultra sonic motor). It is designed for both film and digital cameras in Canon's EOS line. When mounted on a film camera, it is an ultra-wide angle with a short zoom. If used on a digital EOS that is not full frame (7 Canon pro bodies are full frame), it shoots like a 27mm-64mm lens due to the 1.6:1 conversion ratio for the Canon EOS 30D body.
A wide-angle is anything with a focal length of 35mm or wider, 28mm or 24mm. An ultra wide-angle lens would be 20mm, 18mm, and 17mm.
Now that we've covered some technical data, let's see what this baby can do for you.
It's great for large scenes and landscapes.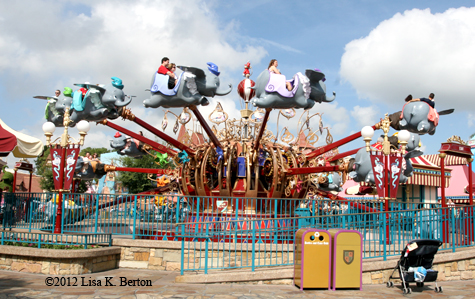 f13, 1/320, ISO 250 at 20mm
Dumbo has cloned himself and relocated to the new Fantasyland expansion at Magic Kingdom in Florida.
Use it to fill the frame with a room or big subject matter within a very short proximity.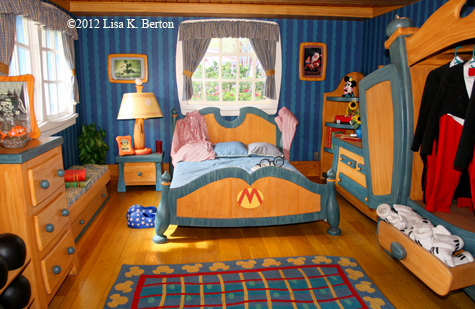 f4, 1/60, ISO 250, with flash at 17mm
This was Mickey Mouse's bedroom. His country house was torn down when Mickey's Toontown Fair was foreclosed last year at the Magic Kingdom in Walt Disney World.
Zoom in on a close range subject for sharp details.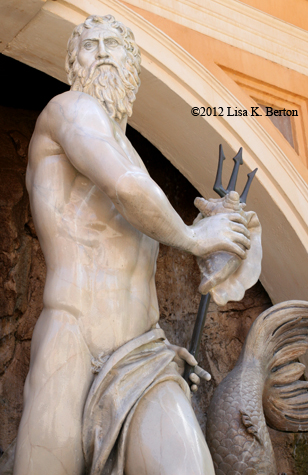 f8, 1/200, ISO 250 at 40mm
You can visit Neptune at the Italy pavilion at Epcot.
C'mon over and "Like" my Facebook page.