Candlelight Processional Photos and Program
The Traditional Story of Christmas in Song and Narration as Presented at Epcot "Holidays Around the World"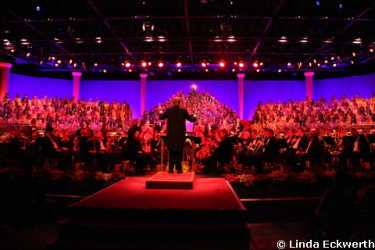 "The Candlelight Processional and Massed Choir Program began in 1958 at Disneyland in California. Thirteen years later, in 1971, Walt Disney World presented it's first Candlelight Processional in the Magic Kingdom with Rock Hudson as narrator. In 1994, the event was moved to the America Gardens Theatre at Epcot where thousands of guests continue to share in each of the 95 performances that are presented throughout the holiday season.
Each evening, nearly 400 performers fill the stage to create this mainstay of Disney's holiday festivities. Our orchestra consists of 51 professional musicians from the central Florida area.
The choir is comprised of Walt Disney World cast member volunteers (green robes), along with high school and community groups from over 30 states (gold robes). During the six weeks of the Candlelight Processional performances, over 16,000 amateur vocalists will volunteer to participate in this massed choir program.
The singers in red and black (the base of the tree) are the nationally acclaimed Voices of Liberty a cappella ensemble, a part of our Epcot family since Opening Day 1982.
True to the Disneyland tradition, the centerpiece of the cast is a guest celebrity who narrates the story of the Nativity. Guest narrators over the years have included acclaimed actors, astronauts, vocalists, news commentators and sports celebrities.
Epcot is proud to host this treasured Disney tradition, and delighted to have you share in our international celebration. The entire Epcot cast wishes you and yours the very best for the holiday season and the new year!"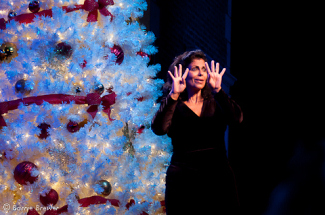 Program
Shout for Joy
O Come All Ye Faithful
Il Est Ne
O Holy Night
Angels from the Realms of Glory
Rejoice with Exceeding Great Joy
We Three Kings
What Child is There
Do You Hear What I Hear
Silent Night
Joy to the World
The Hallelujah Chorus
Let There Be Peace on Earth
Photos were taken 2011 and courtesy of Barrie Brewer Photography and Linda Eckwerth.
Guest narrator – Neal Patrick Harris.
Text above is taken directly from the Candlelight Processional Program.