Seniors at WDW: Who's Afraid of Technology?
by Ruth Morehart
AllEars® Guest Columnist
Feature Article
This article appeared in the February 17, 2015 Issue #804 of ALL EARS® (ISSN: 1533-0753)
Editor's Note: This story/information was accurate when it was published. Please be sure to confirm all current rates, information and other details before planning your trip.
In my first-ever article for AllEars®, Walt Disney World from a Senior's Viewpoint (AllEars® Issue 795, December 16, 2014), I promised I would eventually chronicle my experiences with making Advanced Dining Reservations (ADRs) and our FastPass+ times. Well, here goes!
My family always gets the basic dining plan, so I've been setting up dining reservations for quite a few trips now. It isn't difficult for me, and I'm definitely not tech savvy! We usually plan which park we will be in each day anyway, so we just plug in the reservations at that park for noon or so. We like to get up early and go to the park of the day at rope drop. That way, we usually can walk onto most rides and save our FP+ for later on. We like to eat our main meal around noon. I'm sure you have your favorite places to eat, and we do, too. We find that after riding and touring the park in the morning, we are more than ready for a rest and a sit-down meal, too. After our meal, we make our way out of the parks and to our room to rest up for evening.
As for the FP+, I was initially upset to learn that we had to book them 60 days in advance! I felt that would be too restricting. How was I ever going to schedule FP+ times for each park each day?
I was feeling a little overwhelmed when I sat down to do them, actually. There were many reports of the horrors of FP+ and that you had to get up at midnight on your 60-day opening window to get ANY. So, I decided I would not get up at that outrageous time of night just for that. The next morning of my 60-day window, I got up and had my coffee. Then, when I was ready, I got all my park info gathered up and sat down to do my FP+. It was easy to connect to My Disney Experience at the Walt Disney World site. No problem there. I went to the FP+ page, and worked my way through each day, starting at Day One. I knew we would be at Disney's Hollywood Studios that day, so I booked what we really wanted to ride (Tower of Terror and Toy Story Mania) for the morning, and another for Star Tours later. I kept the FP+ times at 9, 10, and 11 a.m., or close to that, for each day at the park. If something showed up that I did not want to do, I just booked it anyway. I found out that you can just click on "change experience" and you could book a time and ride that you wanted with no problem at all. I finished my FP+ quickly and was amazed at how easy it was.
We did have a problem later on, after I had set up all my FP+ times, when my daughter wanted to link her family's FP+ to ours. It's a long story, but we did manage to get it all straightened out without losing one of our valued FastPasses. It required that we call Disney IT a couple of times, but they were super nice and worked it all out eventually.
Fast-forward to our arrival at Walt Disney World. It's now time to use our ADRs and FP+ selections. I have to say that I loved being able to go to our FP+ window of time (an hour) and walk in the FP+ line and onto the attraction without much of a wait at all. We were going to ride these rides anyway, so it was nice not having to run (or in our case move as fast as we could) to get a decent paper FP or to wait in the standby line. We rode our favorites without problems at all. We never got FP+ times for the evening, though. We just picked our park after our rest period and took our chances. We waited in standby lines or just wandered the park checking other attractions, sites, etc. By the way, I don't mind the standby lines at all. I love talking with other people waiting in line. We have met some wonderful people and had a good time while in line.
I did want to see what would happen if I tried to get a FP in the evening, though, so I picked out a relatively short line at a kiosk in the Studios one night. The cast member helped me with it all, and I was able to get a FP, but Toy Story Mania, Tower of Terror, and Rock 'n' Roller Coaster were all taken. That didn't bother us as we had ridden them earlier. It would have been the same way with the old FastPasses, too, in that they would all be gone rather quickly in the morning for the entire day. So we did standby for Tower of Terror and it wasn't too long. We are not parade people, so we didn't use our FP+ for parades or meet-and-greets. We just used them for the attractions we really wanted to do. We also didn't use them for any of the shows. We just walked into The Festival of the Lion King, and Lights, Motors, Action!, for example, and got good seats.
So, what if you don't have, or don't want to use, a smart phone?
Even though Disney is getting more and more technologically advanced, you can navigate the parks without using that technology if you so choose. I am not against technology. I have a laptop computer and an iPad (which my husband uses exclusively for books and games). I just like to be away from all that while on vacation.
I think that some seniors might not have smart phones, or might be kind of intimidated by all the technology available. I personally don't want a smart phone or need one. It's a personal choice, as I feel I don't want to be "connected" all the time. I do have an old-fashioned flip phone, for which I pay for minutes as I need them. This works out great. (By the way, you can text and use these phones like a smart phone, if you want to. I use mine for when I am out and about, just in case I need one in an emergency. I don't use it otherwise.)
The point of this is that you don't have to feel intimidated by not having a smart phone handy at all times while in the parks. I was not able to book another FP+ on mine, but that was OK. I had my three FP+ and could use a kiosk if needed. We didn't use the kiosks at all except to test how to do it for future reference.
On check-in at our resort, our room wasn't ready, so they said they would send us a message when it was. I told the lady that I didn't have a smart phone and would not carry my flip phone into the parks with me. She obviously hadn't run into this problem before and was confused as to what to do. I told her I would carry my phone with me, and I would call her to see if our room was ready in an hour or so, if that was OK. She seemed happy with that and it worked out great!
On our November 2014 vacation, my husband and I had two days by ourselves, before our daughter, son-in-law and three grandkids joined us. Those first two days were relaxing and we toured like we always do. However, all that went out the window when the kids and grandkids arrived. We had a busy, chaotic, fun-filled time with them all. I wouldn't have missed it for the world. We ran all over the parks, to Downtown Disney several times, and to our dining reservations. The kids and grandkids used their smart phones while in the parks checking wait times, etc. My grandson, Luke, 15, even taught me how to text while we waited in line for the Seven Dwarfs Mine Train for an hour. We had a lot of fun with that. Luke is very patient with me and I now know how to text! A major feat for me! I haven't used it since Disney World, though. I still just carry my phone for emergencies; guess I'm still a techno-dino.
Even though we had a great time with the family, we left feeling like we hadn't done as much as we usually do, or at least not enjoyed it as much. We found that we missed the leisurely strolling around checking things out at our pace. I didn't get any of my "Disney bucket list" accomplished this trip! I have a list of things I want to do and still haven't done half of them.
In summary, I have to say that I have a completely different attitude about FP+ after actually being at Disney and using the system. I found FP+ to be extremely helpful, especially if you just can't hurry to get in the front of the lines anymore. That was great. I do think that the standby lines are a little longer as more people are spreading out over the parks to use their FastPasses, but none were too long for us.
So, dear seniors, don't be afraid of the FP+ — they are really worth the effort. I think we would have been OK with our old touring style of rope drop, riding a few of our favorites, and standby. But it is very convenient and nice to know those attractions have been reserved for us if we want to use them.
Oh, that reminds me. We didn't use most of our FP+. We only have a couple of rides we really want to do in each park, so after doing those, if we didn't want to use the others, we just didn't. You are not forced into using all of these, or any, at all. But keep in mind if you do not use them, you cannot get the fourth FP+ until your third FP+ time is up.
Do I think the new FP+ system is perfect? No, I don't, but I know Disney will work out all the bugs in the future. With any new system, there are problems to be worked out. I do know that even though I'm not as technically savvy as others, I was able to navigate the My Disney Experience site without any problems at all. If you do have a problem, Disney's IT team is great and they will work it out for you!
I hope this has helped with any reservations you might have had about FP+ and how they actually worked out in the "real world." And I hope it reassures others (seniors or not!) that you can do Disney without technology, if you choose to do so.
Can't wait 'til next November for our annual trip!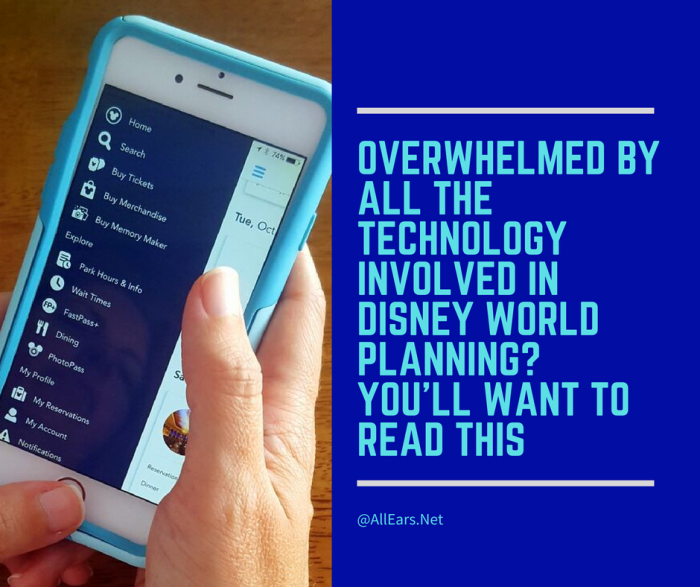 =-=-=-=-=-=-=-=-=-=-=-=-=
RELATED LINKS
=-=-=-=-=-=-=-=-=-=-=-=-=
The Perks of an Adults-Only Trip to WDW
Planning for Intergenerational Travel to WDW
Walt Disney World for Empty-Nesters
=-=-=-=-=-=-=-=-=-=-=-=-=
ABOUT THE AUTHOR:
Ruth Morehart is a retired RN who has been visiting Walt Disney World since her son and daughter (who are now 43 and 41 years old, respectively, with children of their own) were young. She resides in Minnesota with her husband of 46 years, Roger. Despite her fibromyalgia, Ruth enjoys quilting and creates quilts for the Quilts of Valor program for wounded soldiers.
-o-o-o-o-o-o-o-o-o-o-o-
Editor's Note: This story/information was accurate when it was published. Please be sure to confirm all current rates, information and other details before planning your trip.