Overlooked Attractions in Disney's Hollywood Studios
by Debra Martin Koma
AllEars® Senior Editor
Feature Article
This article appeared in the July 13, 2010 Issue #564 of ALL EARS® (ISSN: 1533-0753)
Editor's Note: This story/information was accurate when it was published. Please be sure to confirm all current rates, information and other details before planning your trip.
More than a few years ago (would you believe EIGHT?!), AllEars® ran a series of features on what we called "Overlooked Attractions" around the parks and resorts. You know, those little things that actually make you detour from your beeline to the thrill rides, the additional touches that demonstrate Disney's well-known attention to detail and make the World the fascinating place that it is.
So much has changed at Walt Disney World over the last few years, that we realized that our overlooked attractions lists have themselves been overlooked — it's time to revisit these articles and update them. I started last month by updating the Overlooked Attractions in the Magic Kingdom (AllEars Issue #559), and I'm continuing this week by focusing on my favorites located in Disney's Hollywood Studios.
Of the four Walt Disney World theme parks, I'm not sure whether I've spent more time in Epcot or Disney's Hollywood Studios over the years. Does Epcot have a slight edge? Hmm, maybe, but I sure have worn out an awful lot of shoe leather "researching" the Studios and its tributes to Hollywood's Golden Age. (Hey, somebody's gotta do it!) So it stands to reason that a movie lover like me might have a fairly long list of things that I think are too often overlooked in this park. And I do.
HOLLYWOOD BOULEVARD
Starting with Hollywood Boulevard, just about as soon as you pass through the turnstiles, on your left, is a craftsman style building — it's Sid Cahuenga's One-of-A-Kind Shop. It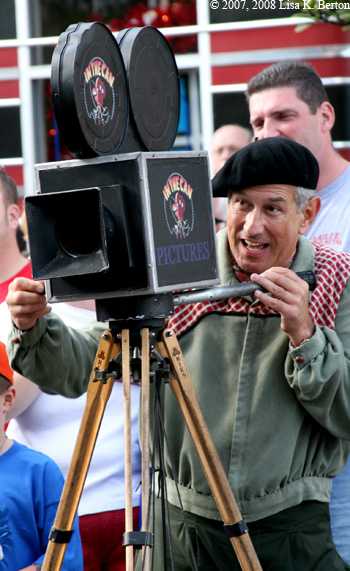 may look like a junk shop from the outside, but for a starstruck movie buff like yours truly, inside is a treasure trove: autographed photos, movie posters and memorabilia, and even costumes worn by actors in everything from classic films to current day soap operas. If you've never stopped in, take 10 minutes — you might walk out with that framed cancelled check from Walt Disney!
As you walk along Hollywood Boulevard, and throughout Disney's Hollywood Studios, be sure to look up. There are "offices" on the second floors of the buildings — both the occupants and their professions will make you smile. For example, you'll find the shop of the tailor, Justin Stitches, and the office of "The Grand Astral Marge", palm reader.
Also along Hollywood Boulevard, don't be in such a hurry to walk on by if you see some characters dressed as though they could have just stepped out of the 1940s — they probably have! You've run into the Citizens of Hollywood, actors who perform interactive improvisational skits with guests who have the time to play. You can spend a pleasant quarter of an hour trading quips with the likes of aging actresses Tallulah Fruiti or Minerva Limpwhistle, or be part of film with Director Flavio Fellini. It could be your big break into show biz.
ECHO LAKE
As you walk alongside Echo Lake, take a moment to peruse the crates piled up just outside of Min & Bill's Dockside Diner — you'll find boxes addressed to Rick's American Cafe in Casablanca, as well as a bicycle being shipped to Miss Dorothy Gale in Kansas and a shipment from the Rosebud Sled Co.
A little further along, just before the entrance to the Indiana Jones Epic Stunt Spectacular on your left, is something that looks like an abandoned well or mine shaft. You'll see a rope with a weathered old sign that reads "Do not pull!" but the NOT is crossed out. Give the rope a pull or two for a very funny surprise!
If you're a Star Wars fan (and even if you're not) there are a couple fun photo ops for the little ones (or the big ones with a young attitude!). As you exit the Star Tours shop, Tatooine Traders, you'll notice across the walkway a life-size speeder bike, complete with Endor background. Yes, it's OK to sit on the speeder, and yes! You do look just like Luke as he chased after the Stormtroopers!
In front of the Star Tours ride, you'll see a platform — this is the stage for the Jedi Training Academy, an interactive skit that takes place several times a day. Children from the audience (first come, first served!) train to become young Padawans and ultimately get the chance to battle Darth Vader. Do NOT overlook this charming presentation, even if you don't have a Star Wars fan in your group.
I absolutely love visiting the Backlot Express, the counter service restaurant adjacent to Star Tours — and not just for the food. It has so many little things about it that place it high on my overlooked attractions list. Take, for example, the guard booth right outside the restaurant. It has a signal and an arm that periodically comes down to "stop" the flow of traffic, and if you peer inside you'll see all sorts of interesting little doohickeys (pardon my technical talk). If you walk around the seating areas of the restaurant you'll be treated to a variety of humorous and/or entertaining items. There are all sorts of props, statues, paint cans, and a variety of signage. My favorite? [find text] And it's fun for those of us of a certain age to just sit and listen to the background music — the soundtrack is made up of theme songs from old television shows. I've spent many a lunch hour there trying to name as many as I could — Was that Dynasty? or Dallas? And did I just hear the theme from Taxi? I need to get a playlist — anyone?

STREETS OF AMERICA/BACKLOT
The area known as the Streets of America is probably one of the most overlooked attractions — I'm sure many visitors don't even realize that it's not just a few streets that get you from point A to point B. If you you're standing in front of some of the areas that are supposed to represent the streets of New York City, you can hear the city noises — traffic, honking horns… And they are laden with ambience and details for those of us not in a hurry to get to the Lights Motors Action Stunt Show. Take a look at the facades of the "buildings" — a Chinese laundry and restaurant, complete with an old-fashioned telephone booth that's decorated with a little pagoda, just like you might see in Chinatown, for instance.
It's in this vicinity that you'll see one of my personal favorite overlooked attractions. You might just walk right by it — but look for the streetlight that has an umbrella attached to it. Grab the crook of the umbrella and step on the square embedded in the cement underneath it for a refreshing surprise, a la "Singin' in the Rain" and Gene Kelly! (Note, though, that during times of water restrictions, this effect may be turned off to conserve water.)
Little kids will love the Honey, I Shrunk the Kids play area, but don't pass it by just because you're a grown-up (at least, on the outside!). You may not fit in some of the tighter spaces, but you can certainly climb the stairs between the Super Soaker and the slide coming out of a roll of film. At the top of the stairs you'll find a giant-sized dog nose. When you put your hand in front of the nostrils, the dog sniffs! Be careful — you may even get wet! Ewwww!
The Buzz Lightyear spaceship and the Pizza Planet delivery truck just like the ones in the movie Toy Story, just outside the Pizza Planet restaurant and arcade are fun to see, but again, don't forget to look up! Perched atop the building above the outside seating area are Buzz, Woody, Slinky Dog and a few other Toy Story friends.
Can I say that a well-attended attraction actually houses what I consider to be an overlooked attraction? Well, I guess I'm writing the article, so the answer is yes! That being the
case, I'd like to mention that the queue area for Muppet-Vision 3D is rich in little details that deserve your taking just a few minutes to appreciate them. The fun starts as soon as you enter the building — ask the cast member there about the key under the mat. (That's all I'm saying — I don't want to spoil the surprise!) Also note all the office doors as you walk to the preshow area, and once you're actually in the preshow area, spend some time really looking at the boxes and props around the room. If you look carefully, you'll spot where I got the inspiration for my Owner's Locker, Really Weird Stuff.
Over the years, the Studios has lost much of its live entertainment (anyone remember Matt the Juggler from the Hunchback Show? Or 4 for a Dollar who sang before the Beauty and the Beast show? Or the balloon artist, Andy Mation?). But while we mourn their departures, the Studios does now have a fine live group gracing its Streets with several performances a day — Mulch, Sweat and Shears. If you can catch a set you'll be treated to their brand of "Rake and Roll" classics, and a lot of fun.

ANIMATION COURTYARD
Readers Dan Cohen and Tabatha Doran both wrote in to share their favorite overlooked attraction at DHS — the Animation Academy, which is part of the Magic of Animation Tour. Says Dan, "During my family's last visit, we were taught to draw a Disney Character by an animator. The 30-minute class is available most of the day, but folks seem to walk right by it a lot. One of the cast members told me the 38-seat room is rarely full. Our family (two adults, two children ages 8 and 10) all drew Mickey when we attended, and the drawings are now framed and displayed in our home. For all of us, I think it was our favorite experience of our week-long vacation. Another great part of the animation pavilion is in the gift shop, where an animator will draw a Disney character of your choosing. I believe we paid $35 for ours, which is very reasonable when you consider that this is a hand-drawn piece of authentic Disney art."
Tabatha adds: "I enjoyed the 20-minute class so much I went to another immediately following the first class. I learned how to draw 'angry' Donald and then Pluto. At the end of class, you get to 'autograph' your drawing and then take it with you. The drawing makes a nice little souvenir. I LOVED the class! It was a lot of fun, and it's something that I would have skipped again, had I not been pregnant during this trip. I definitely won't be skipping this attraction again."
These "little things" are just to get you started — the Studios has plenty more. There are many other spots located around this park that offer chances for funny photos or merry memories — all you have to do is look for them. Remember to let us know what you find!
====================
RELATED LINKS
====================
AllEars.Net's Disney's Hollywood Studios pages start at: http://allearsnet.com/tp/mgm/mgm.htm
Citizens of Hollywood: http://allears.net/tp/mgm/m_streetmos.htm
Overlooked Attractions in Magic Kingdom: http://allears.net/ae/issue559.htm
Overlooked Attractions in the Animal Kingdom (to be updated soon!): http://allearsnet.com/tp/ak/issue183.htm
Overlooked Attractions in Epcot (to be updated soon!) : http://allearsnet.com/tp/ep/issue099.htm
More Overlooked Attractions (to be updated soon!) : http://allearsnet.com/tp/ola.htm
Times for all the live acts, like Mulch, Sweat and Shears, in Walt Disney World can be found on Steve Soares' Unofficial WDW Entertainment site at:
http://wdwent.com
=-=-=-=-=-=-=-=-=-=-=-=-=-=-=-=-=

ABOUT THE AUTHOR:
Debra Martin Koma, AllEars.Net's Senior Editor, fell in love with Walt Disney World on her first visit there — when she was 34! She's lost count of how often she's returned to her Laughing Place in the ensuing (16!) years, but knows that she still isn't tired of it. (And doubts she ever will be.) Read more of her writing for AllEars® here: http://allears.net/btp/dkoma.htm
-o-o-o-o-o-o-o-o-o-o-o-
Editor's Note: This story/information was accurate when it was published. Please be sure to confirm all current rates, information and other details before planning your trip.