Overlooked Attractions at the Magic Kingdom – 2018
by Debra Martin Koma
AllEars® Editor
Feature Article
This article appeared in the May 15, 2018 Issue #973 of ALL EARS® (ISSN: 1533-0753)
Editor's Note: This story/information was accurate when it was published. Please be sure to confirm all current rates, information and other details before planning your trip.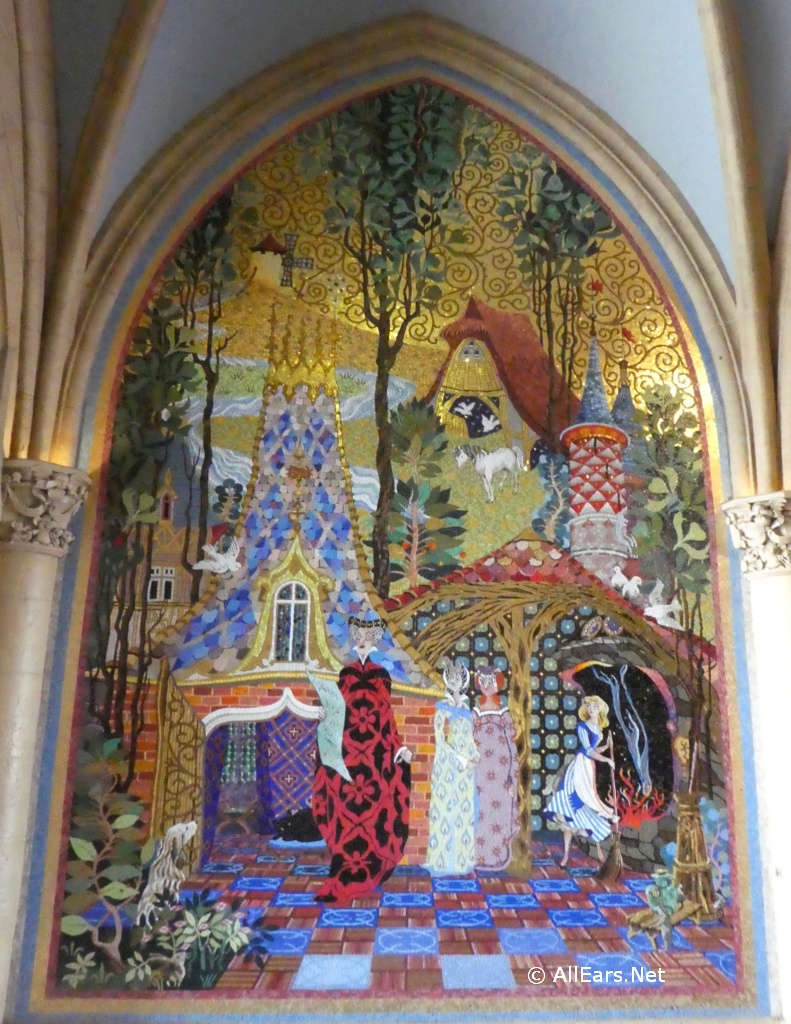 More than a few years ago, AllEars® ran a series of features on what we called "Overlooked Attractions" around the parks and resorts. You know, those little things that actually make you detour from your beeline to the thrill rides, the additional touches that demonstrate Disney's well-known attention to detail and make the World the fascinating place that it is. Every so often we like to go back and update the Overlooked Attractions, and in the case of the Magic Kingdom that update is long overdue — it's been eight years since we last updated the list, and there's a whole New Fantasyland waiting to be explored! Here are some of our favorite "Overlooked Attractions" in Magic Kingdom, old and new. (This compilation is by no means all-inclusive — if your favorite "Overlooked Attraction" is missing, please send it along using our "Contact Us" form!)
The original Walt Disney World theme park is chock full of amazing details that often go by the wayside as we hurry off to our favorite rides, many of them a throwback to an earlier era. A visit to the Magic Kingdom begins with a walk down Main Street, U.S.A., and there may be no other place that has such a long list of often-overlooked diversions.
The treats start almost the second you emerge from under the railroad station. Instead of running straight to the "Mountains" (Space, Splash, Big Thunder), take a few minutes to head over to your right, across Town Square, to The Chapeau, the Magic Kingdom's headgear shop. Yes, yes, you can find all sorts of Mouse Ears here, and outrageous hats for every occasion, but that's not why you're here. Instead, look at the wall opposite the cashier for the old-fashioned telephone. Lift up the receiver and you can listen in, party-line style, on a comical conversation between a mother and her daughter, circa early 1900s. I am so thrilled that this telephone is still working!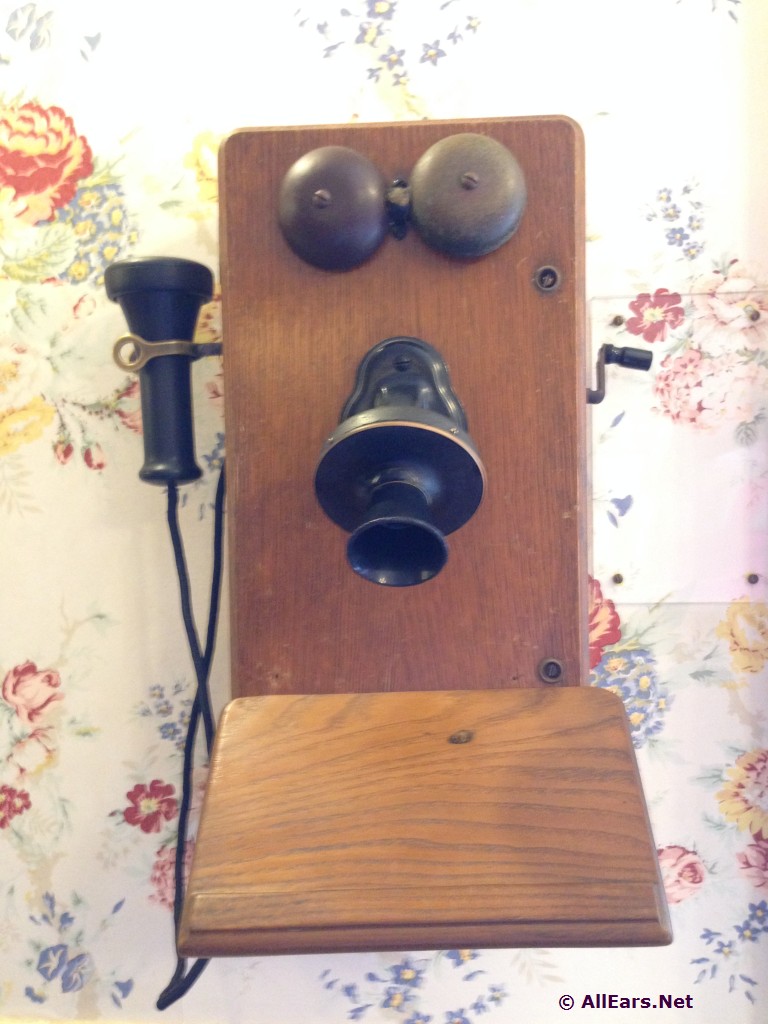 On the opposite side of the street is the Harmony Barber Shop, marked with an old-style, red-and-white-striped barber pole. It's open 9 a.m. to 5 p.m. every day, no appointment necessary. If you're lucky, you'll be treated to harmonies from the Dapper Dans, the park's resident barbershop quartet. And if it's your child's first haircut, or even if you just want to clown around, the barbers have a special cape, props and lots of pixie dust for silly pictures.
Have you ever visited Tony's Town Square restaurant? Be sure to look down as you walk up the steps — you'll find paw prints encircled in a heart from those romantics, Lady and the Tramp.
As you make your way up Main Street, take a moment to check out the shop windows — but I don't just mean those at eye level. Look up at the windows on the second floor — what you might not realize is that many of these windows are actually dedicated to Imagineers and notable Disney executives from over the years. For example, Card Walker, former president of The Walt Disney Company, has a window touting him as "Practitioner of Psychiatry and a Justice of the Peace."
You may think Main Street is just a long shopping mall. Well, OK, it is, but there are a number of hidden delights if you take the time to poke around. For one, stop in at the Crystal Arts Shop to be amazed by glass-blowers creating fabulous pieces at various times throughout the day. Or pop in for a hot dog at Casey's Corner, on your left as you're walking toward the castle, just before the hub. If you venture to the outside seating area, you might stumble across the ragtime piano player who performs periodically throughout the day. Don't be shy — he takes requests.
As the day winds down, don't forget about the Flag Retreat, held daily at 5 p.m. in Town Square. If you are or someone in your party is a veteran, inquire at City Hall about acting as the "Veteran of the Day," so you can participate in this special flag-lowering ceremony.
Going Interactive
If it's been a while since you've been to the Magic Kingdom, you may not realize that there's a whole new trend in queuing — the interactive queue that entertains you, or lets you entertain yourself, while you wait to experience your favorite rides. In many cases, these interactive queues are mini-attractions in themselves, so even if you think, "There's no way I'm riding that!" it still might be worth your while to walk along the queue and see what there is to see.
For example:
At Under the Sea – Journey of the Little Mermaid there is a series of little "windows" lining the queue with cute animations of a tiny crab protecting his treasure of thingamabobs and whatsits. You can also enjoy beautiful waterfalls and shells, and listen to Scuttle's jokes while waiting to board the ride.
At Haunted Mansion, there's musical graveyard that is quite literally hands on. You are encouraged to touch the Decomposing Composer's Crypt and the other stone tombs to produce musical sounds and even groans from some of the ghosts trapped within.
At Seven Dwarfs Mine Train you can pan for gold and conjure up gemstones.
There are several other interactive queues, such as those at Big Thunder Mountain Railroad and the Many Adventures of Winnie the Pooh, and of course the enclosed "play while you wait" area at Dumbo, where you even get a pager to alert you to your time to ride.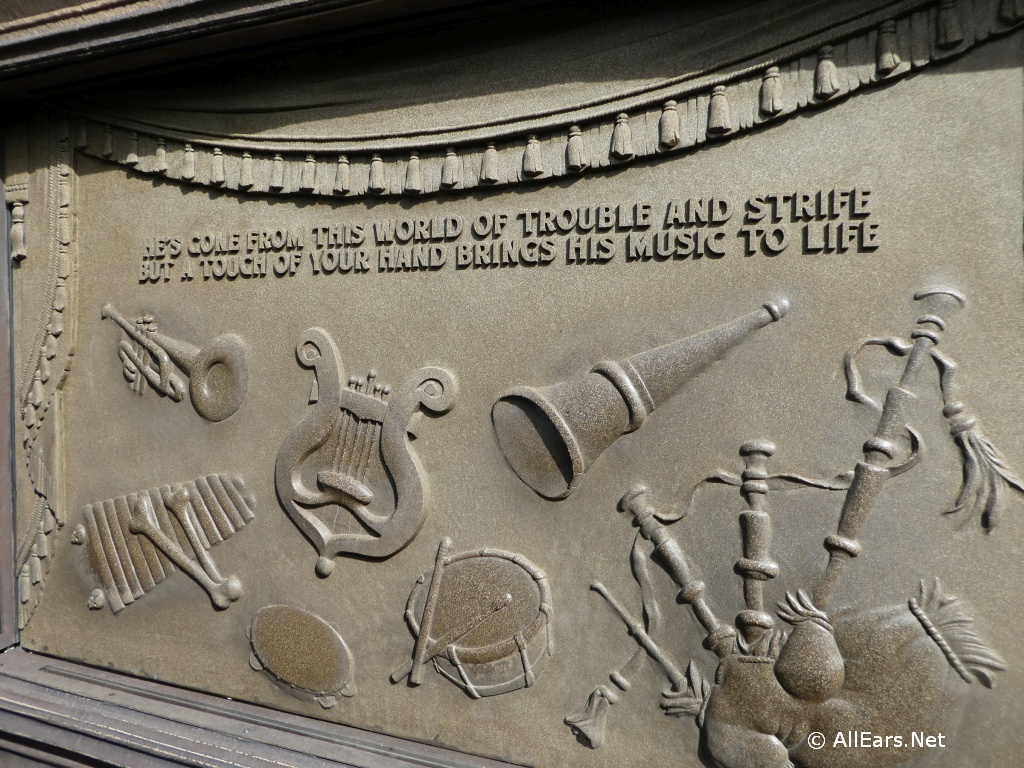 A few of the really sweet "Overlooked Attractions" in Fantasyland have gone the way of the dinosaur in recent years — no longer can you find Tinker Bell in the Tinker Bell's Treasures shop, nor does King Arthur's wizard Merlin help you pull the sword out of the stone (although the Sword in the Stone is still there for photo ops near the carousel). Still, Fantasyland holds some unexpected surprises for those who take the time to seek them out.
When was the last time you walked through Cinderella Castle? With the frequent performances of the castle stage show, this area is often cordoned off, but if you have the chance be sure to check it out. Not only is the area home to the Bibbidi Bobbidi Boutique, but inside the main hall, the tale of "Cinderella" is told on five gorgeous mosaic murals, each a Gothic arch 15 feet high and 10 feet wide. The five murals contain about 500 colors and a million pieces of glass, many of them fused with real silver and 14-karat gold. Smooth-faced Venetian glass and rough-surfaced smalti (enameled or glazed glass) traditionally used by Italian craftsman were incorporated into the design. It took a team of six people more than two years to complete the murals. Note that each of Cinderella's wicked stepsisters has her own special facial tint. One sister is red in tone, to show that she is "red with rage," while another is greenish ("green with envy"), as they both look on as Cinderella tries on the glass slipper — a perfect fit.
Tucked off to the side of Cinderella Castle is what's called the "Fairytale Garden." It's home to a little "Play and Greet" experience with Merida from the film "Brave."
As you enter Fantasyland through the Castle archway, look for the Cinderella fountain on the left. You'll see a painting of Cinderella on the wall with the crown well above her head. As you bend over to drink from the fountain, you are 'bowing' to the Princess Cinderella. As your head is down, instead of looking at what you're drinking, glance upwards at Cinderella — it now appears that she's wearing her crown.
If you take the upper path to the right of the Castle you'll run into Cinderella's Wishing Well. Now, I'm not promising your wish will come true if you drop a coin into this well, but I do know a certain teacher friend who stopped here and wished for a proposal — within two weeks after making the wish, she was engaged! Just sayin'…
Wander over to the Storybook Circus section of Fantasyland to find one of my favorite stores in the Magic Kingdom. Even though I'm not a shopper, I can really appreciate the theming and details that went into creating Big Top Souvenirs. It feels like you're walking into an old-time circus tent, from the carpeting made to look like canvas, to the sales desks that resemble circus train cars, to the trapeze and rope ladders suspended from the brightly lit ceiling.
Finally, if you like to play along, there's a fun live entertainment in Fantasyland. The Royal Majesty Makers (including retired knight Sir Sterling, royal etiquette expert Lady Llewellyn, squire extraordinaire Tobias and lady-in-waiting Bridget) can be found several times throughout the day in the Castle Courtyard, where they hold Knight School, lead royal dances and play games.
While most items on this list are activities and details that aren't true "attractions" in the strictest sense of the word, two in Tomorrowland are. Consider this my personal plea for you to not overlook the Tomorrowland Transit Authority PeopleMover and the Carousel of Progress. The spiel of the TTA, formerly known as the WEDWay People Mover, was updated several years ago, losing some of its original charm in the process, but still its smooth 10-minute ride not only offers a bird's-eye view of the futuristic landscape, it lets you peer into the interior of some of the land's most popular attractions, like Buzz Lightyear's Space Ranger Spin and Space Mountain. It's easy to pass by the slow-moving escalator that takes you up to the trains, but it's a peaceful way to spend a few minutes waiting for a FastPass+ window to open.
The Carousel of Progress is one of Walt Disney's original attractions, dating back to the 1964-65 World's Fair — there's usually no or a very short wait to board this 20-minute ride through history, and for a Disney fan there's nothing better than seeing this somewhat dated vision of "A Great Big Beautiful Tomorrow."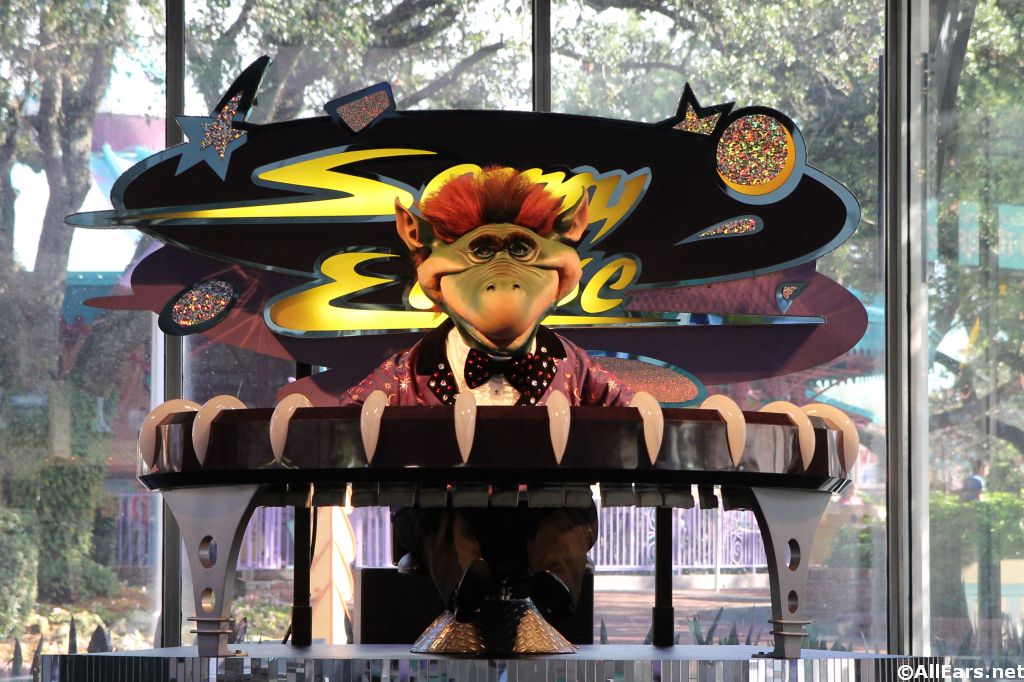 Even if you're not hungry, take a walk through Cosmic Ray's. If you're lucky, you'll be able to catch a set by that galactic lounge lizard, Sonny Eclipse. With his corny banter and schmaltzy tunes, Sonny is one of my favorite old-timey "overlooked attractions." I hope they never get rid of him!
One last note about the "little things" you can find in Tomorrowland: Just before the fireworks, this land is a great location for spotting Tinker Bell as she makes her nightly flight from the Castle. Ask a Cast Member to recommend a good viewing spot.
The raft ride leading from the dock in Frontierland isn't just for atmosphere. There's actually something to *do* once you get to the other side — even *lots* of somethings. Tom Sawyer Island is home to Fort Langhorn, a play area for kids that features underground mazes and lookout platforms. There are plenty of places for the "old folks" to sit and rest while the young'uns run off some steam. There are even a couple checkerboards near the boat dock, for you to enjoy a game or two while you wait to return to "the mainland."
In front of the Shooting Gallery (an overlooked attraction that you do have to pay for, but is such a fun throwback arcade-style game), there are also a couple tree stumps with a checkerboard.
Later in the afternoon, you may encounter the fun Hoedown Happening just outside of Pecos Bill's. It's an interactive mini-parade that features dancers and the Country Bears, who encourage you to dance (both square and line) with them.
As you approach the Jungle Cruise (entering from Main Street), don't hurry past the giant Tiki God statues. If you listen carefully, you'll hear the sounds of distant drums… and if you're not careful where you step, the angry gods will spit at you!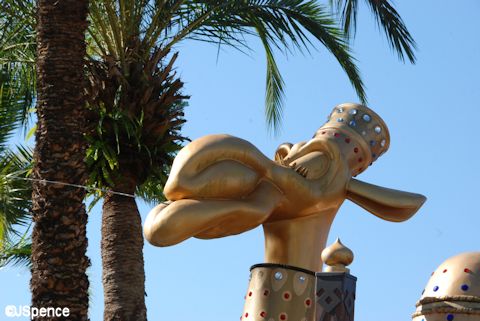 And as you walk further along that same path, you might get spit on yet again! Watch out for those giant camels that are guarding the Flying Carpets of Aladdin.
Adventureland is also a great place to practice your Hidden Mickey-spotting ability. Did you know that there are about a dozen Hidden Mickeys in the Pirates of the Caribbean alone? Don't know where to begin to look for these little images of Mickey that the Imagineers have disguised in the theming of the attraction? Start with some obvious ones, like the cannonballs in the ride's loading area (they form a tri-circle Mickey head!), and move on to the more obscure — for example, there are supposedly three weld holes that form a Mickey head on the plane in the Jungle Cruise, but I've never been able to see them! (Check http://www.hiddenmickeysguide.com/ for a full list of Hidden Mickeys throughout Walt Disney World!)
On the side of the Hall of Presidents' building, across from the Liberty Bell, you'll spy two old-fashioned rocking chairs on a small brick porch. They're not just props — you really can rock away a few minutes (or hours) from this comfy spot. Stop at Sleepy Hollow for some caramel corn or an ice cream sandwich, and bring your treats back to the chairs for savoring as you people-watch from this out-of-the-way spot.
Everyone has a chance to read the humorous tombstones while they wait to enter the Haunted Mansion (hope you haven't missed the animated Madame Leota's headstone!), but do you ever stop to examine the graveyard after you exit the attraction? It's a pet cemetery, filled with funny grave markers. In fact, if you look closely, you'll spot the grave of a certain Mr. J. Thaddeus Toad!
The whole of Liberty Square itself is an Overlooked Attraction in my opinion, as it has a lot of interesting details that are easy to pass by. If you have the chance take a minute to ponder the following:
— Examine the big Liberty Tree and you'll count 13 lanterns — one to represent each of the 13 original colonies.
— Look for the crooked shutters on the windows. The colonists used leather straps to hold them open and often the leather would give out, causing the shutters to become crooked.
— A window in one of the buildings shows two lanterns, which represent Paul Revere's famous "two if by sea."
— Spot the window with a rifle. In colonial times this meant a Minute Man resided there and he was ready to respond to action.
Odds and Ends
I know I said most of these Overlooked Attractions were free, but there is one goodie you can get in the Magic Kingdom's Adventureland that you can't find elsewhere in WDW that is definitely worth the cost! Citrus Swirls, a refreshing combination of orange juice concentrate twirled with vanilla soft-serve. (By the way, I'm still grieving over the loss of the Citrus Swirl's blushing cousin, the Strawberry Swirl, found at Fantasyland's former Enchanted Grove, now known as the Cheshire Cafe. It was, in my opinion, even better than its orange counterpart.)
Also, scattered throughout the Magic Kingdom these days you can encounter a variety of character actors who blend in with the theme of various lands. Their appearance times aren't usually published in the times guides, but cast members or Guest Relations should be able to tell you when you might meet up with the "Citizens of Main Street." Having the chance to interact with them just might make your day a little more magical.
In addition to the character actors, there are a number of musical acts worth not only stopping for but actually seeking out, from the aforementioned Dapper Dans and Casey's pianist, to the Main Street Trolley Show and the Main Street Philharmonic. (Here's a taste of the Main Street Philharmonic doing what they do best: http://www.youtube.com/watch?v=FD2V2f9HzGA.)
Finally, one of my very favorite things that you might be tempted to skip at the end of a long, tiring day: The Electrical Water Pageant. Each of the barges in this nightly floating parade, which circles the Seven Seas Lagoon in front of the Magic Kingdom starting around 9 p.m., carries a 25-foot-tall screen of lights. Neptune leads the parade, followed by a string of his aquatic subjects swimming along to Disney music. The conclusion of the parade is a patriotic salute to America, with flags and stars accompanied by a score that would make John Phillips Sousa proud.
OK, this is getting rather long, and I can't possibly touch on every "Overlooked Attraction" the Magic Kingdom has to offer — there are just too many in this most magical place. But please, since I've shared some of my favorites, feel free to tell me yours using our "Contact Us" form.
And don't forget to take a moment to look over what you may have overlooked before!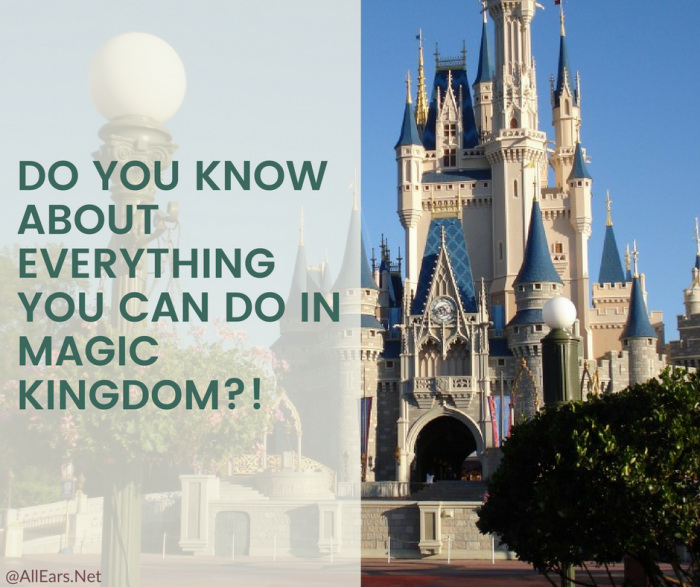 = = = = = = = = = = = = =
RELATED LINKS
= = = = = = = = = = = = =
Overlooked Attractions in Animal Kingdom – 2017
Magic Kingdom Attraction Pages
Magic Kingdom Restaurant Pages
-o-o-o-o-o-o-o-o-o-o-o-
Editor's Note: This story/information was accurate when it was published. Please be sure to confirm all current rates, information and other details before planning your trip.