Marc and Alice Davis: A Disney Romance
by
Joan Feder
Feature Article
This article appeared in the February 9, 2021 (#1123) edition of ALL EARS®
Editor's Note: This story/information was accurate when it was published. Please be sure to confirm all current rates, information and other details before planning your trip.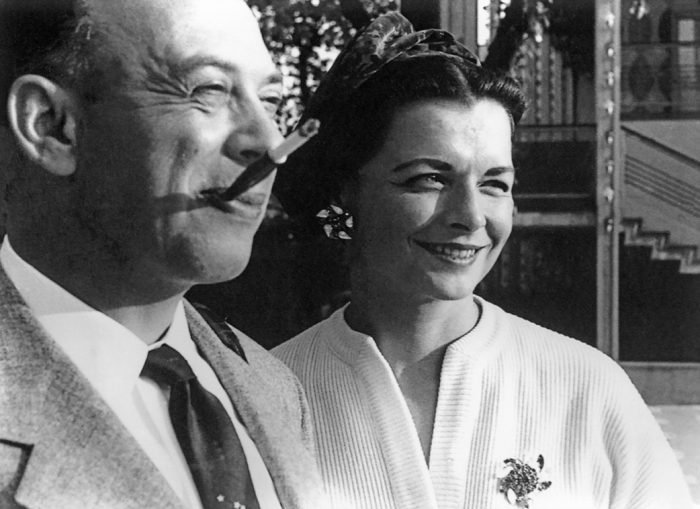 In honor of Valentine's Day, it seems appropriate to talk about one of Disney's most important power couples. No, not Walt and Lillian. Not Mickey and Minnie. Today we will look at the careers of two Disney Legends: Marc and Alice Davis.
Marc Davis began working at Disney in the late 1930s. He was assigned to work as an apprentice animator on Snow White and the Seven Dwarfs. His first job was to animate Snow White dancing with Sneezy, who was standing on Dopey's shoulders.
Davis was quickly recognized as one of the best draftsmen at the Studio.
He was a master of drawing the human form. So, it is no surprise that he became the Studio's "ladies' man." In other words, Marc drew most of Disney's female stars.
He was responsible for Tinker Bell, Cinderella, Briar Rose/Princess Aurora, and Maleficent, among others. On 101 Dalmatians, Marc was the only animator for Cruella de Vil. This was first time an animator drew one character for the entirety of a feature film.
During an interview, Marc was asked to name his favorite among his creations. He declined, saying, "Each of my women characters has her own unique style; I love them all in different ways."
Davis was so well respected, that he got a job in the evenings, teaching animation to others at the Chouinard Art Institute. In the first class he taught, there was a Costume Design student who would one day become his wife. Her name was Alice Estes.
Alice was a talented art student and received a scholarship to attend Chouinard. She originally wanted to be an animator, but she did not get the chance. It was 1947, and the soldiers were coming home from World War II. The school's founder, Mrs. Chouinard, told Alice that the returning veterans would be filling the animation spots for the next two years. Instead, she recommended that Alice pursue a different major: Costume Design.
As a consolation, Mrs. Chouinard offered Alice a spot in a night class in animation. The class was full, but she would let Alice attend if she "called the roll" and brought the chalk to class. That is where Alice and Marc met, though they did not start dating until several years later.
After graduating from Chouinard, Alice got a job designing women's lingerie. It was not long before her talent carried her up through the ranks to the position of head designer. She had a great reputation in the fashion industry as an expert in patternmaking and dealing with different types of exotic fabrics.
Alice got her first job at Disney in the mid-1950's. Marc Davis called her because he needed her help. Marc was animating Princess Aurora in Sleeping Beauty. He was going to shoot some live-action footage for reference. One of the things he wanted to film was how a skirt would flow and move as Aurora danced. He asked Alice to create the skirt for the live-action model.
It was a call that would change both their lives. Marc and Alice dated for several years. They got married at the Burbank Courthouse in 1956.
Alice continued working for the Studio sporadically for the next several years. She designed costumes for the 1960 feature, Toby Tyler. She also created clothing for several of Disney's television shows.
Marc continued his work in animation, but then, his career took a turn when he became one of the original imagineers.
In 1962, Walt asked Davis to help tweak the troubled Mine Train attraction at Disneyland. It came out so well that Walt then asked him to help reimagine the Jungle Cruise. Marc made several suggestions, adding his unique comic touch. For example, the four men scrambling up a totem pole above a rhinoceros, along with the line "They'll get the point. In the end," was one of his changes.
Davis developed characters and storylines for many other Disneyland attractions. His influence can still be seen on many rides, including the Enchanted Tiki Room, the Haunted Mansion, and the Country Bear Jamboree.
Davis contributed to attractions at the 1964 New York World's Fair as well. Disney was involved in four of the Fair's pavilions. Marc created characters and scenes for all of them. He worked on the dinosaurs for Ford's Magic Skyway and the figure of Abraham Lincoln for the State of Illinois. He also helped create General Electric's Carousel of Progress, and the Pepsi/UNICEF's attraction, 'it'a a small world'.
Alice joined Disney as full-time employee in 1963 when Walt hired her to design the costumes for it's a small world. Walt gave Alice financial freedom in outfitting the dolls. He told her she could spend whatever was needed to make it the best attraction possible.
Alice researched the many different regions and cultures represented in the ride. In the end she came up with over 150 different costumes for the attraction.
Alice also collaborated with Marc on General Electric's Carousel of Progress. She designed the period appropriate costumes for the family as they travelled through the decades.
While working on the Fair, Alice basically had to invent the art of costuming audio-animatronic figures. In addition to designing the clothing, she also set up a method for dressing and refurbishing their costumes. These same techniques and systems are still in use today by Disney parks all around the world.
In 1965, according to Alice, she "went from sweet little children to dirty old men overnight". She was assigned to work with Marc on Pirates of the Caribbean. She created costumes based on Marc's concept art for the swashbuckling crew. There were 47 different outfits in all.
Marc and Alice both retired from Disney in 1978 but continued on as consultants. Marc helped with the development of Epcot Center and Tokyo Disneyland. Alice worked on a variety of projects including Pixar's 2009 feature, Up.
The Davises were dedicated supporters of the California Institute of the Arts. This is not surprising, since it was formed as a merger between the Los Angeles Conservatory of Music and the place they met, the Chouinard Art Institute.
Alice and Marc received many accolades from the animation industry over the years. In 1982, Marc was given the Winsor McCay Award in recognition of his lifetime contributions to animation. He was also awarded the Golden Award for 50 years of service from the Motion Picture Screen Cartoonists in 1985.
Alice was the recipient of the June Foray Award for her significant impact on the art and industry of animation at the 2014 Annie Awards.
Disney has honored both Marc and Alice for their respective careers. Marc was the recipient of the prestigious Mousecar award. It is an in-house trophy given by Disney to those who have given extraordinary service to the company.
The Davises were each named Disney Legends, Marc in 1989, and Alice in 2004.
The Davises are also the only married couple to have each been awarded individual windows on Disneyland's Main Street U.S.A.
Marc's window reads "Far East-Imports—Exotic Art—Marc Davis—Proprietor", in a nod to his love of primitive artifacts. For years, the window next to his was blank.
According to Alice, when she would visit Main Street, she would look up at Marc's window and think, "the one next to it to him is not taken yet, so I would be wishing for it and wishing for it… ."
On May 10, 2012, Alice became the fourth woman in Disney history to receive her own window. It is located next to Marc's just to the left of the Main Street Cinema.
Her inscription reads "Small World Costume Co. – Alice Davis – Seamstress to the Stars." At the dedication Alice said "All things good you have to wait a while for. After 83 years, I got my wish."
Marc and Alice Davis lived a fairytale romance. They were married for 44 years, until Marc's death in 2000.
They not only shared their love for each other but also for their time at Disney. As Alice said, "for years both Marc and I have had the great pleasure of bringing great fun and joy to people, and that was the jewel of our hearts."