History of Magic Kingdom Fireworks
by
Joan Feder
Feature Article
This article appeared in the July 13, 2021 (#1145) edition of ALL EARS®
Editor's Note: This story/information was accurate when it was published. Please be sure to confirm all current rates, information and other details before planning your trip.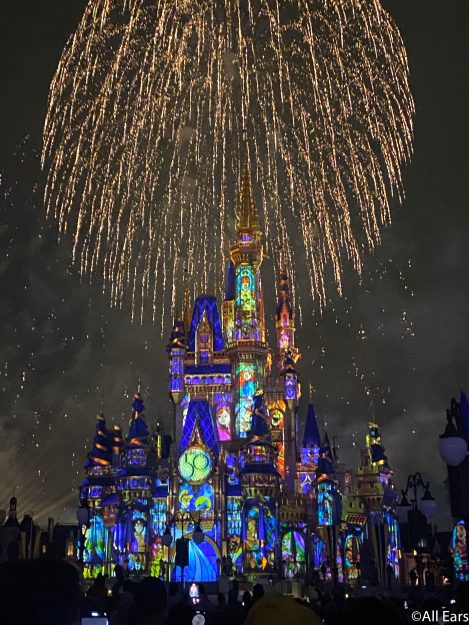 On July 1, 2021, nightly fireworks returned to the Magic Kingdom. With the exception of last year's cancellations, they have been a regular part of visits to Disney World for the last 49 years. In all that time, there have only been three standard shows that have entertained guests at the Magic Kingdom. Here is a look back at those productions and a glimpse of what to expect next.
Fantasy in the Sky (1971 to 2003)
This is the show that started it all. Fireworks made their debut at Disneyland in 1956. It was a direct result of Walt asking for a fireworks show. He wanted Sleeping Beauty Castle as the backdrop, much like the introduction to the Disneyland television program.
Like all things Disney, the show evolved over time. It was renamed Fantasy in the Sky in 1958. Tinkerbell's nightly flight became part of the experience in 1961.
Initially, the pyrotechnics were hand lit by cast members. In the 60s, the firing method changed to an electronic push button system. This made it possible to sync the fireworks to the soundtrack, paving the way for the Disney nighttime displays that we are now accustomed to.
The first Florida version of Fantasy in the Sky celebrated the dedication of the Polynesian Resort. It took place at the Magic Kingdom soon after Disney World opened, on October 24, 1971.
This show was much bigger than its Disneyland counterpart. It was given a heftier budget and had a lot more space to fill.
The show was about 6 minutes long. The sky behind Cinderella Castle glowed in time to classic Disney songs including "A Dream is a Wish Your Heart Makes", "When You Wish Upon a Star", and the "Mickey Mouse March". After 1985, if you were lucky, and the weather was right, Tinkerbell kicked off the celebration by flying from Cinderella Castle toward Tomorrowland Terrace.
Fantasy in the Sky continued to play for over 30 years, closing in 2003. But that was not the end of this beloved show.
It went on to become part of the Magic Kingdom's New Year's celebrations, held on December 30th and 31st. It also reappeared as part of the Independence Day fireworks held on July 3rd and 4th for several years. There was even a special Halloween version on October 31, 2004.
Wishes: A Magical Gathering of Disney Dreams (2003 to 2017)
This 12 ½ minute show premiered on October 9, 2003. It had a stronger storyline than its predecessor, focusing on the wishes of Disney characters, both good and evil.
Jiminy Cricket was the narrator for Wishes. The only character to actually appear was Tinkerbell as she reprised her Fantasy in the Sky flight from the Castle to Tomorrowland.
The show featured more than 683 fireworks. This included several wishing stars, that appeared during different parts of the show, arcing 100 feet over the top of Cinderella Castle.
Special lighting transformed the color of the Castle throughout the program, reflecting the mood of the music being played. The soundtrack included tunes from more recent Disney classics like Beauty and the Beast, Aladdin, and Hercules.
On New Year's Eve, Wishes was shown and then plussed with the addition of Fantasy in the Sky. This version included a countdown to the year's end, hosted by Mickey, Goofy and Minnie.
Wishes was shown for the last time at the Magic Kingdom on May 11, 2017, after playing for 13 years.
During its run, Wishes was preempted by other specialty shows for certain holidays and events.
From 2005 until 2018, HalloWishes took the place of the regular show at Mickey's Not-So-Scary Halloween Party. This 11 minute display focused on the spookier and more villainous side of Disney. Songs included The Little Mermaid's "Poor Unfortunate Souls", "This is Halloween" from The Nightmare Before Christmas, and "Grim Grinning Ghosts" from the Haunted Mansion.
Mickey's Very Merry Christmas Party featured a different fireworks spectacular—Holiday Wishes: Celebrate the Spirit of the Season. This show was also hosted by Jiminy Cricket. Holiday themed classics included "Sleigh Bells", "I'll Be Home for Christmas", and "Santa Claus is Coming to Town".
The fireworks show at Mickey's Pirate and Princess Party was called Magic Music and Mayhem. Songs featured included Cinderella's "Bibbidi-Bobbidi-Boo", and "So this is Love", along with others like "The Black Pearl" from the Pirate of the Caribbean movies. This show also ran in the summer of 2010 as part of Disney World's Summer Nightastic promotion.
For Independence Day, Disney's Celebrate America took the place of Wishes as the fireworks spectacular. It featured folks songs as well as patriotic tunes. "This Land is Your Land","You're A Grand Old Flag", and "The Star Spangled Banner" were all a part of the show.
Happily Ever After (2017 to 2020 & July through September 2021)
This current spectacular debuted the day after Wishes closed, on May 12, 2017. It is the longest of the Magic Kingdom shows so far, coming in at 18 minutes. It includes scenes from Disney classics like Sleeping Beauty along with more contemporary films like Moana.
Happily Ever After takes Disney's nighttime entertainment to the next level. More than pyrotechnics, it also includes lasers, searchlights, and projection mapping.
Cinderella Castle serves as a kind of screen for the projections, becoming part of the show. Great moments from Disney movies appear on the 18 story high building. Ariel swims in her undersea grotto full of treasures, Quasimodo swings from spire to spire, and the Up house floats by with its multicolor balloons. Altogether, there are projected scenes from more than 25 Disney movies.
There are also over 50 synchronized spotlights, along with dancing lasers and incredible fireworks. The music is extraordinary as well, having been recorded by a 75-piece orchestra.
Another thing that makes this show unique is that it has a structured storyline. It focuses on the journeys that Disney characters have undertaken to make their dreams come true. It is meant as an inspiration for guests to find their own Happily Ever After.
The opening sequence encourages us to listen to our hearts' desire as the Happily Ever After theme tune plays. The next segment shows us the dreams of several Disney favorites, including Tiana, Ariel and Remy.
As their adventures start, we watch Moana, Merida and others embark on their respective quests. Then we get a glimpse of the friendships that have encouraged these adventurers as they follow their paths. This portion of the show features the likes of the Genie from Aladdin, Terk from Tarzan and Timon and Pumbaa from The Lion King.
Olaf from Frozen introduces the segment on the love that supports the characters on their journeys. Jasmine and Aladdin soar to "A Whole New World". Lanterns from Tangled float up the Castle's facade as Flynn Rider and Rapunzel sing "I See the Light".
The intensity of the music and displays increases as the characters deal with adversity. There are scenes of conflict and battle. Eric and Ursula fight it out. Scar and Mufasa clash over control of the Pride Lands. Maleficent morphs into her dragon form. There are blasts and explosions. The scene ends with the Castle in ruins.
Of course, that is not the end. After overcoming all obstacles, peace returns. Cinderella Castle is repaired while we see the Disney characters in their moments of triumph. The theme is "Go the Distance" from Hercules.
The narrator tells guests that like the characters, they too can use their own magic to make their dreams come true. Then Tinkerbell makes her iconic flight over the Magic Kingdom to "You Can Fly." The show ends with a final flourish of fireworks.
Happily Ever After ran from its opening on May 12, 2017 until March 12, 2020. At that time, all fireworks were suspended due to the pandemic. It returned on July 1, 2021, and is scheduled to run through September 30th of this year.
Disney Enchantment (Scheduled opening 10/1/2021)
This new fireworks display is set to debut on October 1st, as part of "The World's Most Magical Celebration"—the 50th anniversary of Disney World and the Magic Kingdom. This event is scheduled to run for 18 months.
Disney Enchantment is billed as taking guests "on a journey beyond the ordinary to a land of magic". It will use stunning fireworks, enhanced lighting and captivating Disney music to sweep us away into a "world of wonder filled with friendship, love and fun".
It will also feature a first for any Magic Kingdom nighttime spectacular: immersive projection effects that extend from Cinderella Castle down Main Street, U.S.A.!
That's all we know about Disney Enchantment so far. Stay tuned to AllEars—we will keep you updated on more details as they become available.
In the meantime, tell us: what do you think? Are you looking forward to this new experience? Or do you have a favorite show that you wish they'd bring back instead?