Epcot International Festival of the Arts January 12 – February 19, 2018 Food Studios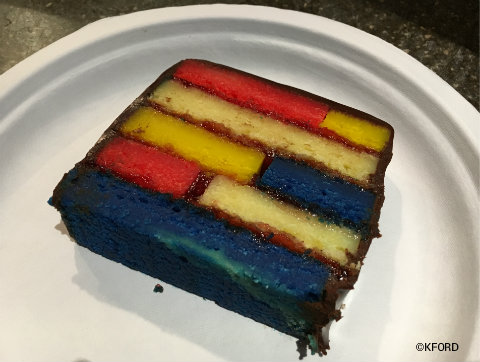 Epcot International Festival of the Arts – Combining visual, culinary and performing arts from around the world, the festival will create a global masterpiece. The festival is included with regular Epcot admission.

Most Marketplace food items are one snack credit on the Disney Dining Plan.
Most of the Marketplace Kiosks will offer Dasani Bottled Water $3.00
Food Studios will showcase culinary creations so delicious and intricate, guests may not know if the menus are for admiring or eating. Disney chefs will surely encourage guests it's the latter. While the Epcot International Flower & Garden Festival strives for seasonal flavors, and the Epcot International Food & Wine Festival is all about global cuisine, the Epcot International Festival of the Arts is all about works of art on a plate (Instagram-worthy, for sure!). At many of the Food Studios, guests will be able to watch the chefs plating and see the creative process as the dish comes to life.
Food studios open from 11 a.m. to 9 p.m.
Epcot admission required
Alcohol will only be served to Guests 21 and older
(GF) = Gluten-Friendly
(V) = Vegetarian
The Deconstructed Dish
Food:
Deconstructed BLT with Crispy Pork Belly, Tomato Jam and Soft Poached Egg $6.75
Deconstructed Reuben with Shredded Corned Beef, Thousand Island Dressing, Pickled Red Cabbage and a Rye Curl $6.50
Deconstructed Strawberry Cheesecake: Whipped, New York Style Cheesecake with Fresh Florida Strawberries and Sugar Cookies with Micro-basil $6.00
Beverages:
Deconstructed Breakfast: Twinings® Spiced Apple Chai Tea Shake with Maple Bourbon Cream, a Waffle Crisp and Candied Bacon $10.50
Deconstructed Breakfast: Twinings® Spiced Apple Chai Tea Shake with Maple Syrup, a Waffle Crisp and Candied Bacon (non-alcoholic) $4.50
Intrinsic Cabernet Sauvignon, Washington $7.00
Pop-Artsicle: Red, White and Blue Frozen Slushy (non-alcoholic) $4.00
Cuisine Classique
Food:
Red Wine Braised Short Rib with Parsnip Purée, Broccolini, Baby Tomatoes and Aged Balsamic $7.75
Seared Corvina with braised Ratatouille and Lemon-Thyme Beurre Blanc (GF) $7.50
Artist Palette Jumbo Chocolate Chip Cookie $5.50
Saint-Honore Tart: Caramel Cream Tart with Caramel Glaze topped with Cream Puffs $6.00
Beverages:
Sierra Nevada Pale Ale Chico, CA $4.00
Bell's Two Hearted American-style India Pale Ale Kalamazoo, MI $4.00
Duck Rabbit Milk Stout Farmville, NC $4.00
Beer Braising Flight $9.00
Campo Viejo Rioja Reserva Art Series Logrono, Spain $5.50
Domaine Savary Chablis, Burgundy $7.00
The Artist's Table
Food:
Roasted Pork Roulade with Butternut Squash Purée, Marble Potatoes and Baby Carrots with a Red Wine Sauce featuring Melissa's Produce $6.75
Pan-Seared Scallop with Chorizo, Roasted Red Pepper Coulis and a Parmesan Crisp (GF) $6.50
Artist Palette Jumbo Chocolate Chip Cookie $5.50
Beverages:
Callebaut Belgian Sipping Chocolate Flight: White, Milk, Dark (non-alcoholic) $8.00
Callebaut Belgian Sipping Chocolate: Dark Chocolate with Chambord $9.75
Perla Santa Coffee-flavored Wine $9.50
Barrymore Rosé, Monterey County, CA $5.00
Carmel Road Drew's Blend Pinot Noir, Monterey County, CA $7.00
The Painter's Palate
Food:
Trio of Savory Croissant Doughnuts $9.50

Whipped Boursin Garlic and Fine Herbs Cheese with Fresh Herbs (V)
Chicken Salad with Shaved Fennel and Fresh Herbs
Spicy Tuna with Wasabi and Seaweed Salad

Gallery Bites: A Trio of Hors d'Oeuvres $7.00

Chilled Shrimp with Cucumber Cream Cheese on a Crostini
Traditional Deviled Egg with Candied Bacon
Crispy Truffled Risotto Ball with Stone-ground Mustard

Pop't Art: Abstract Designed Sugar Cookie with Strawberry Filling $4.25 (V)
White Chocolate Figment Puzzle on an Artist Palette $6.50
White Chocolate Painting with Chocolate Easel $7.00 (V) (GF)
Beverages:
Pomegranate Mule featuring Van Gogh Vodka $9.50
North Coast Brewing Co. Scrimshaw Pilsner Style Beer, Fort Bragg, CA $4.25
M.I.A. Brewing Company Jazz IPA, Doral, FL $4.25
Central 28 Beer Company Miss Mary Brown Oatmeal Brown Ale, DeBary, FL $4.25
Popcorn Pairing Flight $11.00
Pop Eats!
Food:
Sous Vide Poulet Rouge Chicken Roulade with Apples and Sage served with Warm Brie Fondue, Blueberry and Beet Gel and garnished with Apple and Beet Chips (GF) $6.50
Shrimp Ceviche with Lime Mint Foam (GF) $6.00
Almond Frangipane Cake layered with Raspberry Jam and Chocolate (V) $4.25
Pop't Art: Modern-design Sugar Cookie with Strawberry Filling (V) $4.25
Beverages:
Cloudem Sparkling Wine $9.00
Cloudem Sparkling Wine in a Souvenir Glass $16.50
Popping Bubbles Cocktail $10.00
Decadent Delights
Food:
White Chocolate and Purple Sweet Potato Mousse, Salted Caramel and Maple Meringue with Coconut $6.50
Caramel Chocolate Mousse Bar, Flavored Merengue Kisses and Passion Fruit Sauce $6.75
c $6.50
Artist Palette Jumbo Chocolate Chip Cookie $5.50
Beverages:
Ferreira 10 Year Old Port $10.50
3 Daughters Strawberry Nitro, St. Petersburg, FL $4.00
Breckenridge Nitro Vanilla Porter, Breckenridge, CO $4.00
Young's Double Chocolate Stout, England $4.25
Neapolitan Beer Flight $9.00
Coppo Moncalvina Moscato d'Asti, Piedmont $5.00
The Masterpiece Kitchen
Food:
Charcuterie Palette with Artisan Cured Meats, Nueske's Smoked Beef and Cheese $14.00
Smoked Salmon Tartare, Caviar, Crisp Lavash and Traditional Accompaniments $12.00
Wild Mushroom Risotto, Aged Parmesan, Truffle Shavings and Zinfandel Reduction (V) $9.00
Triple Chocolate Mousse, Chocolate Crunch, Dark Chocolate Sauce and Gold Leaf from our Master Pastry Chef $9.25
Beverages:
Perrier-Jouët Belle Époque Brut Champagne $29.00
Classic Sidecar with a Chocolate Twist $9.25
The Meeker Vineyard Winemakers' Handprint Merlot, Sonoma County, CA $9.50
Pinord La Dama Reserva Familiar Brut $7.00
Pinord La Dama Reserva Familiar Brut Rosé $7.00
Silverado Vineyards Chardonnay $7.00
Takumi Table – Japan Pavilion
Food:
Chirashi Sushi and Haupia Pearl: Salmon, Tuna and Yuzu Miso with Coconut Tapioca Pudding $7.50
Taiyaki Dessert: Stuffed Japanese Pastry with Sesame Cream and Raspberry Sauce $4.50
Beverages:
Calpico Yogurt Strawberry Swirl Sake $6.50
Masu Sake in a Personalized Wooden Cup $10.00
El Arista Hambriento (The Hungry Artist)
Food:
Mixiote de Cordero: Wrapped Slow Braised Lamb marinated in Tres Chiles Paste and Spices $8.95
Tacos de Puerco: Two Corn Tortillas with Slow-roasted Pork Shoulder marinated in Ancho Paste, served with Sweet Plantain Purée and garnished with Pea Tendrils $9.95
Atole de Fresa and Mexican Concha Bread: Warm Strawberry Drink served with Mexican Concha Bread 3.95
Beverages:
Frida Guava Margarita $13.75
Diego Passion Margarita on the rocks $14.25
Allende Craft Mexican Golden Ale $4.75
The Painted Panda – China
Food:
Coconut Panda Rice Cake 5.00
Crispy Fried Shrimp in a Wonton Chip Lotus Flower $8.50
Crystal Mooncake with Fruit Filling, garnished with Toasted Coconut $9.75
Beverages:
Scarlet Blossom : A cooler of Mango Wine, Strawberry Syrup and Ginger Ale $9.50
Fortune Cookie: ByeJoe Red, Amaretto, Coconut and Pineapple $10.50
Strawberry Bubble Tea (non-alcoholic) $6.95
L'Art du Cuisine Francaise – France
Food:
Rillettes du Mans, Cornichons, Carré du Boulanger: House-made Pork Rillettes, Cornichons and House-made Bread $8.75
Saumon en Croute Façon Paul Bocuse: Salmon in a Puff Pastry Crust, Paul Bocuse-style, with Spinach and Beurre Blanc Sauce $10.00
Le Coucher de Soleil: Sunset Mango and Raspberry Cake $6.75
Beverages:
Frosé: Frozen Côtes de Provence Rosé Wine with Grey Goose Vodka and Peach Purée $11.00
L'Or par Edmond Thery: French Sparkling Chardonnay $11.50
Alsace, Pinot Blanc, Reserve 2015, Gustave Lorentz $8.00
Bordeaux, Château Tour de Granins, Grand Poujeaux, Moulis en Medoc 2015 $8.50
Mosaic Canteen – Morocco
Food:
Spiced Beef: with Pine Nuts and Dry Cherries, hummus served with Pita Chips $9.00
Mediterranean Flat Bread with Zaatar, Olive Oil Artichoke, Olives, Mozzarella and Feta Cheese $8.00
Chebbakia: Hand-twisted Strips of Fried Dough coated with Honey, Rosewater and Sesame Seeds $7.00
Beverages:
Embrace the Arak: Massaya Arak, Grapefruit Juice and Grenadine $8.00
Tarima Red, Alicante, Spain $6.00
Casa Beer $4.00
L'Arte di Mangiare – Italy
Food:
Involtini di Salmone al Basilico, Piso Venere, Salsa Romesco: Basil-scented Salmon Roulade, Purple Rice and Romesco Sauce $12.00
Sformato di Melanzane e Pomodori, Mozzarella Fior di Latte: Tomato and Eggplant Terrine, Fior di Latte Mozzarella $9.00
Crema Fitta, Pesche e Rucola Pesto, Ciliege di Amarasca: Cream Fritters, Peach and Arugula Pesto and Amarena Cherries $7.00
Beverages:
Amaretto Bellini: Amaretto, White Peach Purée and Prosecco $12.00
Vodka Rossini: Vodka, Strawberry Purée and Prosecco $12.00
Prosecco, Villa Sandi $9.00
Moscato Fior d'Arancio, Montegrande $9.00
Corbinello, Montegrande $9.00
Pinot Grigio, Bosco del Merlo $7.00
Merlot, Montegrande $7.00
Moretti Lager $5.50
Moretti La Rossa Double Malt Beer $5.50

Additional Festival Locations
In addition to the Food Studios, other locations around Epcot will have special Festival-themed menu items.
Fife & Drum
Food:
Artist Palette Jumbo Chocolate Chip Cookie $5.50
Refreshment Outpost
Food:
Chilled Shrimp, Quinoa, Layered Vegetables, Spiced Yogurt and Red Pepper Coulis
Refreshment Port
Food:
Croissant Doughnut filled with Pastry Cream and topped with Colored Pearls $6.49
Joffrey's Coffee & Tea Company
Beverages:
All Festival specialty drinks served hot or cold.
Canada: Night Sky Latte: A delicious shot of Joffrey's Italian Espresso mixed with Creamy Godiva Chocolate Liqueur, topped with Steamed Milk and Whipped Cream
Disney Traders: Cinnamon Sensation: A shot of Italian Espresso mixed with RumChata and Cinnamon Whiskey, blended with Steamed Milk and Whipped Cream
Future World East: Painted Lady Latte: A shot of Joffrey's Italian Espresso mixed with rich Baileys Espresso Créme Liqueur, topped with Steamed Milk and Whipped Cream
The American Adventure: Dreamy Bourbon: A shot of Italian Espresso mixed with Bourbon Whiskey Cream Liqueur, blended with Steamed Milk and Whipped Cream