Disney MaxPass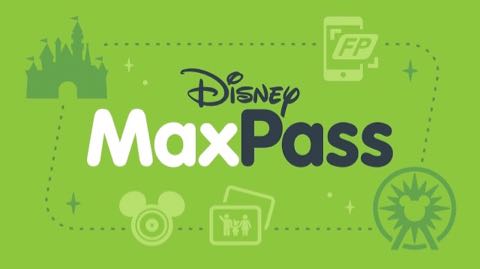 What is Disney MaxPass?
MaxPass is intended to allow guests to "max" their park experience by combining two different services: Disney PhotoPass and Disney Fastpass. MaxPass features unlimited PhotoPass downloads of photos taken during the day, including attraction and character dining photos. Guests with MaxPass can also make digital Fastpass selections by using the Disneyland app on their phones – they do not need to visit the Fastpass kiosk at the attraction. Fastpass selections can be made for attractions at either park, no matter which park they are in. The app generates a barcode, which guests scan at the Fastpass entrance.
Is there a charge for MaxPass?
Yes. The cost is $20 per day per ticket. MaxPass can be purchased as an add-on when tickets are purchased, or it can be added to an existing ticket on a day-by-day basis after entering the park each day. All members of your party must purchase MaxPass for you to be able to manage digital Fastpass selections from the Disneyland app.
Do I have to purchase MaxPass to get Fastpasses?
No. Traditional Fastpass selections can still be made by going to an attraction's Fastpass kiosk. There is no charge for that.
I have an annual pass. Can I use MaxPass?
Yes. If you have a Disneyland Signature Plus pass or a Premier pass, then MaxPass is an included feature. For other annual passes, you can purchase a MaxPass add-on for $100, which will give you the MaxPass feature until your pass expires, or you can choose to purchase MaxPass on a daily basis for $20/day. The yearly add-on must be purchased at a Disneyland Resort ticket booth; the daily pass will be purchased through the Disneyland app.
Does MaxPass allow me to reserve Fastpasses in advance, prior to arriving at the parks?
No. Fastpasses selections can only be made on the day of your visit. You, and all members of your party, must be in the park in order to use MaxPass. All of the usual Fastpass rules apply: you can only get a Fastpass if they are still available for the day, and you can't get another Fastpass until either your current Fastpass becomes valid or until enough time has passed. With MaxPass you can also cancel a Fastpass, which would allow you to select a new one.
Can I choose my Fastpass return time?
No. You will get the next available Fastpass time for the attraction, just as you would if you went to the kiosk.
Does MaxPass guarantee I will get all of the Fastpasses that I want?
No. You should verify that Fastpasses are still available prior to purchasing MaxPass.
Can I use MaxPass to get a Fastpass to shows like World of Color and Fantasmic!?
No. MaxPass only issues attraction Fastpasses. If you wish to get a Fastpass for a show you must visit the kiosk at the appropriate distribution point and scan your park ticket.
How do I use MaxPass?
After entering one of the parks, bring up the Disneyland app on your phone.
Sign into your account
When the Disney MaxPass screen comes up, tap "Get Started"
Create a Fastpass Party, and scan the barcode of the ticket for any other guests you wish to be part of your group.
If you or anyone in your Fastpass party does not already have the MaxPass feature on their ticket you'll need to purchase it. Tap "Continue to Purchase", and follow the directions to pay for MaxPass.
Now you can use the Disneyland app to make a Fastpass reservation. Tap "Get Fastpass", and choose a park and an attraction that has available Fastpasses. If the return time is acceptable, tap "Confirm". If not, you can back out and select a different park/attraction.
On the "My Plans" screen you can see the details of your Fastpass attraction and return time, as well as the time you will be able to select another Fastpass. You can also cancel an existing Fastpass if you wish.
Once the return time has arrived, click "Redeem Fastpass" on the "My Plans" screen, which will bring up the barcode. Scan the barcode at the Fastpass entrance for each member of your party.