There's a LOT to experience at Oogie Boogie Bash, so where do you even begin?!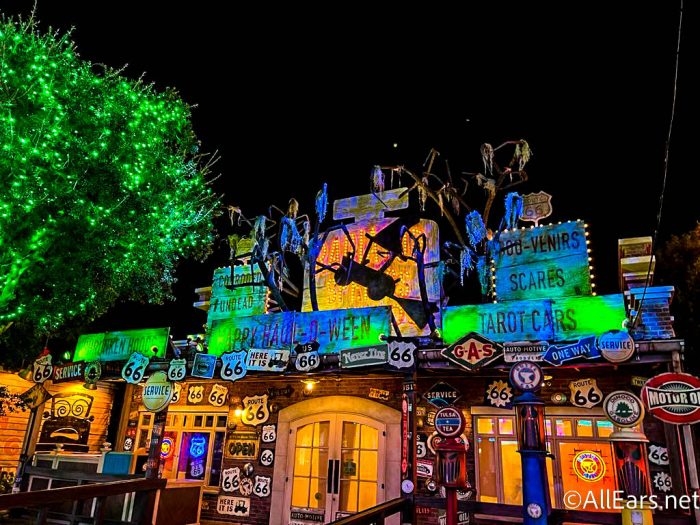 Between the characters (including some NEW villains!!), treats, a parade, and more, you might find it overwhelming. But we can help! Right now, we're giving you a full look at the entertainment available during the event so you know just what to expect and what to prioritize during your time there!
Just as a quick overview, Oogie Boogie Bash is a separately ticketed Halloween-themed event that takes place on select nights from now through October in Disney California Adventure Park (at Disneyland Resort).
Tickets for the event are fully sold out, but we're taking YOU along for the fun with us so you can experience it all whether you'll be heading to the party or not!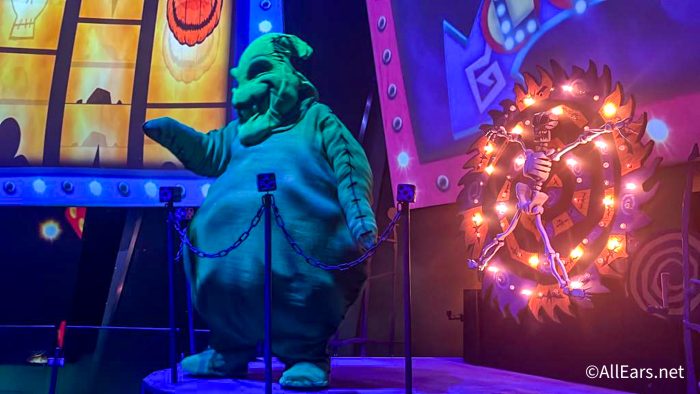 Here's a full look at the entertainment available at Oogie Boogie Bash (which you won't want to miss!).
1 — Immersive Treat Trails
First up, we've got one of the most popular and iconic parts of Oogie Boogie Bash — the Immersive Treat Trails. When you hop in line for these treat trails, you'll be able to grab candy (including M&M'S, SKITTLES, SNICKERS, and more) which is great. But the real draw is the characters you get to see while experiencing most of these trails!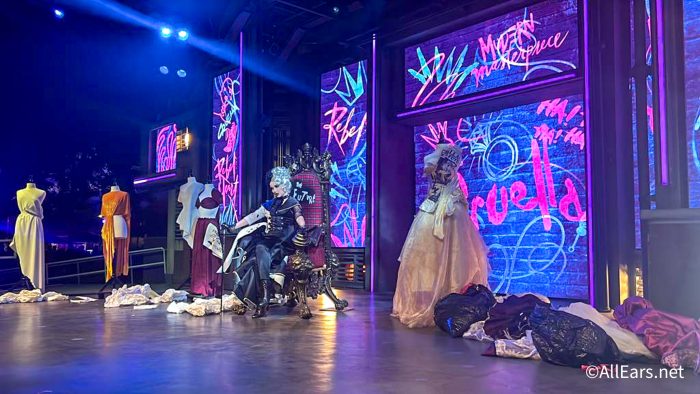 The villains here are typically set a little bit apart from the crowd — up on their own stages — but you can still interact with them from afar.
Here's a full list of the treat trails that'll be available this year:
Ancient Sanctum in Avengers Campus featuring Agatha Harkness
Near Cars Land
Bountiful Valley Hideaway featuring Madam Mim
Near Buena Vista Street
Disney Animation Building featuring Oogie Boogie
Hollywood Backlot Stage featuring Cruella De Vil
Hyperion Theatre featuring Ernesto de la Cruz
Near Pixar Pier featuring Sid
Near Grizzly Peak Airfield featuring Judge Doom
Near Grizzly Pass featuring Mother Gothel
Near San Fransokyo Square featuring Yokai
Near Paradise Gardens Park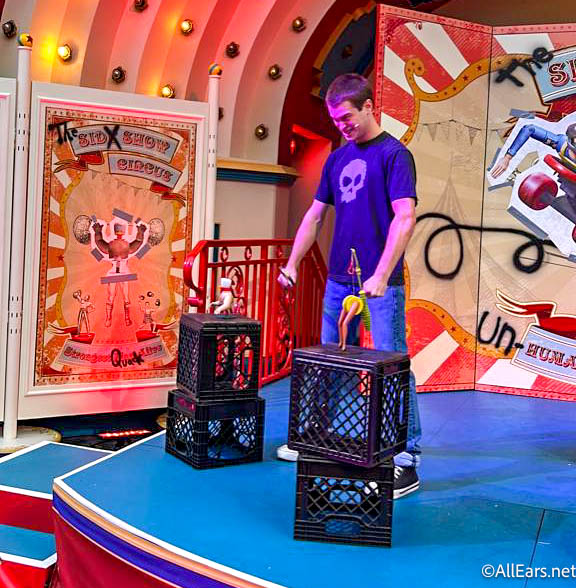 These characters can be quite rare to spot in the parks so be sure to take advantage and say "hello" to them while you can!
2 — Frightfully Fun Parade
If you want to see more Disney friends, grab a spot for the Frightfully Fun Parade! On the night we attended, this was offered at 7:50PM and 10:05PM but be sure to check the times during your party night.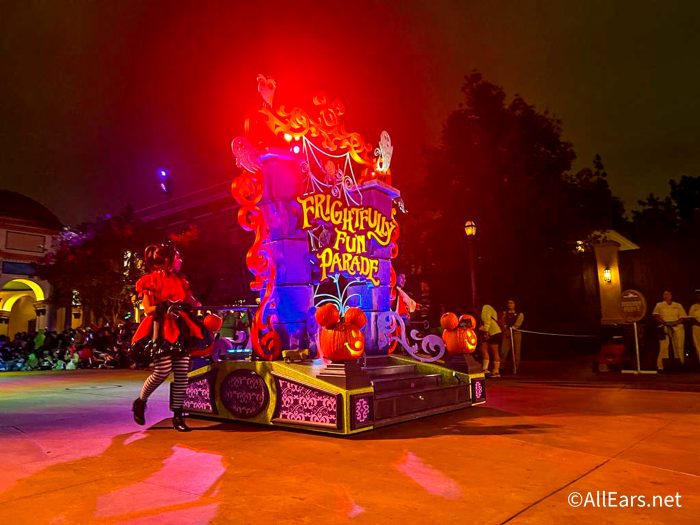 This cavalcade brings all kinds of friends out to the park. Things start off with the Headless Horseman as he carries a jack-o-lantern in his hand — spoooooooooky!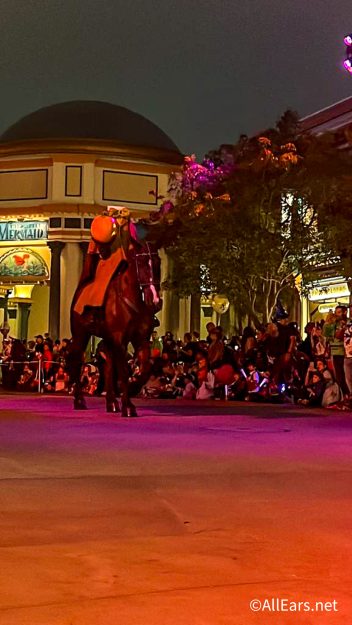 You'll also get to see Mickey and Minnie in their adorable Halloween costumes.
Several characters from The Nightmare Before Christmas.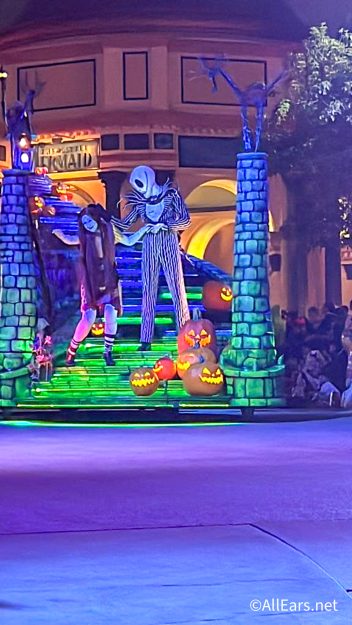 The ghosts from The Haunted Mansion will be there.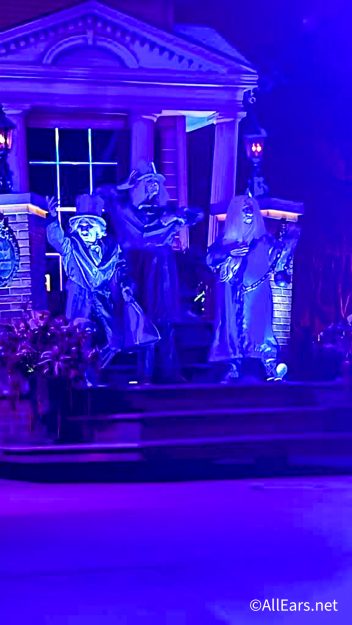 Disney Villains from a whole bunch of movies…
…and the Cheshire Cat too!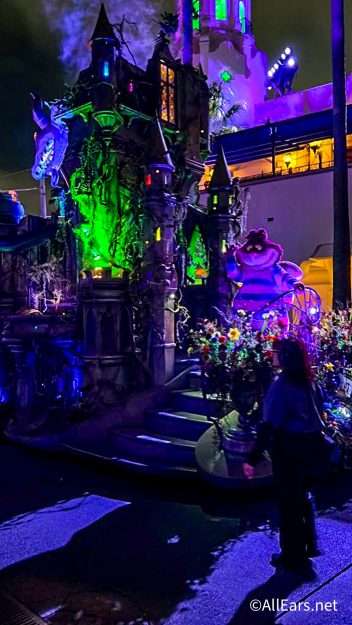 It's a parade full of mischief and mayhem and all things spooktacular!
3 — Mickey's Trick and Treat
If it's a stage show you're after, Oogie Boogie Bash offers that too with Mickey's Trick and Treat. On the opening night, it was offered at 6PM, 6:45PM, 7:30PM, 8:45PM, and 9:30PM but of course times are subject to change.
During this live show, you'll get to see Mickey and Minnie along with their friends Goofy and Donald. But things start to get a little extra spooky when their friend Parker gets dressed in a "mad scientist" costume and makes a special potion.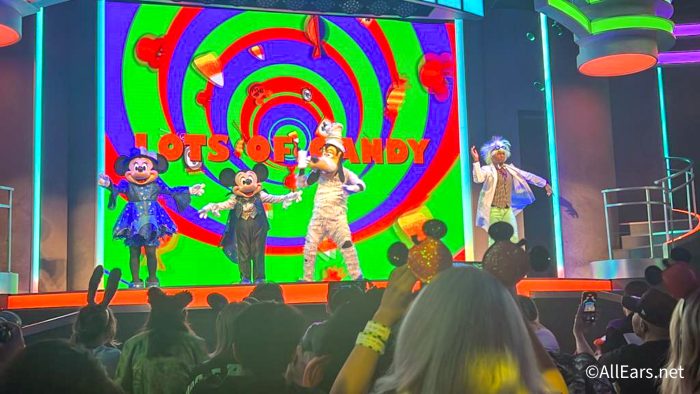 Bats, spiders, and even GHOSTS may appear! But don't worry, this is an experience that's fun for the whole family to enjoy. There are 2 original songs, video projections, special effects, and more for everyone to participate in.
4 — Villains Grove
One of the more unique experiences at Oogie Boogie Bash is Villains Grove. This takes place in the Redwood Creek Challenge Trail. Some of the Disney villains have taken over this spot and transformed it into an enchanted grove. There are special lighting effects, sounds, and more to really immerse you into each of their stories.
You'll walk through the space and take in the surroundings. It's a great spot to snap some unique photos!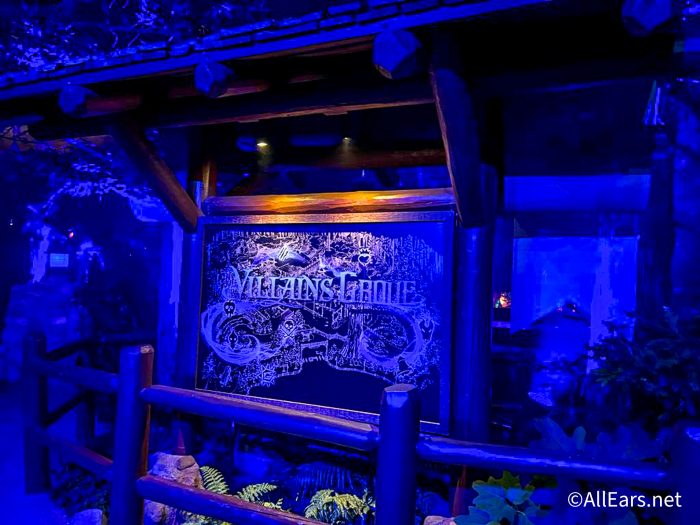 Here's a full listing of each of the spaces in Villains Grove:
Frollo's Sanctuary – You'll find a "cathedral of trees infused with incense smells and chanting voices."
Maleficent's Will – Look for "eerie ravens, thorn-spiked vines and a seemingly spellbound waterfall of cascading color!"
Queen of Hearts Garden – Look for those roses! Are they painting themselves red?!
Scar's Elephant Graveyard – Listen for the "echoes with hyena laughter!"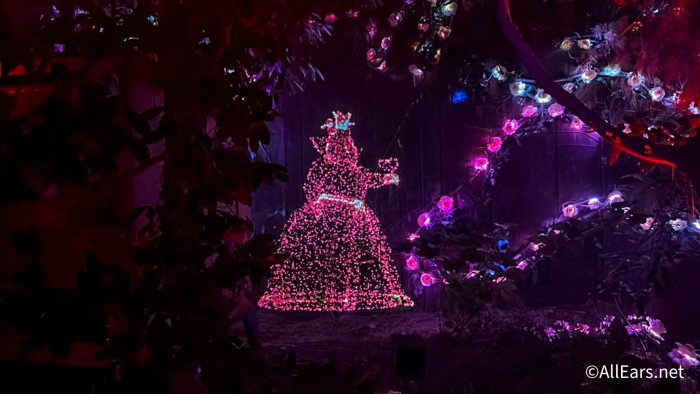 Dr. Facilier's Friends on the Other Side – Watch out for colorful spells and shadowy hands that might lure you deeper into the grove.
The Wicked Queen's Lightning Forest – There's a storm here that might just flash from branch to branch so watch those trees all around you.
Home of the Wisps – You're almost out! Watch as some "winged caretakers guide Guests to safety."
Dawn – You've escaped! Lanterns light the way out of this spooky place!
5 — Character Meet-and-Greets
And finally, be on the lookout for some unique character meet-and-greets, particularly those who have decided to don Halloween costumes or more rare characters that have come out to surprise you.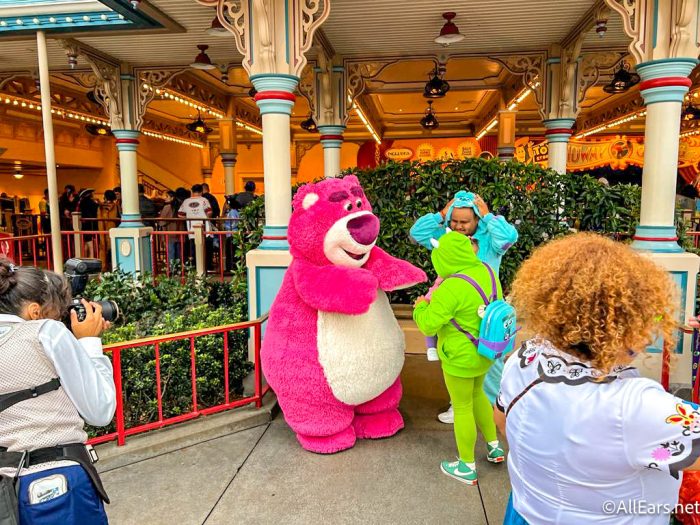 Bruno from Encanto meets guests during the party along with other unique characters.
6 — Photo Opportunities
And finally, be sure to take advantage of photo opportunities throughout the park. Oogie Boogie Bash tickets include unlimited downloads of Disney PhotoPass digital photos taken during the party so you might as well grab all those cool pics!
Here's a look at the Disney PhotoPass locations you might want to stop by:
Magic Key
Cars Land
Headless Horseman Statue
Pixar Pier Bridge
Avengers Headquarters
Avengers Campus Entrance
Cars Land – Cozy Cone Motel
Ramone's House of Body Art
Flo's V8 Cafe
Hollywood Stage 12
World of Color Amphitheater
Pixar Pier – Awning (Across from Incredicoaster)
Pixar Pier – Incredibles Fountain
Pixar Pier – Toy Story Midway Mania
And that's a look at some of the great entertainment you'll want to check out at Oogie Boogie Bash! We'll be sharing our FULL experience at the event with you so check back for updates.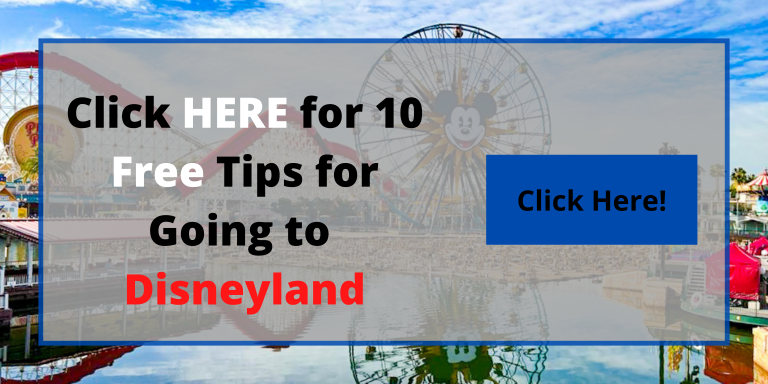 Which of these entertainment experiences would you be most excited about? Tell us in the comments!