To all who come to this photo trivia game, welcome! Along the way, the photos can make us relive memories and see details that Walt's Imagineers put into everything we love in Walt Disney World!
Thanks for answering my question about easy & tough challenges. I wanted to make sure the game stays fun to play. So here's what we'll do: we'll throw in tougher challenges as well as the easy (and medium) but I'll keep putting hints for the tough ones.

To last week winners: I'm sorry I didn't get in touch with you last week. I caught a cold last week that I can't shake. But I promise I'll contact you tomorrow.

And now: Challenge #670: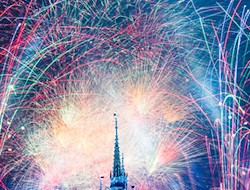 And here's the answer: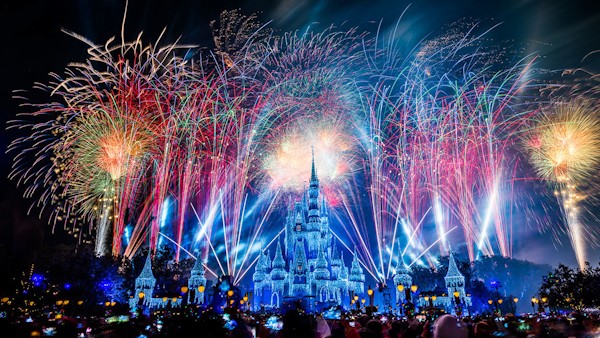 New Year's 2021 fireworks! You might have heard the fireworks were done virtually for free this year. (Meaning they played the video from 2019-2020. 🙂 Look at them! Still so gorgeous!
Tom Patton was the first to send in the correct answer! Congratulations to Claire and all our winners this week! Gloria Martin, Debby Stailey, Brian Gallant, Barbara Hicks, Team Hill, Steve Knapp, Josh Weiss, Grumpys Groupies, Adolph And Kimberly Timm, The Kuroly Family, Ken Savage, Tim Burr, Barbara Diclementi, Chad Diclementi, Laurie Walker, Luis Rodriguez, Kerry A., Joseph M. Zafia, Tammy Warmouth, Belicia, Scott C., Martha & Justin Collins, Tony Bivens, Brooks Bunch, The Kertes Family, Samantha B, Bonnie Jean, Paul And Kelli Grundman, Linda College, Richard Long, Emily Robinson, Emily Hudson, Janet T Thorn, Claire Gregory, Karen Fichter, Andy Hickey, Jim Finley, Alan Gates, Vera And Izzy Williams, Dee Dee Kenney, Jennifer Petix, Sandie Albrecht, Hunter Armstrong, Beau Harrison, Emily Hudson, Ted Flory, Sandy Gempp, Jim & Lorie Sonnen, Chris Kelly, The Nufranick Family, Barry Gruber, John Grosz, Theresa Maradei, David G Crockett, Aljaneen Curtis, Mike Haeberle, Blake Schmidt, Brian Richmond, Jami Thomas, Mike Haeberle, Tre Rockenbach, Glenn And Nancy Motson, Leach Family, Stacy Sanders, Sue And Ed Adams, Jodie S., Linda Hoffman, Mis Jamie Marie, Cheri Pranke, Phyllis, Jeff Blank, Michael P Weeman, Theresa Rucando, Deb Ragno, Michelle Fure, Rebecca Keenan, Lou Bodofsky, Lou Bodofsky, Martin Cassidy, Vicki Britt, Sherry Knoster, Jeremy Reichelt, Caroline Sciore, Cathy Connors, Christine Dagney, Mark Hardy, The Wolfe Family, Sue Bridges, John Debow, Sandra Debow, Janet Petrocelli, Arlene Vicek, Fred Terluin, Shannon Benton, Karen Ramirez, Linda Ranatza, Sarah Kreps, Beth Wolf, George Mundy Jr, Karen Ramirez, Jennifer Hess, The Gunnels Gang, Sharon Leitgeb, Louise Theabo, Melody Odonnell, Sherry Trapp, Scott Cerino, Jane Johnson, Vincent Degasperis, Maddie Inman, Belicia C, and Scott C!
______________________________________________________
Challenge #670 for January 3rd, 2021 Where in the world is this?
We're staying Magic Kingdom! A little tougher!
Hint: Hmmm… these children vintage toys look like they're in a cabinet.  Maybe from the ride queue of a film in 1953? Funny: no toy plane when the theme song is "You can fl–"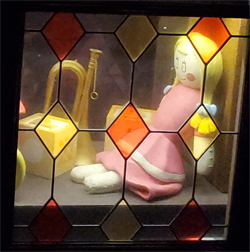 Do you know? Do you have a guess? Send in your answer before the end of the day on Thursday, January 14th by clicking on the blue box below. Please do not post your answers on this blog post.
See you soon, Players!

_____________________________________________________________________
Everyone who sends in a correct answer to a Where in the World Challenge this month will be entered in a drawing at the end of the month for some special AllEars® goodies!
Be sure to follow @allearsnet on Instagram and Twitter!
Check out our YouTube Channel for reviews, news, information, and more!
Click below to subscribe to the AllEars® Newsletter so you don't miss any of the latest Disney news!