2019 Epcot Food and Wine Festival – Tailgate Tasting
2019 Tailgate Tastings Hosted by ESPN's Monday Night Football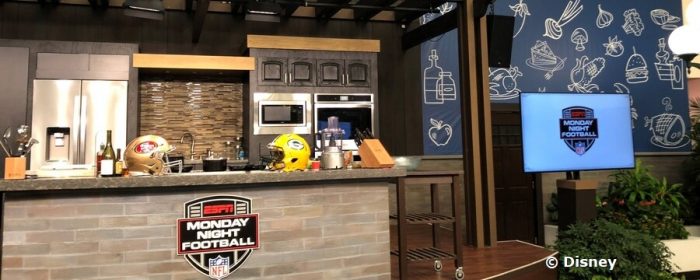 This 45-minute program provides you with a  three sample-sized food items, and a complementary beverage tasting, inspired by the cities playing in the Monday night football game of the week. You'll also have the chance to learn from culinary experts how to make these dishes at home.
Location: World ShowPlace Events Pavilion – between United Kingdom and Canada
Days: Every Sunday from September 8 to November 17, 2019
Price: $19 per person, plus tax
Please note: Epcot admission is not included in the price, but is required. Alcoholic beverages will only be served to Guests 21 years of age and older. All events are subject to change or cancellation without notice.
Schedule
Be sure to join us before your favorite team plays and learn how to make dishes to show off your team spirit!
Sunday, September 8, 2019
Denver Broncos vs Oakland Raiders
Sunday, September 15, 2019
Cleveland Browns vs New York Jets
Sunday, September 22, 2019
Chicago Bears vs Washington Redskins
Sunday, September 29, 2019
Cincinnati Bengals vs Pittsburgh Steelers
Sunday, October 6, 2019
Cleveland Browns vs San Francisco 49ers
Sunday, October 13, 2019
Detroit Lions vs Green Bay Packers
Sunday, October 20, 2019
New England Patriots vs New York Jets
Sunday, October 27, 2019
Miami Dolphins vs Pittsburgh Steelers
Sunday, November 3, 2019
Dallas Cowboys vs New York Giants
Sunday, November 10, 2019
Seattle Seahawks vs San Francisco 49ers
Sunday, November 17, 2019
Kansas City Chiefs vs Los Angeles Chargers
You can make reservations for this event online HERE,  or by calling (407) 939-3378. If you're a Disney Vacation Club Member, you may book by calling Member Services at (800) 800-9800.