That was fast! The school buses are back on the road, the Epcot Food and Wine Festival is under way, and pumpkin spice abounds everywhere. The summer of 2018 is saying goodbye with the arrival of fall events and flavors.
Disney Springs is getting in on the season change this year with their WonderFall Flavors food and beverage program starting September 7, 2018. The program includes sweet and savory food that you can pair with hard ciders and autumn-inspired cocktails. This seasonal celebration includes more than 14 restaurants and quick service locations throughout Disney Springs.
WonderFall Flavors Map at Disney Springs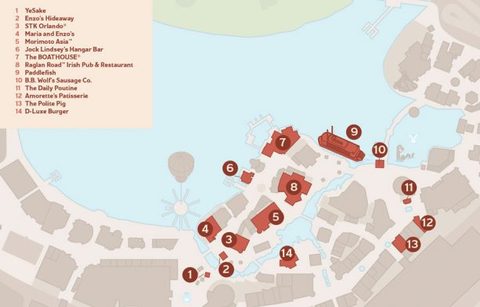 WonderFall Flavors Map at Disney Springs ©Disney
Check out what each location is offering:

Harvest Fresh Bowl at YeSake for WonderFall Flavors at Disney Springs ©Disney
Harvest Fresh Bowl — a customizable bowl featuring sliced chicken breast, spinach, kale, carrot, dried cranberries, and sliced almonds tossed in a sweet Vidalia onion dressing. Also available as a wrap
Apple Cinnamon Sangria — complex flavors abound in this unique sangria featuring Japanese plum wine, orange, and lemon chilled down with frozen apples and finished with a sprinkle of sweet cinnamon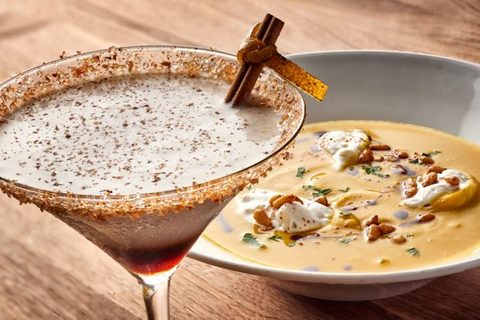 Fall Harvest Soup and Pumpkin White Russian at Enzo's Hideaway for WonderFall Flavors at Disney Springs ©Disney
Fall Harvest Soup — roasted apple and winter squash soup with spiced mascarpone cream and spiced candied nuts
Pumpkin White Russian — Hangar 1 Vodka, Monin Pumpkin Spice, heavy cream, with a sprinkled sugar rim glass
WonderFall Promo Small Plate — pomegranate chili-glazed shrimp with butternut squash ginger purée and cranberry agrodolce
Pinot Grigio, Gabbiano, Delle Venezie, Italy — a light-bodied wine with a long finish that reveals hints of citrus and almonds

Fabulous Fall Butternut Squash Gnocchi and Medici Punch at Maria and Enzo's for WonderFall Flavors at Disney Springs ©Disney
Fabulous Fall Butternut Squash Gnocchi — handmade ricotta gnocchi, roasted butternut squash, Parmesan cream sauce, and pumpkin seed pesto
Medici Punch — Tuaca, Bulleit Bourbon, with charred cinnamon cider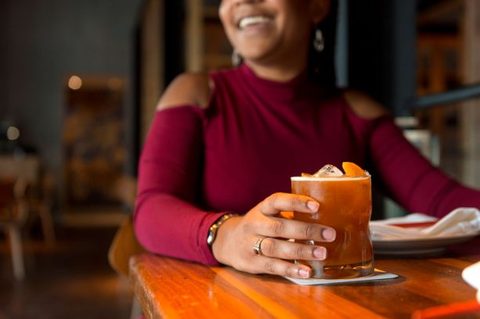 Fall All Over at Morimoto Asia for WonderFall Flavors at Disney Springs ©Disney
Cantonese Style Crispy Berkshire Pork Belly — autumn 5-spice rub, maple bourbon koshu gastrique, and lychee cranberry chutney
Fall All Over — a smooth, decadent blend of Rémy Martin, Averna Amaro, lemon, apricot preserves, and a spritz of cinnamon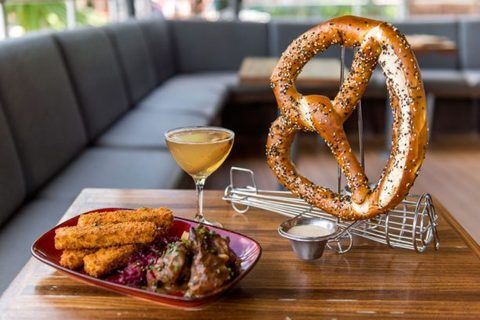 Bavarian Roasted Pork Shanks, Air Pirate's Pretzels, and Autumn Smash at Jock Lindsey's Hangar Bar for WonderFall Flavors at Disney Springs ©Disney
Bavarian Roasted Pork Shanks — tender, bite-sized "pig wings" tossed in an Oktoberfest beer sauce and served with fried spatzle mac and cheese
Air Pirate's Pretzels — Oktoberfest-themed flight of pretzels with spicy German mustard and beer cheese fondue
Autumn Smash — fall into the season with Captain Morgan Rum, lemon juice, peach nectar, simple syrup, and a touch of cinnamon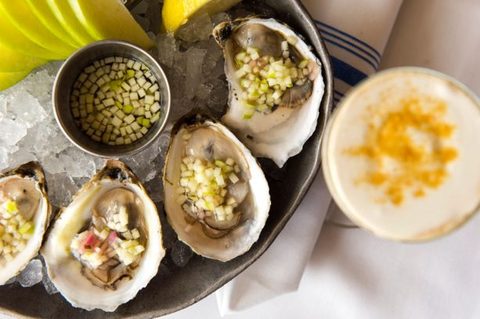 Lucky Dux Oysters and Bronzed Maple Coffee at The Boathouse for WonderFall Flavors at Disney Springs ©Disney
Lucky Dux Oysters — half shell by the piece with green apple Champagne mignonette sauce
Bronzed Maple Coffee — whiskey, muddled candy, coffee, and maple whip cream garnished with a dusting of maple powder and candy
Raglan Road Irish Pub and Restaurant
Pumpkin Crème Brûlée Tart — pumpkin crème brûlée baked in a pastry shell with fried cheesecake bites, caramel toile, and chocolate ganache
Pumpkin Baileys Irish Coffee — Baileys pumpkin spice with fresh espresso topped with whipped cream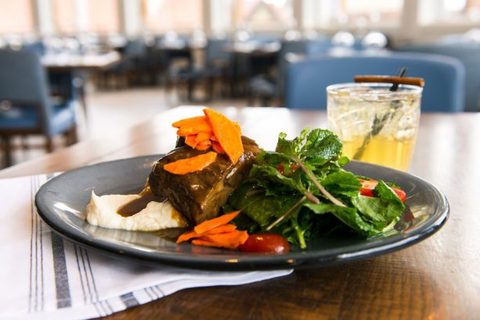 Braised Pork Shoulder and Paddlefish Hard Apple at Paddlefish for WonderFall Flavors at Disney Springs ©Disney
Braised Pork Shoulder — apple cider reduction with autumn spices and cauliflower purée
Paddlefish Hard Apple — apple cider, bourbon, and ginger beer, garnished with a cinnamon stick

Smoked Sausage and Stella Artois Apple Cider at B.B. Wolf's Sausage Co. for WonderFall Flavors at Disney Springs ©Disney
Smoked Sausage — with beer cheese sauce, bacon, and apple braised red cabbage on a Tuscan roll
Stella Artois Apple Cider — clean, crisp, and perfectly balanced with a little peach taste. Delicate apricot notes complement its fresh apple flavor
Oktoberfest Poutine — stout gravy, bratwurst sausage, cheese curds, and cilantro
Ace Pineapple Cider — a balanced, crisp, natural offering made with fresh pineapple offering a sweet taste and tart finish. This pineapple cider was the first developed in the world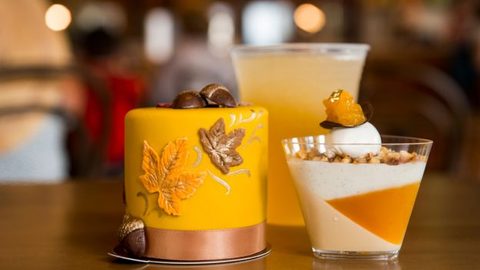 Caramel Apricot Cobbler, Fall Harvest Petit Cake, and Apple Cider Riesling Wine Slushie at Amorette's Patisserie for WonderFall Flavors at Disney Springs ©Disney
Caramel Apricot Cobbler — Verrine with apricot topped with sugared almonds and buttermilk panna cotta
Fall Harvest Petit Cake — cinnamon and nutmeg chiffon cake, layered with Calvados salted caramel mousse, cranberry cherry pate de fruit, and roasted hazelnuts
Apple Cider Riesling Wine Slushie
The Polite Pig
Fall Harvest Taco — apple cranberry-glazed smoked pork belly, soft corn tortilla, pumpkin-apple slaw, pepitas, and picked onions
Apple Cider Whiskey Sour — straight rye whiskey, apple cider, lemon, brown sugar, and cinnamon

Smoked Sausage Burger and Pumpkin Shake at D-Luxe Burger for WonderFall Flavors at Disney Springs ©Disney
Apple Whisky Jam and Smoked Sausage Burger — smoked gouda, lettuce tomato, and caramelized onions
Pumpkin Shake — Pumpkin, caramel, and graham crackers swirled together for a tasty fall treat
Brie Cheese and Bosc Pear Crepe at AristoCrepes for WonderFall Flavors at Disney Springs
Additional Delights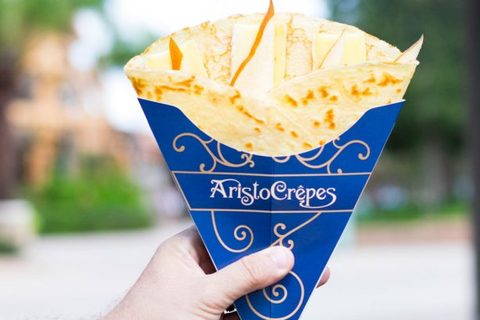 4R Cantina Barbacoa Food Truck — Pumpkin Spice Churro Balls
AristoCrepes — Brie Cheese and Bosc Pear Crepe with Orange Blossom Honey
Chicken Guy! — Cinnamon Apple Milkshake
Disney's Candy Cauldron and Goofy's Candy Co. — Fall-Inspired Treats and Specialty Apples
Outdoor Vending Carts — Salted Caramel Pretzels and Pumpkin Churros (select carts only)
Sprinkles — Pumpkin Cupcake (Sept 1-30), Pumpkin Spice Latte Cupcake (Sept 10-23), Candy Apple Cupcake (Sept 24-Oct 7)
Fall-Inspired Hard Ciders at Dockside Margaritas and Select Outdoor Vending Carts:
Angry Orchard Crisp Apple Cider: This crisp and refreshing cider mixes the sweetness of the apples with a subtle dryness for a balanced cider taste. The fresh apple aroma and slightly sweet, ripe apple flavor make this cider hard to resist.
Angry Orchard Rosé Cider: Made with rare, red flesh apples from France. Each apple is crisp, juicy and red to the core, adding an irresistible rosy blush and apple-forward taste with a refreshing dry finish.
Ayinger Oktober Fest-Märzen: Rich, amber-golden color. Deep, inviting, malty nose and bready, wonderful flavor that's an ode to barley. Medium to big body, with a touch of warming alcohol on the finish.
Margarita Cider by 3 Daughters Brewing: Hard cider blended with lime juice and sea salt then aged in tequila barrels for a festive and unique flavor. This semi-sweet apple cider is tart and refreshing and perfect for Florida.
Pumpking Imperial Ale by Southern Tier Brewing Co.: This beer gives off hints of pumpkin pie and spice aromas on the nose. Huge flavors of genuine pumpkin pie, nutmeg, and cinnamon come through with a rich and creamy, yet crisp taste.

Samuel Adams OctoberFest: The first thing you notice when pouring this seasonal beer is the color. It has a deep golden amber hue, which itself is reflective of the fall season.
WonderFall Flavors at Disney Springs starts September 7 and runs through November 6. If you're looking to get a fix of fall flavors, then this is definitely the place to be! Be sure to stop by the Disney Springs Welcome Center or any participating location to get your WonderFall Flavors booklet. This pocket-sized guide will help you chart your course and keep track of your tastings!
For more info, visit the Disney Springs website. To make reservations, visit the Walt Disney World Resort website or call (407) WDW-DINE (407 939-3463)
Which fall treat are you looking forward to indulging in at Disney Springs?