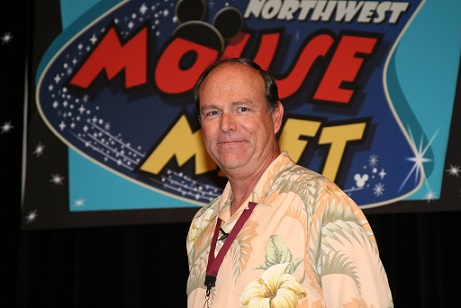 Long-time Imagineer Kevin Rafferty poses for a photo while in attendance at a Pacific Northwest Mouse Meet. [AllEars.Net]

As the saying goes, you have to start somewhere.
In the case of Card Walker, who was the Walt Disney Company's CEO from 1971-1983, that "somewhere" was the mail room at the Walt Disney Studios in 1938.
Former Walt Disney Imagineering creative leader Marty Sklar's "somewhere" was as the creator and editor of The Disneyland News, which was sold to guests as they walked into the new park during the summer of 1955.
Imagineering Legend Tony Baxter kick-started his much-heralded career at Disney by selling ice cream on Main Street in Disneyland in the mid-1960s.
And then there's Kevin Rafferty, who is currently executive creative director leading the design and development of new projects for Imagineering.
How did Kevin get his start at Disney? By washing dishes at the Plaza Inn in Disneyland in 1974.
"To get my foot in the door with Walt Disney Productions, I applied for a job at Disneyland," Rafferty said recently. Through all the soap suds and sponges, Rafferty dreamed of becoming an animator. Then fate — actually, it was a poster, with Mickey Mouse featured on it, proclaiming: Mickey Wants You! — intervened.
"They were recruiting Imagineers to work on the Epcot project and Tokyo Disneyland in the late '70s," Rafferty said. "I had just gotten out of school and had my art degree when I was hired by Imagineering. The weird thing is, I've spent the next 38 years being a show writer. I came up here [Imagineering's headquarters in Glendale, Calif.] and got to know all the original Imagineers, Marty [Sklar] and the gang, and did show writing."
Rafferty stands in front of a model one of his most noteworthy Disney creations, the Radiator Springs Racers at Disney's California Adventure. [Courtesy of Walt Disney Imagineering]

Rafferty's attractions resume is impressive, to say the least. In no particular order, he helped create and develop Toy Story Midway Mania!, It's Tough to be a Bug! and Cars Land in Disney's California Adventure. He also made contributions to the Twilight Zone Tower of Terror and the Winnie the Pooh attraction in the Magic Kingdom at WDW.
The stories behind each of these wildly popular attractions is intriguing. Cars Land, for instance, came about because of Rafferty's love of cars … and was conceived well before the Disney/Pixar movie Cars was released.
"I'm kind of a car nut and that's actually how that whole thing started," Rafferty explained. "Cars Land was first called Carland, one word, before I even knew Pixar was working on a movie about cars. The story of the Radiator Springs Racers is I flew up to Pixar with a colleague of mine in 2004, two years before the Cars movie came out and they were still in production on the film. We had come up with Toy Story Midway Mania! together and within a couple of months after the return trip from Pixar, we had the Radiator Springs Racers on the boards. I'm really kind of proud and happy to say it's 99.9 percent of what the original board was."
The Radiator Springs Racers, as well as the stunning rock work featured in Cars Land, were developed two years before the first Cars movie was released. "The 288,000 square feet of hand-carved rock work is really epic, really amazing," he said. "I still can't believe we did all that. Unless you've actually seen it, it's hard to tell someone what it's like. Unless you stand there and look around, you don't get a sense of how spectacular it is."
The ride system for the Radiator Springs Racers is similar to Test Track in Epcot. "I worked on that one, too," Rafferty said.
While Rafferty is a self-proclaimed "car nut," he has a genuine fear of insects … which, in a weird way, made him the perfect choice to develop the It's Tough to be a Bug! attraction at Disney's Animal Kingdom.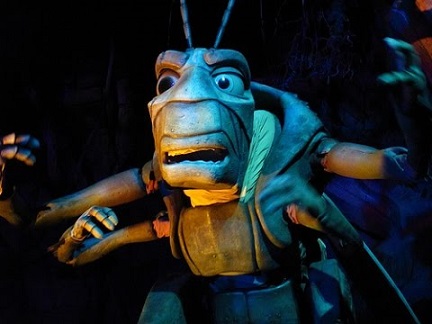 Hopper, one of the most advanced Audio-Animatronics figures ever created by Walt Disney Imaginnering, is the bad guy in the It's Tough to be a Bug! show at Animal Kingdom. [Walt Disney World]

"Yes, my entire life I've been totally fearful of insects," he said. "It's kind of weird, things I've worked on, like Tower of Terror, the original one … I have a fear of falling; Rock 'n Roller Coaster … I don't like to go upside down; It's Tough to be a Bug! … I have this phobia of bugs! It's just one of the weirdest things. I guess I'm the right person to be doing all this stuff."
Rafferty's original concept for It's Tough to be a Bug!, which is located in the base of the Tree of Life, was rejected by then-chairman and CEO Michael Eisner.
"When Animal Kingdom was being developed, the outside structure of the Tree of Life was going to be like the castle and the base of the tree was going to be a walk-through, like the castles are. I was at a meeting one day and Michael Eisner asked the question, 'Is the base of the tree big enough to put a show in?' And we said, 'Yeah, we could probably put a couple hundred seats in that thing' and it kind of changed the whole design. He tasked me to come up with a show to put inside that. At that time, The Lion King was popular and Rafiki was the wise old sage and all that, so I came up with a show that had Rafiki as an Audio-Animatronics character, talking about the animal kingdom."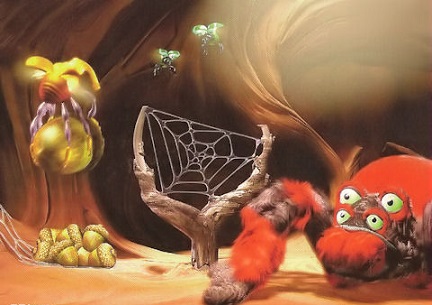 A variety of creepy, crawly bugs take center stage during It's Tough to be a Bug! [Walt Disney World]

Rafferty pitched the idea to Eisner, who was underwhelmed.
"Michael said, 'You know, that's really a good show. If it were at any other place than Animal Kingdom, it would be a 10, but it's really only an 8 on a scale of 1 to 10 and it's really got to be spectacular." He then suggested Rafferty get in touch with the folks at Pixar, who were working on a film about insects, A Bug's Life.

"I thought he was crazy!" Rafferty said. Why would Michael suggest a show about bugs when this is a park about animals? he thought.
"So, I started to do research and the first book I found said on the first page, 'The 10 quintillion insects of the world comprise 80 percent of the animal kingdom. I thought, 'Man, that is fantastic.' I had to put my fear of bugs aside because without them, we'd be in a world of hurt."
Rafferty then sought out several experts to get their feedback on a bug-themed attraction.
"As far as the research went, I started to meet with some entomologists, even some entomologists from the Smithsonian Institute. Of course, we wanted to make it an entertaining show, in 3-D. I was asking them about what kind of interesting things that real bugs do in nature that we could put in the show to support the theme that it's tough to be a bug. What do those guys need to do to survive? There was one session with some entomologists and they said, 'Your know, there are soldier termites that spray acid on their prey,' and I thought, 'Man, there's a 3-D act!' 'And there's Chilean tarantulas that throw poison quills at their prey,' and I was like, 'Wow! This thing is writing itself!'"
Although It's Tough to be a Bug! was linked to A Bug's Life, the movie was still years away from completion. "They didn't really have a whole lot of time to work on our show with us," Rafferty said, "so, essentially, I was given permission to make up our own characters, the rule being that they had to be believable, that if they were in the movie, they'd look the same. All Pixar had at the time were Flik the ant and Hopper. The other ones were still evolving, so we got to use Flik and Hopper, which was fantastic, and all the other bug characters we got to make up."
All the new characters are "all exclusive to It's Tough to be a Bug!, but this is one of the few attractions, I think, that Imagineering's ever done where the characters in an attraction predated the release of the movie. I think the show opened six weeks before the premiere of A Bug's Life, so we got to introduce them before the movie came out. That doesn't happen frequently because it takes so much time to develop an attraction."
The Hopper character has long been recognized as an Imagineering tour-de-force.
"With all the little spindly grasshopper tentacles, it was really hard to do. We as an audience get to shrink down to the size of a bug, so that being the case, Hopper had to be relatively the same scale as he was in the film. Plus, he was designed to come up on a lift that brings him up to the show, in a couple of seconds. All of that carriage and all that complexity of the entire figure as it came up on the lift was a real challenge," he said. "What's really great about the team here is they really rise to the occasion. All the complexities of that Hopper figure … there was a lot of head-scratching going on, but somehow, they figured out how it all came together … going up and down as it does during the show cycles."
Kevin Rafferty with Mr. Potato Head, featured in the queue of the Toy Story Midway Mania! attractions in both Disney's California Adventure and Disney's Hollywood Studios. [Walt Disney Imagineering]

The Toy Story Midway Mania! attraction featured in both California Adventure and Hollywood Studios presented its own unique challenges.
"For Toy Story Midway Mania! we asked them to do Mr. Potato Head, where he actually took his ear out by himself. That was a real challenge."
The concept for Toy Story Midway Mania! "wasn't that hard to come up with, but it was extremely difficult to actually do," Rafferty said. "At the time, Matt Ouimet was the president of Disneyland Resort and I was in the hallway with a colleague. Matt came down the hall and he said, 'Hey you guys, we really like Buzz Lightyear Astro Blasters. We really like that family game attraction. Can you guys think of something else along those same lines that we might be able to do?'"
"So we walked around California Adventure and we ended up on the boardwalk and we said, 'I wonder what it would be like if you actually got to ride through carnival games, all those midway games. The thing is they charge you like five bucks to throw three balls. What if you have the great Disney immersive experience and you have unlimited tossing objects and everyone was a winner?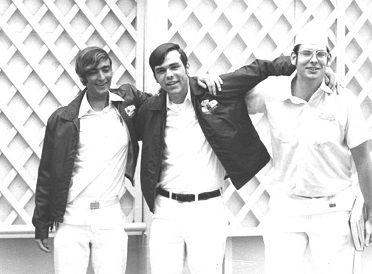 Kevin Rafferty, center, poses for a photo during his dishwashing days at the Plaza Inn Restaurant in Disneyland. [Walt Disney Imagineering]

"At first, we landed on something called Mickey's Midway Mania, but we thought, 'You know, the Toy Story characters would be really fun to host this.' We came up with a story that Andy got this midway play set as a gift and when he went downstairs for lunch, all the toys set up all these midway games and they were all inspired by the characters themselves. We could shrink to the size of a toy and Mr. Potato Head, as the barker, would invite us in to enjoy the fun.
"We went over to the Disney Studios to pitch the idea and they liked it so much that they wanted to do two — one for Florida and one for Anaheim, almost simultaneously, which was a lot of work."
Toy Story Midway Mania! was designed in such a way that games could be switched out and new games added with relative ease. "All the hardware and the systems are there, it's a matter of creating another game and getting with our partners at Pixar and redoing that. It was kind of fun because the games themselves were inspired by the characters, like Ham on the farm and the Little Green Man and the ring toss. We actually designed it to be modular in the sense that it could be refreshed when we wanted to add a new game. It was kind of fun."
"Part of the challenge when you're thinking about an attraction these days that you want to keep relevant and fresh and add some new life to it once it's been around for a few years."
And just what is Rafferty working on these days? "I'd love to tell you … but I can't. It hasn't been announced yet," he laughed. "But I'll tell you this: It's gonna be really fun"