It is that time of year when cities, towns, villages and, yes, even us put up our holiday light displays to celebrate the season. Whether it be Christmas, Hanukkah, Kwanzaa or something else, photographing these displays can be a challenge.
For outdoor lighting, it is best NOT to wait until it is totally dark out. Go out early just after sunset and wait for the sky light and outdoor lights to balance. This gives a nice overall exposure to the scene instead of bright light points which often are blown out. There is no formula as to when the light will balance. The photo below was taken about 15 minutes after sunset using a tripod which I recommend for the long exposures needed at a low ISO.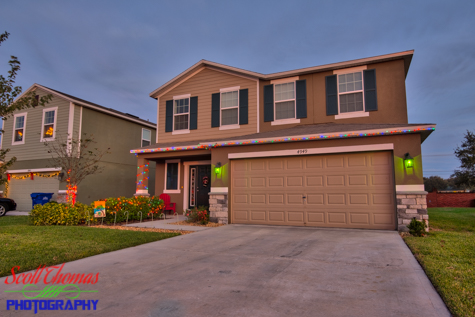 Balanced light for a home's holiday light display.
Nikon D750/16-35VR, 4s, f/16, ISO 100, EV 0, 22mm Focal Length.
Another type of photo people like to get is what PhotoPass photographers do at night in all the parks. Using a method called dragging the shutter, a tripod and instructing people to stand still, they are able to get a brightly lighted background like Cinderella Castle, Spaceship Earth, Tree of Life or Hollywood Blvd. while correctly exposing, with the flash, the people they are photographing.
In a pinch, you can do it without a tripod as I did below.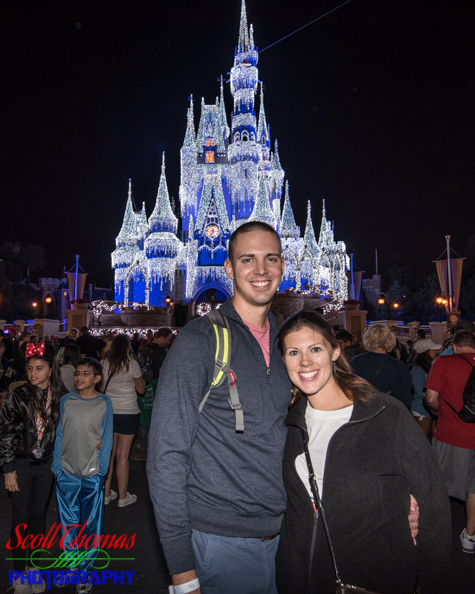 Couple portrait with Cinderella Castle lighted in the background.
Nikon D750/16-35VR, 1/5s, f/5.6, ISO 400, EV 0, 16mm Focal Length, Rear-Sync Flash, Cropped.
Here are a couple more links with information on Photographing Christmas Lights at Disney and on Dragging the Shutter.
Have any great photos of holiday displays whether they be yours, Disney's or another public display, send them my way. I might share them in a future blog post.