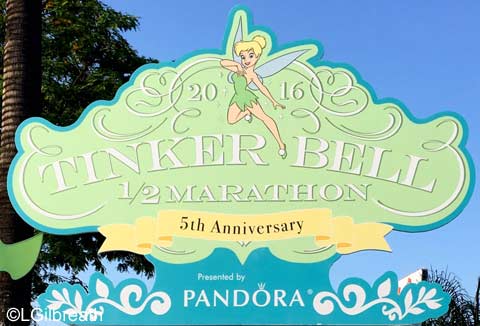 Saturday, May 7 – 10K
We didn't run the 10K this year – the first Tinker Bell 10K we've skipped. It felt strange not to be running it, but it was very nice to sleep in! As we made our way to Disneyland for Extra Magic Hour we crossed the race course very close to where the final participants were going by – they probably finished just before 8:00.
Sunday, May 8 – Half Marathon
Happy Mother's Day!
This still seems to me like it's an odd weekend to hold this particular race…And in fact registration was down this year…the half marathon never sold out. Whether that's due to the date or to some combination of the price and the number of runDisney race weekends now available is hard to say.
When runDisney changed the race date from January to May one of my concerns was the weather – it can be HOT in May. Fortunately, we've had cool weather for these first two years. Even a little bit of rain both years – unusual for southern California in May.
On Sunday the weather was just about perfect – 55 at the start, and low 60s at the finish. A little bit of sun, but not too bad.
This year the pre-race/finish areas for the Tinker Bell half marathon (and 10K) moved from the Paradise Pier to the traditional finish line by the Disneyland Hotel. Which meant there were adjustments to the course as well, but I'll get to that later.
Have I mentioned yet how nice it is to do runDisney races in California where we can walk from our hotel to the start area (and back)? After the bus experience with Star Wars – the Dark Side in Florida last month, it was especially nice to not have to deal with buses for this race weekend.
By the time we reached the pre-race area a lot of runners were already going to their corrals. We met my friend/co-worker Janet – she was running her second Tinker Bell Half Marathon, and hoping to improve her time from last year. (Yes, she did: 2:08 last year, and 2:04 this year!)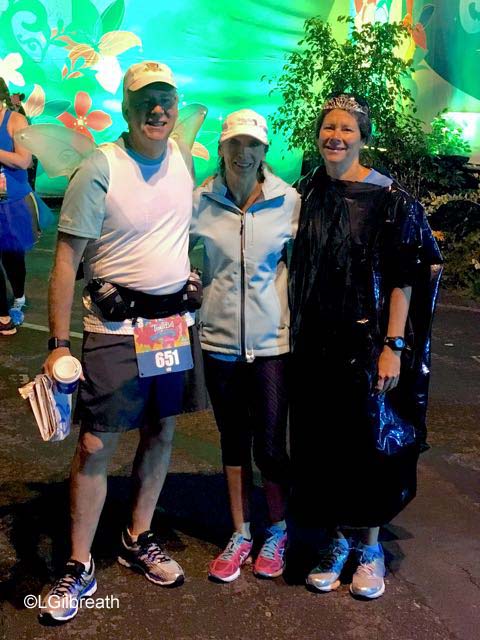 We visited the porta-potties one last time (no lines!) and then started our trek to the corrals. To get to the corrals we had to walk back toward the Paradise Pier Hotel and then out to Disneyland Drive. And we also had to go through a security bag check twice: once near Downtown Disney as we entered the pre-race area, and then again near the Paradise Pier to access the corral area. Neither was a problem, and the second check was especially quick because by than runners had checked their gear bags, so the most any of us had was a race belt. It still had to be checked, but it was fast.
Lee and I were in Corral B this year. I was in A last year, but this year they made A smaller, and my proof of time missed the cutoff by a minute. It didn't really matter, because I would have gone back to B anyway…but it's awfully nice to be in A.
Carissa and Andrea, the race announcers, had taken a short break, and didn't come back onstage until 5:25 – and the race was supposed to start at 5:30! That didn't seem like much time, since we still hadn't had the National Anthem. As soon as they came back they introduced the Disneyland cast member who sang the anthem. I don't remember her name, but she did a beautiful job.
Minnie and Daisy came on stage with Carissa and Andrea.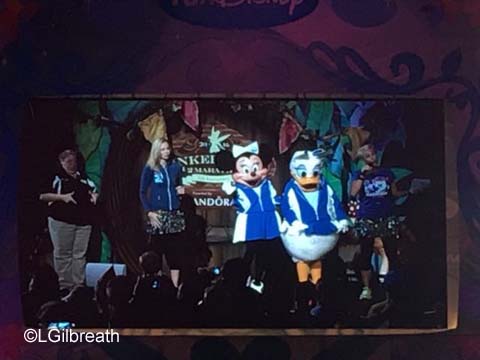 And then it was time to start the race. No fireworks or fire pots or anything like that this year – just the graphics on the big screen over the start line. That was very anti-climactic.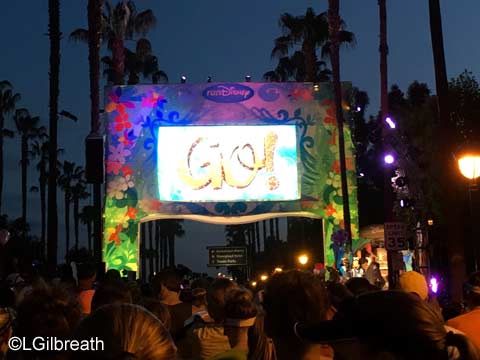 Corral B started 5 minutes after A. One thing I really like about this course is that it's nice and wide right out of the start – we have all of the northbound lanes of Disneyland Drive to run on. I could mostly run the pace I wanted to, or get around slower runners fairly easily. That was how it was for me the whole race – I never experienced much course congestion. The worst issues I had were other runners who either suddenly stopped or changed direction right in front of me so I had to pull up quickly to avoid running over them. People, when you're in the middle of a race course please look behind you before suddenly changing direction.
The first part of the course was the same one we're used to – right on Ball, up and over the freeway overpass, right on Harbor, and up and over the freeway again (I heard several runners grumbling about the "hills"), then past the mile 1 sign, and a right turn into a backstage area of Disneyland. The first water stop was there. But from there on the course was quite different: instead of going to DCA and running all around that park and then going to Disneyland, we went to Disneyland first.
We ran into Disneyland in Tomorrowland next to The Launch Bay (originally the Carousel of Progress) out to the hub, then a quick 180 onto Matterhorn Way. The first character stop was there: Tinker Bell and Iridessa. The line was pretty long so we didn't stop.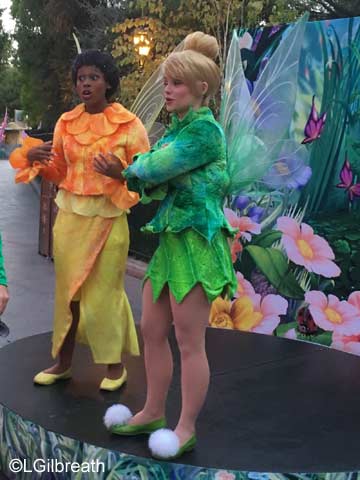 We ran back toward the opposite side of Tomorrowland, then left around the Matterhorn, and then past the Tea Cups into Fantasyland. The Lost Boys were riding the Carrousel, but they all jumped off and came to the fence for photos. One of them asked me if I was going to be their new mother, and if I would tell him a story. I started off with "Once upon a time there was a beautiful princess…" – and he instantly fell asleep. 🙂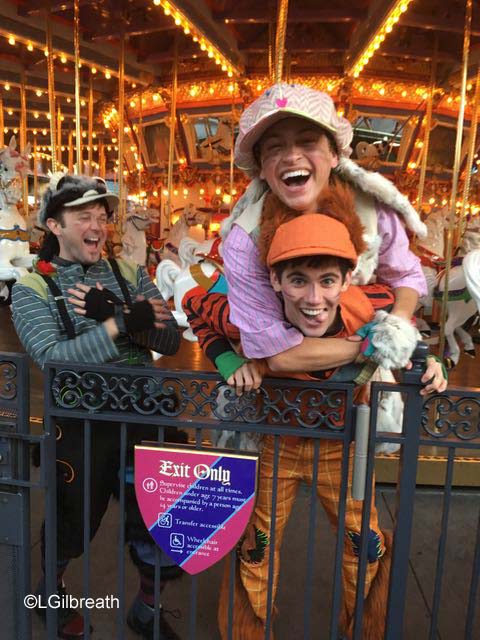 From there we ran through the castle. LOTS of PhotoPass photographers there. A little congested, but not too bad – everyone was still running.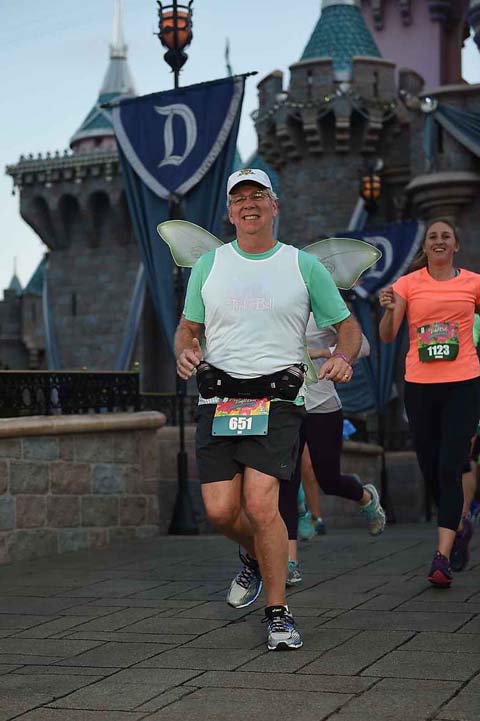 I'd lost Lee when I stopped for the Lost Boys, but I caught up to him when he was at the head of the line at the next character stop in Frontierland next to the Golden Horseshoe. Fawn and Vidia.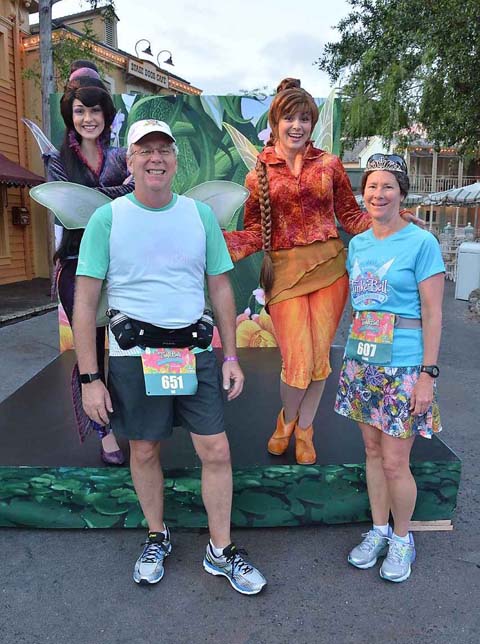 We ran along the Rivers of America and then did another 180 near the Haunted Mansion and ran through Adventureland, over the bridge, back to the hub, and then down Main Street. Then out of Disneyland and briefly into Downtown Disney before going into DCA next to Soarin'. Even with all of the Disneyland construction, we still managed to see most of the areas of the park – we missed Critter Country and Toontown.
The mile 3 sign was along the road around Grizzly Peak.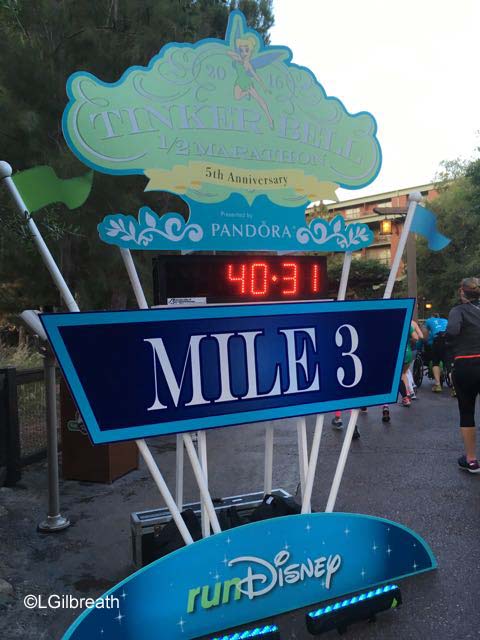 We went right around Paradise Bay. This time the World of Color fountains were running (they weren't during the 5K, which was too bad, because they would have shown up much better in the dark than they did in the early morning light), and we stopped for a quick photo by the PhotoPass photographers.
The next character stop was at Silly Symphony Swings. It was non-Tinker Bell characters, so we stopped, even though the line was a little bit long. This picture cracks me up because it looks like Goofy is eating Lee's wing. 🙂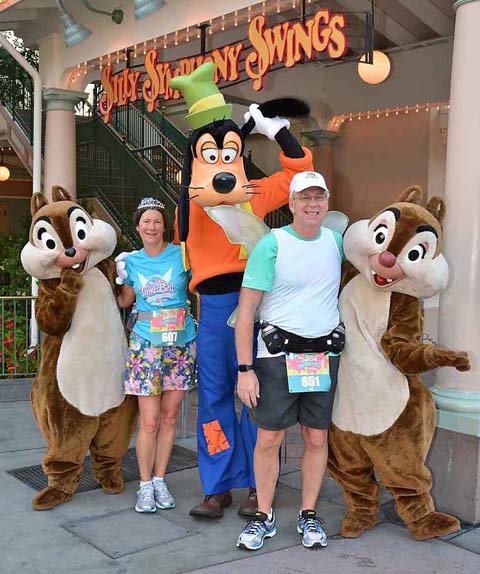 From there we wound around backstage behind California Screamin', and eventually entered Radiator Springs under the arch again. Then we went past Flik's Fun Fair and the Tower of Terror, where there was a character stop at the end of Hollywood Blvd. Just Rosetta for us, but Silvermist was with her at other times.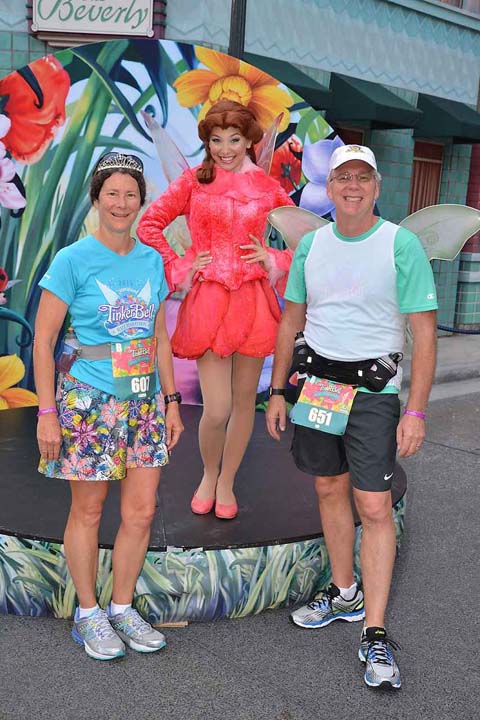 We ran down Hollywood Blvd to the mile 4 sign.
There were pirates on Buena Vista Street.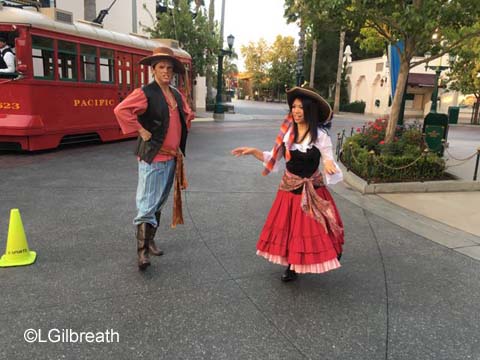 The next part was quite different from what we've done in the past to take us off Disney property and into the residential area next to the Mickey and Friends parking garage. In the past we've done Disneyland after DCA, then run out of Disneyland and through Downtown Disney and past the Disneyland Hotel, then out towards the Mickey and Friends parking garage before turning left and then right out onto Walnut St. Just about the time we exited Disney property was where we reached mile 6, almost halfway done before we left property. And I really enjoyed that stretch through Downtown Disney and the hotels because there were lots of people cheering for us, which is very energizing. The Red Hat Society ladies were always outside the Disneyland Hotel.
This year we went out of DCA and instead of going through Downtown Disney we turned right and ran around most of the outer perimeter of the park behind Radiator Springs Racers and Paradise Pier. Then we crossed Disneyland Drive south of the Paradise Pier Hotel and ran through the parking lot and back behind the DVC preview center to get out to Walnut Street. Frankly through some not very attractive backstage areas, though at least it wasn't too far. I really missed the cheering crowds at that point.
Once we were on Walnut Street heading north it was pretty quiet because we were in the residential area. There were a few people who had come out to watch us – some in their bathrobes. 🙂
We crossed over I5 again and headed east towards downtown Anaheim. There were some very nice houses along that area, but it was still pretty quiet.
Once we reached downtown there were cheerleaders and bands. And just about mile 8, was the Red Hat Society! This was a wonderful place for them to be, because we really needed some encouragement by then. And I think there was more room for them to spread out than they had in the spot near the Disneyland Hotel. As you'll see from the video below, it took me two minutes to walk past all of them! They were so wonderfully enthusiastic and supportive. I love seeing them every year – it's always one of the highlights of the race for me.
We made a u-turn at the Muzeo and were on our way back toward the finish.
Though once we reach Ball Rd comes the cruelest part of this course: we can see the Matterhorn ahead of us, but we turn LEFT and head away from the park, because we're not much past mile 10 at that point. We wind through the industrial district a little bit, go under I5 ( the fourth and last time we cross it, though at least this time it was under and not over) and then past some of the hotels that are just east of Disneyland along the freeway.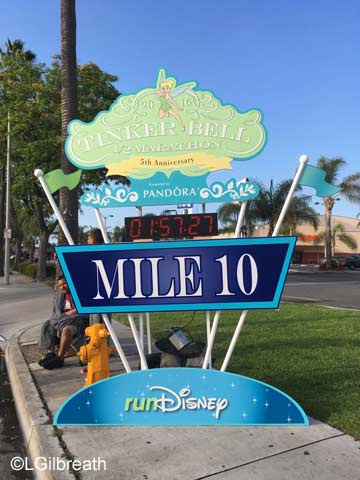 We went backstage at Disneyland again and ran under the bus/tram area (one last hill – ugh!) and then all the way around the backstage of DCA – again. This was looking a little too familiar – we passed the mile 5 sign again. I was surprised that the clock on it had stopped, but I didn't stop for a photo. I didn't take any photos in the last three miles because I was hoping to make it in under 2:20, so I was pushing my pace as much as I could. Just didn't quite have it in me, though, and I finished in 2:21:43. But considering photo stops I was pretty happy with that. There were 13,145 finishers this year, and 1740 were men – I think that's the most men ever in this race.
The last .3 miles of the race were the same as all of the other half marathons now – around the Paradise Pier Hotel and then between the west side of Downtown Disney and the Disneyland Hotel to the finish line just north of it. I high-fived Minnie as I crossed the finish line, though unfortunately the photographer didn't get a photo of that.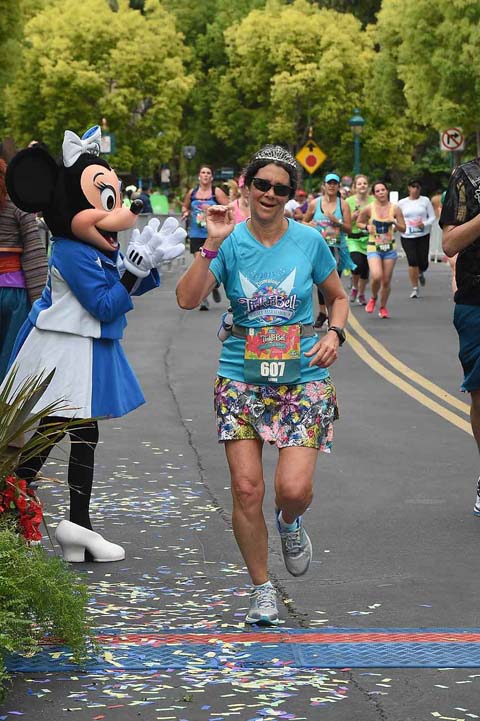 As a Legacy Runner I received the same medal, but it had two ribbons on it instead of one – the second says "Legacy Runner" on it.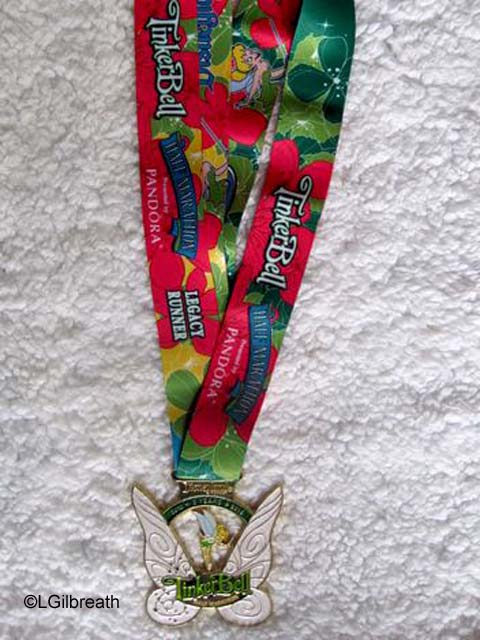 And then I went to the Challenge area to pick up my pink coast-to-coast medal – I received that one for completing the Princess Half in Florida and the Tink Half in California. There were runners who were receiving BOTH the blue and pink C2C medals, which surprised me, since they had used the same two races to qualify for it. Quite a departure from a couple of years ago when they were being pretty stingy about it – now it seems like they are using every opportunity to give away a C2C medal! I had received my blue C2C at Princess, since I'd run Star Wars in California in January.
There were different photographers to go to depending on whether you had the pink medal or the blue medal, or the Pixie Dust Challenge medal.
I had my photo taken and got my water, and then I got a text message from runner tracking that Lee had finished so I waited for him. That way we could visit the final set of photographers together to get a finisher photo of both of us.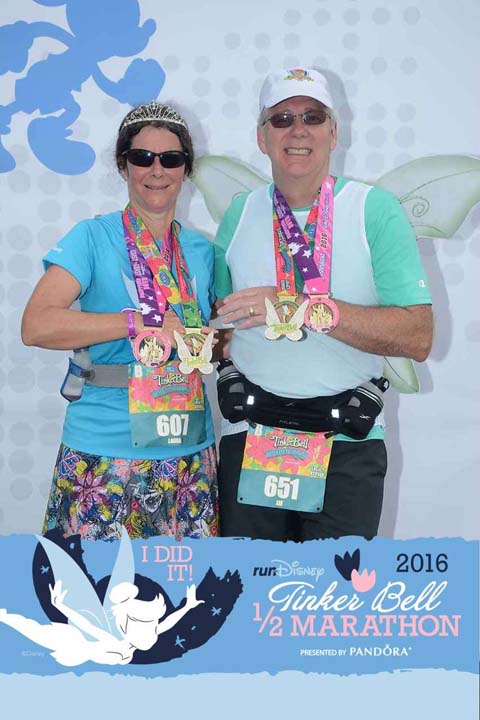 We got the runDisney box and exited into the Family Reunion area. It was a WHOLE lot more crowded than it had been for the 5K! Janet was waiting for us, so we heard her good news about her excellent finish time.
There were a couple of photo opportunities in the area – this really long Tinker Bell sign was one. But I didn't want to wait in line so never got a good photo of it.
The Legacy Runners sign was out, too.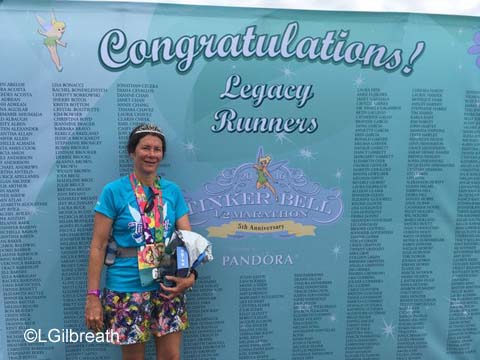 We'd finished early enough that the Awards ceremony was going on (though I think it was almost over), and we watched a bit of that before leaving.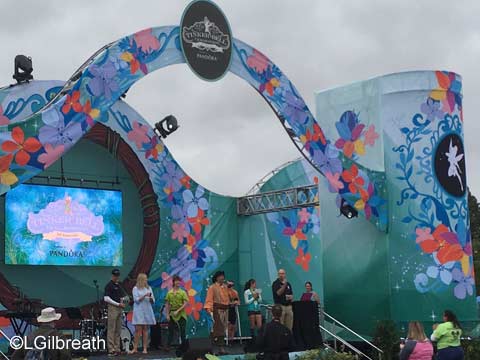 As we walked by ESPN Club on our way back to the hotel, we could see the live feed of the finish line displayed on their marquis.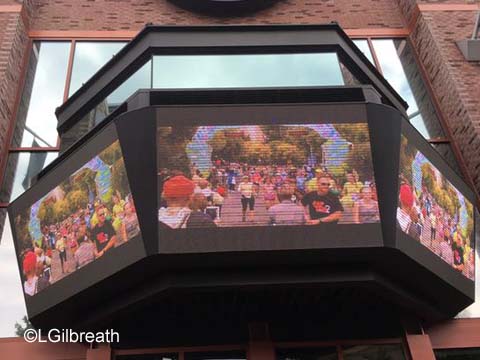 It was another good race for us. The weather again cooperated, and it was really very nice for both races that we did. I didn't like this version of the course as much, especially all of the running behind DCA. I hope that we'll get the old course back, though I have a feeling we'll have to wait until 2018 or 2019 for that. I did think that the placement of the Red Hat Society downtown was a much better location for them.
Overall I didn't think I saw as many costumes this year. But I can't really talk since I didn't wear a costume for the half this time. Lee at least wore his wings. I saw some really good costumes, though. One of my favorites was a man and woman running together: he was dressed as Peter Pan, and she was all in black as Peter Pan's shadow. I also saw someone dressed as Queen Clarice – that's the first time I've seen that. There seemed to be more regular Disney costumes as opposed to Pixie/Never Land costumes this year.
I was disappointed in the characters this year. In looking back at my blogs from previous years there were significantly fewer characters this time. Only four character stops in the half marathon, plus the Lost Boys. Last year there were six, plus the Lost Boys and Jack Sparrow. The year before that there were seven or eight.
I was also disappointed in the medal. Usually on the 5 year anniversaries the medal is almost completely re-designed, but the only change this year was the added colors and the "5 YEARS" banner across the top rather than the date. Maybe that seems overly picky, but runDisney has lead us to expect that kind of thing.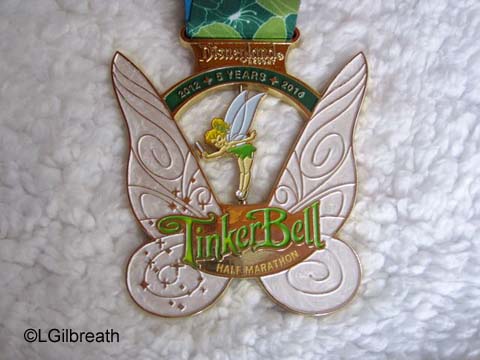 I'm still enjoying the change to Disney's PhotoPass as the official race photographers. I didn't get quite as many photos from the half marathon as for the 5K, but there were still more than MarathonFoto seemed to get. And since the downloads are free for me as an Annual Passholder, that's a significant benefit.
It was fun to finally be a "Legacy Runner" for a Disney race. Here's all five of my Tinker Bell Half Marathon medals.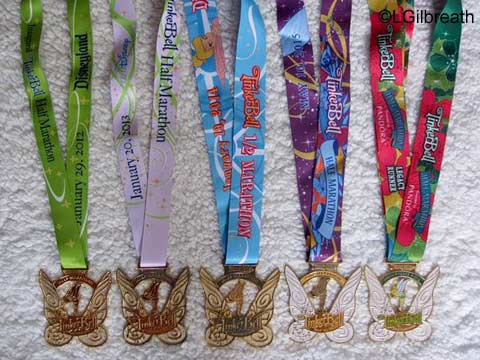 We haven't really decided if we'll try to remain "Legacy Runners" for this race. Kinda hate to let it drop, though. We'll see. Registration opens on September 20, so we have some time to "Tink" about it. 🙂
"Only" three medals this weekend, since we didn't do the Challenge. 🙂 I didn't really miss the challenge itself, but I do like a good 10K, and we've enjoyed the Tinker Bell 10K.
Before I finish I must say "Thank You" to the "Red Hat Ladies" and to all of the other cheerleaders and bands and everyone else who came out to cheer us on. And thank you to all of the volunteers and cast members for all of their efforts – the race wouldn't be possible without them.
Thanks for reading!