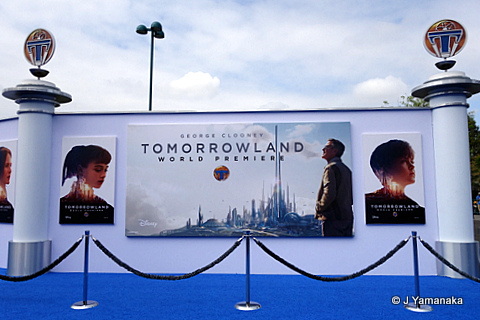 On May 9, 2015, Walt Disney Studio's "Tomorrowland" had its world premiere at the AMC Downtown Disney 12 in Anaheim. Celebrity attendees walked a futuristic blue carpet down to the theater, greeting media and enthusiastic fans alike.
Present for the opening of the film were cast members George Clooney, Britt Robertson, Raffey Cassidy, Kathryn Hahn, Keegan-Michael Key, Tim McGraw, and Thomas Robinson, as well as Director/Producer/Writer Brad Bird, Producer/Writer Damon Lindelof, Producer Jeffrey Chernov, Executive Producer John Walker, Executive Producer and Story Writer Jeff Jensen, Composer Michael Giacchino, and Co-Producer/VFX Tom Peitzman. Other luminaries attending included Disney Legends Tony Baxter, Bob Gurr, and Richard Sherman, along with Walt Disney Studios Chairman Alan Horn, TJ Miller from "Big Hero 6," and Brett Dalton from "Marvel's Agents of SHIELD."
Among those kind enough to share a few words with us were Jeff Jensen, Richard Sherman, Tom Peitzman, Tony Baxter, Alan Horn, Michael Giacchino, Brett Dalton, and George Clooney.
"Tomorrowland" will be opening in general theaters on May 22, 2015.