Predicting the future is tough enough but when attractions are built showing the near future, time tends to catch up and even pass those attractions. Walt Disney's Carousel of Progress premiered during the 1964 World Fair, traveled back to Disneyland and then moved to its current location at the Magic Kingdom in 1975.
The first sections of the show usually do not need updating as their time is in the past. The last section is supposed to show modern day living and has been updated a few times over the show's run. The latest change has started to look dated to me. Even Grandma's Virtual Reality gaming device seem a bit "old".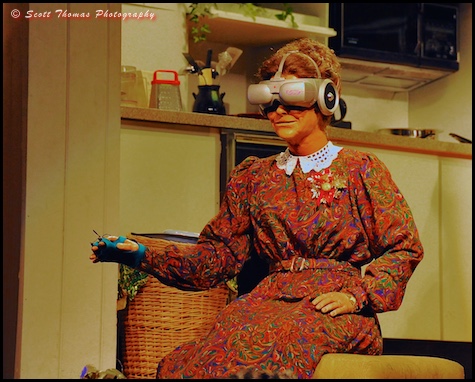 Grandma playing a game in Tomorrowland's Carousel of Progress.
Nikon D700/28-300VR, 1/60s, f/5.6, ISO 3200, EV -0.3, 116mm focal length.
I would really like to see this updated using the turn of the 21st Century decades like the 1964 original did for the first decades of the 20th century. No matter what the future holds in store for the Carousel of Progress, I know it will always be a Great Big Beautiful Tomorrow.