This is the third of three blogs about subjects being taught at the Focus on Epcot Photowalk held on Monday, February 9, 2015. Click the link for more information.
The previous two posts in this series talked about focusing issues. This week we turn towards changing the light entering our camera's lens with a polarizing filter. Specifically, a Circular Polarizing Filter. Being circular means the filter moves once it is mounted on your lens in a circular motion. This gives various amounts of polarization as the filter is turned in either a clockwise or anticlockwise direction. Polarizing filters main claim to fame is how it darkens and enhances a sky. Let me demonstrate using a typical Florida sky above Cinderella Castle in the Magic Kingdom.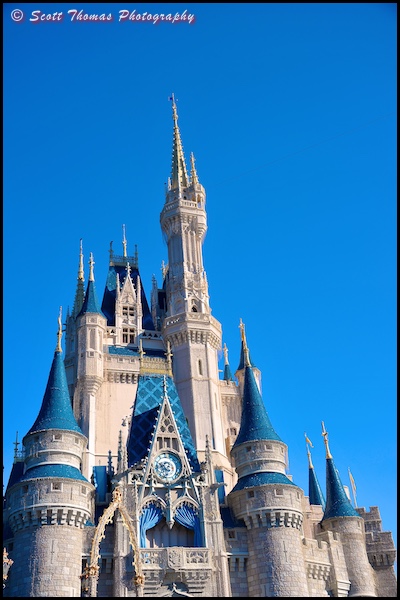 Cinderella Castle without a Polarizing Filter.
Nikon D700/28-300VR, 1/200s, f/7.1, ISO 200, EV 0, 42mm focal length.
The sky is blue but not the deep blue people like to see. This is when a circular polarizing filter comes in handy. After one attaches it to a lens and looks through the viewfinder, a slow turn of the filter will show its effect from none at all to fully polarized. The photographer determines how much. The next photo of Cinderella Castle is with a polarizer filter set to maximum.
Cinderella Castle with a Polarizing Filter.
Nikon D700/28-300VR, 1/200s, f/7.1, ISO 200, EV 0, 42mm focal length, polarizing filter.
Not only is the sky a deeper blue, the colors of the castle become enhanced. Yes, you can create the same effect in software but it only takes a quick turn of a filter to get it done in camera.
The other advantage of using a polarizing filter is to cut down on reflections. To see how that is done, check these two blogs:
Disney Pic of the Week – Filters
Case for Using a Polarizer Filter
If I still have not convinced you a polarizing filter is a must for the digital SLR camera owner, check this article out from the Digital Photography School: Why You MUST Have a Polarizer.
I was not convinced myself until I got a circular polarizer filter to try out once. I now have one for every different sized lens I own.