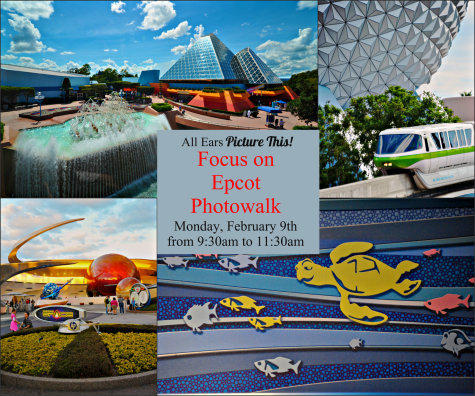 Focus on Epcot Photowalk
As I mentioned awhile back, I will be traveling to Walt Disney World a couple of times this year. My first trip is next month and I have planned an All Ears Photowalk around Epcot's Future World. The focus (pun intended) will be on these three photographic items:
Hyperfocal Distance or Hyperfocus (Landscape Mode)
Selective Focus (Portait Mode)
Using a Polarizing Filter
The Photowalk will be held on Monday, February 9, 2015, from 9:30AM to 11:30AM. Meeting location will be outside the Nikon Camera Center. The location is across from Spaceship Earth on the right side as you walk in from the Future World entrance. While you may attend by just showing up, if you think you will be at the photowalk, add a comment to this post. I will not be publishing the comments but will use the emails to correspond with everyone interested.
Click here for Focus on Epcot Facebook Event Sign Up
Before the Photowalk, I will be posting blogs about each of the items to be covered. Note, you do not need a polarizing filter but one will be demonstrated along with a special tip.