Visiting Walt Disney World any time of the year is magical…but, and I say this having experienced it several times, visiting during the Christmas holiday season is even more magical. All the parks and resorts get decorated in festive colors. Special parties, events and entertainment occur all over the resort. Disney characters dress in their holiday finest and special treats pop up even in the resorts.
Disney's Grand Floridian Resort puts a Gingerbread House in its lobby every year. I know, you can see Gingerbread house displays all over during Christmas time. Well, are those a story high? Do people work inside them? Can you buy Gingerbred goodies from the house's counter? You can at the Grand Floridian's.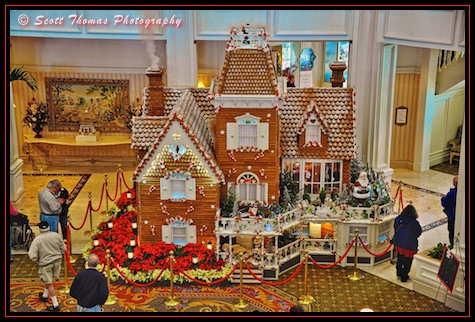 Ginger Bread House in the lobby of the Grand Floridian Resort.
Nikon D700/28-300VR, 1/60s, f/4.5, ISO 3200, EV 0, 65mm focal length, Intensify Pro.
Here I used some post-processing magic using MacPhun's Intensify Pro photo editing app. If you own a Mac, I suggest you check out Intensify Pro.
Deb will be here tomorrow to share her wonderful memories of Christmas.