We all know Walt Disney loved technology as it gave his vision life. The two Innoventions pavilions in Epcot's Future World present sponsored exhibits showing how today's technology makes our lives better. I took a tour of The Vision House by Green Builder Media which demonstrated the latest in green building methods and how the use of technology saves both energy, resources and money for the family who "lives" there.
If I was to build a house today, I would use many of the ideas found in the Vision House including this Trane ComfortLinkâ"¢ II XL950 Wi-Fi Thermostat which is an easy-to-use, programmable, digital thermostat controller that gives remote access, live weather and more, all on a beautiful color touch-screen display (Source: trane.com). The smart house is here today and it is much different than what was envisioned back in the 20th century.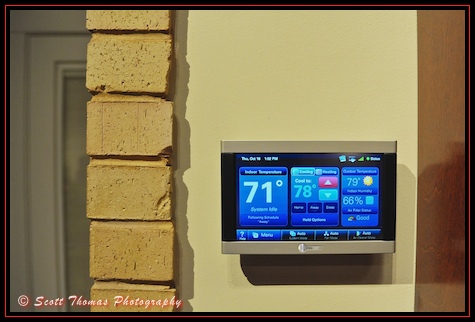 A Wi-Fi Digital Thermostat inside the Vision House exhibit.
Nikon D700/24-120VR, 1/125s, f/4, ISO 2500, EV 0, 24mm focal length.
Deb will be here tomorrow for a peek back at technology used at Walt Disney World.