Sail away on a Disney Cruise and depending on your location, you might stop at Castaway Cay. What or where is Castaway Cay? It is a Bahamian Out Island previously named Gorda Cay and is one over over a dozen Out Islands. Disney bought a lease on the land from The Bahamian government and restructured it. Like other cruise ship companies, this cay is exclusive to cruise ship guests.
After finding your land legs, walk to one of several beaches, meet characters, or participate in water sports. It's all available. Why, there's even a post office where postcards taunting friends shoveling snow back home get a unique cancellation stamp. Talk about perks.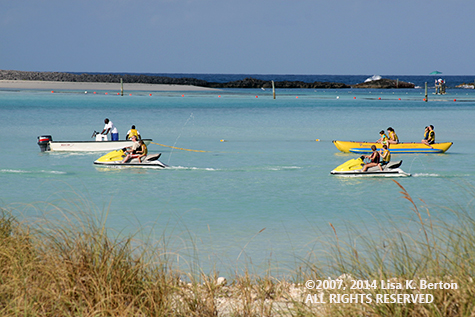 Make your way across the water any way you want, just be back in time for dinner.
Scott will post his photo on Thursday. I know, I'm filled with anticipation, too.
Come on over and "Like" my Facebook page or follow me on Twitter, my handle is lisano1.