Jim's Attic: Forgotten Disney Resort History
By Jim Korkis
I was recently interviewed on a podcast about my new books and one of the hosts peppered me with the typical rapid fire questions like who was my favorite character, favorite park, etc.
The only time I stalled was when I was asked my favorite resort. I like most of the WDW resorts for different reasons but being pressured I answered The Boardwalk because I love the attention to the time period and the atmosphere of old world elegance. If I had been asked minutes later, I might have said Wilderness Lodge because it takes my breath away.
It just got me to thinking about hotels that were Disney related before Disney built resorts.
Ardent Disney fans may know that Walt's parents, Elias and Flora Disney, actually lived in the Central Florida area. They were married here in Kismet (a town that no longer exists) in January 1888. That year, they managed the Hallifax Hotel in Daytona Beach.
No, that hotel no longer exists either although there is still a Hallifax Avenue where the Hallifax Hotel once stood.
While things were great during the Summer months with the tourists driving down (even in 1971 when Walt Disney World opened, roughly ninety percent of the tourists came to Florida in cars), when the Fall came, things dropped off so significantly that the Disneys decided to move to Chicago, Illinois where Elias found work as a carpenter for the upcoming Chicago World's Fair.
So while there was a little hotel management in the Disney DNA, when the Disney Company first came to Central Florida, they depended upon The Cherry Plaza Hotel, Robert Meyer Motor Inn, and Hilton Inn South.

On November 15, 1965, Walt Disney and his brother Roy lunched with Governor Haydon Burns in his suite at the Cherry Plaza Hotel at 431 E. Central Boulevard in Downtown Orlando right before making the fateful public announcement that Disney was coming to Florida. (No, that hotel is long gone as well.)
Walt Disney walking into the Cherry Plaza to make an announcement that would forever change Orlando. Source OrlandoRetro.com

Afterwards, Walt and his team left because they had accommodations at another hotel that was supposedly their favorite, the Robert Meyer Motor Inn that had opened in 1963 and was considered very upscale in its day.
General William "Joe" Potter was staying at the Robert Meyer when he first read the story by reporter Emily Bavar in the Sentinel-Star newspaper that Disney was the mystery industry going to build in Orange County that prompted the need for the press conference.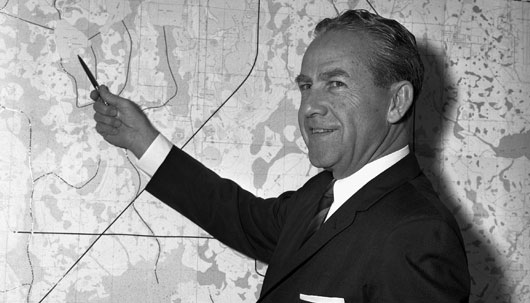 Image: D23.com
The Robert Meyer Motor Inn became the Kahler Plaza and then, in the late 1970s, the Harley. It became the Four Points by Sheraton in the late 1990s but closed in 2004 to evolve into The Metropolitan at Lake Eola condominiums.
Orlando attorney Finley Hamilton dabbled in real estate. He had opened a Hilton Inn on Colonial Drive and then acquired ten acres on Sand Lake Road near an I-4 ramp to build the Hilton Inn South. The two story, horseshoe shaped hotel had 140 guest rooms and a covered pool as well as several meeting rooms.
Because it was so near Disney property, the Disney Company offered to manage it for Hamilton for sixteen months until Walt Disney World opened so they could train their staff for the Contemporary and the Polynesian. Hamilton and his partner paved the nearby dirt road. Hamilton wanted to call it "Hamilton Drive" but there was another street by that name in Orlando so he had to settle for "International Drive".
Although it had been open since 1968, The Hilton Inn South opened May 1970 under Disney management and was the location where Disney executives stayed, as well as Disney transfers who had not found a permanent home yet. It was also open to the general public but the standards were extremely high because Roy O. Disney himself visited frequently and commented on flaws.
The Hilton Inn South no longer exists but it was originally in the same general area as the big McDonald's and entrance to Quality Inn on Sand Lake Road.
Did any All Ears readers ever stay at these hotels in their prime and if so, what were they like?