Future World from the monorail over Epcot.
Nikon D700/Tokina 11-16mm, 1/125, f/16, ISO 200, EV -0.6, 16mm focal length.
A few things have changed in this view of Epcot's Future World from the monorail since the park opened in 1982. The trees and landscaping have been expanded. There is a water play area and the Phineas and Ferb: Agent P's World Showcase Adventure kiosk along the promenade between Future World and World Showcase now. Oh, and nobody had come up with the idea of a Food & Wine Festival so there was no Ocean Spray Cranberry Bog setup.
Pavilions have come and gone in Future World and a couple of countries were added to World Showcase since Epcot opened. Landscaping has been used to create avenues instead of the wide open terraces around Future World. Horizons and World of Motion have been replaced by Mission: SPACE and Test Track. Morocco opened in 1984 and Norway made its appearance in 1988 to fill out the current eleven countries in World Showcase. (edited after guest comment was received, see comments below).
On October 1, 2012, Walt Disney World celebrated Epcot's 30th Anniversary. It was a beautiful sunny day and unusually hot and humid for early October. Thousands of people lined up at the turnstiles to enter at opening. Cast members passed out special EPCOT30 pins and park maps.
People lined up on either side of the dedication plaque flagpole outside Epcot on October 1, 2012.
Nikon D700/28-300VR, 1/125s, f/16, ISO 200, EV -0.6, 28mm focal length.
Below is a close up of the dedication plaque which reads:
"To all who come to this place of joy, hope and friendship, welcome.
"Epcot Center is inspired by Walt Disney's creative genius. Here, human achievements are celebrated through imagination, the wonders of enterprise, and concepts of a future that promises new and exciting benefits for all.
"May Epcot Center entertain, inform and inspire. And, above all, may it instill a new sense of belief and pride in man's ability to shape a world that offers hope to people everywhere."
– E. "Card" Walker, Chairman and Chief Executive Officer, Walt Disney Productions, Oct. 24, 1982
Close up of Epcot's dedication plaque outside the front entrance.
Nikon D700/28-300VR, 1/125s, f/4.8, ISO 200, EV -0.6, 65mm focal length.
Many of the people there were looking to buy limited edition EPCOT30 merchandise. Disney released pins, t-shirts, shirts, hoodies, mobile phone accessories, shot glasses and other things to only be sold on October 1st. Other kinds of merchandise was only available for a few days before and after the 1st. As you can image, the line to buy this merchandise was long. My party waited three hours to get into the special 30th Anniversary section of Mouse Gears.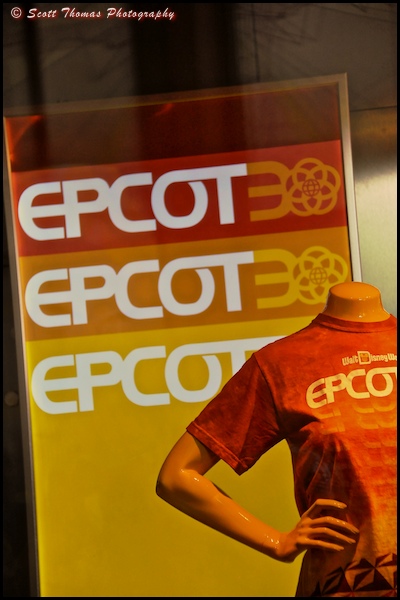 Epcot30 merchandise on display at Mouse Gear.
Nikon D700/28-300VR, 1/125s, f/5.3, ISO 3600, EV 0, 112mm focal length, polarizer filter.
When photographing through windows either on a monorail or a store, use a Cicrular Polarizing Filter (CPL) to cut down on reflections.
If you were not at Epcot on October 1st, you can enjoy the special events on Deb Wills' blog here: Epcot's 30th Anniversary.