Thanks for checking back for Part Two of my review of the Grand Floridian Resort and Spa. Let's get started.
The Grand Floridian has two swimming pools. The Courtyard Pool is the larger of the two (at 300,000 gallons) and is the more relaxed and dignified of the two. It is flanked by the Main Building and three of the lodge buildings. The Courtyard Pool is open 24 hours, however, it is NOT manned by lifeguards at any time.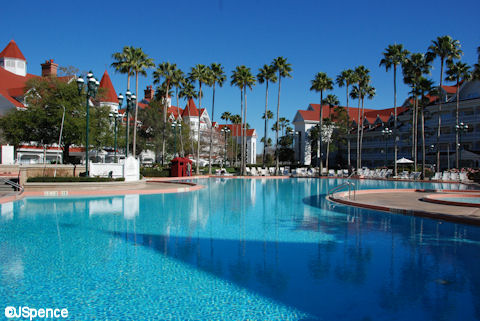 Courtyard Pool Bar sits adjacent to the pool. Besides the usual selection of Coke products and alcoholic beverages, this spot also serves turkey, ham & cheese, and PB&J sandwiches. Nearby tables offer a wonderful environment to sit and enjoy an alfresco lunch.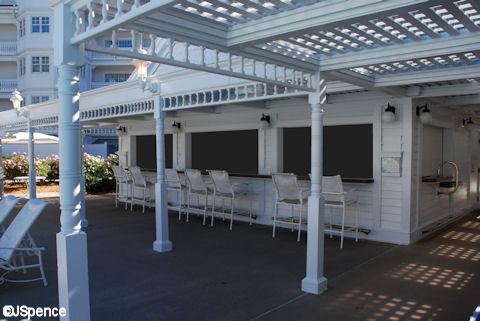 Near the pool is a lovely fountain. This water feature offers great photo opportunities.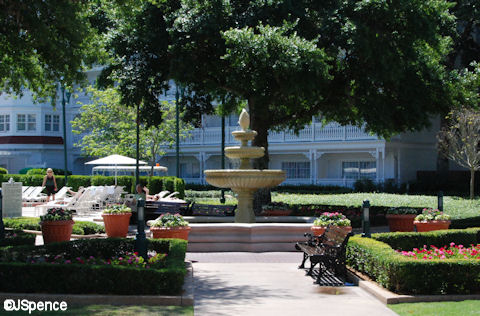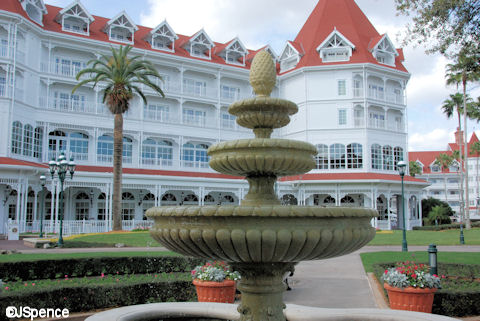 The newer, Beach Pool can be found south of the resort on the shores of Seven Seas Lagoon and is the better place for energetic kids. An in-ground fountain, waterfall, and water slide add a lot of excitement that the Courtyard Pool lacks. In addition, the Beach Pool also offers zero access entry for toddlers and those in wheelchairs. Unlike the Courtyard Pool, the Beach Pool is manned by lifeguards during most of the day. However, this pool is not open 24 hours. Check with the concierge desk for current times.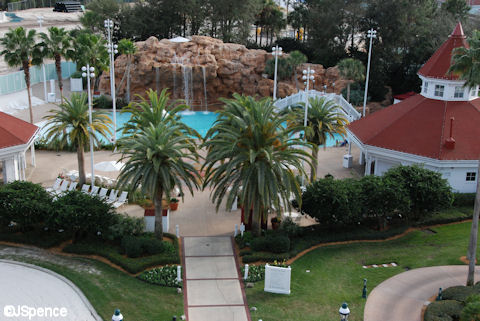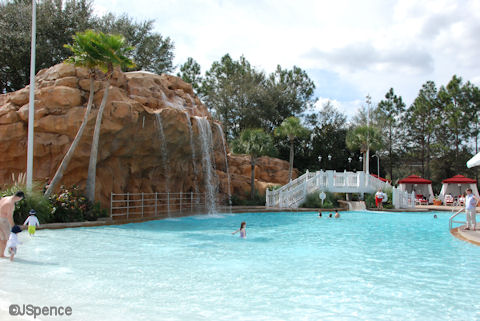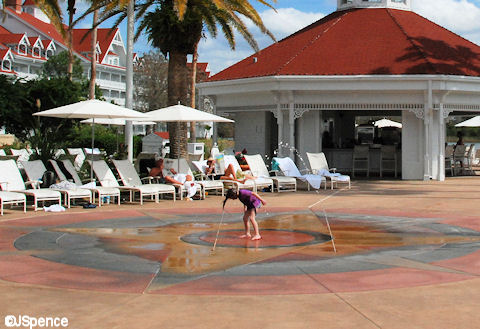 Drinks and sandwiches are available at the nearby Beach Pool Bar. Private cabanas can be rented through the hotel's concierge desk. Besides having upgraded lounge chairs, the cabanas offer televisions, refrigerators, and a host of other amenities. This is truly the way to pamper yourself.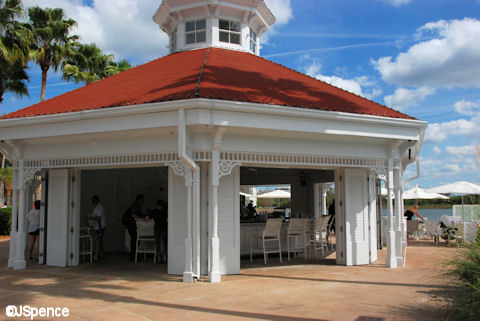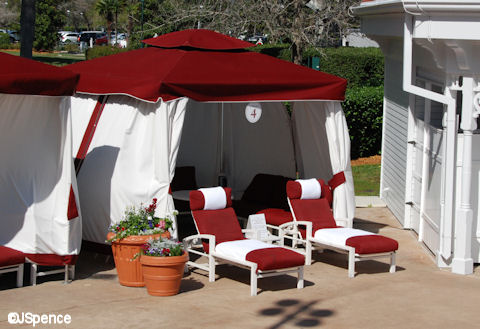 The white sandy beach that surrounds the Grand Floridian is the perfect place to relax in the sun and watch the Magic Kingdom ferry boats sail by in the distance. Covered lounge chairs dot the beach and add a touch of class found nowhere else on property. Please be aware, there is no swimming in any of the Disney lakes and canals. This is also the spot to watch the Electric Water Pageant presented each night at 9:15.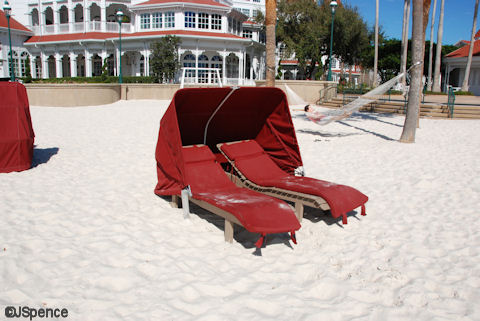 It's interesting to note, the sugary sand of the Grand Floridian beach was found beneath the muck that was once a swamp before Disney cleared this area to create Seven Seas Lagoon.
As you may or may not know, Disney is currently building a new Disney Vacation Club (DVC) just south of the Grand Floridian that will feature the same style and architecture as its nearby neighbor. The resort is schedule to open in late 2013.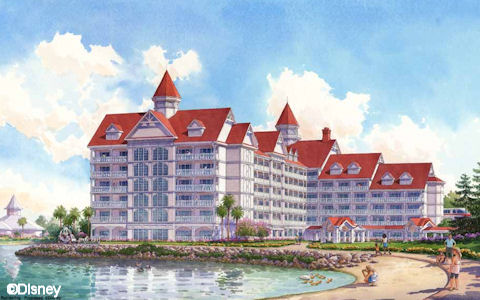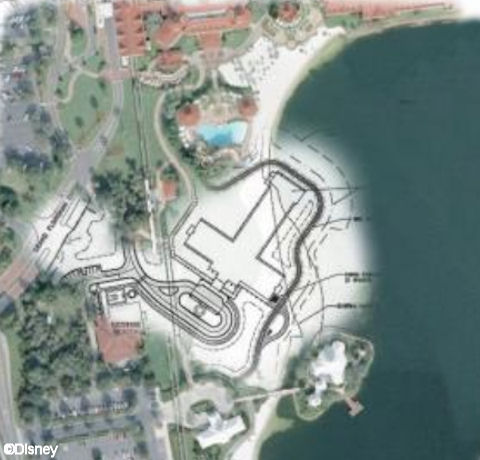 Because of this construction, the Grand Floridian Spa is temporarily closed and will not reopen until sometime later next year. However, the Grand Floridian Health Club remains open and offers state-of-the-art cardiovascular and weight-training machines 24 hours a day.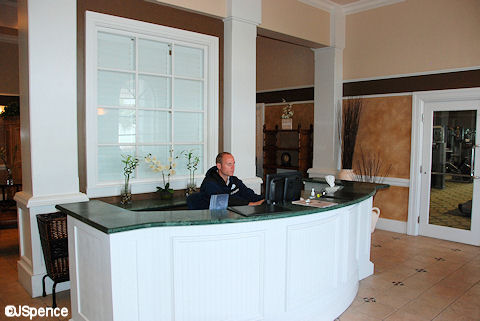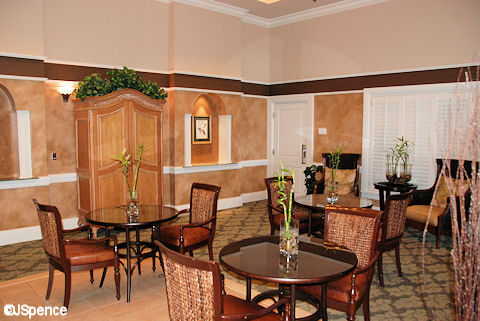 Toward the north end of the Grand Floridian, located next to the Conch Key and Sugar Loaf Key lodge buildings, is the Captain's Shipyard. This is the spot to rent a pontoon boat for a leisurely afternoon on the water or a mini-speed boat for zippy trip over the waves. Fishing excursions can also be arranged and leave from this spot
For a truly distinctive Walt Disney World experience, consider chartering the Grand 1 yacht birthed at the Captain's Shipyard. This craft is 52 feet in length and can accommodate 18 people (17 if a butler is in service). This is a wonderful way to enjoy an elegant night out on the water and watch the Magic Kingdom fireworks. Of course, when cruising aboard the Grand 1, you would want more than just a boat ride, so Disney has created a number of packages that include all sorts of wonderful hors d'oeuvres and beverages to tempt your appetite. For more information as to what is available, click here.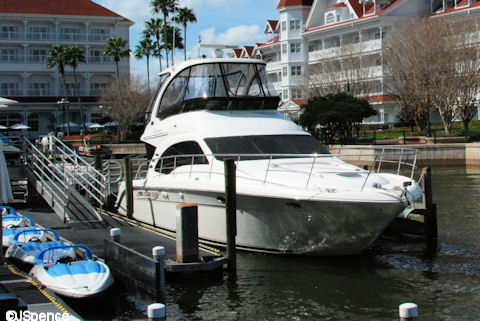 There are a number of restaurants at the Grand Floridian, each worthy of a full review. However, due to a lack of time and space, I'm just going to briefly mention them here.
I'm often asked, "What's your favorite Disney World Restaurant?" My answer always begins as follows, "If you don't count Victoria & Albert's, it's"¦"
But if you do count Victoria & Albert's, then this is hands down the finest restaurant at Walt Disney World – and probably all of Central Florida.
Victoria & Albert's, or Vicky & Al's as we regulars like to call it (just kidding), has won the prestigious AAA Five Diamond Award for the last eleven years. At this Grand Floridian restaurant, guests enjoy a two to three hour culinary experience within an elegant dining room. As your butlers tend to your every need, a harpist serenades in the background. Imported crystal, fine china, personalized menus, long-stem roses for the ladies, and a host of other elegant touches make an evening here an experience to remember for years to come.
Located on the second floor of the Grand Floridian, Victoria & Albert's offers a prix fixe menu that includes six courses of sumptuous food served at a luxuriously slow pace. Nothing is left to chance and the service is flawless. Chef Scott Hunnel selects seasonal foods from around the world and the menu changes from day to day. After your meal, you can select a brandy or cognac from the well-stocked cordial cart.
Beginning on June 1, 2012, the price will be $135.00 per guest with wine pairings adding another $65.00 per guest. (Pricing does not include tax and gratuity.)
Dinner jackets are required for gentlemen (tie optional) and dresses or pants ensembles are recommended for ladies. Valet Parking is available at no additional cost. Children under the age of 10 will not be served.
Victoria & Albert's is a fantastic restaurant. If you have a special birthday or anniversary coming up, think seriously about splurging and giving this restaurant a try. You will not be disappointed. Reservations are an absolute must.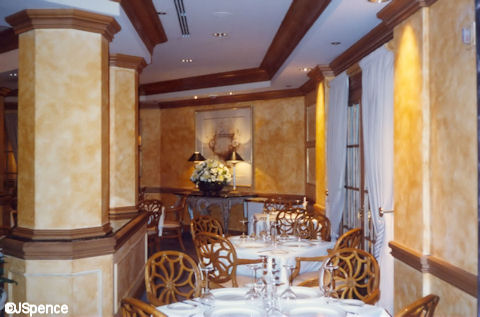 I'm often asked, "What's your favorite Disney World Restaurant?" My answer always begins as follows, "If you don't count Victoria & Albert's, it's"¦"
Well, if you don't count Victoria & Albert's, I have two favorite restaurants at WDW, and one of them is at the Grand Floridian. In fact, it's located right next door to Victoria & Albert's – Citricos.
The Citricos dining room is elegant, yet playful. There is something fun about this spot, yet it reeks of old-world sophistication. The tables and chairs are traditionally styled, yet the surroundings are whimsical. It all combines wonderfully and I feel very comfortable here.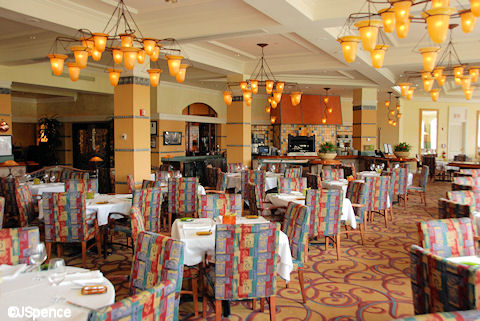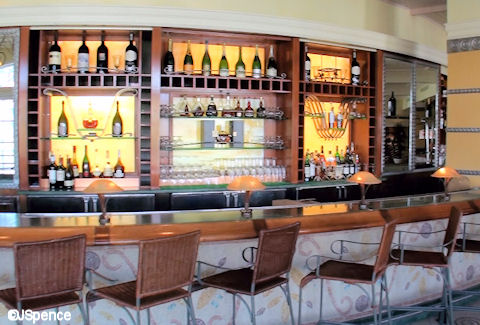 When Citricos first opened, the menu was to be Mediterranean inspired with all dishes containing some sort of citrus flavoring – thus the name Citricos. But today, this citrus "gimmick" has been down played and now the restaurant focuses on American dishes inspired by the cuisines of Provençe, Tuscany and the Spanish Riviera. Oak-grilled steaks, pastas, seafood, and their signature braised veal shank are just a few of the delights to tempt you – all prepared in an open show kitchen. To see the current menu, click here.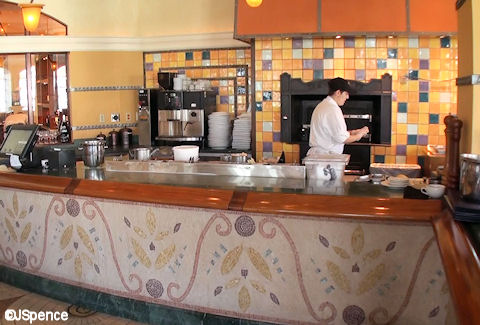 Citricos is considered a "Signature" restaurant on the Disney Dining Plan and requires two credits. This restaurant is open for dinner only. The dress code is Resort Casual. Not allowed in the restaurant are tank tops, swimwear, hats for gentleman, cut offs, or torn clothing. Reservations are highly recommended. In addition, Citricos has a one-day cancellation policy. When booking, guests must provide a credit card to hold the reservation. If the guest cancels within one day of the reservation or if the dining party is a no show, a fee of $10 per person will be charged to the credit card used at the time of booking.
Narcoossee's is the other "Signature" restaurant at the Grand Floridian and all of the above Citricos caveats apply here as well.
Narcoossee's is the only Grand Floridian restaurant not located in the Main Building of the resort. It can be found on the water's edge of Seven Seas Lagoon near the boat dock.
Narcoossee's has a subtle nautical/New England theme. Dark wood flooring, white paneled walls, shutters, and seating that resemble cruise ship deck chairs combine to create a casual environment.
Narcoossee's is a seafood restaurant and offers such specialties as seared-grilled scallops, crab-crusted halibut, grilled wild king salmon, and steamed whole Maine lobster. However, beef, chicken, and vegetable dishes are also available so everyone should be able to find something to their liking. To see the current menu, click here.
Window tables at Narcoossee's offer wonderful views of Seven Seas Lagoon, Cinderella Castle, and the nightly Magic Kingdom fireworks. But be warned, guests not seated at a window table will venture out onto the verandah shortly before the fireworks begin and obstruct the view of those sitting next to a window.
You might be interested to learn, Narcoossee's has a small stage located above the bar. When the restaurant first opened, combo groups would entertain guests from this perched area. However, there are no "soft" surfaces at Narcoossee's and the music was overpowering. Eventually, the live entertainment was discontinued.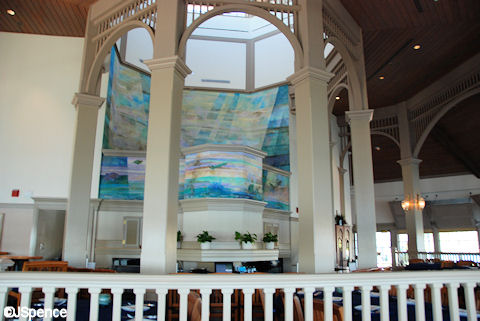 I have eaten at Narcoossee's a number of times. I have always been pleased with my food and service. However, I still find this eatery a little too noisy for my taste. When I'm paying Narcoossee's prices, I prefer a quieter atmosphere.
The Grand Floridian Café is located on the first floor of the Main Building and is open for breakfast, lunch, and dinner. This charming spot offers a more casual atmosphere than Citricos or Narcoossee's, yet it still radiates elegance and charm. Fresh roses adorn each table and massive, lace curtained windows look out onto the manicured gardens. Flowered wallpaper, marble table tops, and delicate cushioned chairs complete the mood.
The Grand Floridian Café offers American favorites at all three meals. I especially like the Grand Sandwich (open-faced hot turkey, ham, bacon and tomato, with a rich Boursin cheese sauce and Fried onion straws) served at lunch. It's loaded with calories and loaded with taste.
Reservations are suggested, but often not necessary. To see all of the Grand Floridian Café menus, click here.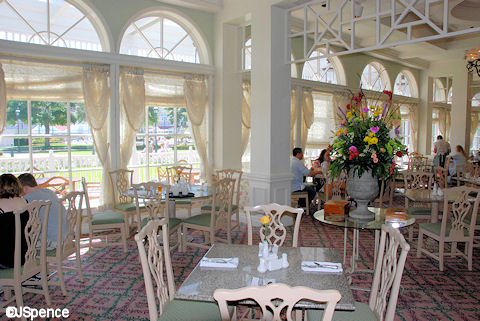 Character dining is also available at the Grand Floridian. 1900 Park Fare serves a Supercalifragilistic Buffet Breakfast from 8am to 11am where Mary Poppins, Alice in Wonderland, the Mad Hatter, and other Wonderland friends stop by your table to say hello and pose for pictures. From 4:30pm to 8:30pm Cinderella's Happily Ever After Dinner offers a fairy tale-inspired evening meal. Cinderella, Prince Charming, and their storybook friends stroll through the restaurant and chat with guest. All meals are served buffet style.
Dominating the upper portion of the restaurant is Big Bertha. This organ was built over a hundred years ago in Paris by Gavoli & Co. and used from 1909 to 1955 in Ramona Park, an amusement park in Grand Rapids, MI. The instruments include pipes, drums, bells, cymbals, castanets, and a xylophone played by a piano-roll score. Periodically during your meal, a short concert is played to the delight of children and adults.
The 1900 Park Fare Character Meals are intended for children or for those adults who love characters and never miss an opportunity to interact with them. The atmosphere here is festive (or maybe chaotic would be a more appropriate word. LOL). The energy level is high and so is the noise level. A great time can be had here, but you need to be aware that this restaurant does not offer an intimate experience. It offers "fun" in abundance! This being a Character Meal, reservations are absolutely mandatory! A one-day cancellation policy is in effect here.
Gasparilla Grill & Games is a 24 hour, counter service restaurant that offers freshly made sandwiches, burgers, wraps, salads, and pizzas. Also available are a large selection of beverages, sweets, fruits, and other snacks. Gasparilla is located near the Captain's Shipyard. Indoor and outdoor seating is available. Also, a number of arcade games are at hand for the young ones.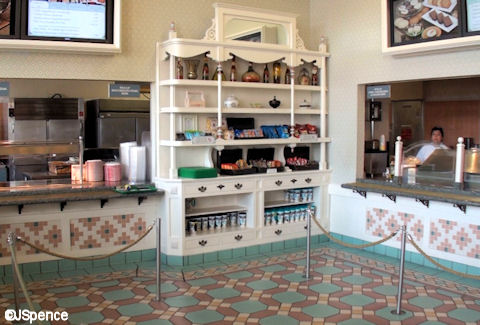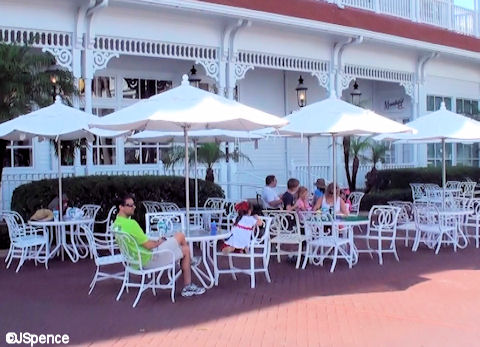 Mizner's Lounge is located on the second floor of the lobby, just behind the bandstand. This spot is open from 4:30pm to midnight and offers light snacks, a full bar, and vintage ports and brandies. In the evening, this lounge is dark and cozy and allows for intimate conversations. The Grand Floridian Society Orchestra adds to the mood with their ragtime and big band melodies.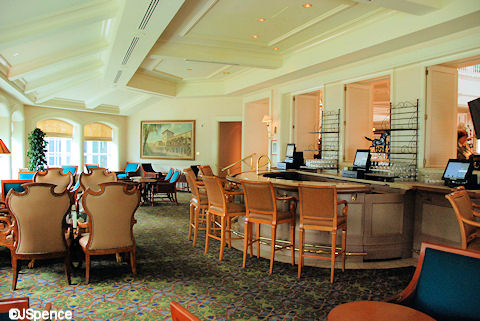 The Garden View Lounge plays host to two tea services. From 10:30am to noon, "My Disney Girl's Perfectly Princess Tea Party" is held for the enjoyment of young ladies ages 3 to 11. At this event, a character named Rose Petal plays host and entertains with stories and songs. The girls are made to feel like princesses and are presented with an 18-inch My Disney Girl doll dressed in a matching Princess Aurora gown with accessories, her own ribbon tiara, princess link bracelet, fresh rose, special princess scrapbook page, and a "Best Friend" certificate. The price is $250 for one child and one adult. Additional children run $165 each. Reservations are mandatory.
From 2pm to 5pm, guests can engage in an age-old tradition and partake in a traditional English-style tea. As you might expect, a large selection of tea is available and served "very properly." A number of other menu options are on hand to accompany your tea like finger sandwiches, scones, jam tarts, strawberries and cream, pastries, and an array of English cheeses. I know that many of you might be put off by the "formality" of this event, but I can assure you, Disney always does everything possible to make their guests comfortable in every situation and this dining experience is no exception.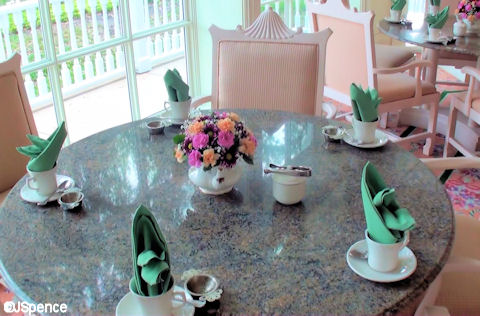 Believe me when I say, I've only scratched the surface when talking about the Grand Floridian Resort & Spa. I can think of a dozen other items of interest that I didn't mention, but there simply isn't room in my blog to do this resort justice.
The Grand Floridian is the most expensive resort at Walt Disney World. Is it worth it? Maybe. That depends on your taste and especially your budget. I'm certainly glad I've experienced this resort several times. It was nice to spend a few days in the lap of luxury. But I can't say I'd want the Grand Floridian as a steady diet. Often when I've been on an extended cruise, eating rich food every night, I can't wait to get off of the ship and have a meal at Burger King. That's not to say I didn't enjoy everything about the cruise, but I like variety as well. Disney World has a lot of great and unique places to stay. For me, I enjoy the All Stars, the Grand Floridian, and everything in-between.
For more information about the Grand Floridian Resort & Spa, check out the AllEars Fact Sheet by clicking here.
As always, I have created a video of the Grand Floridian Resort. Enjoy.