Jason has been doing a wonderful job with all of the Disneyland photo updates but he has been at WDW recently, so I'm going to try my best to provide this week's update. But I didn't get photos from all of the vantage points he uses, nor am I as good a photographer.
Lee and I decided it was time for a trip to Disneyland – we hadn't been there since February! We arrived in the park about 8:45 am. Â Long lines to get in but once inside it was fairly uncrowded. Â We got fastpasses for Space Mountain, and since the standby line for Star Tours was only 25 minutes we did that. Â It was actually less than 20 minutes before we were seated in our Star Speeder. Â  I'd never been on the left side of the queue where the baggage scanner is, and it was fun to listen to him – he commented on the "pet" that someone had put in their luggage…see the Mickey ears? 🙂
We are in a "Hoth" rut lately – that's the first scene we've had the last 4-5 times, though the other scenes we've had quite a variety. Â ("Hoth…why did it have to be Hoth?")
The line for Buzz was only about 5 minutes.  Buzz was apparently on an extended break – there was a curtain around his area. Or maybe we were supposed to ignore the spaceman behind the curtain. :-).  We vanquished Zurg, and, most importantly, my score was higher than Lee's.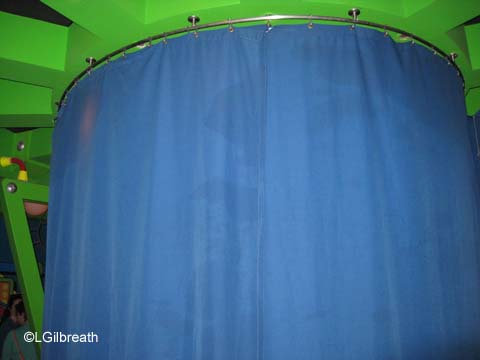 Time for our Space Mountain fastpasses, though the standby was still only 30 minutes. It was fast and fun!
The scaffolding is gone from the Matterhorn. I think the paint job looks a lot different – not nearly as much "snow". Â  It will reopen with the new bobsled cars on June 15. Â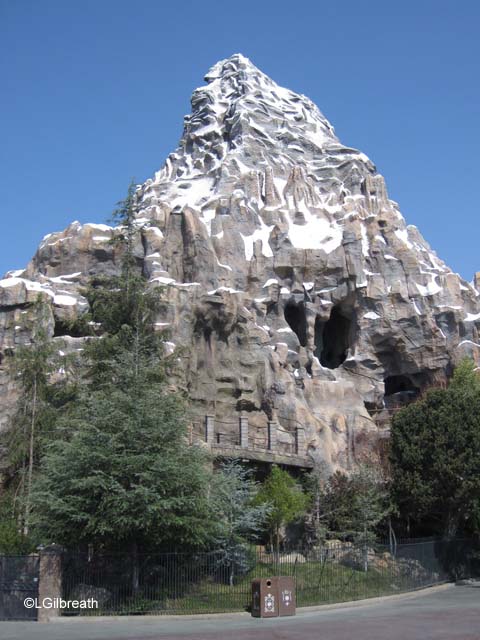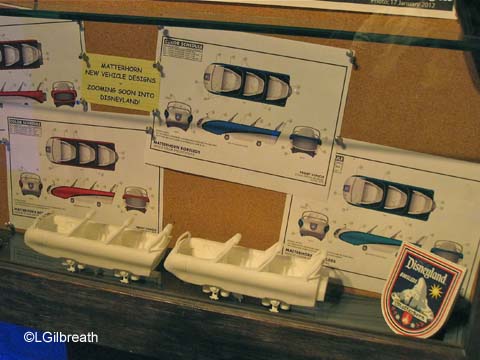 We went to the Jolly Holiday Bakery for a snack. We tried the broccoli quiche which came with fruit. Â It was served hot and was pretty good. Â Lee also ordered the scone. Â It had raisins and some kind of pieces or citrus peel or something in it – I didn't care for it. Â I ordered the Matterhorn macaroon, and that was a lot better. Â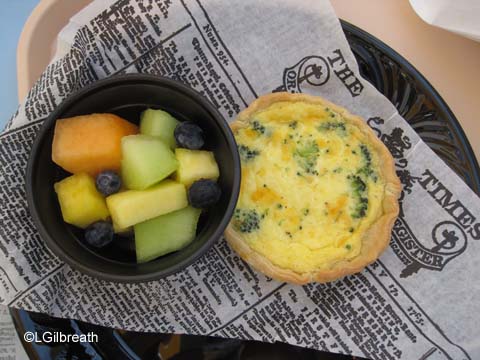 I'd never noticed the back of the Jolly Holiday Cafe sign before.
I thought the blooming trees in the hub were very pretty. It was a beautiful day today – blue sky and warm, but not too hot.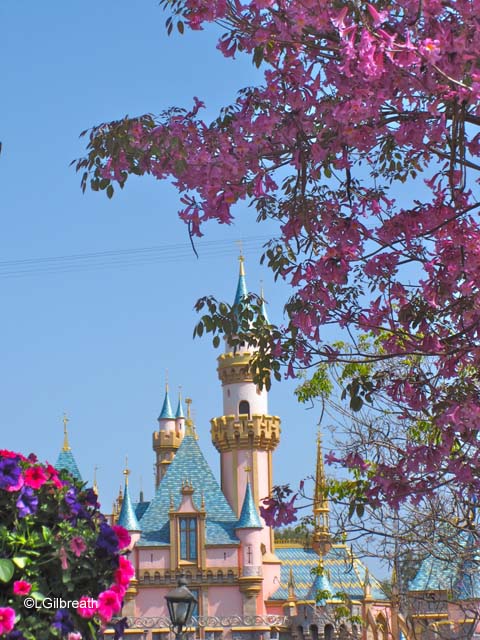 We stopped by the Carnation Plaza Garden – today is the final day before it closes for conversion to the new Fantasy Faire (opening 2013). They had school bands from all over the western US performing today, as well as a band from Canada. Â (The popular Saturday night swing dancing will move to the Westside Stage in Downtown Disney during construction, then will move back to the new Fantasy Faire stage.)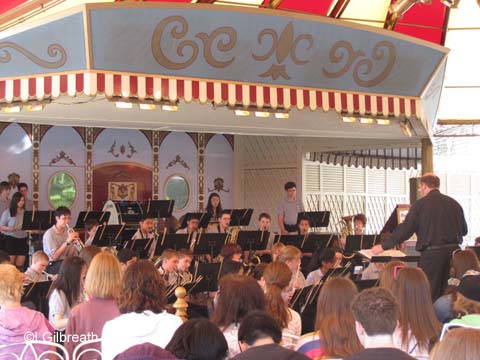 In Frontierland we rode Big Thunder Mountain Railroad – Â just less than 20 minute wait for that. It's the wildest ride in the wilderness!
We went to Big Thunder Ranch to see if there was anything to see or any information on the Big Thunder Ranch Jamboree which start this Thursday (May 3), but there was nothing except the closed gate to the Festival Arena.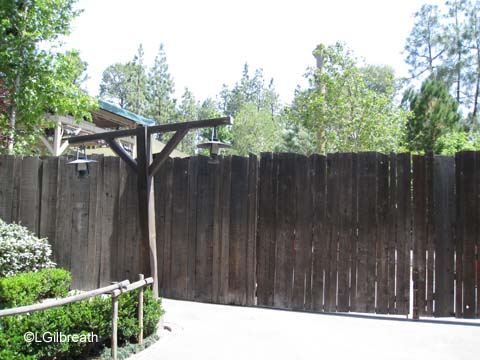 Haunted Mansion was less than a ten minute wait. Â I'm so used to riding this during the Nightmare Before Christmas overlay that it seems odd to ride it in its "normal" configuration. Â I don't know if people were being quieter than usual or if the sound is better, but I heard a lot of different voices singing in the graveyard scene. Â 
It's time for another round of menu updates on AllEars, so I was taking menu photos as we wandered around. Â  I didn't really see anything that looked different, though – the biggest change I saw is that they have converted the menus at Tomorrowland Terrace to LCD screens. Â That look might not fit the theme in some areas of the park, but it works there. Â And I'm sure it'll make updating the menus easier – just a software change now.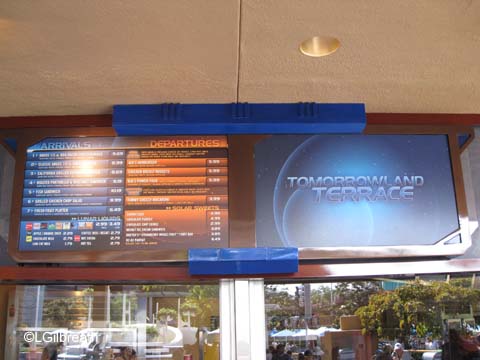 I called this the "Aly San San Tres Leches Cake" dessert in Rancho del Zocalo. 🙂 That's what it looks like to me. (Aly San San is the spokesdroid for Star Tours.)
Disneyland was getting more crowded so it was time to hop over to Disney California Adventure. Â The construction has reached the point that things are visibly changing rapidly now! Â 
We caught a little bit of Minnie's Fly Girls Charter Airline show.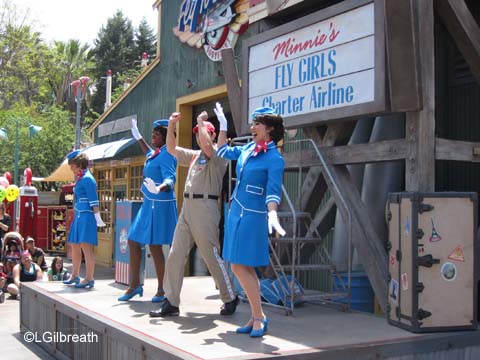 Jason takes his Buena Vista Street progress photos from the monorail but I didn't think to do that while we were still in Disneyland, so I just have some ground level shots.  I have to say that it looks quite beautiful  and I'm looking forward to seeing the finished product soon!  There's that June 15 opening date again.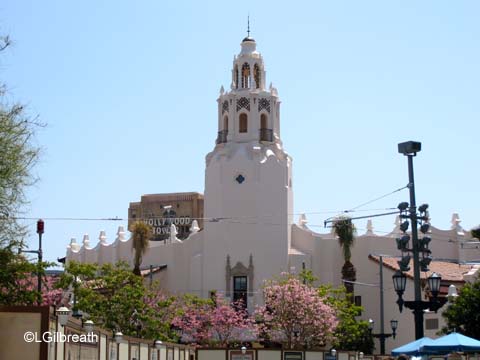 Here's the east side of Buena Vista Street.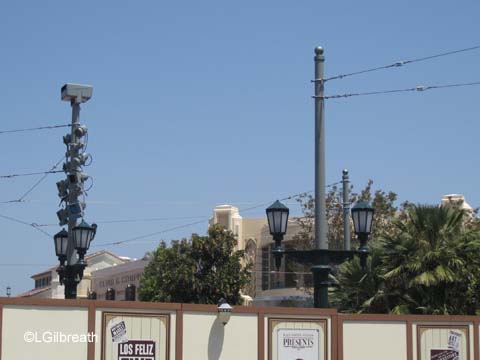 And a look on the west side, where the bakery and ice cream shop used to be.
The Carthay Circle Theater is a beautiful building.
All of the ElecTRONica setup is gone with the exception of the food truck – and they are going to have to change the "12" number on the Stage 12 sign – that's very TRON-esque.
But they have already begun the Mad T Party re-theming of the stage – another thing with a June 15 opening date.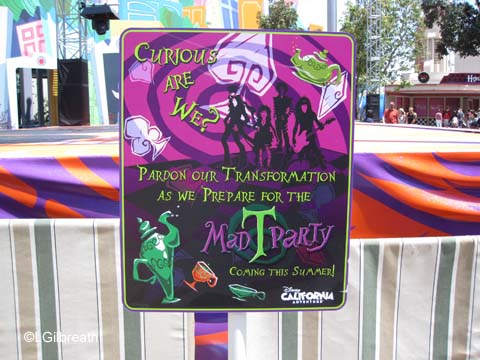 And the club area is now the House of Cards.
I don't know what this structure is in front of what used to be Flynn's Arcade, but there are lots of lights and speakers in it.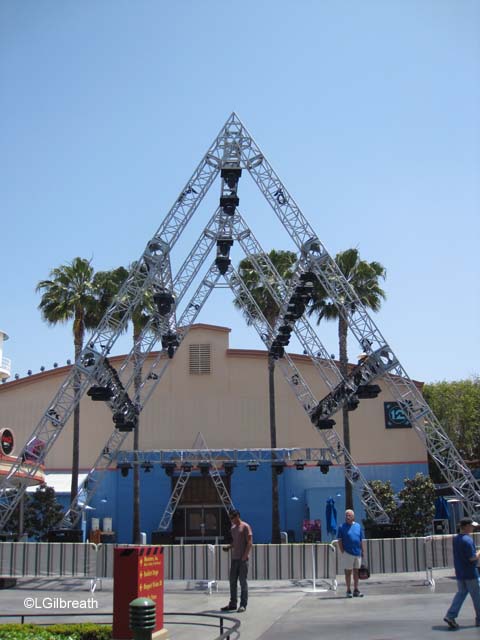 Some part of the Disney Performing Arts program will be relocated from the Carnation Plaza Gardens to the Backlot Stage. 
We thought this flower field next to It's Tough to Be a Bug was very pretty.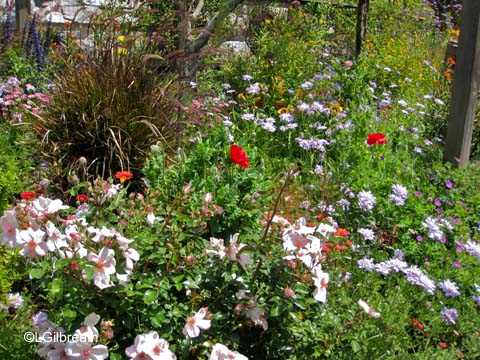 From the terrace outside Blue Sky Cellar there's a really good view down Route 66 into downtown Radiator Springs. This looks great! And opening, all together now, JUNE 15!
Blue Sky Cellar now features "The Road to Cars Land"' with concept art and models and attraction posters.
I liked this model of Mater's Jukebox – it will feature seven original songs.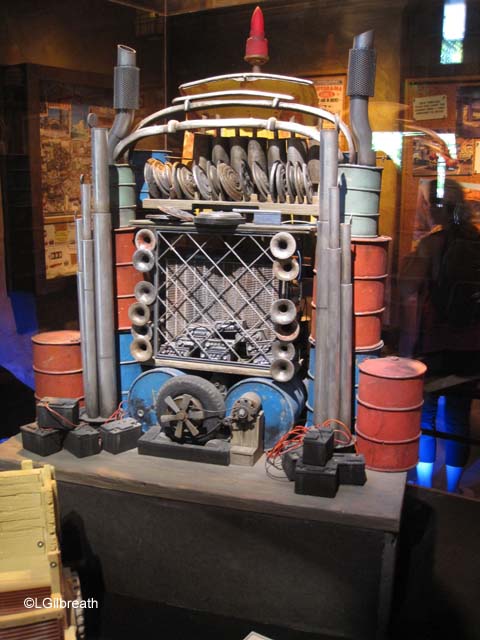 The movie seems longer than the ones they have had before – of course I guess this time they are talking about a whole new land instead of a single attraction or show, so there is more to say. Â 
We walked through the Pacific Wharf. The old Tortilla Factory is under wraps while it transforms in Ghirardelli Chocolate Factory, opening this summer. I'm looking forward to that, but I expect the line will be horrendous.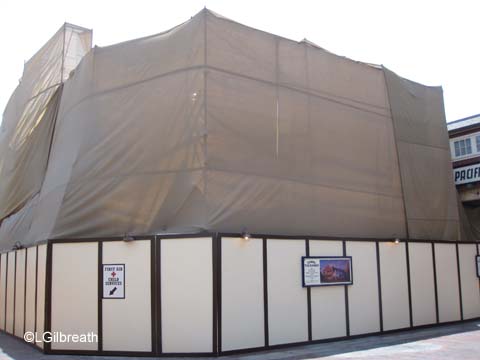 Between Lucky Fortune Cookery and the Karl Strauss Biergarten there will be a second entrance into Cars Land, under a big red rock archway.
We had planned to ride California Screamin' but the line was 40 minutes and Toy Story Mania was 50. Â  Busy day at the park!
We had lunch at Boardwalk Pizza and Pasta and Paradise Garden Grill. Â While there were no lines in the restaurants the seating area was pretty full – it's nice to see that, since this area seemed very under-utilized when it first opened last year. Lee had the barbecue chicken flatbread pizza.
I had my usual vegetable and tofu skewer from Paradise Garden Grill – though this time I remembered to ask for a second portion of rice pilaf in place of the cucumber salad.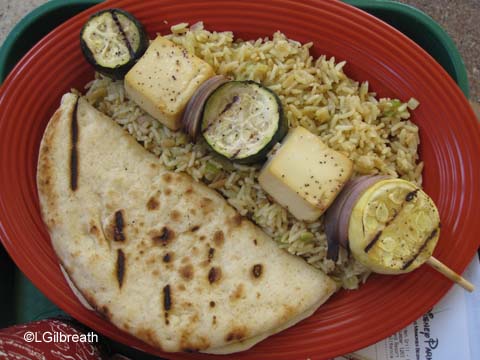 We also tried the Espresso brownie from Boardwalk Pizza and Pasta. It was a very good brownie. There was no "espresso" in the brownie itself, just in the little round things on top, and even those did not have much coffee flavor. We really liked it.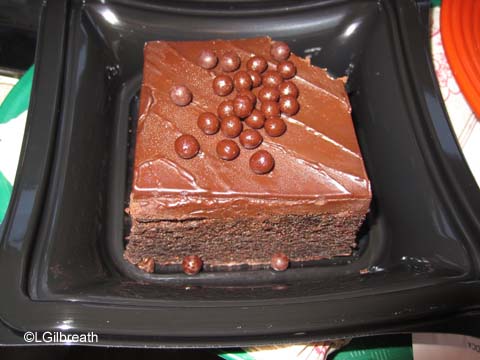 Lee noticed the propeller on the front of this weather vane above Goofy's Sky School was spinning madly (though you can't see it in the photo).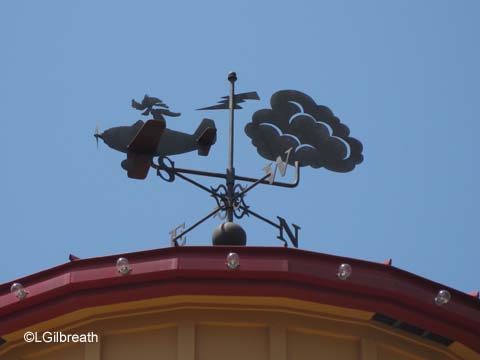 A view of some of the Cadillac Range – June 15 is coming soon!
We walked back to the Mickey and Friends parking structure via Downtown Disney. The Uva Bar area is undergoing some kind of refurbishment.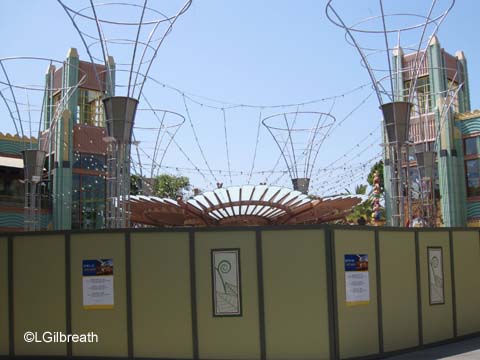 These banners are up in the tram area next to the garage – we did two out of three on this list!
It was a fun trip, and we enjoyed doing some attractions for a change – most of the time we just run around and take pictures.