On Sunday, January 8th, the El Capitan Theatre held a tribute to the music of Richard Sherman, Disney Legend and long-time tunesmith for Walt Disney.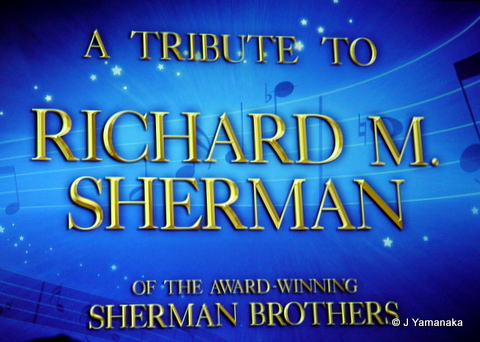 Hosted and largely performed by the El Capitan resident organist Rob Richards on the theater's large and ornate organ named "Ethel," it was a brief look at a small portion of Sherman's extensive musical catalog. Accompanied by pianist Alex Zsolt, Richards started off the evening with a sampling of some of the many songs Sherman wrote for several live-action films, such as "Fortuosity," "Are We Dancing," "Step in the Right Direction," and "Hushabye Mountain."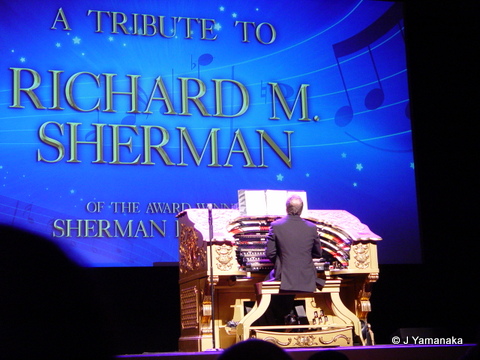 In the next segment, Richards was joined again on the piano by Richard Allen, Music Director for the recent Richard Sherman/Milt Larsen musical Pazzazz, as they did a set of songs by Sherman's songwriting father, Al Sherman, including "You Gotta Be a Football Hero" and "(What Do We Do on a) Dew Dew Dewey Day."
After another collection of organ renditions such as "That Darn Cat," and "Tiki Room," Richards brought in vocalist Dina Bennett to sing "Sister Suffragette," and "For Now For Always."
After telling the anecdote that the best way to irritate the Shermans was to compliment them on "Bare Necessities"–which they did not write–Richards did a medley of the songs that they did write from Jungle Book, followed by one of his compositions from the documentary The Boys, "A Prayer," and the Overture to his newest musical, Pazzazz.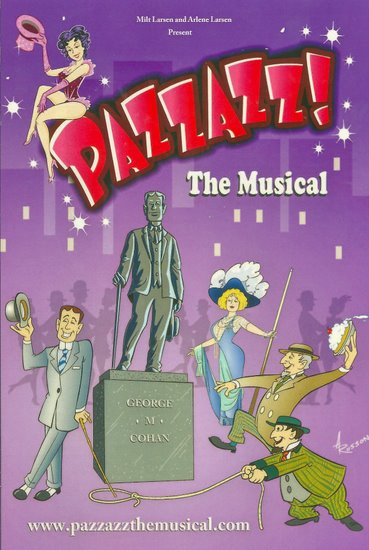 A few numbers later, they brought out the "Classic Dans," with a few words to the effect that, although they were "dapper," and "Dans," they were not allowed to use the two words in conjunction to describe them. They went on to sing a group of numbers including "Meet Me Down on Main Street," and "I Love to Laugh."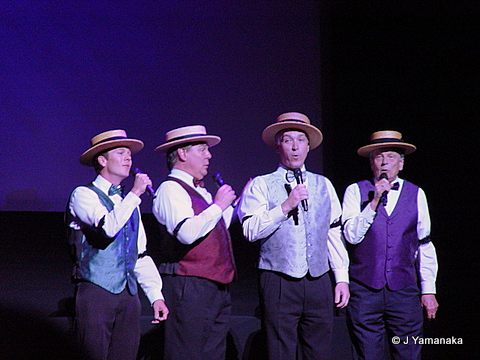 One charming part of the program were some hitherto-unseen outtakes from The Boys, including some footage of Sherman playing selections from one of his lesser-known albums "Sherman & Larsen's Smash Flops," which contains songs prematurely celebrating famous misadventures in history. (Example from "Bon Voyage Titanic: "Bon voyage to you new Titanic/Say hello to the Statue of Liberty/To wish you a safe crossing is unthinkable/
We know with what you're costing you're unsinkable!")
As a finale, Richard Sherman himself took the stage, accompanied by Mickey Mouse, and gave a short concert of some of his songs from Winnie The Pooh and Mary Poppins, finishing with "It's A Small World," sung in the original ballad tempo.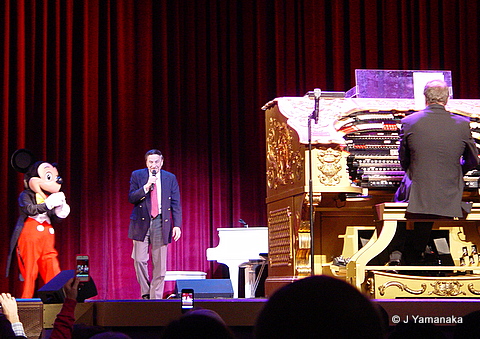 The show ended, as many Disney productions do, in a flutter of confetti and streamers. It was a charming show, honoring a great composer. Considering how integral the Sherman Brothers' songs are to almost every aspect of the Disney experience–the attractions and the movies alike–and how widespread they've become across the globe for the last fifty years or so, it may not be an overstatement to say that Richard Sherman's music may be among the most influential of all contemporary music.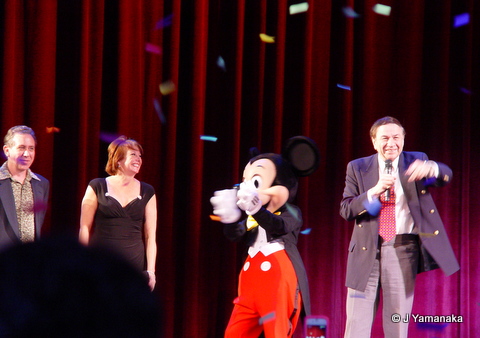 My recommendation? Any chance you get to see Richard Sherman and hear his amazing recollections of his time with Disney (both the man and the company,) take it. While you're at it, you would certainly not be disappointed by dropping in at the beautiful El Capitan and visiting Rob Richards and Ethel as well.