Star Tours closed on September 7, 2010 to be converted to what has affectionately been called Star Tours 2.0, or Star Tours: The Adventures Continue. To celebrate its reopening, Disney hosted a midnight meet up on Friday, May 20 at Disney's Hollywood Studios. The event was announced on May 5 and you had to RSVP via email. There were approximately 500 people invited (250 people + 1 guest apiece). A friend who was in town from Chicago was my guest for the event.
We had to go to Blizzard Beach to park, check-in and take a bus to Disney's Hollywood Studios.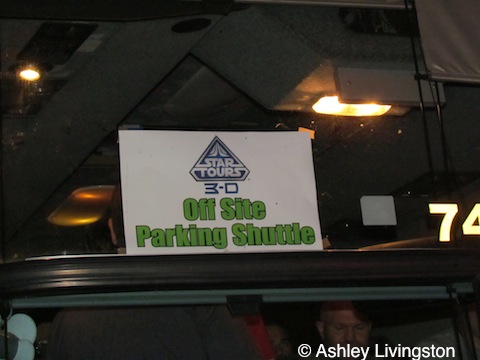 We entered Studios backstage near Star Tours. The red carpet had been rolled out for the evening.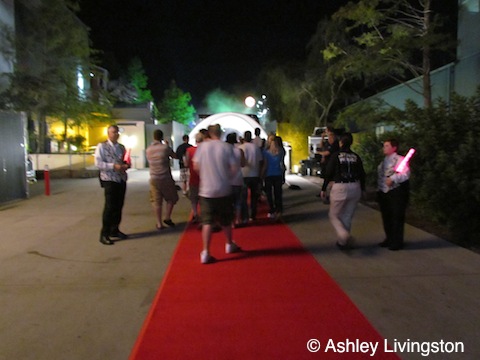 As we made our way to Star Tours, the Hyperspace Hoopla hosts welcomed us to the event and said that Star Tours was now open. I was very excited about being able to ride again… but I was even more excited because we were allowed to take pictures. No photos were allowed during soft openings (click here to read my soft opening report).
The "hot set" theme of Star Tours is gone. You are now in Star Tours' terminal getting ready for your departure to one of their destinations. The first thing you see when you walk in is the Mon Calamari still keeping watch over C-3PO and R2-D2.
As your turn the corner, you see the departures and arrivals board. The board is first shown in Aurebesh and then translated to English. Star Tours commercials, weather forecasts and other important Star Tours information is also shown on this board. I was told that this board has over one hour's worth of footage that is shown on it.
The Starspeeder 1000's color scheme is red. The speeders are all brand new for their port on planet Earth. R2-D2 is still our faithful astromech droid for the journey. The flight number for Star Tours is now 1401. 1401 is the street number for Walt Disney Imagineering (WDI) in California.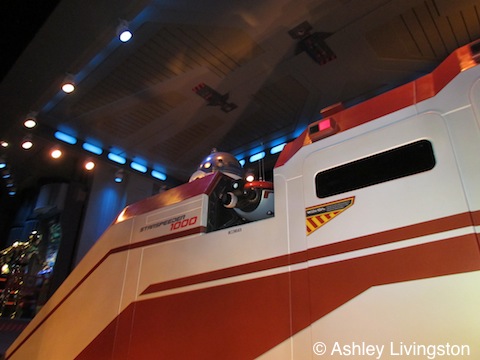 C-3PO has been polished until he shines.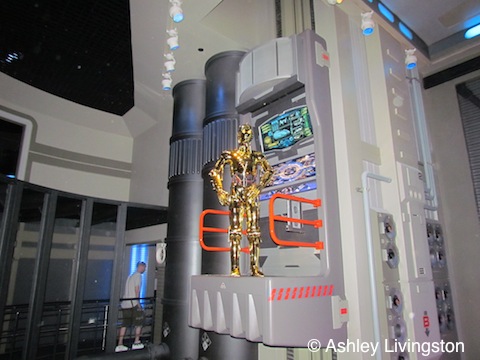 The space port theme is enhanced by signs like these throughout the queue.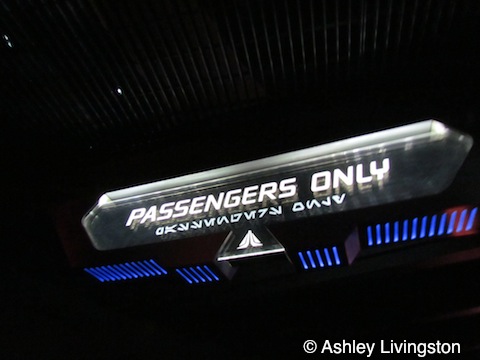 After you pass through the "scanning" station, look to the left. An old friend, RX-24 (or Rex) is seen. Rex isn't quite ready for piloting a Star Tours speeder. Perhaps when the Starspeeder 3000* model is ready for flights…
Near Rex, you will also see the mechanical 'birds' that used to sit near the top of the queue line. Also, in the far back, look for a reference to TK-421, the trooper who wasn't at his post in A New Hope.
Just up the ramp from Rex is the luggage scanner droid. He can get a little… preoccupied talking to guests. He has also been known to mistakenly 'zap' items like Mickey ears from people's luggage. He also wonders why people would take something called a camera on vacation.
Before you make the turn to go to the top of the queue, watch the 'door' for some familiar characters to walk by.
At the top of the queue, there is a 'heat signature' scanner. He can identify 14,000 life forms but everyone he sees is human so he's perturbed.
Just before you are sent to your gate, a schematic of the Starspeeder 1000 can be seen on the wall.
The loading area for the speeder is very nice. You will pick up your flight glasses (3D glasses) when you reach your gate. The gates are labeled A-F and and the numbers on the doors are also written in Aurebesh.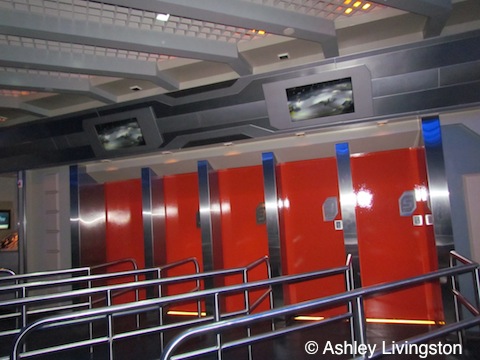 There are two different pre-show videos that I've seen. Both convey the same information but are presented in slightly different ways.
The interior of the Starspeeder 1000 is largely the same as before. The biggest difference is the seats are now blue.
There are 54 possible experiences on Star Tours flight. There are two openings, three first scenes, three middle scenes and three endings (2*3*3*3 = 54). I was going to give you a list of the scenes but I had a blast figuring it out for myself so I thought I would let you have fun with it, too. You can keep track of your destinations by using your Star Tours passport.
The posters at the end of your flight have been updated. They look great.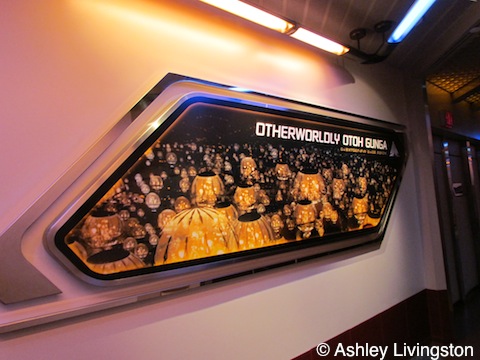 Imagineers were on hand to discuss Star Tours and answer questions from guests. They did say that we were a long way off from having a 3D attraction without needing 3D glasses.
The area around Star Tours was set up very nicely. Beverages were provided as was an ice cream bar. Tables were set up for everyone to use, which was very nice. Near Indiana Jones, this probe droid was set up. It was transmitting the message it sent in The Empire Strikes Back. It's hard to hear on the video below but it gives you an idea of what it was doing.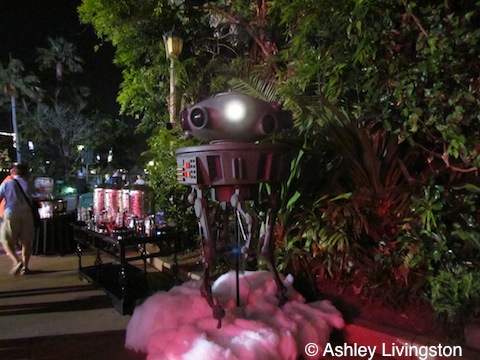 Characters were roaming around and posing for photos as well. It was a fun event. We got to ride Star Tours 4 times and had the queue virtually to ourselves for a bit to take pictures. I'm really glad I was able to do this event.
*The Starspeeder 3000 was the speeder for the original version of Star Tours.