The Walt Disney World Destination D event began at the Contemporary Resort on Saturday, May 14 in the Fantasia ballroom(s) in the convention center portion of the resort. When the event was announced, I knew I HAD to go. I've been thinking about it over the last few days and realized I knew more about Disneyland's history than I did Disney World's history so I was excited to hear about it from those who helped create it.
The archives brought an exhibit of items relating to the Magic Kingdom's opening and the Disney World parks.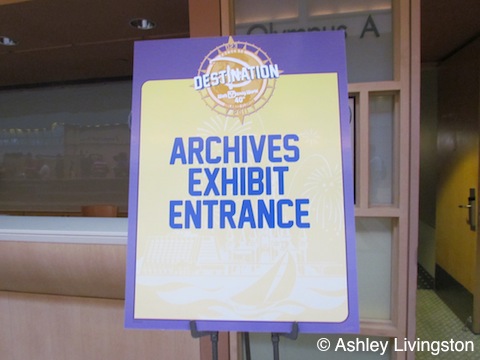 We were taken into the ballroom on time and the logo they used for the event was great.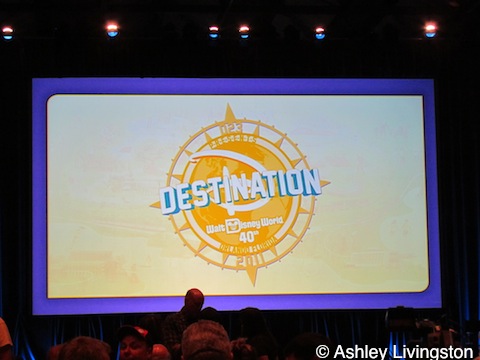 The Head of D23, Steven Clark, was on hand to help kick things off.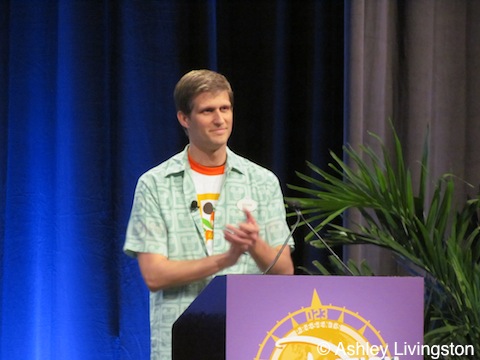 Debby Dane Browne, the first Disney World Ambassador, was also on hand to welcome everyone to the event. She also shared some of her memories from working at the preview center and of her work with Disney.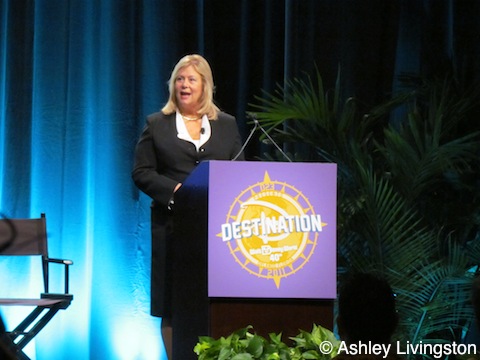 Becky Cline, Walt Disney Archives Director, and Paul F. Anderson, a Disney historian and who works for The Walt Disney Family Museum, hosted a panel called "Weird Disney: Walt Disney World & Beyond." What a hoot! As they said, Disneyland provided more material but there has certainly been some wacky stuff, both merchandise and advertisements alike, over the years!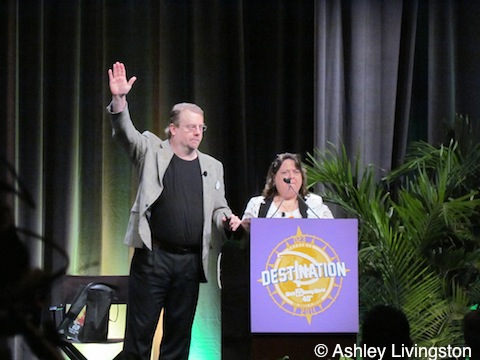 The next panel was hosted by Disney Legend and the founder of the Walt Disney Archives, Dave Smith. He showed us a lot of construction photos of Magic Kingdom that I had never seen. He was a real treat to listen to.
After the afternoon break, Steven Vagnini, a Disney Archivist, and Paul F. Anderson, a Disney historian, hosted "Epcot: Walt Disney's Great Big Beautiful Tomorrow." They talked a lot about Walt Disney's original concept for Epcot- that people would live, work and play there and it be a self-sustaining community. I had never realized the depth of Walt's interest in urban planning. His original vision didn't happen for a number of reasons and they showed us how certain parts of the Epcot vision became reality in other ways in the parks. The transportation system that we enjoy is part of that. The resorts are part of that. Some of the cutting edge attractions are part of it, etc.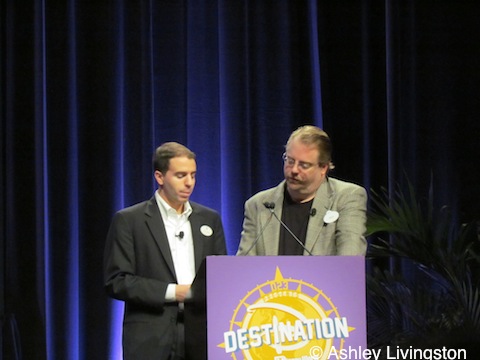 Next was "Past Forward: Walt Disney World on Television." This was hosted by Rob Klein, a Disney Archivist, and Tim O'Day, a Disney author and historian. Oh my gosh… some of the promo materials for Disney World are a scream to look at now.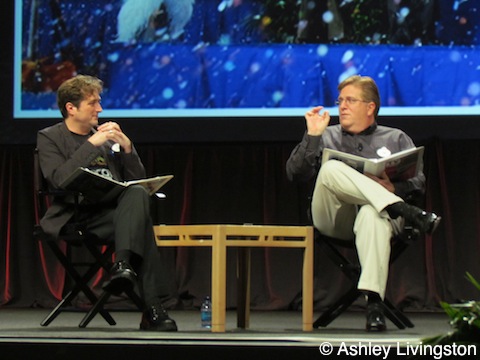 After that panel, Imagineer Tony Baxter and Steve Vagnini presented "The Walt Disney World Resort That Never Was." No photography was allowed at this session. It was absolutely fascinating to see what they had originally planned for Disney World and how, if ever, it came to life. For example, they had planned a very elaborate area called Thunder Mesa that would host Big Thunder Mountain Railroad and a ride similar to Pirates of the Caribbean- only, with cowboys. When they opened Disney World, they found that people wanted Pirates of the Caribbean, not cowboys, so the idea was ultimately scrapped but some of the ideas for the Big Thunder Mountain area are there today.
After the dinner break, there was another presentation. I will 'fess up to the fact that we were just flat out too tired to go. We went back to the resort and went to sleep because Sunday was a big day….