Last week I showed you how my friend and Disney photographer Bob Desmond approached finding details at Epcot. He further explained he likes to "build" a photo showing elements of a park. These photos say "Epcot" or "Magic Kingdom" or other Disney park or resort to someone viewing it.
The fun in this for me was finding those elements in the viewfinder. My first photo was a direct result of Bob mentioning he likes to add elements which are non-static. In this case, I waited for a Friendship boat to enter into the mid-ground between the lamp with flowers in the foreground and the China and Norway pavilions in the background.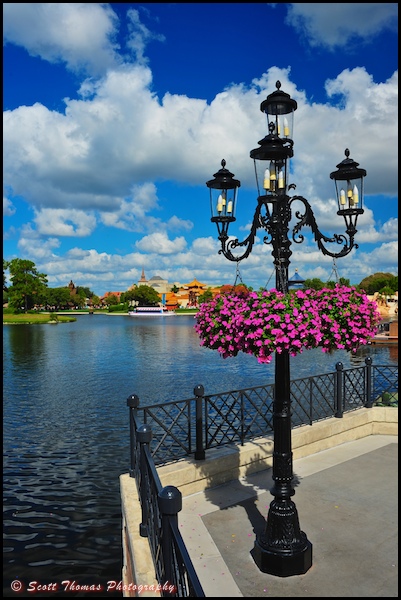 Hanging flowers on a lamp post in Epcot's Italy pavilion.
Nikon D700/28-300VR, 1/100s, f/16, ISO 200, EV 0, 28mm focal length.
While taking the photo from Italy, I noticed how the China and Norway pavilions worked together in the contrasts between them. As Bob and I continued to walk towards them I kept my eye out for a composition.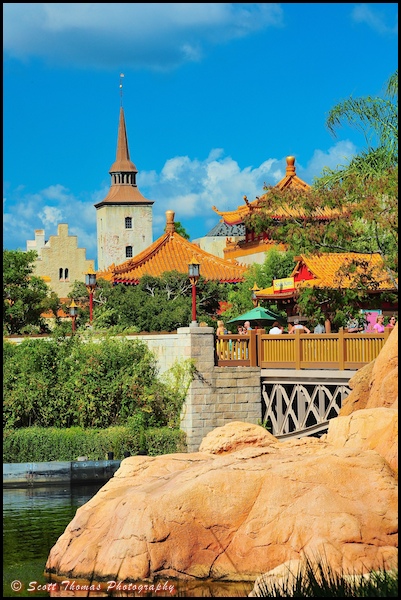 Africa, China and Norway in a scene from World Showcase.
Nikon D700/28-300VR, 1/250s, f/16, ISO 560, EV +0,.3 135mm focal length.
In the photo above, I compressed the elements with my zoom lens of the Africa outpost, golden roofs of China and Norway's castle as the landscaping of plants, trees and rocks add color balance.
Do you think I found elements which say "World Showcase"?