The afternoon continued with "Imagineering the Magic of Disney," hosted by Marty Sklar. This was a panel made up of a large number of Imagineers, both past and present. In attendance were X. Atencio, Alice Davis, Bob Gurr, Don Iwerks, Dave Durham, Kathy Mangum, Kevin Rafferty, and Tony Baxter.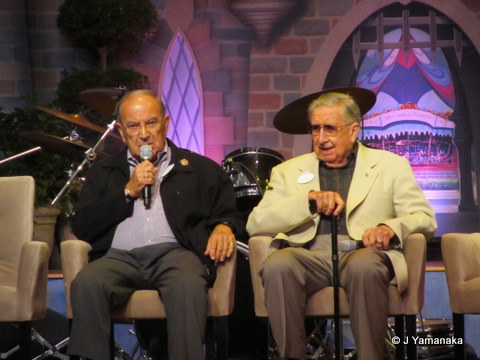 The discussion was directed by Sklar, who threw out general questions to all the panel, such as "what's your favorite project you worked on, at Disney?" For X. Atencio, it was Pirates of the Caribbean. Alice Davis responded with It's a Small World because, "growing up in the depression, I didn't have any dolls. For It's a Small World, I got to dress and play with the best dolls in the world."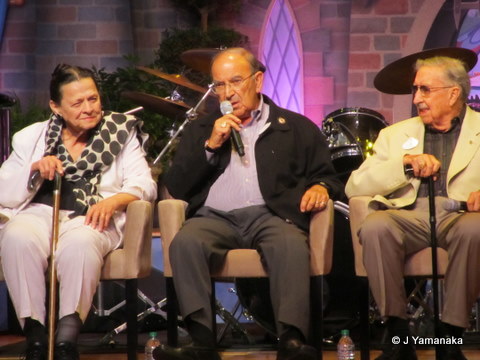 Bob Gurr gave the monorail as his favorite project, along with the gleeful observation that while it took him one year to develop it, it took the current Imagineers four years to refurbish it. Kathy Mangum and Kevin Rafferty both picked the Finding Nemo Submarine ride as their favorites.
Don Iwerks fondly recalled the 360° theater he helped develop for CircleVision show "America the Beautiful" with his father, Ub Iwerks, who came up with the concept on demand, in only a day. Dave Durham's favorite was Indiana Jones, because he had actually won an internship with WDI by designing an Indiana Jones-type ride, and then was surprised to find himself ultimately working on the same thing.
Tony Baxter's favorite was Star Tours, when he got to meet George Lucas with Ron Miller. He also related a story of the pitch meeting he had with Michael Eisner, in which Eisner brought his 14 year-old son with him, reasoning that since he (Eisner) wasn't "up on theme parks," his son could better judge the projects than he could. Not only was his son wildly enthusiastic about both projects Baxter presented (Star Tours and Splash Mountain,) but Eisner also approved Captain EO, since neither of the other projects could be completed in less than four years. "I got three projects approved. It was a good day."
Afterward, the Imagineers discussed some of their favorite memories of Disneyland. Alice Davis remembered trying to take her niece to Disneyland on the day before she had to go back to New York, and getting to the park an hour before it closed. At that time they didn't sell tickets during the last hour, so they refused to let her in. Determined, she told the little girl they would go to the exit and walk in backwards, so that the CMs guarding the gate would not notice them in the crowd. Her plan proceeded perfectly, and she got her on all the attractions before it all shut down for the day.
They then went on to favorite memories of Walt: Alice recounted Walt's glee at showing her the animatronic of the grandmother from Carousel of Progress, as he was getting ready to pass her off as a real person, and put her on a plane to New York for the World's Fair. Bob Gurr told of a time when he was required by second parties to construct safety cages for the Astro Jets ("the ugliest things;") they were hidden away, but were ultimately found by Walt who roundly chewed him out for creating them, which showed him just how much Walt cared for the park–"it was his park, and nothing went in his park that he didn't want in the park!"
Marty Sklar then told his anecdote of when they used to produce color brochures of the park that sold for $0.25. "Suits" eventually figured out that it cost them $0.24 to make each one, and came to Walt telling him that they needed to raise the price to $0.50 at least. Walt responded that they didn't understand at all: He wanted every person who went to Disneyland to buy one of those books, and put them on their coffee table at home. When their friends came to visit, he wanted them to be able to see the book, and be struck with the desire to see Disneyland for themselves. "When they get to the park, they'll spend money there. We don't have to make money on everything we sell."
After talking about their favorite projects that didn't happen (Dave Durham stated that 90% of everything they blue sky never gets built,) they went to a Q&A session that was abruptly truncated when (as so many Q&A's do,) it began to be a forum for hug requests. It was a great panel and a remarkable thing for everyone there to witness, as there was a collective 307 years of experience at the Disney Company present between all the panel participants.
After dinner that evening, they held a concert entitled "E-Ticket: Music from the Disney Parks," which was really terrific. A variety of performers, led by Richard Sherman, presented some of the classic Disney park songs. Some from Broadway, such as Terron Brooks (Simba in The Lion King,) Wilson Cruz (Angel in Rent,) John Tartaglia (Princeton/Rod in Avenue Q,) and Tracie Thoms (Joanne in Rent;) and some from television, such as Ana Ortiz and Michael Urie (Ugly Betty.) They also introduced a new, official D23 singing group called "Melo-D 23" which was made up of Disney Cast Members (including Becky Cline,) and proved that Jeffrey Epstein has talents beyond being the Disney Geek when he joined Ana Ortiz in a duet to "A Whole New World."
Video and audio recording were prohibited, so we can only hope they decide to release the footage on a dvd at some point. From Tartaglia's story of his obsession with the Country Bear Jamboree and ghostly puppetry ("I want you to sing along–because if I'm going to stand here with two shiny lamé puppets on my hands…you know what's expected of you,") to Urie's call for all the people having birthdays to come up on stage…so he could sing "Happy Unbirthday" to everyone else, to Richard Sherman's always fascinating reminiscences of the earlier days, with Walt, it was a fun night and a great way to end the first day of Destination D.