After an extraordinarily funtastic birthday at Disneyland, Yoli, Drina, and I slept in a little bit. When we finally began dragging ourselves out of bed, I put a concert DVD into the player. Now, just imagine it was whoever your favroite band or singer is, and the concert is from 23 years ago when you were completely, (and perhaps still are) in love with them/him/her. Now, imagine you and your friends dancing and singing along and having too much fun for words. That was us. (I'm smiling just thinking about it)
Ready to hit the newly poured pavement at Disneyland, Yoli & I decided we had to take Drina to see things that were about to disappear and/or be built. Our first stop was to watch "Disneyland, The First 50 Magical Years." The film is hosted by Steve Martin, who worked at the magic shop on Main Street as a youth. It's rather cleverly done and it's also no longer showing as the venue is being prepared for Abraham Lincoln's return.
With rumblings in our tummies, breakfast was a high priority. However as we made our way into Adventureland, I caught Aladdin out the corner of my eye, stopped, yelled to my friends and waved my arms in the air. They know what that means, picture time! Some people collect animation cells or stuffed animals. I collect characters, especially Aladdins.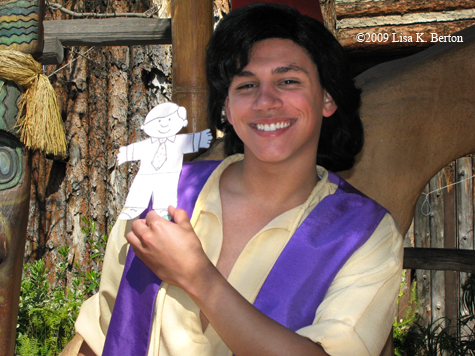 Flat Stanley is always dressed to impress. Allllladdin!
My favorite place to find hearty and healthy morning nourishment is River Belle Terrace. Drina had the cinnamon roll, a side of potatoes, and a fruit plate which she kindly shared with me. Yoli had eggs, pancakes, and sausage, along with orange juice, milk, and water. I swear this is the only place where she actually eats an adult-sized meal and cleans her plate! I scoffed down the Mickey pancake. Oh boy! Yoli bought me breakfast. Woo hoo!
Feeling much better we went straight over to Pirates of the Caribbean. I got splashed more from the cannons than I did from either drop. It's always fun to see if the Imagineers have moved things around since my last visit. Those darn pirates never ever learn my name they just keep yelling, "We want the redhead!" Sheesh! If you've never experienced Pirates at Disneyland, you need to. That's an order.
After climbing out of the boat we stumbled across a celebrity waiting to take it over, along with his family. It was none other than Will Turner himself, Orlando Bloom. He posed for photos, too. April Fools!
The girls and I left Disneyland, crossed the promenade and entered California Adventure. This park is truly amazing. It really feels as though you're in California!
Blue Sky Cellar, housed in a small stone house-like building in Golden Vine Winery offers a glimpse into the park's future. An on-going film featuring Imagineers shows you what Cars Land will be comprised of, what the Little Mermaid ride will look like, and how Paradise Pier is being Disney-fied. There are also models of the boardwalk games' makeovers. I'm excited to see it all, especially World of Color, a water and light show that'll give Fantasmic! some competition. That was our first stop and Yoli's only, as she had to get home to la familia.
Drina and I were excited to try out Toy Story Midway Mania for the first time. The wait was 45 minutes long hence we opted for the single rider option. We waited 12-15 minutes max. Totally radical, dude! What a blast. I've played the one at Hollywood Studios but even with some experience I was still beat by a newbie, the guy they sat me with. Drina loved it, too. She bought something in the gift shop, but I forget what.
We strolled along, all the way up to the pier then down the pier and over to some seats near a coffee and pastry stand. I had a blueberry muffin and Drina had some snacks she'd brought along. It was a good place to people watch as the space was narrow due to construction walls.

The water has been drained and all of the elements required for World of Color are being put in.

Seating is being constructed for World of Color. Hopefully, they'll bring back big name acts to perform here as well. Years ago I saw the Beach Boys and the Monkees.
Back on our feet, I dragged us over to Hollywood Pictures Backlot. The wait was 30 minutes for Monsters, Inc. but we got in line annnnd then we got out of line. Honestly, when you visit a park regularly (I lived in CA for 4 years) and you're use to short waits and walk-ons, you're spoiled. Tired, we sat down early but found front row seating for the shoe, Drawn to the Magic. There are lots of odd items from Disney movies strewn about the stage and scaffolding.
It's an enjoyable show with singing, humor, and characters. My hopes were high to see Hercules as he's a semi-regular but as it turned out he was busy elsewhere. Cinderella, Mickey Mouse in his Sorcerer's Apprentice outfit, and Woody all joined in at the end of the show and then met with guests for photos and autographs.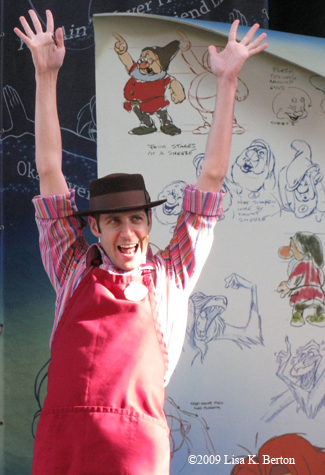 Hilarious! I wonder if he's available for parties.
I found Cinderella to be most amusing as she clearly had eyes in the back of her head and was able to not only handle her own crowd but also keep a lookout on everything else going on. You know she's running the castle! She also had the pleasure of being photographed with Flat Stanley and called him by name.
Once we had taken all the photos we needed we headed back to Monsters, Inc which now had a much shorter line so we stayed. This is another must see attraction. If we didn't have dinner plans, we'd have gotten back in line again. My favorite part is the end where your cab stops in front of Roz and she has some smart-alecky thing to say. I wasn't certain until that day if her response was live or not.
Roz: Oh look, another camera (to me). Get my good side.
Me: I'm not a miracle worker.
Roz: Whatever.
The cab behind us got an even better exchange but I can't recall what it was.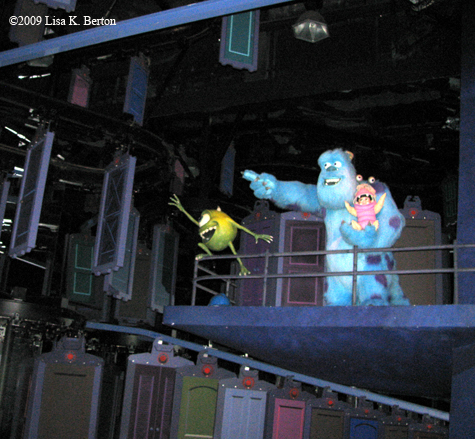 Oh no! Which door is Boo's?

Oh Roz, you so funny.
The time had come to bid adieu to CA Adventure and head towards Paradise Pier Hotel where we had dinner plans with my former co-workers. We actually caught up with my friend Lisa (from the previous blog) and family and Tina (co-worker and roomie) outside the Lego shop. I haven't seen Tina since maybe 2004 or 2005. It's been a long time.
We were seated at a long table at PCH Grill. I sat at the head of the table, hey this whole gathering was my idea. To my left sat Drina, Hector (cutest manager), and Jeff (Lisa's husband). To my right, Katrina (best manager ever), Tina, Lisa and her son, Logan. It was so great to see them all and just like with Tina, it's been years, far too many years. We had lots of fun remembering "the good old days" and catching up with each other. It was over much too soon.
There were some minor disappointments at PCH Grill. Hector's sandwich was sent back because the menu stated it came with certain things and yet it didn't. It took a long time for our food to come out of the kitchen and drinks weren't refilled without prompting. Actually, Katrina's never got refilled. We never said a word to the server but when she brought the bill she had deducted all beverages and took 20% off the total. That was great customer service.
Special thanks to Katrina and Tina for driving 15 hours roundtrip to see me and the gang. I feel so honored. Aren't you glad that I didn't cook?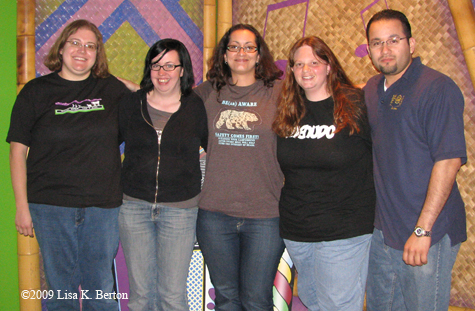 Left to right: The other Lisa, Katrina, Tina, Moi, and Hectorrrrrr.
A few of them came up to take a quick gander at the suite and the view. After they left, Drina and I collapsed on the sofa. It's very comfy and good for plopping on after a long day of merriment. I thought she wanted to head back to San Diego early but it turned out she was ready to revisit Disneyland. Psych!
First stop was World of Disney which was very busy but also out of the pirate keychain she wanted. I suggested trying Pieces of Eight, the gift shop over by Pirates of the Caribbean. There was plenty of time for shopping so first I lead us to check out the band at Plaza Garden Stage. There's usually a swing and/or jazz band playing on Saturday nights and lots of dancing. People come dresed from that era which just makes it even more fun to watch.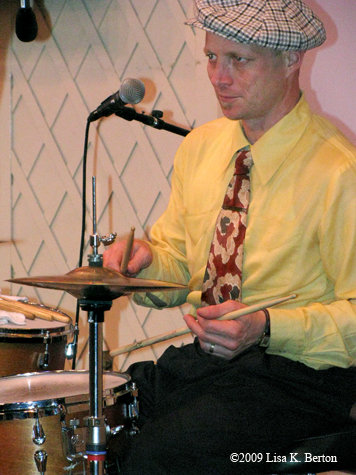 The drummer from Jump, Jive, Boogie Swing Band.
Fantasmic! was playing on the Rivers of America as we made our way over to Pieces of Eight. We saw a few glimpses of it. I love this show a zillion times better than the one at Hollywood Studios but didn't plan on seeing it this trip. You are a lot closer to the action, the story is better, and well…you'll just have to go see for yourself.
The shop was packed, too, but I could see the pirate keychains hanging by the registers and pointed them out to Drina as I made my way to an open area and began chatting with a Cast Member. With purchase in hand, Drina collected me and we went in search of the #1 consumable I must have on every trip, a mint julep. It's so delicious. Now I want one. Phooey, I knew this would happen as soon as I started typing about it. Anyhow, Drina got one for herself, her first one ever and we split an order of New Orleans fritters.
There was another performance of Fantasmic! that night so I found a decent spot behind the soundboard after coming up short closer to the front, on the ground. As luck would have it, the lights go up another 12 feet or higher, giving Drina a much better view. Not only was she sipping her first mint julep, she was seeing Fantasmic! for the first time. WOW! I need to visit CA more often and she needs to hang out with me.
We did some shopping on the way out, shuffled through Downtown Disney, the Grand Californian, across the street and back to Paradise Pier Hotel. We said our goodbyes and I headed up to the suite all by myself. :sigh: Aladdin? Aladdin?
Did you miss my previous installments?
The Big Day and Planning
Next week: Back to Club 33 as the party continues with more friends.