by Debra Martin Koma
AllEars Senior Editor
Well, it looks like all of my D23 materials (for the new Disney fan club that was announced just a few week ago HERE) have finally arrived.
I wanted to share with you a little bit about them.
I first received the membership card with a welcome letter.
It's a nice, sturdy credit card-sized card with a happy Mickey face on it. It even has my name and join date printed on the reverse side.
Nice.
A few days later, I received my copy of the new magazine and a colorful membership certificate.
You may have already read about the new quarterly publication, Disney twenty-three HERE. Now that I have seen the magazine for myself, I can tell you it really is a collector's item for any Disney fan. Really
high-quality production values, gorgeous photos — worth the individual retail price of $16.95, in my opinion.
They also tucked in a little D23 decal — I nearly missed it and threw
it out with the packaging. I'm not sure where I'm going to put it, but
still…
Finally, yesterday my "exclusive D23 gift" arrived in a big cardboard
tube. What was it? A lovely lithograph of Mickey Mouse painting a smile on a globe. The lithograph is a reproduction of a piece that was created in honor of Mickey's 80th anniversary last year by artist Paul Felix, who is an art director at Walt Disney Animation Studios. The original portrait, done in oils, is entitled "Putting a Smile on the World," and is 24×36 inches on canvas.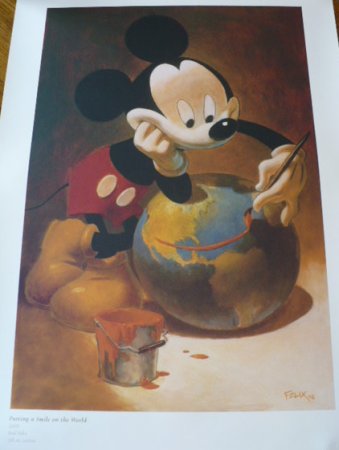 This lithograph, which comes with a certificate of authenticity verifying that it is the "exclusive 2009 Charter Year collectible gift" for D23 members, measures 20×30 inches. The certificate states that it is printed on archival 65# cougar natural cover stock, with fade-resistant, oil-based process inks.
It really is a lovely print, definitely worth framing and displaying.
So… the yearly membership fee for D23 is about $75. The magazine alone costs about $17/issue and it comes out four times a year. So for the magazine by itself I'd be paying about $68.
The lithograph is obviously worth more than $7, so I'd say that this year, at least, the D23 membership is worth it — if you're an avid Disney fan.
All that remains to be seen is whether it continues to provide value for money in the coming years…