Imagination Pavilion Epcot
INTRODUCTION
The Imagination Pavilion has been a part of Epcot since it opened. The central theme is all about using or stretching your imagination. It begins on the outside of the building with the upside down waterfall and jumping water pods! Let's go see what the Imagination Institute is up to!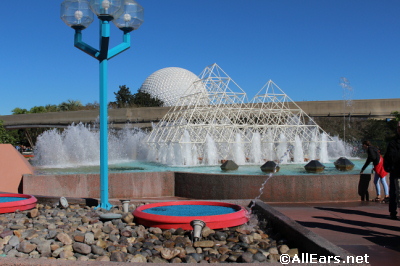 ATTRACTIONS
There are three components in the Imagination Pavilion: Journey Into Imagination….with Figment, the Disney*Pixar Short Film Festival (Magic Eye Theatre) and the ImageWorks.
Journey into Imagination… with Figment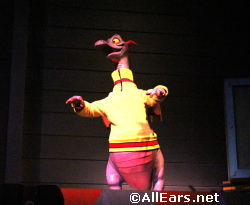 A whimsical look at how our senses play a part in our imagination with Dr. Nigel Channing and a cute purple dragon named Figment as our guides!!
Wander through the queue and see part of the Imagination Institute. There is a portrait gallery of Inventor of the Year winners, which includes Dr. Channing, Dr. Wayne Szalinski (Honey I Shrunk the Audience) and Dr. Brainard from "Flubber."
The colors become much brighter as you enter the loading and unloading zone. Slow moving red vehicles (similar to tose on Spaceship Earth) crawl by as you move from the moving ramp into the vehicle. There are 2 rows and both can comfortably seat 2 adults or 2 adults and a child. A large adult may want to sit in their own row. The back row is slightly wider than the front row.
Once inside the vehicle, Dr. Channing begins to provide an overview of your Open House experience and it's here you get your first glance at Figment! Travel through several "labs" that study our senses and how they are intertwined with our imagination –Sight, Sound and Smell. One never gets to Taste and Touch, as Figment – well – he has other plans for the "Open House".
There are special effects, we are dealing with our senses afterall, so be prepared especially for the sense of Sound and Smell (see Touring Tips below for details).
I won't give away any of the surprises in the ride, but there are a couple of nods to the original ride. One is an office door marked "Dean Finder" and the old film of Figment somersaulting is shown on his TV in the upside down house. "One Little Spark" is prominent throughout the ride, albeit with new lyrics. Figment's new voice is different enough to be noticeable to longtime fans, and nowhere near as good as Billy Barty's Figment.
Magic Eye Theatre
The Disney*Pixar Short Film Festival shows 3 great shorts from Disney and Pixar in 3D/4D. In the queue area you can see artist drawings from the shorts that will be shown. As you go through the turnstyles, pick up your glasses and enter the pre-show area. It is 15-minutes of standing and while informative, is not very entertaining for kids. There is a bout 3 minutes of Walt's voice talking about animation and a few minutes later John Lasseter talks about Pixar for a couple minutes.
Once inside the theatre you'll see 3 great shorts, Get a Horse, La Luna, and for the birds. I don't want to spoil any surprises, but Get a Horse has become 3D through the magic of Disney!
There is an information sign posted outside: The 3D animated shorts include loud noises and musical soundtracks. This attraction may be frightening for children; supervise children at all times; wheelchair access.

ImageWorks
ImageWorks has fun hands on experiments. You can conduct an orchestra, step on stones that create sounds and play with a special mirror that distorts your body. I noticed lots children enjoying this interactive section. You can also send email postcards home from here, some with other-worldly special effects! For a price, you can have some "green screen" fun and put yourself into a special Disney photo, like the Castle.
DINING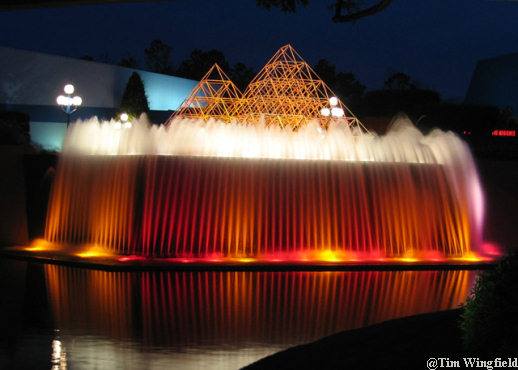 There is no place to eat in the immediate vicinity of the the Imagination pavilion. However, next door at the Land there is the Sunshine Seasons food court and sit-down character dinner, the Garden Grill
Epcot Restaurants At A Glance
Menus From Around the World
Vegetarian and Other Special Diets
ENTERTAINMENT
There is no "live" entertainment in this pavilion.
For more information on Epcot Live Entertainment, visit Steve Soares WDW Entertainment Website.
TOURING TIPS
JOURNEY INTO YOUR IMAGINATION – There are several areas of brief darkness however there are 2 portions of the ride (one at the beginning and one near the end), where it gets pitch black and very noisy (from pouring rain to a loud train)! Young children may be frightened by this.
The ride vehicle will stop periodically as part of the show.
Wheelchair accessable vehicles are available, however some longer or wider than the average chair may be a tight fit.
There is generally no wait unless the Magic Eye Theatre has just let out.
ImageWorks! can be lots of fun, especially if it is not crowded. Be sure to stop by the Email center and send home a postcard of yourself, Imagination Styled!
Be sure to check out the fountains outside the pavilion.
KIDS AND CHARACTERS
The ImageWorks is a great place for kids to run around, touch things and get out some energy.
Be sure you read the Touring Tips (above) regarding things that may frighten children.
Epcot Characters At A Glance
Character Meet and Greet FAQ!
SHOPPING
The Gift Shop immediately following the ImageWorks has computer-generated photos taken with Disney Characters.There is plenty of Figment merchandise in the form of mugs, T-shirts, key chains etc as well as Imagination Institute merchandise. Occassionally you can find something with Dreamfinder on it as well. There are also some unusual etched Lucite gifts here — the images they can etch into the material are really quite impressive! There are a number of Instant Photo booths where, for a price, you can make your own Epcot Passport, Photo-ID Badge for the Imagination Institute, or picture postcards to send to friends and family!
INTERESTING FACTS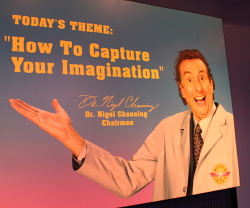 Dr. Nigel Channing is played by Eric Idle from Monty Python's Flying Circus.
The Journey to Imagination Pavilion that opened with Epcot Center provided a "child's-eye view of imagination". A spectacular 3-D journey in the Magic Eye Theater and the creative Image Works (on an upper floor) area were part of the original pavilion. Honey I Shrunk the Audience replaced Captain EO starring Michael Jackson.
When the Journey to Imagination attraction first opened, Figment and Dreamfinder took you on a wondrous journey through your imagination. The original was "updated" in 1999 much to the displeasure of many fans. Dreamfinder was completely gone and Figment only had a short cameo appearance. It was rehabed once again and reopened June 1, 2002 (the version you now experience).
At one time, there was a VIP lounge for Kodak employees to visit, but that has been gone for years now.
The original pre-show for Honey I Shrunk the Audience was called "True Colors" and included a great photo show.
The Figment meet and greet ended in 2008.