2015 Epcot International Food & Wine Festival Boot Camp
Boot Camp
September 27, 2015
Festival Center
Epcot
Presented by Andrea Robinson, Master Sommelier
(with John Robinson)
presenting Exploring Wines from 1996
Wines:
Martini Prosecco
Byron Pinot Noir, Santa Barbara County
2008 Selbach-Oster Zeltinger Sonnenuhr Riesling Spatlese
1996 Selbach-Oster Zeltinger Sonnenuhr Riesling Spatlese
2011 Castello Banfi Belnero Toscana
1996 Banfi Summus
2012 40th Anniversary Caymus Cabernet Sauvignon
Broadbent Malmsey 10-Year Madeira
Review by
Debra Martin Koma
Editor, AllEars.Net
For the second year in a row, the Epcot International Food and Wine Festival offered a few programs under the heading of "Boot Camp." These sessions are designed to give the participant a brief but thorough overview of a particular subject, overseen by an expert in the topic's field.
Last year there were five such Boot Camps, each with a different presenter and theme, but that number was reduced to only two this year: this session on wines that I attended, led by Master Sommelier Andrea Robinson, and one other, a session on aromatic bitters and cocktails with mixologist Dale DeGroff.
This year's wine Boot Camp, Exploring Wines from 1996 (in honor of the Festival's first year), was held in the East Hall of Epcot's World Showplace pavilion. I've been to a number of Food and Wine Festival events presented by Robinson over the last few years, so I was eagerly anticipating a lively, educational and entertaining afternoon.
Upon entering the pavilion, we took our places at one of several long tables. Every place was set with eight glasses, each with a very short pour (maybe 1.5 oz. each?) of assorted wines. We were also given a pen and paper so we could record our tasting notes and a few crackers to help cleanse our palate between tastes.
Robinson, who is one of only 23 women Master Sommeliers in the country, has made no secret of her fondness for champagne and sparkling wines in the past, so it was no surprise to me that we started the event with a toast of Martini Prosecco. From there, the session rambled and covered a range of topics, from the basic "Five S's" of wine tasting (see, swirl, smell, sip, savor) to more advanced concepts relating to a wine's alcohol content, the reasons behind various regional designations and the many ways a wine's region of origin can affect it.
A few of the wines presented were different vintages of the same wine, as a tip of the hat to the Festival's 20th anniversary. We sampled a 1996 Selbach-Oster Zeltinger Sonnenuhr Riesling Spatlese, then compared it to the 2008 version of the same wine. It was interesting to experience the more exotic citrus notes that came out of the older wine, and hear how the younger wine drew comments from the group like, "I detect honey and butter," and, more even more unusual, "petroleum, diesel."
When we looked at the 1996 Banfi Summus alongside the 2011 Castello Banfi Belnero Toscana (so-called "Super Tuscans"), the older wine evoked remarks on its cedar, tobacco and leather qualities, while the younger wine was called fruitier, with predominant blackberry notes. Robinson encouraged each of us to really think about what we were tasting, and never put anyone down for any comments they made — unlike many other snobbish wine "experts," who only allow for certain prescribed ideas and terms to be employed when evaluating wines.
I'm not normally a Madeira fan, but when we tasted the Broadbent Malmsey 10-Year Madeira, I could definitely appreciate the aromas of brown sugar and creme brulee that Robinson pointed out and would have enjoyed comparing that to the 1996 Madeira she had originally planned for us to try. Unfortunately, that wine was unavailable, so instead she had substituted the 2012 40th Anniversary Caymus Cabernet Sauvignon — a choice that actually made me a very happy woman. (Yes, I subscribe to the theory that "all wines would be red if they could be," which Robinson joked at one point.)
The program sped along with an easy back-and-forth between Robinson and the participants. From the questions and comments it was clear this was not a novice group of wine drinkers — clearly many, like me, had been Robinson's "students" before.
This year Robinson also brought her husband John with her to assist with the program. His humor and familiarity with the wines, not to mention the presenter, added another dimension to the "camp." In the end, the whole experience felt more like a relaxed gathering of friends and family than a strict Boot Camp or a stuffy wine education course.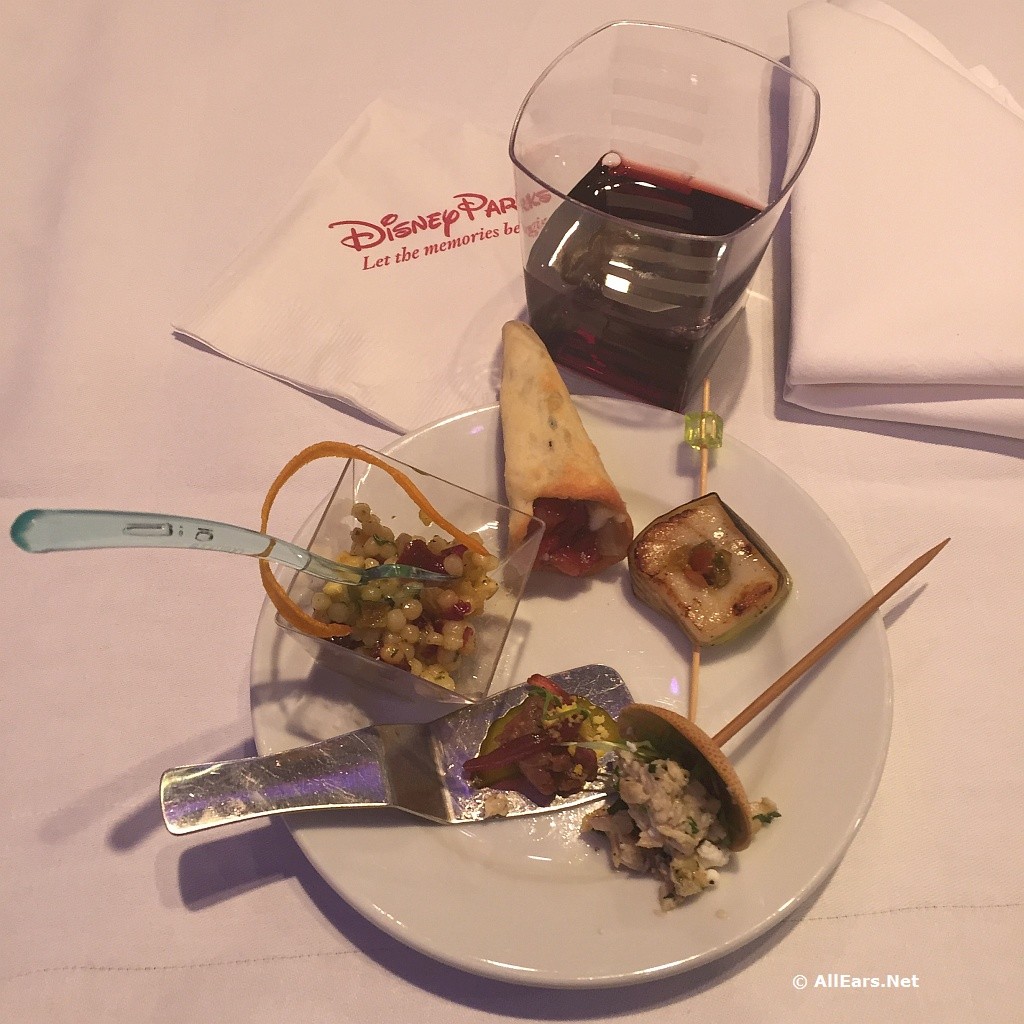 After about 90 minutes or so, Robinson wrapped things up so that we could indulge in an informal reception. Cast members brought out an assortment of hors d'oeurves that we could enjoy along with the special Festival label wine — both the cab and the chardonnay — made for the Food and Wine Festival this anniversary year.
As we exited World ShowPlace, cast members handed us a gift bag, which contained two high-quality, etched 2015 Food and Wine Festival wine glasses — a very nice surprise!
As I did last year, I give this program high marks. Robinson is an excellent presenter, and I always come away from her sessions with more than a few good tips and insights — not to mention chuckles. While I still miss the longer, more in-depth Wine School that the festival used to offer years ago, this shorter format seems to offer something for both the novice and the experienced. The reception at the end of the presentation, which I'm sure is to prevent anyone who "oversampled" from returning to World Showcase feeling a little too loopy, is a nice addition. It gave ample time to chat and take photos with the presenters, as well as trade notes with fellow attendees.
All that said, I think the program is well worth the $119 price tag. And I'm already looking forward to more Boot Camp "training" next year.
RELATED LINKS
— 2014 Epcot Food and Wine Festival Boot Camp
— 2008 Epcot Food and Wine Festival Wine School
Let us know if you attended one of the Boot Camps this year. Leave your comments on our Food and Wine Festival Rate and Review page HERE.