Although the 2013 EPCOT International Food & Wine Festival is still some two months away I've been thinking about an idea that I think would be a win-win situation for both the Walt Disney World Resort and its guests.
At the Food & Wine Welcome Center…
…you can purchase special Food & Wine Gift Cards.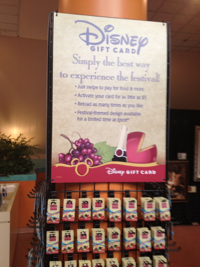 When you purchase these cards you can place a certain amount of cash value on them. You can wear them on your wrist and when you visit one of the booths you just get it swiped rather than fiddle with plastic or cash. It's a great convenience.
What was not a great convenience during the 2012 EPCOT International Food & Wine Festival were the incredible long lines….especially on the weekends.
I happened to sneak down to F&W a few times and noticed that the crowds on the weekends were extremely high…more so than during the week as locals would partake of the tasty treats waiting for them.
One Saturday in particular I counted 85 people waiting in line in Mexico for shrimp tacos.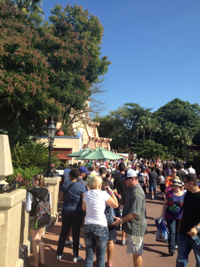 That made me think of possible solutions to these long lines…something that would work for the resort and also for the guests.
Introducing the Food & Wine FastPass.
It's very simple. Why not offer the guests a GOLD Food & Wine card…similar to the normal ones except that this particular special card allows you to go into a special line at each kiosk, a line that offers you a shorter wait.
This would work as a win-win situation for both the resort and for the guests. The resort would benefit from a revenue stream as the guests would have to pay for this privilege with either an upfront surcharge or adding 5% to the cost of whatever purchase they would be making at a kiosk. To help encourage guests to purchase such a card there would be an added benefit.
For every ten purchases made with this special FastPass F&W card the guest would receive a FREE purchase. So let's say you spent the entire day at EPCOT for F&W and were trying all the booths and holy cow you go to one booth and they tell you that this one is on the house.
Would you go for it?
My point is that F&W has become so popular that you might say it is TOO popular for everyone to enjoy themselves.
So putting a little carrot out there like this F&W Gold Festival card may help shorten the wait for some folks while at the same time offering a free bee from time to time.
Thoughts?