Our final day takes place in Epcot!
We have 2 new Trading Cards which will debut today!
At the (sold out) Everything's Just Ducky event, featuring Disney artist Don "Ducky" Williams we debut a special card of Tony's Town Square Restaurant. Ducky did much of the artwork for Tony's!
Our grand finale, is Deb's annual (sold out) IllumiNations Party!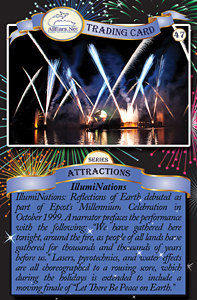 We hope you've enjoyed seeing all our new Trading Cards.