All right? Welcome to the United Kingdom or UK for short. It is comprised of England, Wales, Northern Ireland, and Scotland. Her Majesty (HM) Queen Elizabeth II, a lovely dear, is head of state. Currency is represented by this symbol, £, the pound sterling. Generally speaking, $1.75 equals £1.00. A good value for them when they visit the United States and bad deal for us when we go there. My dad's best friend's wife always buys or has my dad buy her reading glasses and ship them overseas along with other things. I can't recall the last time my dad brought me home something from London but that's probably because I once asked for a music cassette that was available here for less money. Hey, I didn't know at the time. Sheesh!
Join me on a quick jaunt through the UK pavillion in Epcot. We'll stop and take some photographs along the way. No, we can't visit the KIDCOT station. Yes, you may visit the loo before we begin. We'll meet you by the red telephone box.
Alright, here we are inside the The Crown & Crest shoppe. You'll notice this large crest on the wall here. :pointing up:
My Canon PowerShot SX100 IS is dialed to Auto and I've turned the flash on to help brighten it up a bit. England is known for having drab weather, you know. There's so much to look at. A nice boy, a Cast Member, is here to answer your questions. He's very friendly and will help you take the quiz if you're interested. Did you know Las Vegas' favorite curly-haired heartthrob, Tom Jones, is from Wales? I did. Brilliant.
There's lots of cool merchandise featuring the British flag like T-shirts, pins, and this totally rad handbag!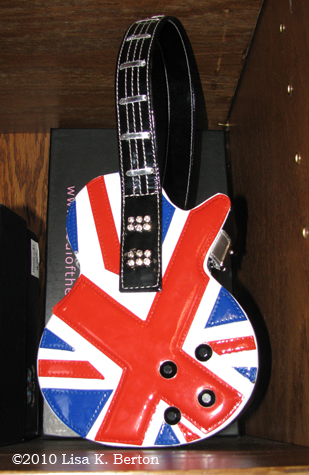 Ouch! It is too rich for my blood. Moving onto The Toy Soldier or Pooh Location or whatever they call it now. I think I'll rename it, Available at Home. This shop has very few toys and books these days and a lot of The Beatles, The Who, and Rolling Stones paraphanelia. The best part of the shop?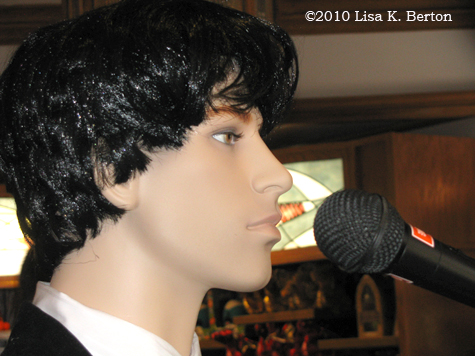 I've named him Laszlo Dominic. Not only can he sing but he's also a drummer. Go see for yourselves. Anyway, for this closeup shot of Laz, I set my camera to Face Priority so it knew what or who to focus on.
Come, let's cross the street. Look both ways. You never know when a group of actors might appear and put a spin on some olde tales. Rubbish! Rubbish! Here, we find ourselves surrounded by bottles of cologne and perfume along with scented soaps. In the next room, plaid scarves and sweaters. Inbetwixt the two stores, we are, and what a lovely place it is to keep our cameras ready and set again to Face Priority.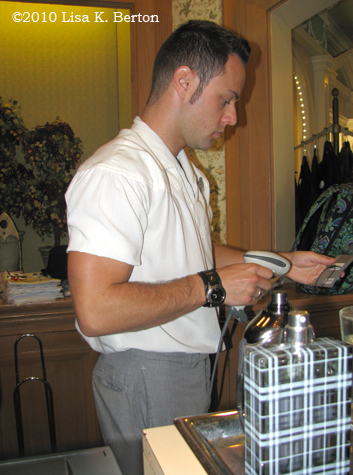 Keep practicing your photography skills. One must try over and over again in order to achieve greatness. Oh, hi. And we're walking into a room full of teas and chocolate bars that my grocery store now carries. Funny, isn't it? Oh, maybe it's because they're from England and I live in New England. Nah, that's not it. Nevermind. Let's get some fresh air.
What a nice garden. Little girl, are you lost?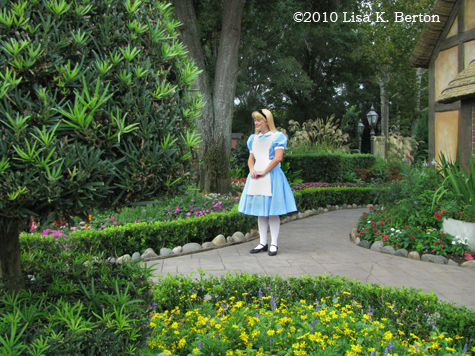 She looks as though she's talking to someone but I don't see any other people. Do you? I hope she's alright. Well, here, let's set our cameras to landscape so the greenery really pops. Yes, even with this girl in the photo. Look, the setting made her blue dress brighter and washed out some of her apron but you know what, I rather like it. The photo, that is. The dress and apron look isn't my style.
Well, our visit has come to an end. As we climb the hill and head out into the world, let's look back one more time at the UK in Landscape Mode.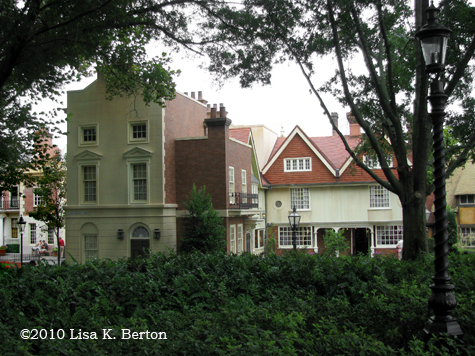 Best of British!
Are you on Facebook? I am. Lisa K. Berton is the name. The original version is better than the remake of "Fame."