Step Back: Disney Institute
by
Joan Feder
Feature Article
This article appeared in the January 25, 2021 (#1121) edition of ALL EARS®
Editor's Note: This story/information was accurate when it was published. Please be sure to confirm all current rates, information and other details before planning your trip.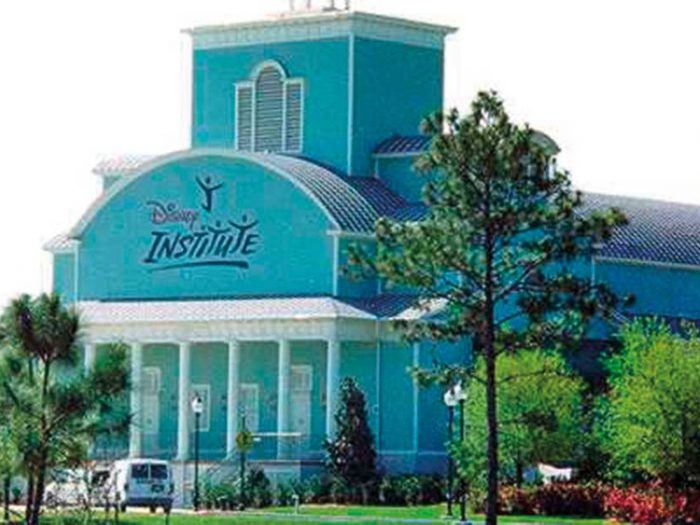 Join us on our monthly journey into the past as we explore the history of Walt Disney World and the Walt Disney Company. This time we look back to February 1996, when the Disney Institute opened at Walt Disney World.
In 1985, Michael Eisner, then CEO of Disney, vacationed at the Chautauqua Institution in upstate New York. It was a resort where guests attended classes that educated and entertained, in addition to enjoying the usual recreational activities.
Eisner decided to create a similar hands-on experience at Disney World. It would be a place that guests could learn new skills and ideas.
The Disney Institute opened on February 9, 1996. It offered guests the opportunity to explore more than 80 programs covering a wide range of subjects. Categories included animation, cooking, gardening, television production, outdoor activities, and youth programs. Instructors were Disney imagineers, animators, chefs, and technicians, as well as occasional visiting celebrities.
The Institute was located near what is now Disney Springs. It was designed to look and feel like a small-town community, but one with incredible facilities.
The complex featured three theaters: a 400-seat movie house, a 1,150 seat outdoor amphitheater, and a 225 seat indoor theater. There were 28 classrooms/studios, a closed-circuit television station and a closed circuit radio station.
The resort also included the usual amenities like a restaurant and store, as well as an 18-hole golf course, tennis courts, a youth center, six swimming pools, a fitness center and a spa.
Guests could stay at the Institute or just visit to take classes during the day. If they chose to rent a room at the resort, there was a three-night minimum. Prices were based on length of stay and the number of courses taken, ranging from $582 to $1986 per person.
Despite a lot of publicity, The Disney Institute never found an audience. Guests visiting Disney World chose to go to the theme parks, not spend their vacation time learning at the Institute.
Disney even offered Preview Days, where guests could pay "just" $49 dollars to give the Institute a try. They still could not attract enough visitors.
Within six months of opening, the number and variety of classes available were cut. Before the Institute's first anniversary, almost half of the programs had been eliminated.
After four short years, the Disney Institute was reimagined. In 2000, it stopped offering guests hands-on learning experiences. Instead, it provided seminars for business professionals, teaching the secrets behind Disney's unique business culture and customer service.
This shift in focus did not turn things around. The resort that housed the Institute closed in 2003. The property was re-themed. On May 17, 2004, it debuted as Disney's Saratoga Springs Resort and Spa.
But that was not the end of the Disney Institute. While it no longer has its own campus, the Institute continues to offer professional development courses, online and at several Disney destinations.