Step Back (April/May): Star Wars Weekends
by
Joan Feder
Feature Article
This article appeared in the April 27, 2021 (#1134) edition of ALL EARS®
Editor's Note: This story/information was accurate when it was published. Please be sure to confirm all current rates, information and other details before planning your trip.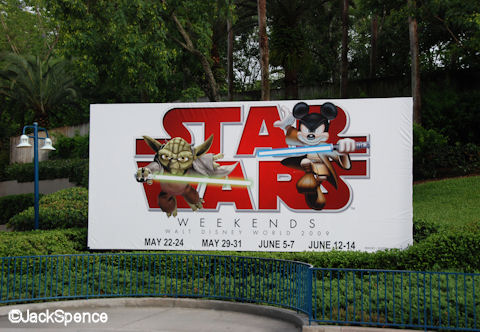 Join us on our monthly journey into the past as we explore the history of Walt Disney World and the Walt Disney Company. This time we look back at the cosmic celebrations that were known as Star Wars Weekends.
Disney's Hollywood Studios has always been home to all things Star Wars. The Star Wars Weekends were no exception. The price of a park ticket was all that was needed to attend.
The very first Star Wars Weekends debuted in February 1997. After that, the event was always held in May and June (2000, 2001, and annually from 2003 through 2015). All through the years, they were chock full of intergalactic fun.
Guests could mingle with Star Wars characters, including Darth Vader, Han Solo and C-3P0. They could also meet actors from the Star Wars films like Peter Mayhew (Chewbacca), Carrie Fisher (Princess Leia) and Mark Hamill (Luke Skywalker).
Disney characters dressed as their Star Wars pals were another fan favorite. Guest took photos with Jedi Mickey, Leia Minnie, Stormtrooper Donald, and Goofy as Darth Vader. There was even a Mickey Mouse styled droid named R2-MK.
Live shows included the Snig and Oopla Hyperspace Hoopla, a dance competition between Star Wars characters. It featured highlights like Emperor Palpatine boogieing to the hits of the '80s.
There were discussion panels including Behind the Force, hosted by Ashley Eckstein, and Obi-Wan & Beyond featuring James Arnold Taylor. These demonstrations gave guests an opportunity to learn about both Star Wars and the craft of voice acting.
Of course, there were plenty of merchandise opportunities. An interactive attraction called Carbon Freeze Me created one-of-a-kind keepsakes. Guests would get their faces scanned and reproduced onto a figurine encased in a block of carbonite, just like Han Solo in The Empire Strikes Back. Other collectibles like pins, t-shirts and droids could be found at the punny Darth's Mall.
On August 15, 2015, Disney announced their plans to build a Star Wars themed land at Disney World. Disney decided that this addition made a separate Star Wars celebration unnecessary. As a result, the 2015 Star Wars Weekends turned out to be the last.
While Star Wars Weekends are no more, their legacy lives on. Several popular experiences survived to become regular Disney World offerings.
The Weekends' Jedi Training: Trials of the Temple morphed into The Jedi Training Academy. The basic concept remains the same. Kids are trained as Jedi Younglings. They learn to use a lightsaber and take part in a battle with Stormtroopers and Darth Vader or Darth Maul.
The fireworks extravaganza, Star Wars: A Galactic Spectacular grew out of the Star Wars Weekends' Symphony in the Stars. The newest version features lasers, fire, and scenes from the films projected onto Hollywood Studio's iconic Chinese Theater.
Even with Galaxy's Edge a reality, many still miss Star Wars Weekends. To those of you who do, let's start next Tuesday's annual celebration early: May the Fourth Be With You!