November 2015 Walt Disney World Bits and Bites
Feature Article
This article appeared in the October 27, 2015 Issue #840 of ALL EARS® (ISSN: 1533-0753)
Editor's Note: This story/information was accurate when it was published. Please be sure to confirm all current rates, information and other details before planning your trip.
= = = = = = = = = = = = = = = = =


STEP BACK IN TIME
= = = = = = = = = = = = = = = = =
by Debra Martin Koma
AllEars® Editor
Ever wonder what Walt Disney World and The Walt Disney Company were like way back when? We rummage around in our archives for this monthly feature, which takes you back in history for a glimpse of Walt Disney World through the ages.
This month we take a look at what was going on around Walt Disney World in November 2000, 15 years ago! Some things have changed dramatically in the past decade and a half, and others… well, the more things change, the more they stay the same!
— Then, as now, the Epcot International Food and Wine Festival was taking place. It was set to wrap up on November 19.
— The Wilderness Lodge was about to unveil its Disney Vacation Club addition, the Villas at Wilderness Lodge, whose grand opening was to be held November 15. Other changes around the resort at that time: Roaring Fork Snacks had been expanded, the game arcade had been relocated and renamed Buttons and Bells, and the Wilderness Lodge Mercantile had been expanded to include groceries and a video library. A quiet pool and a health club had also been added to the resort.
— A new exhibit had just opened at the Japan Pavilion's Bijutsu-kan Gallery spotlighting Japanese baseball memorabilia. (A new exhibit featuring Japan's "cute" culture recently opened in that same space.)
— Holiday decorations were going up all around the Walt Disney World Resort, and narrators for the Candlelight Processional had been announced, including: Jodi Benson, Ben Vereen, Gary Sinise, Robby Benson and Phylicia Rashad.
— Advance purchase tickets for Mickey's Very Merry Christmas Party (offered on eight nights that year) were on sale for $31.80 for adults, $21.20 for children. (Today's advance purchase prices for the event, which is offered on 20 dates: $78.81 adults, $73.49 for children.)
— New Year's Eve preparations were also being made and entertainment for the evening had been announced. Sister Hazel and Vertical Horizon were to play a special concert at the then-named Disney-MGM Studios, while Pleasure Island was set to host Duran Duran for its annual New Year's Eve party. Interestingly, to me at least, is that Duran Duran has endured and has just released a new album. Pleasure Island? Not so much.
Source: Eyes & Ears cast publication, November 9, 2000
= = = = = = = = = = = = = = = = = = =


PHOTO OF THE WEEK
= = = = = = = = = = = = = = = = = = = =
Do YOU have a wonderful photograph that captures the Magic of the Disney Parks or Disney Cruise Line? Send it to us and it could be chosen as our Photo of the Week! Each week we'll select one photograph that we think best conveys that extra sprinkling of pixie dust, and display it for all our readers to see. Send us your favorite memories and let's see what "develops!"
Be sure to check our guidelines before sending in your entry!
-=-=-=-=-=-=-=-=-=-=-=-=-=-=-
HERE'S THIS WEEK'S PHOTO:
"Trick or Treat!"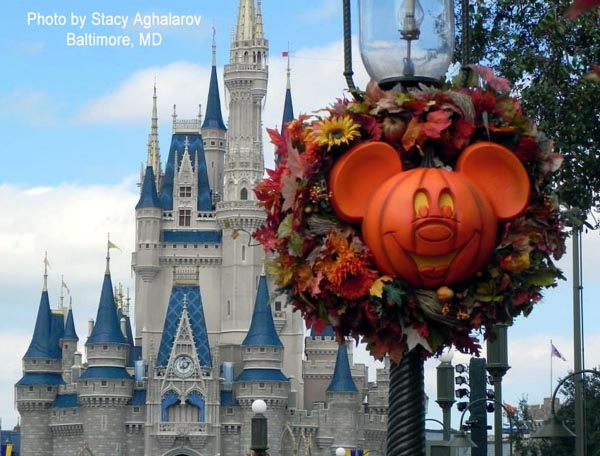 Taken October 15, 2014, in the Magic Kingdom
Photo by Stacy Aghalarov, Baltimore, MD
Camera: Nikon Coolpix
= = = = = = = = = = = = = = = = =

HIDDEN MICKEYS ALERT
= = = = = = = = = = = = = = = = =
Steve Barrett, author of the Hidden Mickeys books and webmaster of HiddenMickeyGuy.com, brings you more Hidden Mickeys from around Walt Disney World. Keep these images in mind when you visit!
1. Magic Kingdom, Fantasyland: Under the Sea – Journey of The Little Mermaid. Great Hidden Mickeys are scattered throughout this attraction, like this side profile of Mickey Mouse in the entrance queue, etched in the ceiling and looking left. Find him at the beginning of the room with Scuttle the talking seagull, high to your left as you enter and near a cubed light cover. (Thanks to Wesley Snyder, and Christy Gattis.)
2. Disney Springs Marketplace, Marketplace Co-Op. Inside the D-Tech on Demand shop, classic Hidden Mickeys are in the "circuit board" background design of the work station touch screens. (Thanks to Jason Gall.)
3. Disney Springs Marketplace, World of Disney Store. Near the restrooms at the far end of the store, a picture frame on the wall is lined with small classic Mickeys. This frame has survived renovations to the store. (Thanks to Jack Koss.)
=-=-=-=-=-=-=-=-=-=-=-=-=-=-=-=
You can find a selection of past Hidden Mickey Alerts HERE.
And check out our latest Searching Disney with Steve blog.
= = = = = = = = = = = = = = = = =

MONTHLY REMIND-EARS
= = = = = = = = = = = = = = = = =
NOVEMBER EVENTS
The 20th Epcot International Food and Wine Festival is in full swing and runs through November 16, 2015. See details on this event in our NEWS BITES section below.

EDITOR'S NOTE: "Cake Boss" Buddy Valastro will kick off the Rockin' Burger Block Party, the third big burger event of the 20th Epcot International Food & Wine Festival, on November 6. Tickets are still available for this new premium event, which runs from 7-9 p.m. at World Showplace in Epcot. Festival guests can rock out to favorite top tunes while noshing on more than a dozen inventive burgers ranging from bourbon and Sicilian burgers to grouper and turkey-cheddar burgers with peanut butter and jelly. Guests can vote with guitar picks for their favorite burgers. The party also features beverages by icons in the music industry. You can read AllEars.Net's review of the first Rockin' Burger Block Party with Andrew Zimmern HERE.

The Eat to the Beat Concert Series will run every night during the Food and Wine Festival, too!

The Disney Wine & Dine Half Marathon Weekend will feature Mickey's Jingle Jungle 5K and runDisney Kids Races, offering something special for runners of all ages. Participants can expect on-course Disney entertainment. To top off the evening, runners are invited to the exclusive Finish Line Party at the Epcot International Food and Wine Festival. Disney Wine & Dine Half Marathon will take place Nov. 6 – 7.

Holidays Around the World starts November 27 in World Showcase. Storytellers in the pavilions around World Showcase talk about the holiday or related customs in each country. For the 2015 holiday season, new live musical performances by the five-member a cappella group, American Music Machine are being added. With unique vocal arrangements by Tim Davis ("Glee"), American Music Machine will be rocking around the Fountain Stage, performing both modern and nostalgic holiday hits, including "White Christmas," "Rudolph the Red-Nosed Reindeer" and "All I Want for Christmas is You." The Canadian Holiday Voyageurs explore the musical holiday traditions from across the Great White North in the Canada Pavilion. In Mexico, "Feliz Navidad" features colorful dancers and mariachis, who celebrate the holiday customs of Mexico in an interactive, musical performance, and the China Pavilion bursts to life with the vibrant Chinese Lion Dance, bringing good fortune and happiness to all in honor of major holidays such as the Lunar New Year and Lantern Festival.

"Joyful! A Gospel Celebration of the Season" will perform at the Fountain Stage in Future World throughout the day, also beginning November 27.

The Candlelight Processional at Epcot begins November 27. The celebrity narrators for November dates are (entertainment and times subject to change):

11/27 – 11/29: Gary Sinise
11/30 – 12/3: Neil Patrick Harris

Each evening there are three shows — at 5, 6:45 and 8:15 p.m. — which last about 40 minutes. The Candlelight Processional is included with admission to Epcot.
Mickey's Not So Scary Halloween Party – final date is November 1, which is already sold out. See details on this event in our NEWS BITES section below.

Mickey's Very Merry Christmas Party begins November 8. Other November dates: 10, 12, 13, 15, 17, 19, 20, 29.
ESPN Wide World of Sports
Eight men's college basketball teams, including Alabama, Southern California and Notre Dame, will compete in the 2015 AdvoCare Invitational on Nov. 26, 27 and 29 at HP Field House at the ESPN Wide World of Sports Complex. The event will feature 12 games over the three days. Each team will compete in one game per day, advancing through a bracket-tournament format. The two teams that remain undefeated throughout will face off in the championship game on Sunday, Nov. 29.
The prestigious Disney Junior Soccer Showcase event will give younger age groups the chance to experience the same great national competition and top-notch tournament organization as their older counterparts in the original Disney Soccer Showcase in December. The Disney Junior Soccer Showcase will take place from Nov. 27 to Nov. 29.
-=-=-=-=-=-=-=-=-=-
Check our Events page for a full schedule of upcoming events.
-=-=-=-=-=-=-=-=-=-=-=-=-=-=-=-=-=-=-
Animal Kingdom
Disney Outfitters on Discovery Island is being expanded to include the addition of a clock tower. The construction is expected to be completed sometime in November.

Primeval Whirl in Dinoland USA closed August 17 for refurbishment. It is set to reopen November 12.

Pizzafari in Discovery Island will be closed through November 14, 2015.
Disney's Hollywood Studios
Toy Story Midway Mania – More midway track is being added; work is expected to be completed in 2016.

Jedi Training Academy will not be performed through November 30, 2015.

Catalina Eddie's and Rosie's All American Cafe, both part of the Sunset Ranch Market on Sunset Boulevard will be closed through November 19, 2015.
Epcot
Innoventions in Future World West is closed except for the Visa Character Photo Location.

The Vision House exhibit in Innoventions East has closed permanently.

The Maelstrom attraction and Spirit of Norway movie have closed to make way for "Frozen Ever After," based on the animated film, "Frozen." The new attraction will take guests to the film's land of Arendelle and is expected to open in early 2016. The Norway pavilion will also again host a royal greeting location where the characters Anna and Elsa can meet guests.
Magic Kingdom
Peter Pan's Flight in Fantasyland will be closed for refurbishment November 2 – 7, 2015.

The Diamond Horseshoe in Frontierland is closed through November 19.

Liberty Tree Tavern in Liberty Square will be closed for renovations through November 19, 2015.

Walt Disney World Railroad will be closed from October 12 to November 20, 2015. The Magic Behind Our Steam Trains tour will be suspended for those same dates.
Blizzard Beach Water Park closed for its annual refurbishment October 25, 2015. It will remain closed until January 2, 2016.
All-Star Resorts
Grand Slam Pool at All-Star Sports is closed for routine maintenance. It is expected to reopen December 18, 2015. During this time, guests can use the Surfboard Bay Pool, located near Stadium Hall.
BoardWalk
BoardWalk Villas rooms are currently undergoing renovations.

BoardWalk Inn is also undergoing exterior repairs and painting now through May 5, 2016.
Caribbean Beach
The bridges connecting the resort's Aruba and Jamaica Islands to Old Port Royale are closed to pedestrian traffic through November 27, 2015. Shuttle transportation between Aruba/Jamaica and Old Port Royale is available daily from 6:30 a.m until 12:30 a.m. Boat transportation is available daily from Aruba Beach to Old Port Royale from 9 a.m. until dusk, weather permitting.
Coronado Springs
Ranchos Village Quiet Pool will be closed for maintenance November 2 – 3, 2015.
Polynesian Resort
Polynesian East Pool is closed for enhancement through early 2016. Expect noise and construction; some pathways may be blocked.
Pop Century
Computer Pool will be closed for maintenance November 30 – December 3, 2015.
Port Orleans French Quarter
Kiddie Pool is closed for refurbishment through December 23, 2015.
The Walt Disney World Swan and Dolphin is currently undergoing the largest renovation in its 25-year history. The Swan rooms have been completed; the first phase of the Dolphin Hotel room renovations have just begun, with the entire room project currently scheduled to be completed by the end of 2017.
Wilderness Lodge and Villas at Wilderness Lodge
General resort refurbishments and construction work in multiple areas will continue until 2017. Some pathways and the nature trail will be unavailable at certain times.

Hidden Springs leisure pool, resort beach, playground and recreation fire pit are unavailable.
Downtown Disney/Disney Springs
The multi-year transformation of Downtown Disney into Disney Springs will treat guests to more shopping, dining and entertainment amid open-air promenades, springs and waterfront charm.

Roadwork on Buena Vista Drive – Through March 2016. Due to heavy roadwork, expect delays on Buena Vista Drive. It is recommended that guests use complimentary Walt Disney World Resort transportation from Parks and Resorts to Downtown Disney and plan to arrive early for reserved dining and entertainment experiences.

Parking Lots – Entrance 2 – Lots A-G – closed through August 2016, in preparation for the construction of Town Center and the East Garage.

Paradiso 37 on Pleasure Island is set to nearly double its seating. It will add more terrace dining and a new outdoor performance stage. The menu will continue to offer a culinary tour of North, Central and South America. Paradiso 37 will remain open while undergoing renovations, which are expected to be finished soon.

Read HERE for more on Disney Springs.
-=-=-=-=-=-=-=-=-=-
A complete list of known rehabs can be found HERE.
= = = = = = = = = = = = = = = = =

MAGICAL MOMENTS
= = = = = = = = = = = = = = = = =
Gary V.: I had a "Magical" Disney Experience weeks after coming home from our vacation. While staying at the Animal Kingdom Lodge in September I shared with a cast member that I was collecting bear pins. She said she had some Christmas Bear pins at home and would give them to me for my collection. We left the next day and didn't see her before we left. Last Thursday a package came to my house with 10 Christmas Bear pins and four other bear pins enclosed. It was like I was again on vacation. This cast member's action was well above and beyond what her job required. I have shared pictures of the pins with many of my friends, explaining to them why we enjoy visiting Disney as often as we can.
Peter Babikan: My family and I are big Disney fans and have gone seven times over the past 10 years. However, this most recent trip we took was the most memorable. We decided to stay at the Contemporary Resort and just focus on the Magic Kingdom. Upon arrival, we were greeted by a cast member who escorted us to the check-in desk. It is here that things got sooo much better for us. While checking in one of the cast members told us he had to get our MagicBands. We already had MagicBands on our wrists, but he told us they had ordered duplicates. We did not think anything of it. Check-in was just about complete when we were asked to turn around for a surprise. Two cast members were standing there, one holding balloons and a note card. She said, "On behalf of Walt Disney World and the Contemporary staff, we are pleased to announce that the Babikan Family has been chosen as our Family of the Day!" We were upgraded to a Family Suite on the 14th (concierge) floor! We were in complete shock. Our next 2-1/2 days were filled with special memories and the staff of the 14th floor made us feel so at home, like we were family. The last night we were there we planned to watch the Wishes fireworks from the balcony of the Concierge Lounge. That night, my 6-year-old daughter had lost a tooth at Tony's Town Square Restaurant and my wife told one of the cast members. While we were getting ready to watch the fireworks, a cast member asked if we were going back to our room soon. When I told her no, she then said that Tinker Bell often visits the rooms of children who lose their teeth while at Disney World. When the fireworks ended, we headed back to our room. There on one of the beds were three balloons, a few "gifts" and a very special note from Tinker Bell. My daughter's expression of pure joy was priceless and one my wife and I will never forget. She was so happy and could not believe that Tinker Bell visited our room. Little touches like this and selecting families as "Family of the Day" make lasting memories and are why we love going back year after year to Disney World.
Susan S.: My husband and I were celebrating our 32nd anniversary on July 16. On our way back to our Old Key West villa I stopped by the Hospitality House to see if I could pick up two anniversary buttons to wear to dinner that night. The two women that I talked to were very accommodating and when a gentleman in a suit walked by they told him about our celebration. He congratulated me and asked my name and room number. I thought it possible that we might get some balloons sent to us, but little did I know what was in store for us when I returned back to our room after dinner. We were sent a beautiful tray with sparkling cider, chocolates, glasses and special coins to make a wish upon. When I thanked him the next day he said he had nothing to do with the gift — it was Disney Magic. Truer words have not been spoken.
-=-=-=-=-=–=-=-=-=-=-=-=-=-=-=
We just bet you have a story to tell about an unforgettable moment during your Disney vacation! Please send your favorite memory for inclusion in a future AllEars® to: [email protected] Thank you all for sharing!
-o-o-o-o-o-o-o-o-o-o-o-
Editor's Note: This story/information was accurate when it was published. Please be sure to confirm all current rates, information and other details before planning your trip.