May the Force Be With Us All: New Star Tours Opens
by Debra Martin Koma
AllEars® Senior Editor
Feature Article
This article appeared in the May 24, 2011 Issue #609 of ALL EARS® (ISSN: 1533-0753)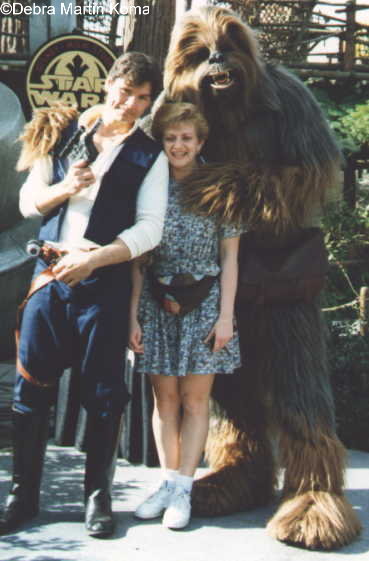 I have to confess that I'm a bit of a Star Wars fan — not as devoted as some, of course, but let's just say that there might be a light saber or two lurking in my closet.
I was 18 when the original Star Wars film (now known as "A New Hope") debuted, and I saw it, and the subsequent "Empire Strikes Back" and "Return of the Jedi" more times than I should probably admit to. Fast-forward 20-some years to when the new batch of Star Wars movies began, starting with "The Phantom Menace" in 1999 — I had a 7-year-old son by that time, and he ate up the new movies as greedily as millions had devoured the first Star Wars trilogy decades before him. We had Star Wars action figures, Star Wars LEGO sets, Star Wars sheets and towels, puzzles and Pez candy dispensers… not to mention a few Darth costumes (both Vader and Maul). We saw both the original trilogy of movies and the new trilogy over and over again in multiple formats (VHS and then DVD). And when we began visiting Walt Disney World in 1994, we made many visits to Endor with our pilot Rex on the original Star Tours attraction. We were even at Walt Disney World in February 1997 for the first Star Wars Weekend, where we met actor David Prowse, the man inside the Darth Vader costume. (That's where I encountered Han Solo and Chewbacca, pictured at left, too.)
So when Disney announced the coming of a new Star Wars attraction back in September 2009 at the first D23 Expo I was secretly thrilled, and knew that I would make a point of being there when the new ride opened at Walt Disney World.
And that's where I was this past week — anxiously awaiting the grand opening of the 3-D reboot of Star Tours, the much-loved motion simulator ride based on the Star Wars movies.
My "Star Tours -The Adventures Continue" experience actually began May 19, the day before the official grand opening. I was among the lucky media guests invited to a special preview event on Thursday night.
If you've ever been in Walt Disney World when a new attraction opened you'll know what I mean when I say there's an excitement in the air above and beyond what you normally feel when you're in the theme parks. As one might imagine, Walt Disney World goes all out when they're introducing a new ride or show. Double or even triple that feeling and you start to get an idea of the energy and anticipation that surrounded the grand opening of Star Tours – The Adventures Continue — not only were ardent Disney fans excited, but legions of avid Star Wars fans could speak of nearly nothing else for weeks beforehand.
Not surprisingly, Disney literally rolled out the red carpet for the media preview event. The entrance near the Star Tours attraction was lined not only with enthusiastic cast members applauding our arrival, but with alien life forms from many galaxies not so far away. There was the famous cantina band from "A New Hope" and the pig-like Gamorrean guards alongside bounty hunters Boba and Jango Fett, as well as less-menacing characters like Vader Goofy and Jedi Mickey.
In fact, the number of Star Wars characters mixing and mingling with guests was most impressive — there were so many, I didn't know where to look first. But then I heard the words that I'd been waiting for: "The ride is open, go ahead and get in line!" I couldn't help myself — I made a beeline over to the attraction, past all the food and beverage stations offering exotic treats and drinks. I had to ride this new Star Tours that I'd been eagerly anticipating for so long!
Shall I tell you about the new queue? Or share spoilers about the new ride? Well, we have some photos online here if you're interested: http://allears.net/tp/mgm/m_startours5.htm And our readers have been sharing their thoughts about the new attraction here: http://allears.net/tp/mgm/m_startours2.htm
But I don't think I'll give away anything too revealing. You will probably have already read about the repeatability of the attraction — how it has many different elements that are combined randomly for each ride, so that each time you visit you get a unique experience. It's not telling too much to say that you might visit the ice planet of Hoth, the bustling Coruscant, or the watery world of Naboo, and that sometimes you may have a visit from Yoda, and others perhaps from Princess Leia or Darth Vader. And you may also have read that protocol droid C-3PO is your captain for this new adventure. But beyond that, I think you really need to enjoy this ride for yourselves. I will tell you, though, that as I rode the new Star Tours for the first time I found myself clapping spontaneously at several points in delight over how well done it was. The new 3-D glasses are as comfortable as they could be, the new digital film itself is crystal clear, the scenes as action-packed as the movies. There's a bit of humor, a few in-jokes, and all in all they have taken what was one of my favorite Disney attractions of all time and made it even better. To coin a phrase that has perhaps been slightly overused recently: WINNING!
Being able to experience the attraction several times in rapid succession was a real treat and afforded me a chance to see many of the separate show elements in different combinations — and while I did see some elements more than once, I did not see the exact same sequence twice. I came away with favorite segments, but am pretty sure that I didn't see a few scenes yet — all the more reason to try it again I suppose, and soon!
I spotted Disney's Hollywood Studios vice president Rilous Carter amidst the crowds and asked him what he thought of the new attraction. He said that he was very excited that it was finally opening — he'd ridden it many, many times, and thoroughly enjoyed it. Of course, what else could he say? But the thing is, I don't think he was exaggerating. Everyone else I spoke to after riding shared his sentiment — even those who had been turned off of the original Star Tours due to motion sickness. To a person, they all said the new ride was smoother, the film was clearer, and the whole experience was just a lot more fun in general than the original Star Tours had been. I was thrilled to have the chance to ride the attraction once more (finally got the Death Star scene, yeah!), and felt the urge to again applaud the creativity and technological know-how that created what will surely be a crowd-pleaser for years to come.
The media event concluded with amazing fireworks behind the Sorcerer's Hat stage, but I knew that my Star Tours/Star Wars evening had just begun.
A few weeks earlier, the Disney Parks Blog had invited fans to sign up for a chance to attend a "Midnight Meet-up" that included a sneak peek at the new attraction starting at midnight on May 20 and running until 2 a.m. Unfortunately, I had missed the sign-up period (because I was IN Disney World at the time, of all things!) but as a member of the media I was permitted to drop in for this event as well (and I also had a friend who was going who generously allowed me to be his +1, just in case! Thanks, John!)
The Midnight Meet-up began with registration for the event at Blizzard Beach. The long line of anxious attendees stretched nearly all the way to Winter Summerland miniature golf by the time I arrived at the water park. A DJ was blasting tunes, including the disco version of the Star Wars theme, while asking Star Wars trivia and handing out prizes (Disney Parks Blog pins). The energy was infectious and by the time we boarded our bus a little after midnight, bound for Disney's Hollywood Studios, I think it's safe to say that many had reached fever pitch!
We were again greeted on the red carpet by an assortment of aliens and were once again urged to ride the new ride. OK, twist my arm. I rode again, this time having the dubious distinction of sharing a new Starspeeder 1000 with Greedo (a bounty hunter who interacts with Han Solo), who remained in character for the ride, reacting to the events unfolding on the screen.
Since the characters were out "in Force" (pardon the pun), I had to stop and pose with at least some — my favorite was with Ewoks in front of the model speeder bike located across from the Tatooine Traders shop. Also on hand for photos were C-3PO, Anakin Skywalker, Jedi Mickey and Leia Minnie, and many others.
The highlight of this Midnight Meet-up was a half-hour Q & A session with Imagineers Steve Spiegel and Kathy Rogers, who spoke about updating the new attraction. Their respect for the history of the Star Wars franchise was evident, and they shared several anecdotes about the challenges they encountered during the attraction's renovation.
Our Guest Blogger Ashley Livingston has a nice write-up of the Midnight Meet-up here: http://land.allears.net/blogs/guestblog/2011/05/star_tours_midnight_meetup.html
I'll caution you that she has a lot of detailed photos of the attraction queue and some other spoilers, too!
After all this Hyperspace Hoopla, you might think I'd had quite enough Star Tours/Star Wars action, but no, of course I hadn't! There was still the grand opening ceremony, which took place at 10:15 a.m. on Friday, May 20.
Mustering almost as much pomp and circumstance as the recent Royal Wedding of Prince William and Kate Middleton, the ceremony started with cast members grandly waving flags on the Sorcerer's Hat stage. A regal procession then made its way up Hollywood Boulevard — all aspects of all the Star Wars films were represented, from Ewoks and Jawas to Anakin Skywalker and Queen Amidala to bounty hunters Aurra Sing and Boba Fett. There were even a number of young children dressed as little Padawan students. After these notables took the stage, the most famous droids in the universe, C-3PO and R2-D2, were introduced, along with actor Anthony Daniels, who has the distinction of having played C-3PO in each of the Star Wars movies.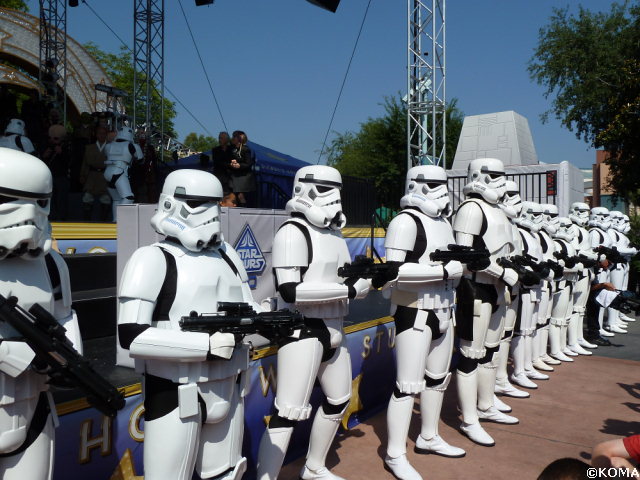 Suddenly, the menacing theme of villainous Darth Vader was heard, and a line of white-helmeted Stormtroopers jogged in, followed by Darth's appearance on stage. The Dark Lord of the Sith proclaimed that he intended to shut down Star Tours. A dramatic effort to stop the proponents of the Dark Side was projected onto the big screen over the stage. We saw Jedi Knights battling outside the entrance of the Star Tours attraction, and watched as they vanquished their enemies. Finally the Jedi Knghts were revealed and came onstage — none other than Disney CEO Bob Iger and Star Wars creator George Lucas. I can't even explain the goosebumps I had at seeing George Lucas, the man behind so many happy cinematic memories, standing right in front of me — literally right in front of me, as I found myself at the front of the stage nearly dead center. As he wielded his light saber and proclaimed the new Star Tours attraction open, I shivered a bit with excitement — OK, I know in the greater scheme there are occasions that are more important, but in the context of memorable Star Wars and Disney moments, this was a biggie for me.
The events surrounding the first Star Wars Weekend of 2011 were an excellent complement to the debut of the new attraction. The opening weekend featured autograph and Q & A sessions with Anthony Daniels, as well as Daniel Logan, who played young Boba Fett in "Attack of the Clones" and Dave Filoni, director of "The Clone Wars," an animated Star Wars series. Characters roamed the park for random photo ops, and there were also staged opportunities with PhotoPass photographers on hand to snap your moment with Queen Amidala or the Ewoks. For the Disney fan who also happens to be a Star Wars fan, or the Star Wars fan who likes Disney, these weekends are a match made in heaven, and will continue through June 12. Guest Blogger Ashley Livingston shares a more in-depth review of the first weekend here: http://land.allears.net/blogs/guestblog/2011/05/star_wars_weekends_2011_1.html
Ashley's friend J.W. also wrote a bit for us on the one-man show performed by Star Wars Weekends co-host James Arnold Taylor, a voice actor who portrays Obi Wan Kenobi on "The Clone Wars":
http://land.allears.net/blogs/guestblog/2011/05/star_wars_weekends_james_arnol_1.html
I had a chance to speak one on one with Taylor, as well as with Dave Filoni to get their thoughts on both the new attraction, and the Star Wars themed weekends. As Taylor noted, the 3-D in the new attraction is "simply stunning" and he marveled at how the Imagineers were able to keep some of the old elements while still bringing in new planets and new themes, plus all of the characters. Filoni, called the new attraction "phenomenal" and said that as a Star Wars fan, he had wondered how they would improve the ride. "But they have taken a quantum leap with what they've done," he said. "I'm so proud of the guys from ILM (Industrial Light and Magic) who put this together — they really honored the Star Wars tradition in a great way… and Disney has done a stellar job at putting it up in the park. It stands up great."
Speaking as another Star Wars fan, I have to say I agree with him, and can't wait until my next opportunity to go back and continue my own adventures on the new Star Tours. It might be corny, but this is one time when it really must be said: The Force is with us!
= = = = = = = = = = = = =
RELATED LINKS
= = = = = = = = = = = = =
Dave Filoni, director of Star Wars: The Clone Wars, the animated series, talks about the new Star Tours attraction:
http://youtu.be/UdvPwalwDHY
James Arnold Taylor, voice of Obi Wan Kenobi in the animated series The Clone Wars, talks about his role as co-host of the 2011 Star Wars Weekends:
http://youtu.be/9merv8X68Jg
Highlights of the Star Tours Opening Ceremony, courtesy of Walt Disney World:
http://www.youtube.com/watch?v=9_FrVShejN0
=-=-=-=-=-=-=-=-=-=-=-=-=
ABOUT THE AUTHOR:
Debra Martin Koma, AllEars.Net's Senior Editor (and, now you know, closet Star Wars fan) fell in love with Walt Disney World on her first visit there — when she was 35! She's lost count of how often she's returned to her Laughing Place in the ensuing (16!) years, but knows that she still isn't tired of it — and doubts she ever will be. Read more of her writing for AllEars® here: http://allears.net/btp/dkoma.htm
=-=-=-=-=-=-=-=-=-=-=-=-=
EDITOR'S NOTE: AllEars.Net was an invited media guest at Walt Disney World's 2011 Resort Showcase and Star Tours Opening and received complimentary accommodations and some meals during the event.
-o-o-o-o-o-o-o-o-o-o-o-
Editor's Note: This story/information was accurate when it was published. Please be sure to confirm all current rates, information and other details before planning your trip.