May 2017 Walt Disney World Bits and Bites
Feature Article
This article appeared in the April 25, 2017 Issue #918 of ALL EARS® (ISSN: 1533-0753)
Editor's Note: This story/information was accurate when it was published. Please be sure to confirm all current rates, information and other details before planning your trip.
= = = = = = = = = = = = = = = = =


STEP BACK IN TIME
= = = = = = = = = = = = = = = = =
by Joan L. Feder
AllEars® Contributor

We hunt through our archives for this monthly featurette, which looks at the history of Walt Disney World and The Walt Disney Company. This month, we travel back to 1967 as we celebrate the 50th anniversary of one of Disney's worst-kept secrets, Disneyland's Club 33.
In 1964, Walt Disney presented four attractions at the World Fair, including, "it's a small world", and "Great Moments with Mr. Lincoln". While there, he was wined and dined at several private VIP lounges hosted by large corporations. Impressed, he created a similar space at Disneyland where he could entertain corporate sponsors and VIPs. Unfortunately, Walt Disney passed away in December 1966, before it was ready for use.
Club 33 opened as a members-only restaurant in May 1967. There were two dining rooms furnished with beautiful antiques and stunning works of art, many chosen by Walt and Lillian Disney themselves. Other items included props from Disney films, like a marble-topped walnut table that was used in Mary Poppins. The Main Dining Room had a formal Napoleonic theme. The more casual Trophy Room had special chandeliers with built-in microphones. These were supposed to let hidden cast members talk with diners, via Audio-Animatronic figures that were to be part of the decor. Sadly, this unique dining experience never came to fruition.
On July 18, 2014, Club 33 reopened after a major renovation and expansion. Many of the furnishings, and even an original "talking" vulture are still there, but some things have changed. One major addition is a jazz club inspired by "The Princess and the Frog". Each booth in the lounge has its own theme, such as "Pirates of the Caribbean" or "The Haunted Mansion". The dining room, while poshly elegant, is much brighter and has an airier feel. The menu has also changed, now highlighting both New American and French cuisines. As an added bonus, the Club features great views of Fantasmic! from its balconies.
How do you join? It is not easy. Membership is still by invitation only, and the wait list is long. It can take more than 10 years to get in, and it is expensive. The Club costs from $25,000 to $100,000 for initiation, plus dues of $12,000 to $30,000 per year, depending on the type of membership. Meals and drinks are not included. Benefits do, however, include goodies like VIP tours, annual passes, early admission to the parks, and FastPasses at each visit. Members also get access to the 1901 lounge at Disney California Adventure. Named for the year that Walt Disney was born, it is located on the ground floor of the Carthay Circle restaurant. The 1901 opened on June 15, 2012, in honor of the Club 33's 45th anniversary.
Other perks depend on availability. Members can visit the Lilly Belle, Disneyland's Presidential train car, or take a tour of the exclusive Dream Suite, (similar to the Cinderella Castle Suite at the Magic Kingdom). And, with Captain's permission, members can ride in the Mark Twain Riverboat's wheelhouse, which is closed to the public.
Club 33 can also be found at two other Disney theme parks. Tokyo Disneyland's locale has a Victorian theme and is on the second floor of the World Bazaar. Shanghai Disney's Club is "hidden" just off of Mickey Avenue. Unfortunately, membership at one Club 33 does NOT allow members to visit any of the other locations.
It looks like Club 33 will finally be coming to Walt Disney World. The Orlando Sentinel has reported that there will actually be four locations, one in each theme park. It is not certain, but Walt Disney World members may have access to all four of the Florida locations. It has been confirmed that these clubs will be themed based on the travels of Walt and Lillian Disney. There has been no news as to pricing or opening dates yet, but more information should be released this fall.
RELATED LINKS:
= = = = = = = = = = = = = = = = =

HIDDEN MICKEYS ALERT
= = = = = = = = = = = = = = = = =
Steve Barrett, author of the Hidden Mickeys books and webmaster of HiddenMickeyGuy.com, encourages you to check out the following images in the Magic Kingdom at Walt Disney World.
1. Magic Kingdom, Big Thunder Mountain Railroad — While on the ride, just past the dinosaur bones on the right side of the track, you'll see groups of gear wheels lying on the ground. One group of three wheels is arranged as a classic Hidden Mickey. This Hidden Mickey changes at times; I hope this image sticks around a while! (Thanks to Carolyn.)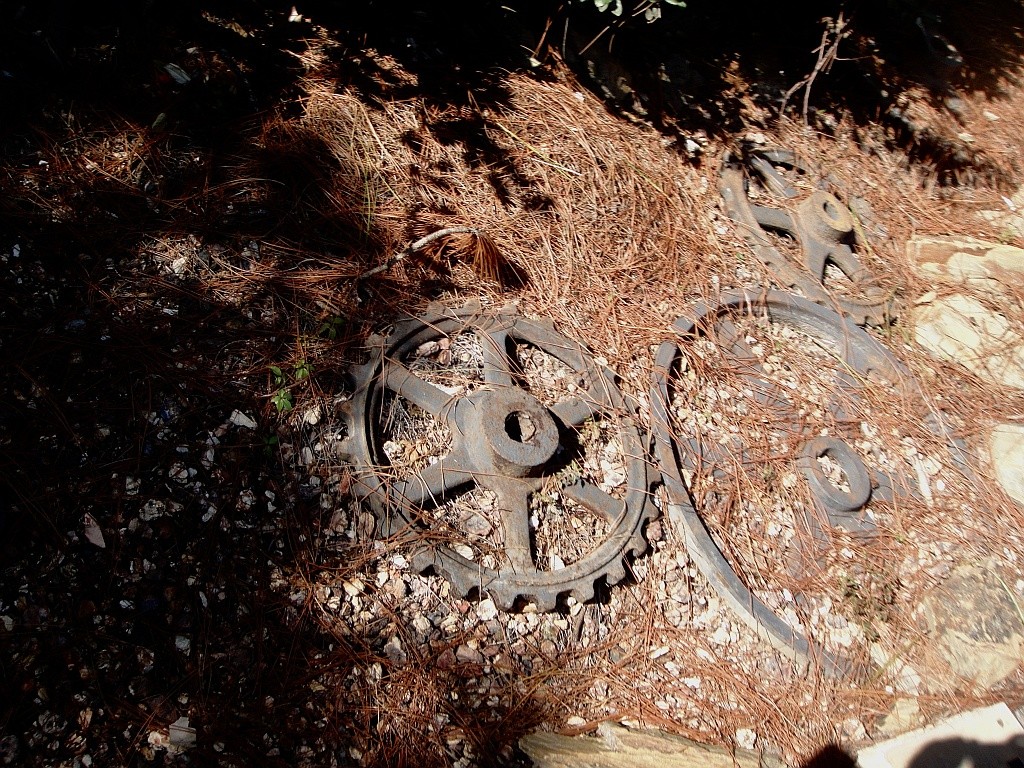 2. Magic Kingdom, Town Square Theater — Just before the exit door from Mickey's Greeting Room, three large Mickey Mouse playing cards are held upright by a long clip on the floor. In the middle of the clip, a gold classic Mickey wearing a triangular "hat" resembles a Sorcerer Mickey. (Thanks to Ryan Hecht.)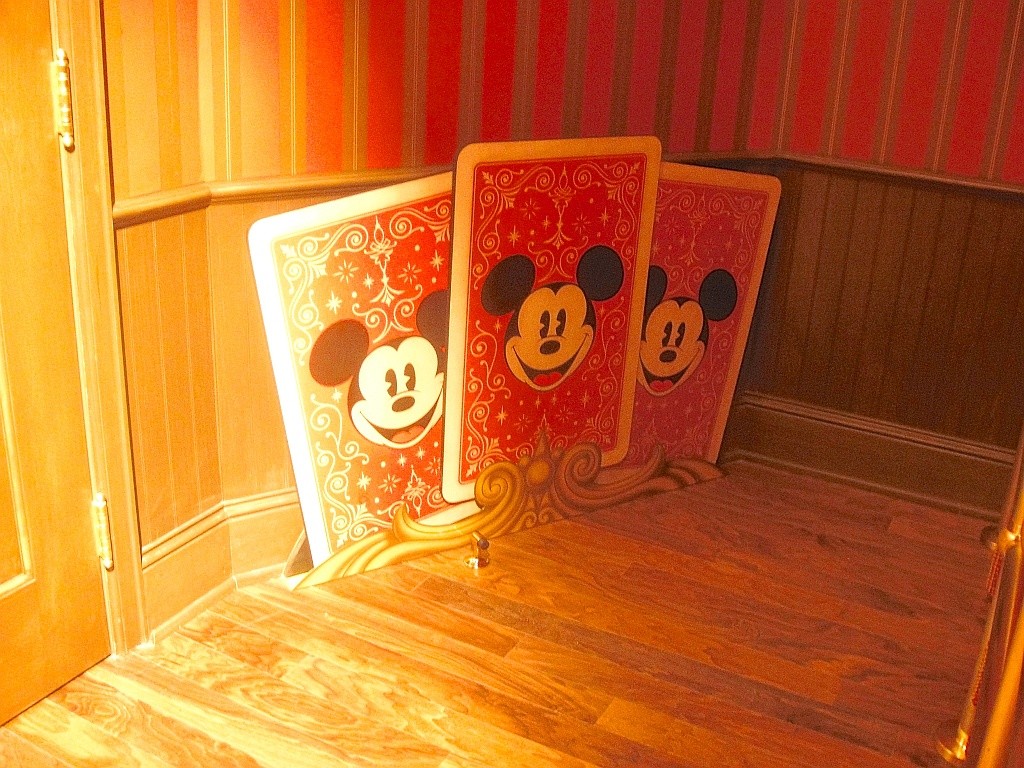 3. Magic Kingdom, Tony's Town Square Restaurant — As you know, Hidden Mickeys are lost from time to time. For example, inside Tony's, as you enter the main dining area from the entrance waiting area, a group of flowers sits on a bookshelf to the upper left. At one time, three white flowers formed a classic Mickey on this bookshelf. Evidently, this Hidden Mickey is not maintained, as it was not present on my recent visit. No Hidden Mickey here now — very sad!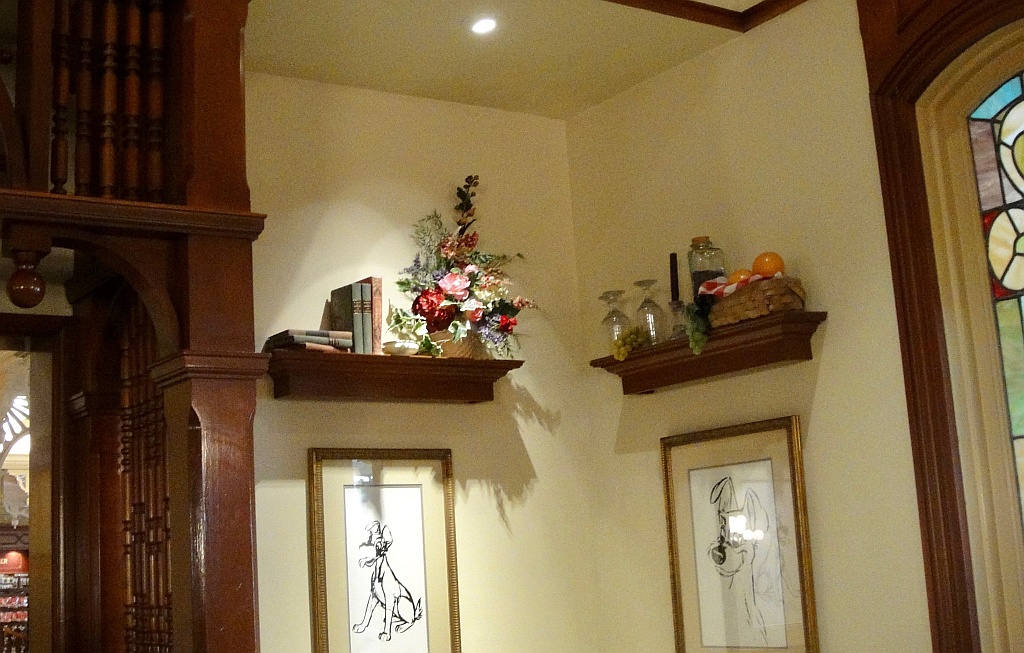 =-=-=-=-=-=-=-=-=-=-=-=-=-=-=-=
You can find an archive of past Hidden Mickey Alerts HERE.
And check out our latest Searching Disney with Steve blog.
= = = = = = = = = = = = = = = = =


SOUVEN-EARS
= = = = = = = = = = = = = = = = =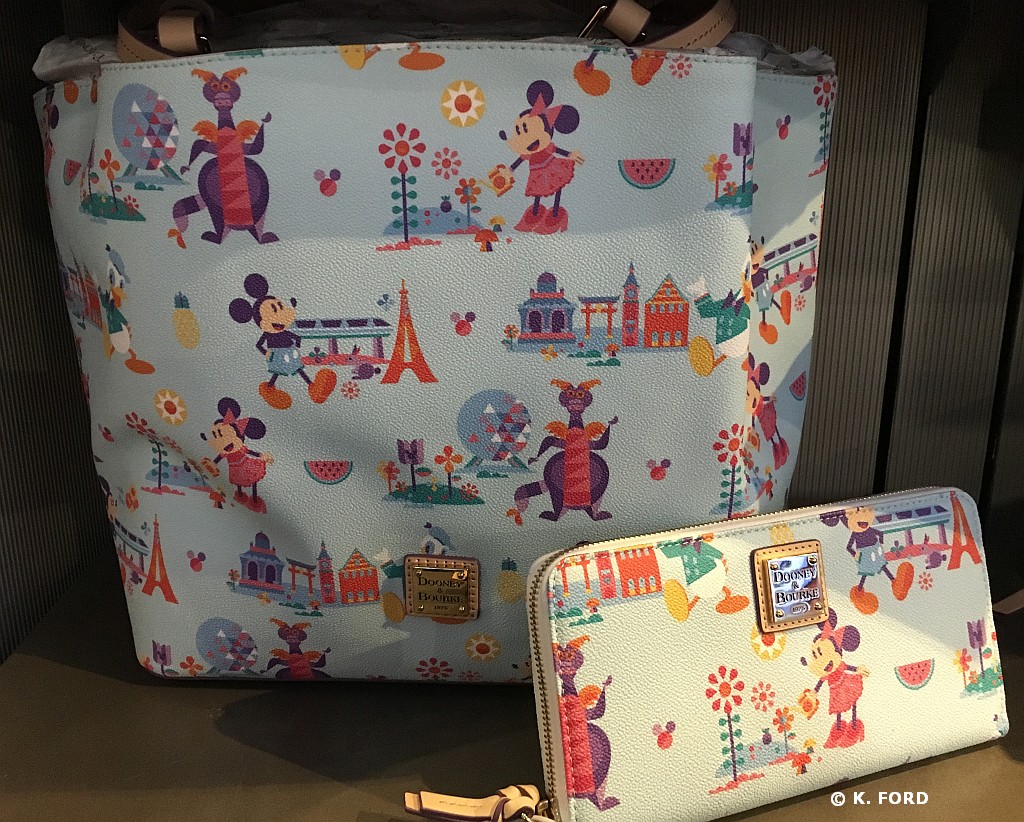 Our occasional featurette on shopping around the World returns this week with an entry from our staff writer and "A Mom and the Magic" blogger Kristin Ford.
If you've seen the selection of merchandise at the 2017 Epcot International Flower & Garden Festival and observed that there seem to be more choices than ever before, you are not wrong.
"I think the cool part is the art styles this year. They're very fun, very colorful, very festive," Steven Miller, merchandise communications manager at Walt Disney World, told me. "We have a main logo, which features Mickey in the garden with Pluto and a hint of Figment in there as well. We have a geometric pattern, which has been interpreted on a couple different pieces as a modern style with pastel colors. Figment also is hidden within that, too. And then you have this landscaping Mickey and Minnie when they're in the garden again and it's very stylized. There is one more program and it's more of a male point of view. It's a logo."
Some of the most popular merchandise items at the Flower & Garden Festival every year are the Dooney & Bourke handbags (pictured above) designed just for the event. This year, there are a record five different silhouettes — Weekender ($418), Tote ($358), Zip-Zip Satchel ($268), Pouchette ($178) and Large Wallet ($198) — with the pastel pattern that features Mickey Mouse, Minnie Mouse and Figment.
The very pretty floral pattern that encompasses the characters in a large Minnie Mouse iconic shape makes an appearance on the 24-ounce Tervis ($26.99), an ornament ($14.99), a keychain ($12.99), a drawstring backpack ($21.99) and a T-shirt ($29.99). The pattern also is interpreted on a Minnie Mouse ears headband ($23.99) that everyone has been raving about this season.
Regular festival-goers have come to expect a character stepping stone ($29.99) and garden statue ($39.99). For 2017, there are Mickey Mouse and Figment versions of each. Plus, look for a flower-pot mug ($14.99), a Minnie mug ($12.99) and a logo mason jar ($14.99).
Collectors will be excited to see a Shellie May plush bear dressed in her gardening gear, as well as several Limited Edition and Limited Release trading pins ($15.99 each). A four-pin set ($54.99) depicts Orange Bird, Figment, Stitch and Judy Hopps.
Finally, there are plenty of blooms you can wear, too, with a Limited Edition MagicBand2 ($32.99), two baseball caps ($24.99 and $26.99), a straw hat ($24.99), and an array of T-shirts ($29.99 to $32.99).
The Flower & Garden Festival merchandise will be sold through May 29, while supplies last, at Epcot and on the Shop Disney Parks app.
Happy Shopping!
= = = = = = = = = = = = = = = = =

MONTHLY REMIND-EARS
= = = = = = = = = = = = = = = = =
Through May 29: 2017 Epcot International Flower and Garden Festival — The 90-day festival will feature an array of new gardens and character topiaries, popular entertainers and tasty food and drink offerings.
May 11: Last night for Wishes fireworks — The popular nighttime show will end after almost 12 years at the Magic Kingdom.
May 12: Happily Ever After Fireworks and Projection Spectacular Debut — Beginning May 12, Walt Disney World Resort guests will discover just how magical and emotional that fairy tale ending can be with the newest, most breathtaking fireworks show in the history of Magic Kingdom Park – "Happily Ever After."
May 27: Official Opening of Pandora – The World of Avatar
-=-=-=-=-=-=-=-=-=-
Check our Events page for a full schedule of upcoming events.
-=-=-=-=-=-=-=-=-=-=-=-=-=-=-=-=-=-=-
Magic Kingdom
Hall of Presidents is closed for an extended refurbishment through June 29, 2017.

Prince Charming Regal Carrousel in Fantasyland will be closed for refurbishment until May 18, 2017.
From May 1, 2017, to June 30, 2018, Old Port Royale Food Court, Shutters at Old Port Royale, Cabana Pool Bar and Calypso Trading Post will be undergoing refurbishment. A variety of dining options will be available for all meals. Centertown will serve breakfast and dinner. Grab 'n' Go options will be available in three island markets: Aruba, Jamaica, and Martinique.
The resort rooms are undergoing a "hard goods refurbishment" that will continue for some time into 2017.
Disney's Old Key West Resort will be undergoing a wholesale refurbishment starting in Spring 2017. This refurbishment is expected to be completed in 2019.
Resort rooms will undergo a "hard goods" refurbishment through May 7, 2018.
The Walt Disney World Swan and Dolphin
The resort is currently undergoing the largest renovation in its 25-year history. The Dolphin room renovations are currently scheduled to be completed by the end of 2017. In addition, starting in the spring of 2017 the Dolphin lobby will undergo a $12 million re-design. When finished in the fall of 2017, the new lobby will be completely transformed into a sleek, contemporary space and will feature new dining and beverage options. The lobby re-design is the final stage of the $140 million renovation project.
Wilderness Lodge and Boulder Ridge Villas
General resort refurbishments and construction work in multiple areas will continue until 2017. Some pathways and the nature trail will be unavailable at certain times. Hidden Springs leisure pool, resort beach, playground and recreation fire pit are also unavailable during this construction, but are expected to reopen by July 17, 2017.

Cub's Den Children's Activity Center is closed now through 2017.

Roaring Fork and Trout Pass Pool Bar at Wilderness Lodge closed for refurbishment as of February 13, 2017. They are slated to reopen July 17, 2017. The new Geyser Point Bar & Grill now serves breakfast, lunch and dinner. Territory Lounge also offers a continental-style breakfast featuring gourmet coffees, pastries and a yogurt parfait.
The Yacht and Beach Club Convention Center is undergoing expansion and renovation now through February 1, 2018.
Resort room refurbishment taking place through mid- to late 2017.

Captain's Grille will be closed for refurbishment May 15 – September 30, 2017. During the refurbishment, the Captain's Grille will relocate to Ariel's in the Beach Club.
Blizzard Beach Water Park
Run-off Rapids is closed for refurbishment.
Disney Springs
Portobello Country Italian Trattoria at the Disney Springs Landing will be closed for refurbishment until sometime in Fall 2017.
-=-=-=-=-=-=-=-=-=-
A complete list of known rehabs can be found HERE.
= = = = = = = = = = = = = = = = =

MAGICAL MOMENTS
= = = = = = = = = = = = = = = = =
Each month, we like to share a few heart-warming Magical Moments brought to us by the amazing Disney cast members!
Kim K: My husband and I have been traveling to Disney almost every year since we started dating more than 15 years ago. We are DVC and AP holders and have now taken our three kids there every year since my twins were 2 (now 8). Their favorite ride is Star Tours and my husband takes them every trip for multiple rides. I usually stay behind with my mom since I tend to get motion sick on it. Over the last couple of years, one of my boys, my daughter and my husband all have been 'The Rebel Spy' — a big deal since only one person per ride is chosen. Every trip, we leave with my other son crushed that he wasn't picked again. We explain it is random, but that doesn't make it any easier. On our trip this January, I decided to ride and listened to my son talking about how maybe this was his turn finally. A cast member asked me what he was hoping for and I quickly told her the story — he is the only one who had never been chosen and rides this multiple times hoping to be chosen. I shrugged my shoulders and said, "We just will keep trying!" Another cast member up ahead handed me a "ticket" later. It was a flight pass and she told me that she wanted for us to wait to board. We moved to the next vehicle and then were asked to move again and wait — we thought there was an issue with the ride. When we finally were able to board the CM wished us all a good flight. As the ride started, my son was called out as the Rebel Spy AND we got the Darth Vader experience as well! My son was in such disbelief and was so excited that I started to tear up during the ride to see his excitement. I found the same CM at the next ride (we rode again) and I thanked her. She smiled and her response was, "I didn't do anything. The Force was strong with him!" Thank you to her for making a little boy's dream come true!
Ashley Smoyer: My family was at Disney World in November 2016. We had our 11-month-old, 5-year-old, and 7-year-old. We had bought Mickey's Very Merry Christmas Party tickets, which we were SO excited about! Unfortunately, while we were in Magic Kingdom, about 30 minutes before the actual party started, our 5 year old daughter went over to meet my husband in the Minnie meet-and-greet line. She missed a step, and ended up falling face first, down the concrete steps! Of course our baby started crying because it was past her bedtime, I was trying not to cry because I was so upset my daughter got hurt, and I'm thinking how this was a lot of extra money for the party, which has now probably been ruined! Everyone around us was so caring and helpful! The cast members walked us to the storybook shop and called the medics. While we were waiting in the shop, this SWEET gentleman, Roy, a cast member there that night, went over and beyond his call of duty! He immediately tended to us, allowing our kids to pick out any stuffed animal that he said, "Mickey bought for them." Then, he allowed our two older kids to be 'chef of the day,' allowing them to decorate Mickey Mouse Rice Krispy treats! Not only did this instantly cheer up our daughter, but made me realize, that through this true Disney magic, we'd still have the opportunity to enjoy the rest of the night! (And of course, it totally made Mommy feel better, too!)
Cori O: I took my then-boyfriend/now-husband on his first trip to Disney World for his 30th birthday in 2011. When the time came to board Space Mountain, we ended up in the back two seats behind a Disney cast member escorting a mother and her young son and daughter around the park. After screaming our heads off during the ride, when we exited, the cast member turned to me and laughed, saying, "Boy, we sure heard you guys enjoying the ride!" We all shared a laugh, the young kids especially loving the opportunity to good-naturedly rib some adults about how "scared" we were. The cast member then asked us and the family if we'd like to ride again, immediately. Of course! He led us all through the hallway to the other Space Mountain track where we all boarded and rode again, naturally screaming along the whole time. Afterwards we thanked him for the opportunity, joked some more with the kids and, as we were finally exiting the ride and saying goodbye, he handed us FastPasses to use at any time during the day for Splash Mountain! It is such a great memory for us that we got to hang out with some other fun guests for a bit, ride Space Mountain twice in a row, AND quickly board Splash Mountain later that day. We've since been back to Disney World together multiple times, but it's so special for me that on my husband's very first trip he got to experience the magic of the cast members right away.
-=-=-=-=-=–=-=-=-=-=-=-=-=-=-=
We just bet you have a story to tell about an unforgettable moment during your Disney vacation! Please send your favorite memory for inclusion in a future AllEars® via our Contact Us page. Thank you all for sharing!
-o-o-o-o-o-o-o-o-o-o-o-
Editor's Note: This story/information was accurate when it was published. Please be sure to confirm all current rates, information and other details before planning your trip.