January 2018 Walt Disney World Bits and Bites
Feature Article
This article appeared in the January 2, 2018 Issue #954 of ALL EARS® (ISSN: 1533-0753)
Editor's Note: This story/information was accurate when it was published. Please be sure to confirm all current rates, information and other details before planning your trip.
= = = = = = = = = = = = = = = = =



STEP BACK IN TIME
= = = = = = = = = = = = = = = = =
by Joan L. Feder
AllEars® Staff Writer
We hunt through our archives for this monthly featurette, which looks at the history of Walt Disney World and The Walt Disney Company. This month we look back over two decades for an overview of Epcot's four annual festivals.
When Epcot opened on October 1, 1982, there were no regularly scheduled festivals. That all changed in 1993 with the introduction of Epcot's International Flower and Garden Festival. Over the years, three more galas have been added, each with its own theme and special culinary offerings. In fact, Epcot now has more days with festivals than without!
The first festival for 2018 is the Epcot International Festival of the Arts, a celebration of the visual, performing and culinary fields. This is the second year of this event, which starts on January 12 and runs every day through February 19. The festival features seminars and hands-on workshops from experts in a wide range of visual arts, including photography, animation and flower arranging. The culinary arts are represented by Food Studios featuring "art on a plate". Offerings range from braised short ribs to deconstructed cheesecake. At many of the Food Studios, guests will get a behind the scenes look at the chefs' creative process and plating techniques. Performing arts include community arts showcases, international music acts, and visiting marching bands. The returning Disney On Broadway concerts will take place on the weekends, and feature music and performers from some of Disney's best theatrical productions.
In the spring, Epcot's International Flower and Garden Festival is devoted to horticulture. Originally 38 days long, this year's 25th anniversary edition spans 90 days, running from February 28 to May 28. Epcot is always resplendent with blooming beauty, but for this event there are literally millions of extra plants and flowers. There are almost 100 character topiaries including Mickey and his pals. Tours are offered and include the Gardens of the World Tour where Disney's landscaping team teaches guests their tips and tricks. There are exhibits, seminars and interactive kids play areas. This year there are 15 Outdoor Kitchens serving up tasty bites and libations. The Garden Rocks concerts will take place each weekend, showcasing a variety of classic rock 'n' roll stars to round out the fun.
The Epcot International Food & Wine Festival got its start in 1995; the miniature train in the Germany Pavilion was created for that first festival. This past year was the longest festival to date, running for 75 days, from August 31 to November 13. It had a record 35 global marketplaces in honor of Epcot's 35th anniversary. These food booths surround the World Showcase lagoon, and spotlight cuisine and beverages from around the globe. This festival features celebrity chefs, and special tasting events at Epcot and Disney resort restaurants. There are also culinary demonstrations and hands-on seminars. The nightly Eat to the Beat concerts feature a wide variety of musical acts.
This winter was the first Epcot International Festival of the Holidays (in years past known as Holidays Around the World) which ran from November 19 to December 30. This festival focuses on holiday traditions from the eleven countries that make up the World Showcase. Storytellers at each pavilion describe their nation's holiday traditions. The flavors of the season can be found at the Holiday Kitchens, which this year more than doubled to 15 locations. The Candlelight Processional is an Epcot holiday favorite; every evening a celebrity narrator retells the story of Christmas accompanied by a mass choir and a 50-piece orchestra. Epcot's nightly fireworks show, IllumiNations: Reflections of Earth completes the festive mood with a special holiday finale.
Each of the Epcot festivals is unique, but they also have several things in common. Park admission is required to attend any of the festivals. Each offers many activities that are included in that ticket price, though some events and seminars do cost extra. All of the festivals have a wide variety of sips and snacks. In fact, there are so many choices that, this past summer, Disney opened a 12,000 square foot kitchen, devoted solely to festival food and beverage preparation. With the wide variety of seminars, tours, food and entertainment, clearly there is an Epcot festival for everyone!
RELATED LINKS:
Epcot International Festival of the Arts
Epcot International Flower and Garden Festival
Epcot International Food & Wine Festival
Epcot International Festival of the Holidays
= = = = = = = = = = = = = = = = =


HIDDEN MICKEYS ALERT
= = = = = = = = = = = = = = = = =
Steve Barrett, author of the Hidden Mickeys Field Guide books and webmaster of HiddenMickeyGuy.com, reminds you to check out Hidden Mickeys when you visit Disneyland, California. Searching for Hidden Mickeys just might enhance your Disney experience!
1. Big Thunder Mountain Railroad, Disneyland. A classic Hidden Mickey is formed of round rust or stain circles that surround bullet holes on the back of a wooden "Standby Entrance" sign in front of the attraction. The Mickey circles are next to an Ace of Clubs nailed to the back of the sign. (Thanks to Brian Babcock.)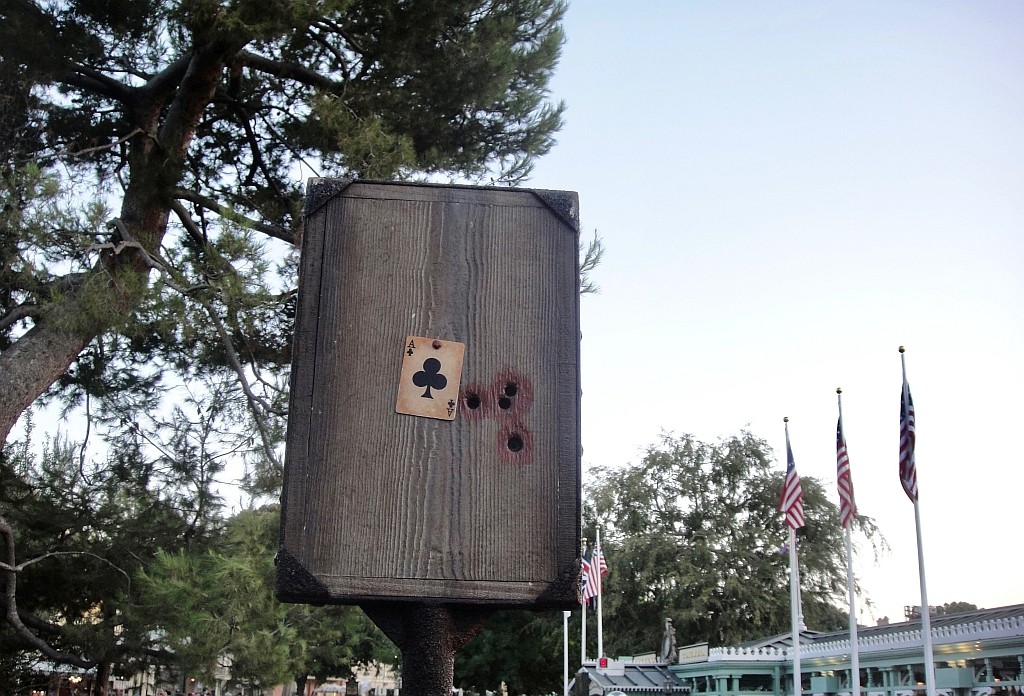 2. Mickey's House, Mickey's Toontown, Disneyland. As you meander through Mickey's House, watch for this mirror on the wall of a hallway in Mickey's Movie Barn, which is behind Mickey's House. Mickey's spooky face appears and disappears in the magic mirror.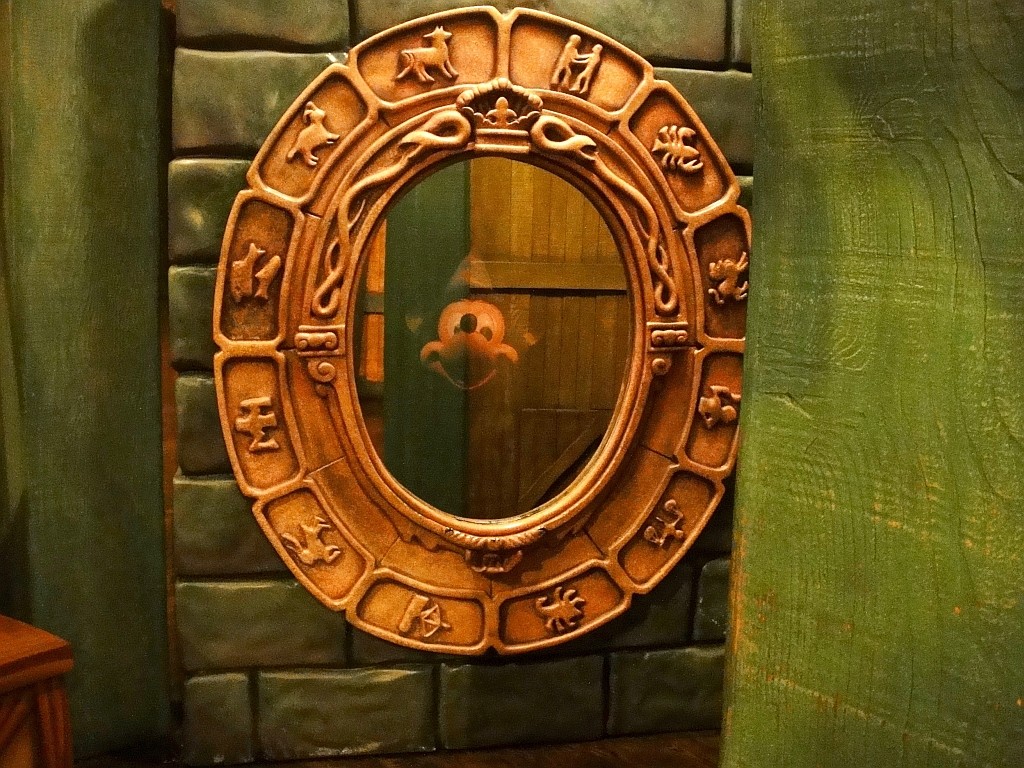 3. Fantasmic! show, Rivers of America, Disneyland. Another magic mirror is projected on the water screen at one point in the show, and you'll see the faces of various villains in the mirror. Three blue circles at the bottom of the gold mirror frame come together as a classic Mickey. (Thanks to Ethan Holmes.)
=-=-=-=-=-=-=-=-=-=-=-=-=-=-=-=
You can find an archive of past Hidden Mickey Alerts HERE.

And check out our latest Searching Disney with Steve blog.
= = = = = = = = = = = = = = = = =


MONTHLY REMIND-EARS
= = = = = = = = = = = = = = = = =
Jan. 3 – 7: Walt Disney World Marathon Weekend 2018, including the runDisney Expo at the ESPN Wide World of Sports.
Jan. 12 – Feb. 19: Epcot Festival of the Arts — After a successful first season, Epcot Festival of the Arts returns in 2018!
Check our Events page for a full schedule of upcoming events.
-=-=-=-=-=-=-=-=-=-=-=-=-=-=-=-=-=-=-
Resort-Wide
Disney Skyliner: Walt Disney World is in the process of creating a new transportation system, Disney Skyliner, which will give you a bird's-eye view of the resort while traveling via gondolas. During this time, construction noise will be seen or heard throughout the resort, but noise should not be heard from Disney hotel rooms between dusk and 9 a.m.
Flights of Wonder closed December 31 to make way for a new show featuring Russell and Dug from Disney Pixar's film "UP", slated to open this spring. This new experience will offer guests the chance to see Senior Wilderness Explorer Russell and his furry friend Dug as they discover species of birds from around the world in their newest adventure at the Caravan Theater in Anandapur Village.

Kali River Rapids in Asia is closed for refurbishment January 2 through February 10, 2018.
Star Wars: Galaxy's Edge — Work is under way on the 14-acre Star Wars-themed land at Disney's Hollywood Studios that was announced during the 2015 D23 EXPO. It's set to open sometime in 2019.

Toy Story Land — Construction is under way for the new Toy Story Land that will open in Disney's Hollywood Studios in Summer 2018.
Liberty Square Riverboat will be closed for refurbishment on January 8, 2018. No reopening date has been announced.

Splash Mountain in Frontierland will close for additional work from January 8 through February 1, 2018.
The American Adventure will be closed for refurbishment from early January through early February 2018.
Duck Pond Pool is closed for refurbishment through Spring 2018.
Animal Kingdom Lodge – Kidani Village
Samawati Springs Pool will be closed for refurbishment from early to mid-January 2018.
Art of Animation Resort is currently undergoing some general refurbishment projects. During this time, the resort will be in full operation with all amenities available, including dining, merchandise and recreation locations. It is possible that construction may be seen or heard, but noise should not be heard from guest rooms between dusk and 9 a.m. No end date for these projects has been announced as yet.

Big Blue Pool will be closed for refurbishment starting in mid-January 2018. A reopening date has not been announced.

Flippin' Fins Pool will be closed for refurbishment starting in late January until early February 2018.
Through Fall 2018, Old Port Royale Food Court, Shutters at Old Port Royale, Cabana Pool Bar and Calypso Trading Post will be undergoing refurbishment. A variety of dining options will be available for all meals. Centertown will serve breakfast and dinner. Grab 'n' Go options will be available in three island markets: Aruba, Jamaica, and Martinique. In addition, buildings in Barbados and Martinique islands are being demolished to make way for new construction.
The resort rooms are undergoing a "hard goods refurbishment" that will continue for some time into 2018.
Fort Wilderness
Meadow Swimmin' Pool will be closed for refurbishment from late January through early February 2018.
Grand Floridian Resort and Spa
Beach Pool and Beaches Pool Bar is closed for refurbishment through Spring 2018. The water play area and the mug refill station are available during this period.
Disney's Old Key West Resort is undergoing a wholesale refurbishment, which is expected to be completed in 2019.
Pop Century resort rooms are currently undergoing refurbishment, with work expected to be completed by Summer 2018. In addition, there are a number of other refurbishment projects going on around the resort, but all amenities are available.
Room at the resort will be undergoing refurbishment, including a soft goods refurbishment, from early January through late Spring 2018.
High Rock Spring Pool will be closed for refurbishment from mid- to late January 2018.

The Paddock Pool will be closed for refurbishment from late January until mid-February 2018.
The Yacht and Beach Club Convention Center is undergoing expansion and renovation now and throughout 2018. No end date has been specified.
Portobello Country Italian Trattoria at the Disney Springs Landing will be closed for refurbishment until Spring 2018. When it reopens, it will be known as Terralina Crafted Italian.
ESPN Wide World of Sports Complex
ESPN Wide World of Sports has teamed up with the nation's top cheerleading organization, Varsity Spirit, to create a new state-of-the-art cheerleading and dance team competition venue, the first in the world specifically designed for cheerleading and dance team competitions. The venue will include a flexible design for one large competition space that can be set up for as many as four competition areas. Additional areas are being tailored for warm-up and practice, along with areas for judges and officials. With the ability to seat more than 8,000 guests, plus performance and warm-up space, the new multi-use sports and entertainment venue will also have the ability to host six regulation basketball courts, six regulation volleyball courts or concert configurations. There will be concessions throughout the building, and an additional box office and entry to the complex. Construction is ongoing until further notice, with intermittent overnight lane closures, lane shifts, traffic congestion and noise along Osceola Parkway/Victory Way.
Blizzard Beach is closed for its annual refurbishment through January 7, 2018.
Typhoon Lagoon will close for its annual refurbishment on January 8. It will reopen on March 18, 2018.
-=-=-=-=-=-=-=-=-=-
A complete list of known rehabs can be found HERE.
= = = = = = = = = = = = = = = = =


MAGICAL MOMENTS
= = = = = = = = = = = = = = = = =
Each month, we like to share a few heart-warming Magical Moments brought to us by the amazing Disney cast members!
Carolyn Brooke-Millward: We had a lovely Magical Moment with my son recently. He is now 35, and has been visiting WDW since he was 8 years old. However, he hadn't been for 16 years, so we took him back again and he had a wonderful time! The Magical Moment occurred when David was taking part in the Keys to the Kingdom Tour (which we had bought him for a Christmas gift!), and he was walking from a backstage area behind Splash Mountain. The group was led through a gate, and as the gate closed behind him, David's shorts caught on the woodwork and ripped all up the side of one leg! The cast member running the tour noticed this, offered him a temporary solution of some safety pins, and said she would help further when they next took a comfort break. About 15 minutes later, the group was near the Crystal Palace. She led him into the Emporium and found a cast member in there to help him. That cast member told David to pick any shorts or trousers that he wanted at no cost to him, as it was "on Mickey"! We thought this was above and beyond what they needed to do, as this was a pure and simple accident, no one's fault at all. This is only one of the reasons that we have been going to Walt Disney World from the UK now for 28 years!
Vale Brown: This year my husband and I got married, and so our honeymoon HAD to be in WDW, there was no question. The trip was filled with countless Magical Moments, congratulations from cast members and guests who spotted our "Happily Ever After" buttons, and magical character interactions (we even had a conversation with Minnie about wedding rings, and how my husband was going to talk to Mickey about popping the question). One Magical Moment stands out, though. They were filming The View in front of the Tree of Life, so all the good picture spots were covered. We were trying to get a good picture, and were told that we had to go to the other side of the park. Daylight was fading, and we were kind of desperate, so we were pleading with a cast member to let us go near the tree just to take a picture. He wasn't budging, and another cast member, Tricia (who worked with lemurs), overheard us. She intercepted us when we were walking away heartbroken, since it was our last day there, and we were coming home to Argentina. She just said, "Follow me, I know were to get your picture," and led us to a roped pathway that had the BEST view of the tree I ever saw. I know it's just a silly picture, but now every time we see it, we are reminded of how Tricia went out of her way to let us take one of our favorite pictures. She said she was going on her honeymoon the next day, so she understood how important this was for us. Thank you, Tricia!
Nadine Flaharty: During a recent trip with my daughter and two grandkids, my granddaughter lost her tooth. We were fortunate to be staying at Grand Floridian on the club level so I suggested that she ask the concierge if he had something that would safely store the tooth until we could return home. His response was that he would "see what he could do." We spent a wonderful day at Epcot and returned to our room to find a beautiful Tinker Bell doll, a set of princess "ears" and a darling tooth box. Accompanying these treasures was a note that told Ella that losing a tooth was ALWAYS special, "but losing a tooth at Walt Disney World is especially magical!" It was signed the Walt Disney World Fairy. Needless to say, this was by far the most special of any Tooth Fairy gifts to date. Thank you to the Sugar Loaf Club Level staff!
-=-=-=-=-=–=-=-=-=-=-=-=-=-=-=
We just bet you have a story to tell about an unforgettable moment during your Disney vacation! Please send your favorite memory for inclusion in a future AllEars® via our Contact Us page. Thank you all for sharing!
-o-o-o-o-o-o-o-o-o-o-o-
Editor's Note: This story/information was accurate when it was published. Please be sure to confirm all current rates, information and other details before planning your trip.