I Had a Dream…
by Debra Martin Koma
AllEars® Senior Editor
Feature Article
This article appeared in the January 25, 2011 Issue #592 of ALL EARS® (ISSN: 1533-0753)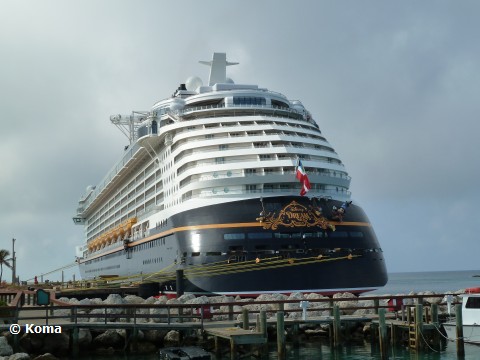 Wow. Just got back from a couple days on Disney Cruise Line's newest ship, the Disney Dream, and my head is still spinning.
As someone who had never sailed on the Disney Cruise Line before, I thought I'd share some of my general impressions about this amazing vessel and the whole "Dream" experience with you.
First, let me tell you that I was a bit apprehensive — the only other cruise I've taken was a Nile River cruise about 20 years ago on what they called a "floating hotel". It was nice, but I recall feeling very cramped. I knew that the Dream was a ginormous ship by comparison, but still I was a bit wary that I might get a little claustrophobic, especially in the stateroom.
I was also worried that I might get seasick. It's not that I normally do on boats, but let's face it — going out on the open sea in the Dream was going to be a different story.
My other worries related to not having enough to do, or feeling trapped on the ship. I absolutely did NOT want to sit by the pool all day — that's not me. And I didn't want to feel regimented, as though I had to get off at Castaway Cay if I didn't want to, or that I HAD to do Pirate Night.
Well, what was I thinking? After just a few short days on the Disney Dream I got an education in cruising in general, and the Disney Cruise Line in particular. And here's what I discovered.
1. First of all, it's HUGE. I know, you're thinking, DUH! All you have to do is look at the photos to see that. But really, until you're standing right beside it, you don't realize that it's enormous. Immense. As big as the small town I grew up in, maybe even bigger. I mean, my town only had one theater — the Dream has two! The ship carries 4,000 guests, plus another 1,458 crew. It houses five table service restaurants, a fast food court, 10 bars/lounges and three freshwater swimming pools. There's a 24' x 14' LED screen poolside. It has a full fitness center, a spa that spans two levels, and even a miniature golf course, for crying out loud! Please bear with me — I'm such a landlubber — but I eventually figured out that "AFT" is in the rear and "FORWARD" is in the front and there is quite literally a whole world in the MIDSHIP in between. You will put a lot of steps on your pedometer, a LOT, simply strolling around the ship.
Standing beside the Dream is one thing, but as soon as I entered the ship, that's when I was just overwhelmed by its sheer size. A cast member announced us — "The AllEars Family" (Deb Wills, Laura Gilbreath and me) — as we stepped aboard, and I fairly floated into the three-story atrium, agog at what greeted my eyes. Sweeping staircases with royal blue carpet and gold trim, a 22-foot-in-diameter, art-deco chandelier dripping with Swarovski crystals, gleaming fixtures everywhere. It was a feast for the eyes. There was a sense of grandeur, not to mention wide-open space, that I really didn't expect to find on the ship.
And the sense of space extends to the staterooms. I was lucky enough to be in a deluxe ocean-view room with a verandah, but even though I was sharing with my two colleagues, I felt that there was plenty of room. The beds were high enough that we could stow our luggage underneath. There were two closets, drawers, a desk, a TV, and a sofa that converted into a single bed. What more could we have asked for? Even the pull-down bed, hidden away in the ceiling, was a decent size, and hung low enough to allow plenty of breathing room. The bathroom was split — one room held the toilet and a sink, the other a sink and the tub/shower. Granted, it wasn't as roomy as home, but still the area was more than adequate. I was relieved when I realized claustrophobia would not be an issue for me.
2. The motion of the ship is minimal. As I said earlier, I'm not prone to seasickness, but still, you worry, you know? After walking the length of the ship several times, I found I sensed the motion just slightly, and only occasionally. Those big stabilizers the Dream carries are doing their job. Of course, we were blessed with a calm sea, but there were only a few times I felt anything at all — when I was in the bathrooms, for some reason, and for a few minutes after we left Castaway Cay and were headed back to Florida. In neither case was the boat rocking wildly. I just felt a little bit of movement, rather like the gentle vibration you feel when you're riding a very smooth train. I imagine that's enough to make some people feel queasy. Yet I spoke to several who have been victims of motion sickness before, and they said the Dream was a dream, even aft, which apparently experiences more motion than the rest of the ship. Some didn't even have to use their normal seasickness preventative measures, like Bonine.
3. There's more to do than you will ever be able to do in three, four or even seven days. Did I say that I was worried about not having *enough* to do? The problem was actually the opposite. You could run yourself ragged from dawn until dark every day and still not see everything, or do everything, there is to see and do on the ship. (Ask me how I know!) I know that sounds like an overstatement, but it's true.
First thing in the morning you might want to take a dip in the pool, or run on the track. Or maybe head to the fitness center for a personal training session, or a fitness class, or just a workout on the machines. Or maybe you need a haircut — you can stop by the barbershop. Or, while you're up in the Senses Spa area, you can have a massage, take a sauna, get a mani/pedi (that's a manicure and pedicure) or, get this, you can get your teeth whitened!
Not into pampering yourself that way? Fine, then take the kids up to the sports deck and you can play a game of miniature golf, or go to the sports bar and have a go on the Wii.
And of course there's the AquaDuck — we were lucky the lines weren't too long during the Christening Cruise, but by the time the ship is accepting regular cruisers, I'm sure you'll be spending more than 10 minutes waiting to climb the stairs to this first-of-its-kind water coaster, which snakes 765 feet around the ship and is suspended precariously over the ocean at one point.
There is no shortage of things to do, and the only person pressuring you to do anything at all is yourself!
4. The attention to detail is phenomenal. You come to expect that sort of thing with Disney, but somehow here on the Dream that quality is magnified. If you're interested in Disney at all, you've probably already read some about the cool new things Disney has added to the Dream. Take for example, the Enchanted Art. You'll just be standing in the hallway, minding your own business, looking at one of the beautiful Disney pictures hanging on the wall, when suddenly it springs to life! That's right — Alice in Wonderland is sitting there so still, posed opposite the Caterpillar, when YIKES! Suddenly she's dropping further down the rabbit hole right before your eyes, pausing for a minute as she passes the Mad Hatter. Or you're examining the scenes from the Pirates of the Caribbean when out of nowhere the ship begins firing cannons at the fort, complete with sound effects! It's amazing to see. Details like these you want to discover for yourself during your trip.
You've probably also heard about the Virtual Portholes, which trick you into thinking that your inside stateroom is really looking out on the water. Animated critters float by periodically to entertain and amuse.
The attention to detail extends beyond these technological achievements to the decor, which is — I don't think I'm exaggerating when I say this — splendiferous.
You'll find little touches like Hidden Mickeys in the carpeting, or Cinderella's glass slippers in the chandelier (Royal Palace), and even the figure of Remy the Rat (from the film Ratatouille) subtly woven into the decor of the ship's premier restaurant, Remy. You'll also notice the music piped in nearly everywhere you go, some of it even themed to match the location.
The cast members, too, are attentive to your every need, and they seem even more pleasant, if that's possible, than your average Disney park cast member. Your cabin steward takes care of your room, not just daily, but whenever you leave. Fresh towels, the sheets turned down nightly, chocolates on your pillow along with a different towel creature each night. Have a question? There's a cast member around every corner with an answer, or they'll help you find the answer. I was so impressed with the energy and enthusiasm of every cast member I encountered. I thought perhaps it was because I was on the christening cruise, but veteran Disney cruise-goers assured me that this level of attention and enthusiasm was the norm, not the exception.
And in true Disney tradition, they seem to think of everything. For example, if you have qualms about cruising because of the horror stories of outbreaks of Norovirus, rest assured that Disney is doing what it can to keep you safe. They station cast members outside every eating establishment armed with antibacterial wipes — no one passes inside without wiping their hands! And in the kids' clubs, they actually have automatic hand-washing machines — they're at child-level, and the kids can place their hands in the apparatus's openings for a quick and fun scrub, hopefully eliminating the spread of germs, not to mention sticky fingers all over the nice new computer and play equipment.
5. Even though it's a Disney cruise, you don't feel like you're in Kiddie Land. Sure there are some characters around — you might see see Mickey and Minnie on Deck 11 in the pool area; there are scheduled character meet-and-greet sessions in the Atrium throughout the day. And yes, they cater to all ages of children in the kids' clubs, ranging from the "it's a small world" nursery for the littlest ones, to the Oceaneer Club and Lab for ages 3-10, and, new on the Dream, the Edge and The Vibe, cool hangouts geared toward tweens and teens respectively.
But if you steer clear of these definite kids' zones, you can find plenty of opportunities to play grown-up.
I thoroughly enjoyed my very adult dinner at Palo, the exclusive Italian restaurant on Deck 12. The atmosphere was very romantic, and had I been with my husband I'm sure we would have enjoyed gazing out at the water and toasting each other with a fine Sangiovese, then slipping into the Meridian Lounge next door for a nightcap. I could also imagine myself spending a relaxing evening in Pink, the lounge in the Dream's "District" area that features a specially created pink champagne by Taittinger.
If you're familiar at all with Disney cruises, you probably already know about the "adults-only" pool and the adults-only beach at Disney's private island, Castaway Cay. I was pleasantly surprised to see that these restrictions were pretty carefully enforced, and can dream about how wonderful a quiet day in a private cabana at Serenity Bay would be.
But if I wanted to act like a kid (not unusual for me, by the way), or hang out with family, there were abundant opportunities to do that — swimming or riding the AquaDuck, activities on the Sports Deck, dancing at the Sail Away party or Mickey's Pirates IN the Caribbean, even going to the new show "Believe!" or to the movies at the gorgeous Buena Vista Theater. Maybe they'd even let me do the Magic Play Floor in the Oceaneer's Club — it's an interactive floor where your movements control the action. That was so cool! In fact, I want to be a kid again just so I can play in those kids' clubs.
As you can see, I learned a lot from this very short cruise on the Dream — more than space allows me to detail here. I can only say that if you have some reservations about whether to sail on the Dream, this ship probably can allay your fears better than any other. State-of-the-art technology and Disney's commitment to providing a quality product have combined to create an amazing vessel that gives individuals of all ages a unique cruise vacation experience. As someone who had never cruised before, I can honestly say that if I had the chance to cruise again, I would definitely want to "live the Dream."
= = = = = = = = = = = = = = = = =
ABOUT THE AUTHOR: Debra Martin Koma, AllEars.Net's Senior Editor, fell in love with Walt Disney World on her first visit there — when she was 35! She's lost count of how often she's returned to her Laughing Place in the ensuing (16!) years, but knows that she still isn't tired of it. (And doubts she ever will be.) Read more of her writing for AllEars® here: http://allears.net/btp/dkoma.htm
-=-=-=-=-=-=-=-=-=-=-=-=-=-=
RELATED LINKS:
Deb Wills had the chance to interview David Duffy, Creative Director for Entertainment and Port Adventures, Disney Cruise Line last week while on the ship's Christening Cruise. She shares that interview, along with some thoughts about Disney Dream merchandise, and more in her blog:
http://land.allears.net/blogs/debwills/
Laura Gilbreath has been writing about her experiences on last week's Christening Cruise of the Disney Dream. Read her thoughts on the Dream vs the Disney Magic and Wonder, along with reports on the Senses Spa, riding the AquaDuck water coaster and more in the AllEars® "All Things Disney" blog:
http://land.allears.net/blogs/lauragilbreath/
Deb Koma shares an overview of the dining options on the Disney Dream, along with some photos, in the latest AllEars® Team Blog:
http://land.allears.net/blogs/allearsteam/
-=-=-=-=-=-=-=-=-=-=-=-=-=-=
RELATED INFO:
Before we left for the Christening Cruise, we asked readers to submit questions. We'll be answering the questions in the coming weeks, hopefully in the information we're presenting in our blogs and on the website, but here are a few random things you were wondering about:
Q (from: Rebecca Boisse): How many outlets are in the oceanview staterooms and where are they located?
A: There are two regular outlets located on the "desk" in the cabin. We would recommend bringing a good power strip. A third outlet keeps the Wave Phones charged. A fourth outlet has the round "international" type prongs to be used with the hair dryer (which cannot be used in the bathroom, by the way, only in the stateroom). There's also an overhead outlet, intended for electric razors, in the tub/shower room. Laura's blog on the staterooms has photos of the desk and the outlets:
http://land.allears.net/blogs/lauragilbreath/2011/01/disney_dream_christening_cruis.html
Q (from Dennis): Is there any wheelchair access to the AquaDuck loading area? And if there isn't, then maybe you could take some photos of the stairs leading up to the boats.
A: Unfortunately, the AquaDuck requires the ability to climb stairs to reach the loading area. Laura's blog indicates there are approximately 80 steps, which you can her climbing in the video here:
http://land.allears.net/blogs/lauragilbreath/2011/01/disney_dream_the_aquaduck.html
Be sure to check AllEars.Net's Blog Central in the next few weeks as we continue to share our experiences on the Disney Dream. Deb Wills is on the Dream's Maiden Voyage starting this week, as well, and will be adding to our store of knowledge on the newest Disney Cruise Line ship.
-o-o-o-o-o-o-o-o-o-o-o-
Editor's Note: This story/information was accurate when it was published. Please be sure to confirm all current rates, information and other details before planning your trip.