February 2018 Walt Disney World Bits and Bites
Feature Article
This article appeared in the January 30, 2018 Issue #958 of ALL EARS® (ISSN: 1533-0753)
Editor's Note: This story/information was accurate when it was published. Please be sure to confirm all current rates, information and other details before planning your trip.
= = = = = = = = = = = = = = = = =



STEP BACK IN TIME
= = = = = = = = = = = = = = = = =
by Joan L. Feder
AllEars® Staff Writer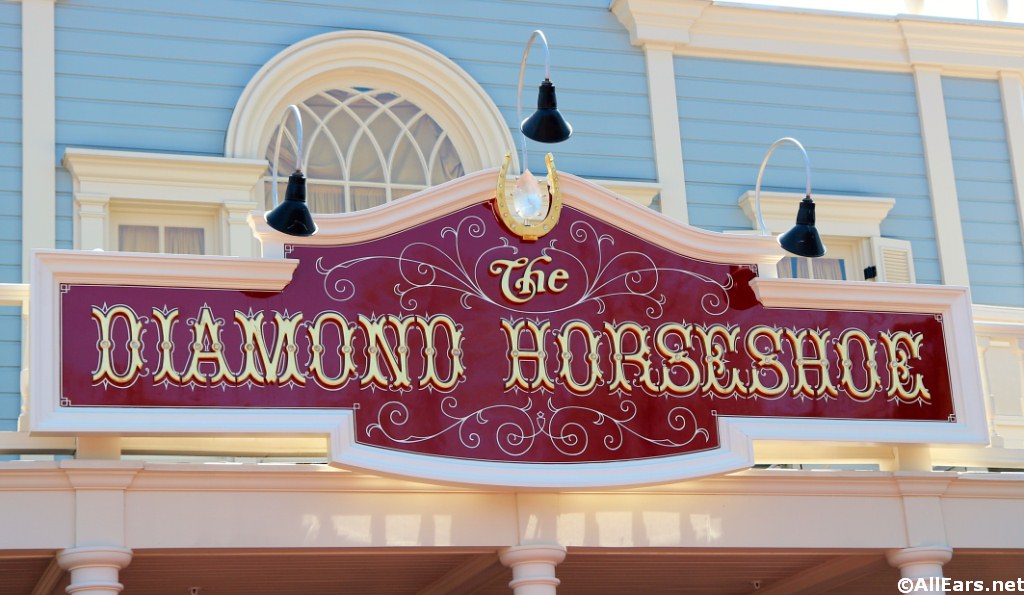 We hunt through our archives for this monthly featurette, which looks at the history of Walt Disney World and The Walt Disney Company. This month we look back to the closing of Walt Disney World's Diamond Horseshoe Revue in 2003.
The Diamond Horseshoe Revue can trace its history back to 1955. On July 15, Walt and Lillian Disney opened Disneyland's Golden Horseshoe, two days before the park opened, in order to host their 30th Anniversary party. This attraction, a saloon show circa 1870, had it all: singing, dancing and comedy skits. It was one of Walt Disney's favorites, so much so, that he kept a private box for himself so he could see the show whenever he wanted. A lot of people felt the same way about the Golden Horseshoe Revue; it had an incredible 31-year run and at one time was listed in the Guinness Book of World Records as the longest-running live stage show of all time.
When the Magic Kingdom opened in October 1971, the Diamond Horseshoe Revue opened with it. It was a spin-off of the show at Disneyland. In fact, the writer and comedian for the Golden Horseshoe, Disney Legend Wally Boag, relocated to Florida for three years to launch the new park's version of the show. The entertainment featured live music, sing-a-long songs, and can-can dancing. The audience was welcomed by Slue Foot Sue and her dance hall girls, followed by several musical numbers, comedy sketches and Pecos Bill. It was a one-hour show held seven to 10 times a day.
On October 1, 1986, the original show became the Diamond Horseshoe Jamboree and, for the first time, reservations were required. To obtain tickets, guests had to get to the park for rope-drop and race to the Disneyana Collectibles shop on Main Street. In April 1995, the show was changed extensively, and reverted to the name Diamond Horseshoe Revue. The menu was updated at that time as well. Reservations were no longer needed. Instead, guests could head in anytime to watch the show and order from the quick-service counter. The death knell for the Revue rang on February 1, 2003. The tables were removed from the venue to make way for Goofy's Country Dancin' Jamboree, which debuted on July 1, 2003. This standing room only 18-minute character show closed September 4, 2004. In 2009, the Diamond Horseshoe became a sandwich shop, without entertainment, and eventually was only open seasonally.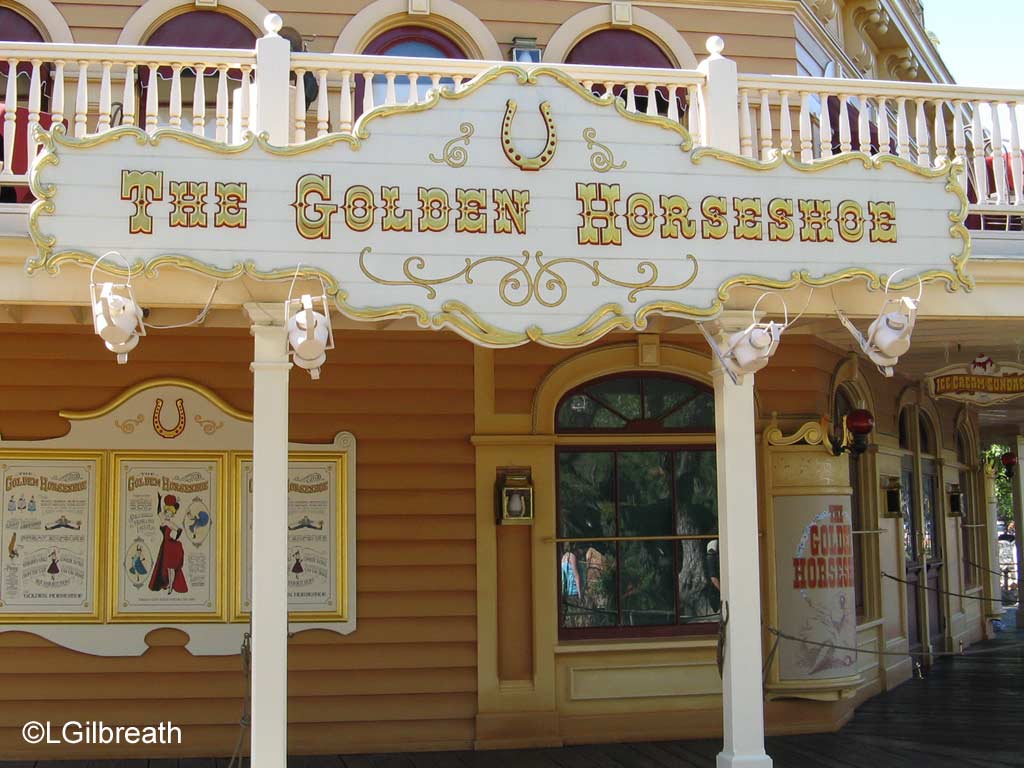 Disney still has two Horseshoes where you can enjoy both food and a show. Tokyo Disneyland's Diamond Horseshoe opened on April 15, 1983. It is located in Westernland, and is physically almost identical to its Disney World namesake. Here, Slue Foot Sue has invited the Mickey & Company entertainment troupe for a special one-night-only performance. Reservations are required, and the show lasts about one hour.
Similarly, the Golden Horseshoe at Disneyland is still in full swing. It's a quick-service restaurant open for lunch and dinner with limited, not very western food. The Laughing Stock Co. performs semi-improvised comedy sketches that include audience members. Seating is first-come, first-serve, and show times vary.
Recently, Disney World's Diamond Horseshoe reopened as a table service restaurant. Advanced dining reservations are available. Open for lunch and dinner, it is an "all-you-care-to-enjoy feast" that serves up Frontier favorites such as barbecued pulled pork and braised beef, along with Cowboy beans, cornbread and campfire brownies. There is no show, and the stage is empty save for a player piano. There is no indication whether the entertainment will ever return, but maybe one day, the Diamond Horseshoe will regain its former glory as a dine-in theater.
RELATED LINKS:
The Diamond Horseshoe – Photos and Menu
REVIEW: Diamond Horseshoe All You Can Eat Dinner
Rate and Review Diamond Horseshoe
Goofy's Country Dancin' Jamboree
= = = = = = = = = = = = = = = = =


HIDDEN MICKEYS ALERT
= = = = = = = = = = = = = = = = =
Steve Barrett, author of the Hidden Mickeys Field Guide books and webmaster of HiddenMickeyGuy.com, brings you a few cool Hidden Mickeys from Walt Disney World. Enjoy!
1. Journey Into Imagination With Figment, Future World West, Epcot. On the right side at the beginning of the entrance queue, a classic Mickey is doodled in one corner of an interoffice mailing envelope, which lies at the far left end of the reception desk. (Thanks to Tyler Glynn.)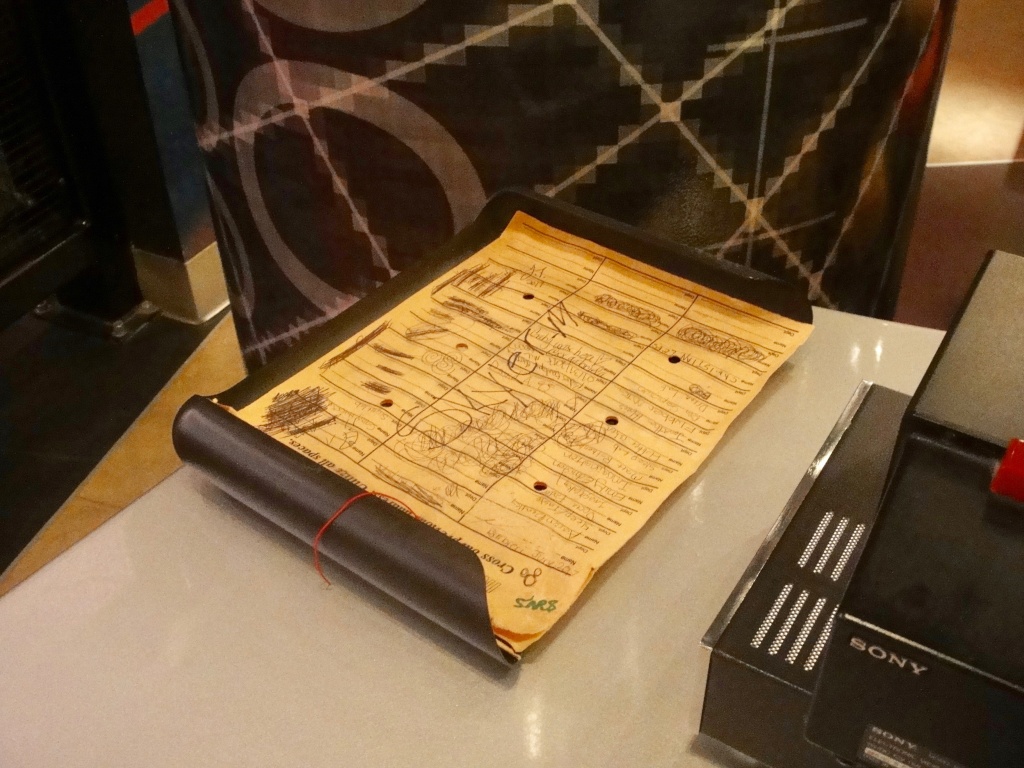 2. Epcot Character Spot, Future World West, Epcot. At the right side of the first greeting bay, a white Mickeyesque movie/video camera is on a blue and white monitor screen. (Thanks to The Hade Family.)
3. Avatar Flight of Passage, Pandora, Disney's Animal Kingdom. A bioluminescent classic Mickey is on the right wall of the cave soon after you enter the inside part of the Standby entrance queue. The image is at the upper part of a cluster of flower-like growths about halfway up the wall. It's at the right middle of the photo. (Thanks to Michael Waters, and Amber Reeves.)
=-=-=-=-=-=-=-=-=-=-=-=-=-=-=-=
You can find an archive of past Hidden Mickey Alerts HERE.

And check out our latest Searching Disney with Steve blog.
= = = = = = = = = = = = = = = = =



SOUVEN-EARS
= = = = = = = = = = = = = = = = =
by Kristin B. Ford
AllEars® Staff Writer
It's the start of a new year, which means the introduction of a lot of new runDisney merchandise! The first race weekend of the year — Walt Disney World Marathon Weekend — was a showcase of new products and 2018 logo merchandise.
For the past several years, many runners have looked forward to the unveiling of the year's Disney-themed New Balance sneakers. This year, there were no new shoes at the runDisney Health & Fitness Expo. However, several new styles appeared online on shopDisney.com and the New Balance site in time for National Polka Dot Day last week. There are black, white and red Minnie Mouse shoes for women and girls. Prices range from $84.99 to $139.99 for the adult shoes and less for kids' shoes.
runDisney's popular logo merchandise includes a 2018 shoe ornament in purple and yellow ($26.99) and a miniature of the same shoe on a keychain ($14.99) for the first time. Mouse-ear-shaped car magnets with the year and distance have a blue, neon green and white design with the image of Mickey Mouse running ($6.99). The same Mickey character joins Pluto and Goofy on a ceramic mug ($12.99), a Tervis tumbler ($26.99), a Tervis mug ($14.99), fabric headband ($11.99) and baseball cap ($26.99). Most of this merchandise can be purchased at upcoming runDisney expos, shopdisney.com or the Shop Disney Parks app.
There is now a "runDisney" version of the popular "Disneyland" and "Walt Disney World" long-sleeve spirit jerseys. It comes in black or blue and is priced the same as the others at $59.99.
This year, for the first time, race-specific "Finisher" jackets were available on the Disney website after Marathon Weekend ($89.99 with a second one 40 percent off). These runDisney jackets typically are sold as a pre-order item for runners and at the expos, and they sell out quickly. This was the first time they were made available only online and shoppers were informed the limited-time merchandise would take 6 to 8 weeks for delivery.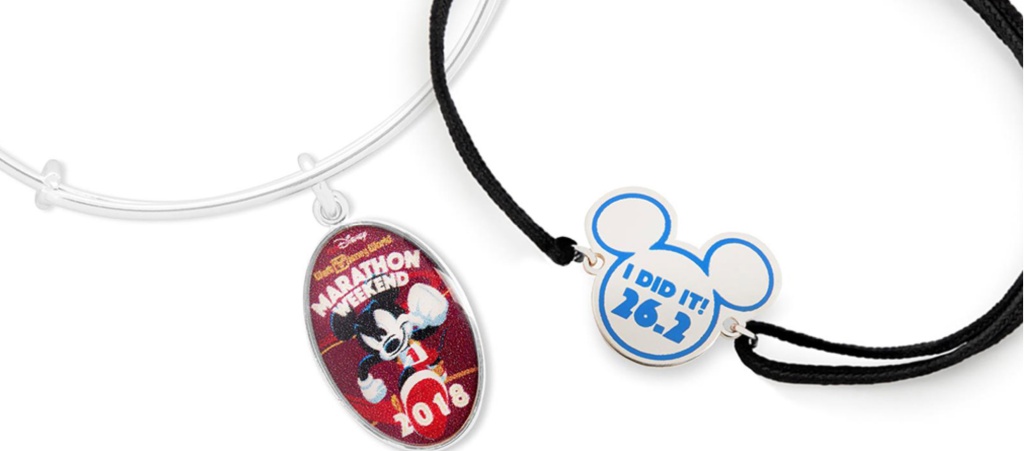 Alex and Ani introduced a Walt Disney World Marathon Weekend design on one of its popular bangles ($44.95) for the first time this year. Plus, there was a new style with a leather bracelet with a metal charm depicting 26.2 miles for marathoners ($39.95). I suspect this is a trend we will see more of at the upcoming Disney Princess Half Marathon Weekend in February.
Of course, there is a collection of general runDisney performance shirts, tanks, hoodies and jackets for women and men that are available year-round. After each race weekend, leftover race-specific merchandise often is sold on the app or website, so don't forget to check if you are having second thoughts about something you wished you had purchased at the expo.
Happy Shopping!
= = = = = = = = = = = = = = = =


MONTHLY REMIND-EARS
= = = = = = = = = = = = = = = = =
Through Feb. 19: Epcot Festival of the Arts.
EDITOR'S NOTE: AllEars® Editor Deb Koma reviewed this year's Festival in last week's newsletter. If you missed it, you can read it HERE.
February 3: Disney's Fairy Tale Weddings Showcase — A one-day event to help guests plan their perfect Disney wedding. Held from 3 to 6 p.m. at the Contemporary Resort's Convention Center.
February 10: D23's Magical Screening Series: Peter Pan at Disney Springs.
Feb. 22 – 25: Disney Princess Half Marathon Weekend.
February 26 – March 24: Atlanta Braves Spring Training at ESPN Wide World of Sports Complex.
February 28: Epcot International Flower and Garden Festival begins its annual run, through May 28.
Check our Events page for a full schedule of upcoming events.
-=-=-=-=-=-=-=-=-=-=-=-=-=-=-=-=-=-=-
Resort-Wide
Disney Skyliner construction: Walt Disney World is in the process of creating a new transportation system, Disney Skyliner, which will give you a bird's-eye view of the resort while traveling via gondolas. During this time, construction noise will be seen or heard throughout the resort, but noise should not be heard from Disney hotel rooms between dusk and 9 a.m.
Flights of Wonder closed December 31 to make way for a new show featuring Russell and Dug from Disney Pixar's film "UP", slated to open this spring. This new experience will offer guests the chance to see Senior Wilderness Explorer Russell and his furry friend Dug as they discover species of birds from around the world in their newest adventure at the Caravan Theater in Anandapur Village.

Kali River Rapids in Asia is closed for refurbishment through February 10, 2018.

Finding Nemo: The Musical in Dinoland USA will close for refurbishment on February 4, 2018.
Star Wars: Galaxy's Edge — Work is under way on the 14-acre Star Wars-themed land at Disney's Hollywood Studios that was announced during the 2015 D23 EXPO. It's set to open sometime in 2019.

Toy Story Land — Construction is under way for the new Toy Story Land that will open in Disney's Hollywood Studios in Summer 2018.
Liberty Square Riverboat will be closed for refurbishment on January 8, 2018. No reopening date has been announced.

Splash Mountain in Frontierland is closed for refurbishment through February 1, 2018.

Pirates of the Caribbean in Adventureland will be closed for refurbishment from February 26 to March 18, 2018. During this refurbishment, the well-known "Redhead" scene will be updated. In the new scene the "Redhead," who is currently up for auction in the ride's current Mercado scene, will become one of the buccaneers helping relieve the townsfolk of their goods and money.

Cinderella's Royal Table will be closed for refurbishment from February 28 through March 2, 2018.
The American Adventure is closed for refurbishment through early February 2018.

Circle of Life in the Land Pavilion will close permanently on February 4, 2018. No word yet on future use of the space.

Kringla Bakeri og Kafe in the Norway Pavilion will close on February 4 for refurbishment that will enlarge the space and create more seating. While the Bakeri is closed, a temporary kiosk will open to sell the spot's most popular items (including School Bread).
Duck Pond Pool is closed for refurbishment through Spring 2018.

The entire resort will undergo a major room refurbishment scheduled to begin in late February. It will continue until late 2018.
Calypso Pool will be closed for refurbishment from late February to early March 2018.
Art of Animation Resort is currently undergoing some general refurbishment projects. During this time, the resort will be in full operation with all amenities available, including dining, merchandise and recreation locations. It is possible that construction may be seen or heard, but noise should not be heard from guest rooms between dusk and 9 a.m. No end date for these projects has been announced as yet.

Big Blue Pool closed for refurbishment in mid-January 2018. A reopening date has not been announced.

Flippin' Fins Pool is closed for refurbishment until early February 2018.

Cozy Cone Pool will be closed for refurbishment from early to mid-February 2018.
Through Fall 2018, Old Port Royale Food Court, Shutters at Old Port Royale, Cabana Pool Bar and Calypso Trading Post will be undergoing refurbishment. A variety of dining options will be available for all meals. Centertown will serve breakfast and dinner. Grab 'n' Go options will be available in three island markets: Aruba, Jamaica, and Martinique. In addition, buildings in Barbados and Martinique islands are being demolished to make way for new construction.
The resort room "hard goods refurbishment" at Coronado Springs has been extended to continue throughout summer 2019.
Meadow Swimmin' Pool is closed for refurbishment through early February 2018.
Grand Floridian Resort and Spa
Beach Pool and Beaches Pool Bar is closed for refurbishment through Spring 2018. The water play area and the mug refill station are available during this period.
Disney's Old Key West Resort is undergoing a wholesale refurbishment, which is expected to be completed in 2019.
Lava Pool will be closed for refurbishment from February 1 – 28, 2018.
Pop Century resort rooms are currently undergoing refurbishment, with work expected to be completed by Summer 2018. In addition, there are a number of other refurbishment projects going on around the resort, but all amenities are available.

Bowling Pin Pool will be closed for refurbishment from late February through May 2018.
Rooms at the resort are undergoing refurbishment, including a soft goods refurbishment, through late Spring 2018.
The Paddock Pool is closed for refurbishment until mid-February 2018.
Copper Creek Springs Pool will be closed for refurbishment from mid- to late February 2018.
The Yacht and Beach Club Convention Center is undergoing expansion and renovation throughout 2018. No end date has been specified.
Portobello Country Italian Trattoria at the Disney Springs Landing closed last year. Terralina Crafted Italian is due to open on that site in Spring 2018.

World of Disney at Disney Springs Marketplace will be "reimagined" this year, starting in mid-February. Work will be completed in phases so guests can continue shopping during construction. Shops in Town Center at Disney Springs, such as Ever After Jewelry Co. or The Disney Corner (opening in mid-February), will carry select merchandise during renovations.
Typhoon Lagoon is closed for its annual refurbishment until March 18, 2018.
-=-=-=-=-=-=-=-=-=-
A complete list of known rehabs can be found HERE.
= = = = = = = = = = = = = = = = =


MAGICAL MOMENTS
= = = = = = = = = = = = = = = = =
Each month, we like to share a few heart-warming Magical Moments brought to us by the amazing Disney cast members!
Mackenzie D.: I suffer from depression, which had been bad for months. I couldn't get out of my funk. I was driving home from a wedding and realized I'd drive right past Disney World. I thought I'd stop at Disney Springs and get some sweets for family members. I figured it would be a welcome distraction, if only for a couple of hours. So I pulled in, grabbed my purse and headed to the Springs. Boy, was I glad for my sunglasses! Not because it was sunny (it was), but because I stepped onto the path and was overwhelmed by something I hadn't felt in months… genuine joy. I was crying happy tears just to set foot in a place that's brought me so much joy over the years! I shopped, enjoying every second. I didn't feel the heat, I didn't mind the lines, and I just barely kept it together most of the time. I decided to get a Mickey ice cream bar, and I walked up to the kiosk. The girl took my order and, probably seeing that I was a touch emotional, asked what brought me to Disney Springs. My voice cracking, I told her, "I am driving home, and this is my favorite place in the whole world. I had to stop just for a bit." She smiled so brightly at me and said, "In that case, you're a guest in Mickey's house, and it would be rude if he didn't pay for the ice cream!" I managed to hold back the tears while sprinting to the car where I cried like a baby (and ate my ice cream, obviously). The joy of being there and that cast member's kindness have helped me turn it around in a big way. I'm buying my first annual pass this month and I'll be driving to my happy place regularly. Planning for regular trips has given me a peace I've been looking for for a long time. Don't let anyone tell you that Disney Magic doesn't have healing properties, because it has helped to heal me!
Alex Jackson: We visited from the UK with my parents, and booked Citricos as an early 50th wedding anniversary meal for them. Hurricane Matthew had other ideas and our reservation was due when we were on curfew and lockdown. I called Disney customer service to cancel the reservation and I mentioned it was a shame as it was for my parents' 50th anniversary. They were able to reschedule the reservation and we were back on track. Citricos went all-out for the celebration. Firstly we had seats by the window and my parents were presented with 'I'm Celebrating' badges and Mickey and Minnie plushes in their seats. There was a specially prepared amuse bouche for us with a complimentary glass of champagne. Our server presented my parents with personalized menus. They had crafted a dessert especially for them and gave us all a goody bag of biscotti and chocolates, and as we left all the staff wished them a happy anniversary. Our server Nancy made a real fuss of the celebration throughout the meal and it was a wonderful experience. It was made all the more special as my dad died just two weeks before their actual anniversary date.
Steve Yeaton: This happened a few years ago, but I had never gotten around to telling the story. To kill some time on our last day at Beach Club while waiting to catch the shuttle to the Disney Cruise Line at Port Canaveral, my wife and I went for a stroll along the Boardwalk. We decided to stop at the check-in desk of our favorite restaurant at the time, Spoodles. (I told you it was a while ago.) We wanted to express our disappointment that they had discontinued the breakfast buffet. That also meant that the delicious bread pudding was also no longer available. The Cast Member there said they were really sorry that the buffet was gone but they had just added the bread pudding back to their regular breakfast menu! She mentioned that they could seat us right away if we wished. We told her that we didn't have time and wanted to be sure we didn't miss the bus. We continued walking along the Boardwalk and a few minutes later, we stopped in for some last-minute shopping at the Screen Door General Store. While there, we heard our names being called out and turned to see the cast member from Spoodles carrying a bag with two large foam "carry-out" clam-shells. As you might have guessed, they were filled with hot fresh bread pudding. She offered them as "a snack" to have on the bus ride to the port. What a thoughtful gesture and it was really appreciated, all the way to the ship! Yum!
-=-=-=-=-=–=-=-=-=-=-=-=-=-=-=
We just bet you have a story to tell about an unforgettable moment during your Disney vacation! Please send your favorite memory for inclusion in a future AllEars® via our Contact Us page. Thank you all for sharing!
-o-o-o-o-o-o-o-o-o-o-o-
Editor's Note: This story/information was accurate when it was published. Please be sure to confirm all current rates, information and other details before planning your trip.